A new year brings updated trends, time to evaluate what worked (and what didn't) last year, and what to look forward to in the coming months.
In 2023, we're kicking off a new series of spotlights on LocaliQ's platform and technology to give our audience a better sense of how our products can help businesses grow—and how we're growing too!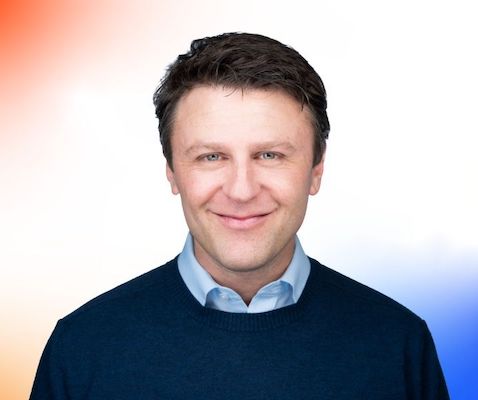 We talked with Kris Barton, President of LocaliQ, to get his take on the marketing trends he's watching right now, what he and his team are working on, and some technology he's excited about rolling out to even more small businesses to see greater success this year. He shared his thoughts on the importance of collecting first-party data, whether you really need to pay attention to ChatGPT, and a whole lot more!
Kris has been in the digital marketing industry for over 20 years and served as Gannett's Chief Product Officer before leading LocaliQ. His background in both developing products and creating winning business strategies uniquely positions him to drive the LocaliQ marketing platform forward in its mission to help local businesses find, convert, and keep more customers.
While 2022 was a year of expansion for many businesses, it also included many challenges. What do you think impacted businesses most in 2022 and what does that mean for them as we enter 2023?
Supply chain disruptions and inflation were two of the difficulties that affected businesses in 2022. Another major driver that occurred was staffing challenges. Many businesses were finding themselves short-staffed or unable to fill open positions due to increased competition. Whether a business offers physical goods or is service-based, it was a difficult year to deliver predictable customer service.
In 2023, even with macro-economic headwinds, businesses can grow market share by increasing their marketing efforts and focusing on end-to-end customer experiences that set them apart from their competitors.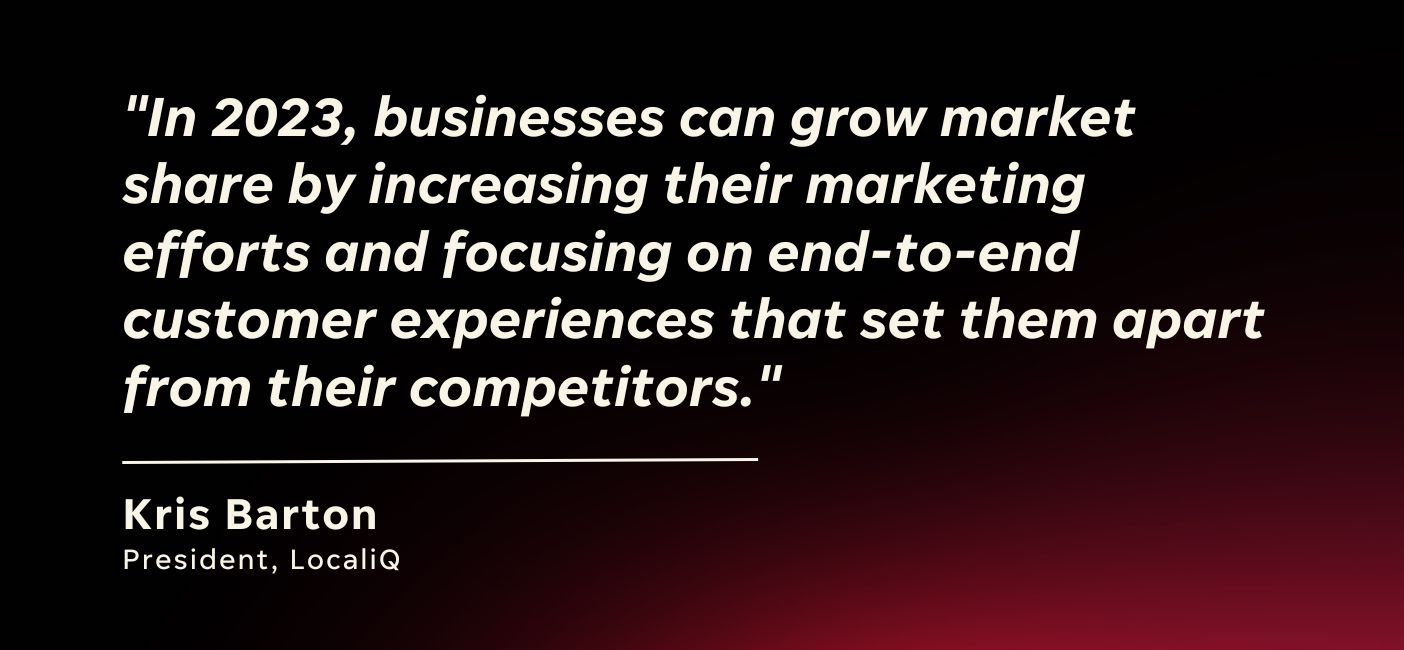 Each year, new trends are released, but not all of them are worthwhile for small businesses. What do you think are the top trends small businesses should pay attention to (and potentially implement) in 2023?
Cross-channel marketing with a focus on customer experience
Consumers expect a lot from businesses. We recommend a cross-channel marketing strategy which focuses on the customer experience across channels and can increase awareness and engagement with your business.
By focusing on how you communicate with and serve customers through every step of their journey with your business, you can increase your chances for growth no matter the economic climate.
Tools that integrate with the natural workflows of your business or provide the opportunity to communicate with your customers will be key. LocaliQ's Client Center, our marketing dashboard, has this functionality.
Within Client Center, businesses can choose from templates to automate communication to leads that will move them down the funnel and closer to a sale. Our team will be developing more templates and releasing additional marketing automation features this year to streamline and simplify lead nurturing for our customers. 
Video advertising will remain insanely popular
We believe video advertising will continue to be a key strategy for reaching your customers through the major social platforms and OTT/CTV.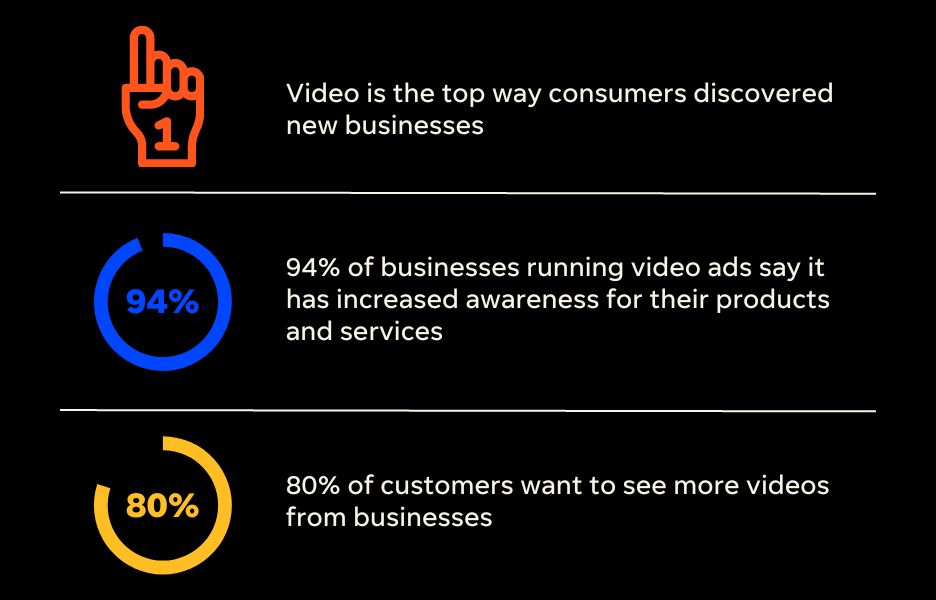 Chat AI will become an increasingly critical component to lead generation and lead conversion
It's no secret we are starting to see a large opportunity with some of the AI Chat initiatives such as ChatGPT. Having a smart customer engagement strategy powered by chat will become increasingly important to answer questions and drive commerce.
Collecting first-party data and leveraging it to inform marketing
With the demise of third-party cookies, being able to directly collect first-party data to inform marketing performance and target audience segments across advertising platforms will continue to emerge as a key opportunity.
Shoppable ads will be adopted at scale
Removing steps between awareness, intent, and conversion will continue with shoppable ads becoming a more important part of marketing for e-commerce and retail-driven businesses.
You've been in the digital marketing industry for over 20 years and have seen a lot of changes. Where do you predict it's going next?
I believe first-party data is going to play a more important role going forward as smaller businesses will need to find ways to collect, protect, practice good data hygiene, and utilize this data to create better customer experiences and more effectively use the data to achieve a better return on their marketing investments.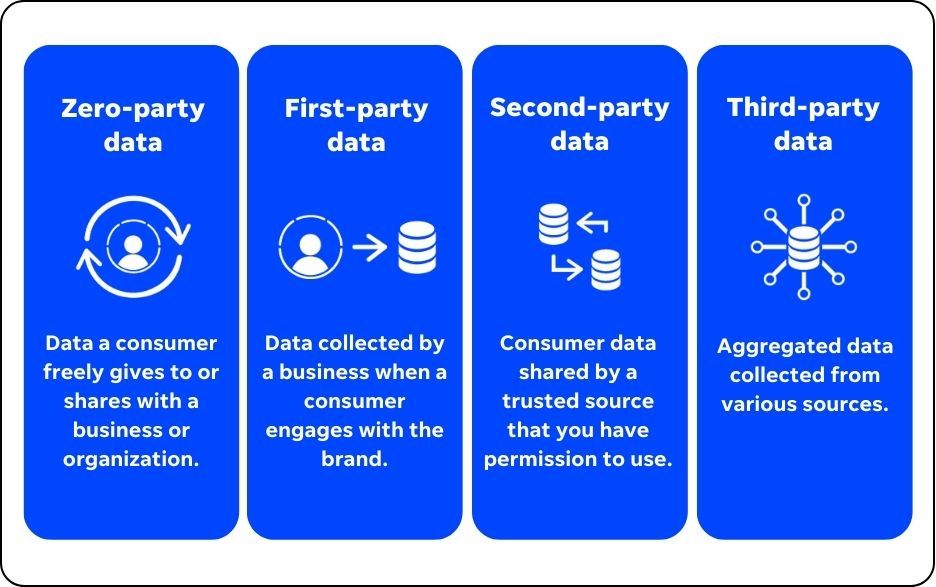 Through our LocaliQ platform, we enable first-party data collection which allows our business customers to collect first-party data about their prospects and customers and use that data to find audiences across social platforms and ad networks.
A new year means a new product roadmap for LocaliQ. What are you most excited about or looking forward to in 2023? What's coming up that people should know about?
No two customers are the same, especially in local marketing. We continue to build solutions to meet our customers where they are in their own business lifecycle. We have enabled customers to choose a supported do-it-for-me approach as well as a do-it-yourself approach all built on our award-winning LocaliQ platform.
You and your team are responsible for creating and implementing new products and technologies. How do you approach developing those? What would surprise people to know about our technology?
Our product and technology teams are actively working to improve all of our products. They look at trends, customer behavior, and get requests from internal teams and customers. We have a strong and constantly improving data set that we monitor for each product. This data set helps us diagnose needed features and measure the impact of released features.
The teams release updates every two weeks by engaging in something called a sprint (which is an agile development term meaning they break everything down into two-week increments). As new requests come in, they are placed on a monthly prioritization worksheet called a backlog which enables planning and larger innovations to be prioritized. This approach is similar to how most successful marketing is achieved, there's a framework based on best practices, and projects are broken down into small manageable tasks that can be quickly implemented and measured.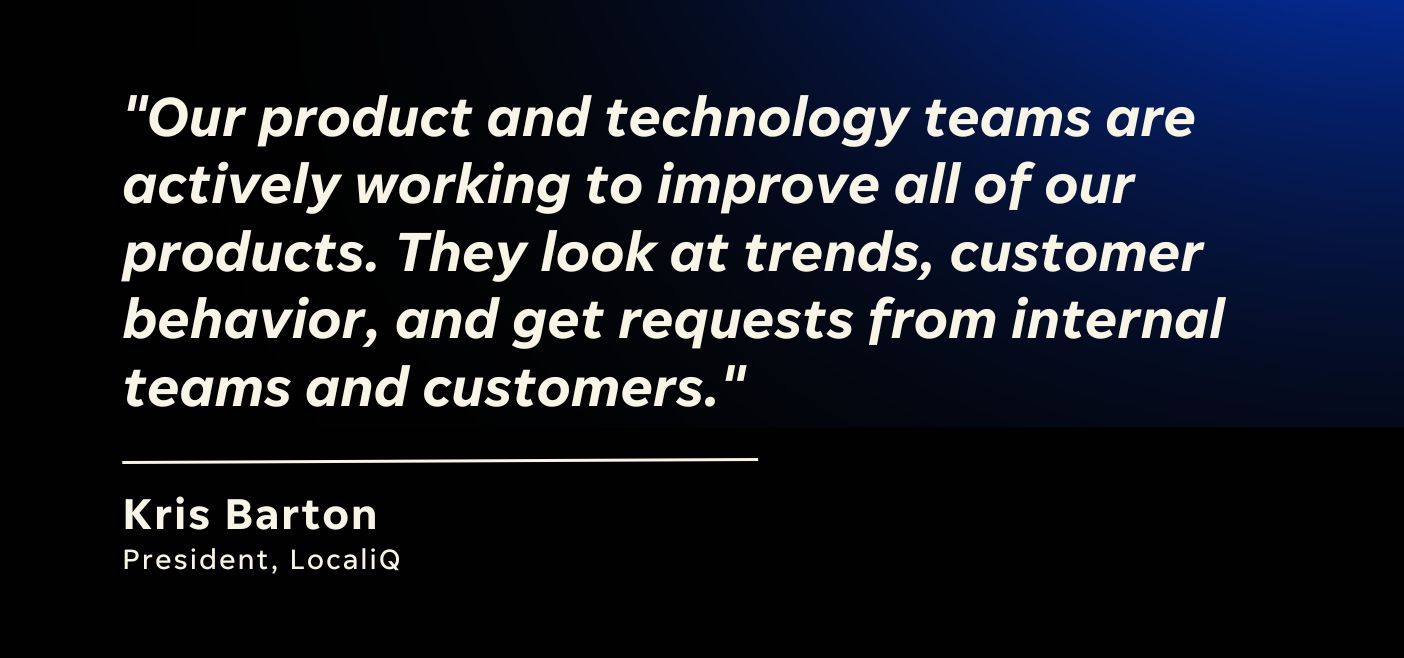 We use this data-driven approach to help our customers as well. Since we are one of the larger partners working with major ad exchanges and search and social platforms, we are constantly asked to work with these companies to implement new capabilities for our customers.
We take a very objective approach to implementing their requests and often reject these features as they do not positively help our customers. By using this approach, we try to ensure the very best outcomes and partnerships with all of our customers.
LocaliQ digital marketing solutions are built to support businesses in reaching their growth goals. What pain points do you believe LocaliQ is uniquely positioned to solve for customers and small businesses?
LocaliQ digital marketing solutions are built for local businesses. Due to our unique position of working with the major partners and platforms on the internet, we are able to take the very best practices done at scale with the latest technologies that typically would only be accessible to large enterprises and offer them to local businesses.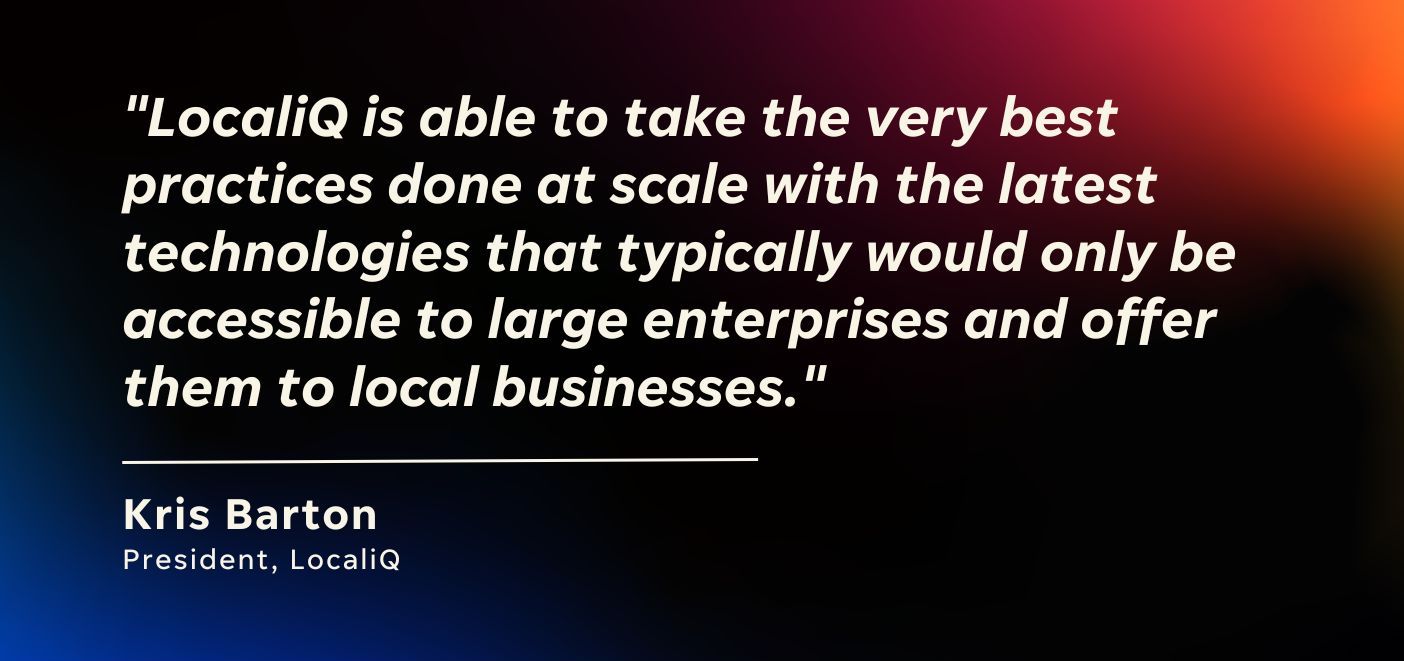 XMO is our cross-media optimization technology, part of the underlying technology that powers the LocaliQ platform. Can you briefly describe how XMO works and why we developed it? What kinds of challenges is it designed to solve and how does it help our customers?
For years we have worked with customers that know they need to engage in multiple types of advertising but are not sure which are right for their business and goals. They want to have a holistic marketing campaign so that all parts work together and provide consistent messaging for potential customers. And, they want to know if their marketing investment is generating the desired number of leads, visits, and ad views, so they can decide if it's successful and whether they should renew.
LocaliQ XMO technology is a smarter way to purchase digital media across channels by combining cutting-edge machine learning with decades of digital experience. It combines multiple tactics like SEM and social ads to design the XMO technology strategy that's right for each business's goals and maximizes the ROI of their online marketing campaigns. XMO's intelligent technology will read the trends, anticipate the hurdles, and optimize the projected daily spend target to meet business goals.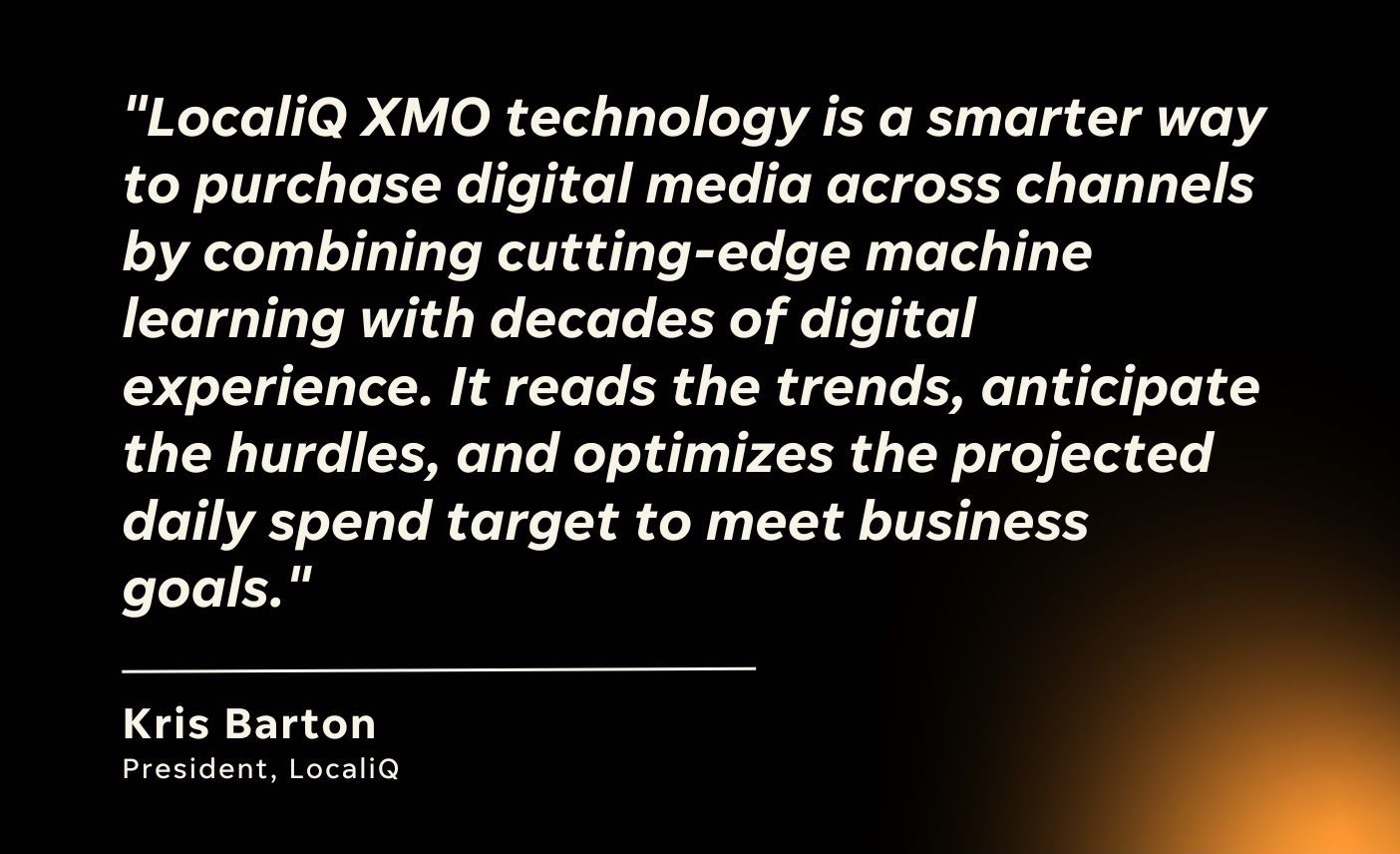 This also makes a sophisticated cross-channel strategy easier to implement for smaller businesses because they don't have to dedicate time to making optimizations, tweaks, and updates across different platform publishers, campaigns, and budgets.
What do you believe are the best types of businesses that are a good fit for XMO?
XMO is ideal for businesses looking for a full-funnel marketing approach. It excels at helping customers who experience shifts in focus due to seasonality, changing buyer needs, evolving company goals, or that offer services with longer buying cycles.
For example, we worked with a fireplace sales and installation company that is busiest during the winter months, but they do see business from outdoor grills and fireplace installations during the warmer months. Using XMO technology, we were able to determine that more of their outdoor grills and fireplace leads were coming from social ads rather than search advertising, which has been the biggest driver of new leads for fireplace sales and installation. Based on this data, we could seamlessly reallocate more of their budget to social ads ahead of that seasonal shift to drive more leads and customers their way.
Looking ahead to a successful 2023
Big thanks to Kris Barton for his thoughts and insights into the trends that will impact businesses this year as well as the technology he and his team are working on to help small businesses succeed in 2023. Hear more from him on what it's like leading LocaliQ here.
And make sure to stay up to date on the latest digital marketing insights, tips, and trends by visiting our blog or following us on Facebook or LinkedIn.