Gone are the days of using exact-match keywords to rank. Gone are the days of desktop-first indexing. Gone are the days when people could skirt the line with black hat tactics like link schemes. Search engine optimization (SEO) changes. So if you hope to rank for relevant terms and drive quality traffic, you need to change with it.
But it can be difficult to sift through the algorithm updates, Google news releases, and best practices to stay current with your SEO. So we've rounded up the most important SEO trends to watch in 2023 so you can stay ahead of the curve.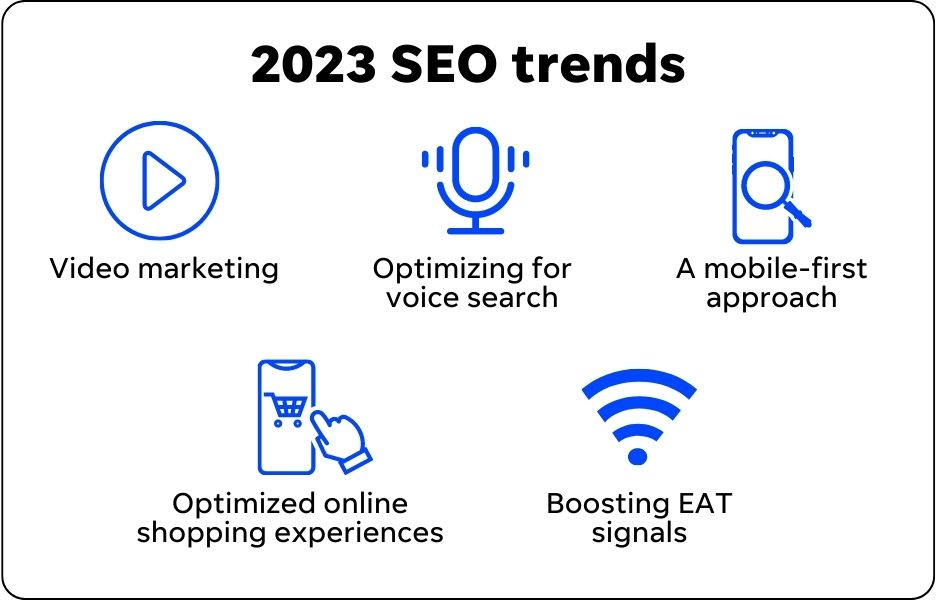 The 5 most important 2023 SEO trends 
Here are the SEO trends you should keep an eye out for this year as you develop and optimize your strategy.
1. Video marketing will become a greater advantage 
A 2021 survey found that 60% of video marketers planned to increase their video marketing budgets in 2022. And 24% of those respondents planned to increase it significantly by more than 9%. Why are marketers investing increasingly more in video content? There are at least two reasons.
YouTube and Google are linked. YouTube is one of the top search engines and most visited websites in the world. So, a YouTube SEO strategy can earn you a lot of visibility on the platform itself.
In addition, because Google owns YouTube and ranks videos in search results for many queries, you have additional opportunities to rank in Google Search. This is especially true as Google acknowledges the rise of video and feels pressure from platforms like TikTok in 2023.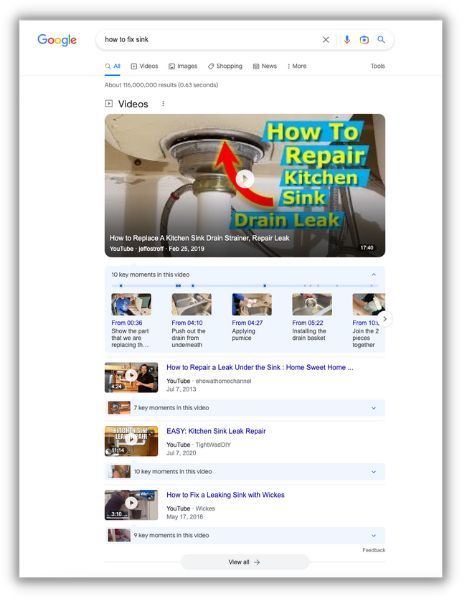 The first results for this search are all videos, meaning a video marketing strategy would increase your chances of getting found for this query.
More people are using video-centric platforms as search engines. In particular, 40% of young people now use TikTok and Instagram over Google Search or Maps. Social Media Strategist, Adrienne Sheares, found numerous reasons for this. They include the deep personalization of TikTok's results and the speed at which relevant results can be found.
If you're like me and need to see an example of a TikTok search to understand it, check out a clip from my latest LinkedIn video "How Gen Z Uses TikTok for Search." pic.twitter.com/ypnJT2KIpW

— Adrienne | Social Media Strategist (@AdriSheares) August 12, 2022
While older generations aren't currently flocking to TikTok and Instagram by the millions for search, this will likely change over time. Video content will be an appealing alternative as people become more and more disgruntled with:
The many ads in Google's search results
Good SEO content but poor user experience
Unnecessarily lengthy written content
Content from affiliates who don't really stand behind the products and services they promote
Ultimately, whether you're targeting Gen Z or an older demographic, testing out video marketing in 2023 is smart. Specifically, short-form video.
2. Optimizing for voice search will bring new opportunities
Content expert Erik Emmanuelli rightly noted that "with the rise of smart speakers and virtual assistants, more and more people are using voice search to find information online." In fact, searching the web is now the second most common usage for voice technology on smartphones.
Shopping, in particular, is a favorite activity. For example, compared to 2018, there was a nearly 10% increase in people with voice shopping experience. That's an increase of tens of millions of people in the US alone!
And, yet, many businesses are missing out on the traffic and sales opportunities that come from optimizing for voice search. What can you do to leverage the increasing popularity of this trend in 2023? Erik recommends, "using natural language keywords and phrases, as well as making your content easy to read aloud." And this is in addition to things like:
Targeting long-tail keywords
Optimizing for featured snippets
Optimizing for "near me" and other local search terms
If you're not sure where to start with this, the beginner's guide to voice search will get you up to speed.
3. Online shopping experiences will need to be fully optimized
For product-based e-commerce businesses, thorough optimization of product listings will be more important than ever. Google is working toward providing more well-rounded search experiences, which is why it introduced multisearch in 2022. Multisearch reduces the legwork searchers must do to get the necessary information.
Lisa Richards, CEO and Creator of the Candida Diet, explained it this way: "This technology uses AI to show potential customers everything they need to know about a particular product. That includes its top benefits, price, reviews, videos, and inventory data, amongst other details."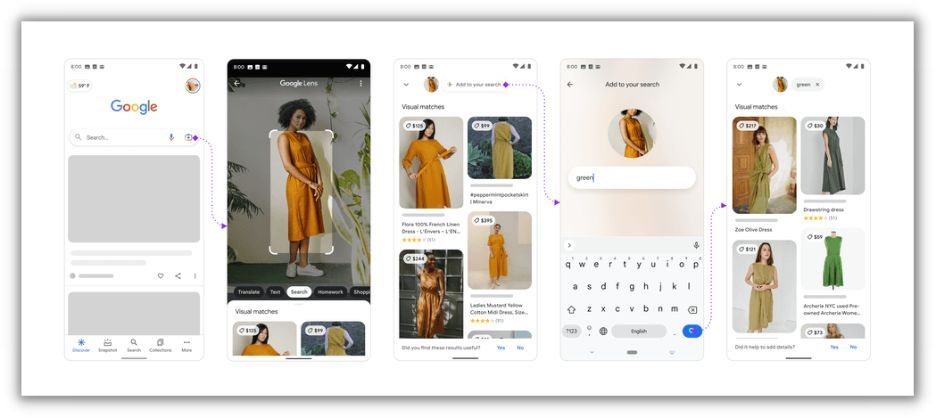 But according to Lisa, "many companies don't prioritize the full optimization of their product listings, meaning that the majority of their products will not appear on the Shopping Graph. It's essential that businesses create comprehensive product listings that contain all the essential keywords."
And that, in the words of JiYoung Kim, they have "the rich and visual content that matches what the person is looking for, no matter how they express their needs."
The combination of keyword optimization, visual content, and comprehensive product information is what will help businesses take full advantage of Google Shopping Graph. As a result, not only will they appear in Shopping Graph results, but they'll be able to drive more conversions.
4. Boosting EAT signals will be essential
EAT—which stands for expertise, authoritativeness, trustworthiness—is by no means a new topic. While it's not a ranking factor in that there's no singular EAT score, Google has been evaluating EAT signals for years. What makes boosting those signals so crucial in 2023 is the recent Helpful Content Update.
This 2022 update cracked down on sites with "unhelpful" content, giving them less visibility in search results. Google's own documentation shows how serious this development is, saying:
"Any content—not just unhelpful content—on sites determined to have relatively high amounts of unhelpful content overall is less likely to perform well in Search, assuming there is other content elsewhere from the web that's better to display."
While we all should have been producing "helpful" content anyway, going forward, it's wise to ensure that our definitions of helpful content align with Google's. That our content is written for people over search engines, demonstrates deep topic knowledge, and meets the other criteria in the guidelines below.
Out of all the trends on this list, this one is likely the most deserving of your attention. You can have a great mobile site, create video content, and optimize for voice search. But, if your content doesn't provide a positive experience and trustworthy information to searchers, it will not perform as well as it could.
So, fact-check and periodically update your content. Incorporate expert insights, build backlinks, and take other actions to improve content quality and your site's reputation.
5. A mobile-first approach will be critical for ranking
According to Statista, "In 2022, 281.5 million people in the United States accessed the internet through any kind of mobile device. In 2026, this figure is projected to amount to over 303.6 million mobile internet users." Yet, the fact that 84% of the U.S. population are mobile internet users isn't what matters most. It's that more people currently use Google Search on mobile than on desktop, and this trend is expected to continue.
We've been hearing about the importance of a mobile-first approach for a while now, especially as Google began the slow rollout of mobile-first indexing in 2018. But many have been slow even to adopt a mobile-friendly approach.
However, with Google now predominantly using the mobile versions of sites for indexing and ranking, you can't wait any longer to prioritize mobile. It will be worth your time in 2023 to implement mobile-first best practices such as:
Ensuring that your content is accessible to Google so that it can be crawled properly
Optimizing the images and videos on your site
Checking your structured data to ensure that it's consistent across your mobile and desktop sites
Ensuring that meta titles and descriptions are the same across both the mobile and desktop versions of your site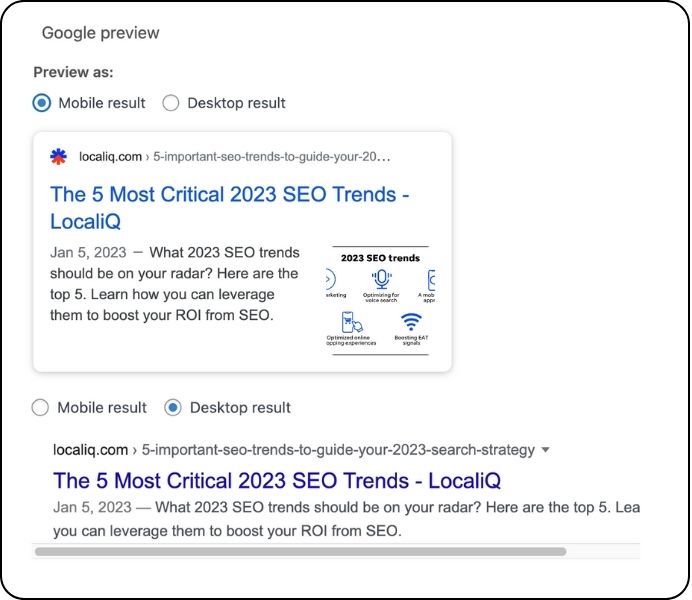 All of the above will give you a better chance at ranking for the SEO keywords you target.
How to spot additional SEO trends in 2023 and beyond
The trends above are among the main ones you should prepare for (as it makes sense for your business and audience). But others will come along. That's why it's important to know how to spot trends early and develop low-risk strategies to evaluate their potential for your business.
Follow industry news and experts. Get the latest updates from reputable sites like Search Engine Journal. Attend industry events when you can. Follow SEO industry leaders like John Mueller on social media. Use tools like Google Trends and Exploding Topics to do research. (And keep checking our blog regularly!)
Experiment. You can speculate endlessly about what trends will have the biggest impact on your business. But the only way to know for sure is to try out the ideas that have the most potential.
Create a test website. Or implement tests on a small scale first (with lower-value pages or keywords). While experimentation is encouraged, you wouldn't want a botched test to completely tank your SEO results. So, get confirmation that an idea is likely to work before implementing it across an entire business site.
If you do the above, you'll get a better return on investment in SEO. Plus, you'll enjoy the perks of being among the first to go all in on emerging trends!
Want more? Hear what 2023 marketing trends LocaliQ President Kris Barton is anticipating will be huge.