Marketing is like a tooth: If you neglect it, you're going to feel the pain later. And just like you don't want ineffective brushing and flossing to lead to a cavity, you don't want ineffective dental marketing to lead to fewer patients and a ton of unfilled appointment slots.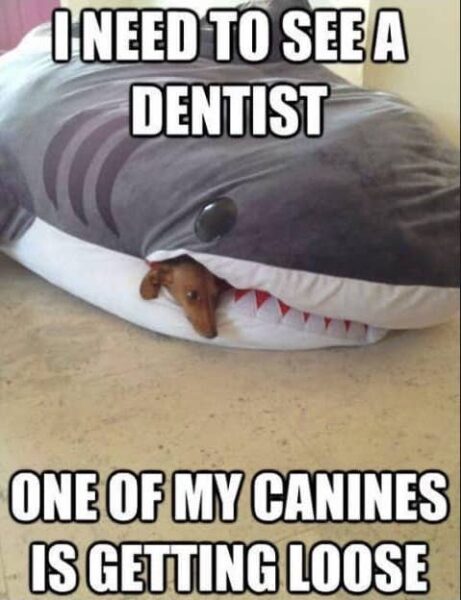 But how can you market your dental practice effectively when some people are hesitant—or even afraid—to visit your office? Or when they're only looking for your services a couple of times a year?
It all comes down to creating the right dental marketing strategy. That's why we're sharing 14 dental marketing ideas and strategies based on data and insights from working with dentists across the US.
14 best dental marketing ideas and strategies
Try these dentist marketing ideas to get more patients and increase awareness for your practice.
1. Adjust your marketing messages to your target audience
When it comes to dental marketing, you can't assume that every patient is going to respond to every message in the same way. It's important to tailor your messaging based on who you're trying to reach.
In our healthcare study of over 4,200 healthcare consumers, we found that different demographics choose healthcare providers for different reasons. Boomers noted security as their top emotional driver, while Gen X, Millennials, and Gen Z noted feeling like a priority as their top emotional driver when finding a healthcare provider.
This means that when targeting Boomers, you would want to focus on security, while you would adjust your messaging to focus on making dental patients feel like a priority for Gen X, Millennials, and Gen Zers.
For example, if you're targeting the younger generations, you could create ad copy and creative that focuses on fast wait times, in-room streaming so they can watch Netflix during their cleaning, and custom teeth whitening packages. These all speak to the way you prioritize your patients in their care and in your service.
If you're targeting Boomers, you could create a client testimonial featuring a client in that age range speaking about the level of care they received from your team as well as the great results.
2. Run search advertising campaigns
The majority of people begin their search for a new business, including a new dentist, on search engines. The best way to get in front of searchers on search engines is to invest in search advertising, which puts an ad for your practice above any organic search results. This enables you to reach prospective patients when they're actively searching for a dentist or dental-related information, which can translate to more new patients for your practice.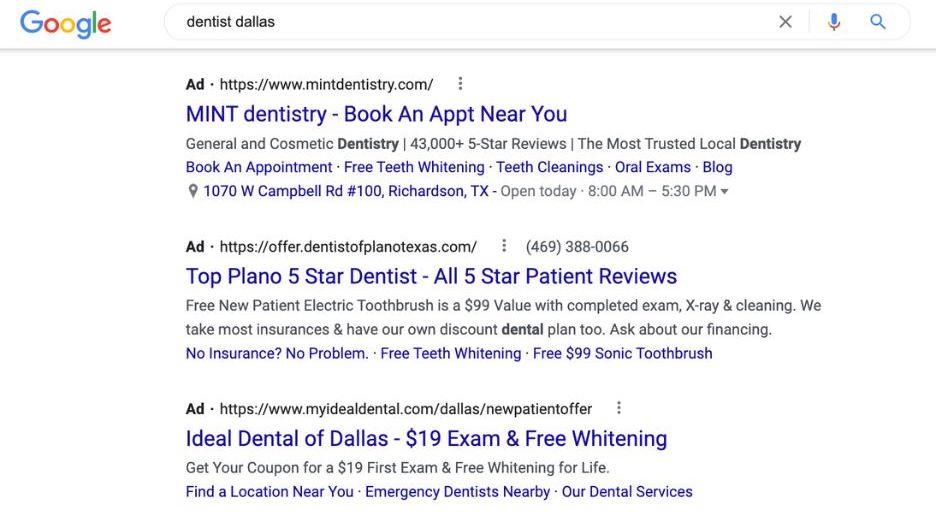 And people are clicking on these ads. In fact, we've found that search advertising is highly effective and engaging for dentists, with an average click-through rate (CTR) of 5.05%, higher than the average CTR across industries of 3.17%.
3. Create an effective dentist website
The goal of all your online marketing is to get new patients for your dental practice, and the best place to collect these leads is through your website. Your small business website is the hub for your online marketing—it's the place you're driving prospective patients so they can learn more about your practice, what you offer, and take the next step to contact you.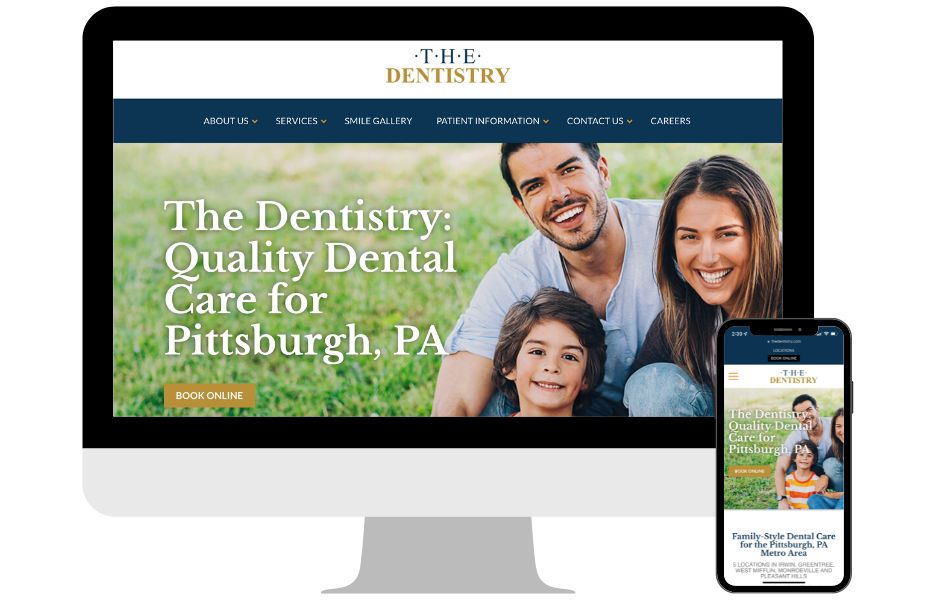 Investing in an effective dental website means including the right content and information about your business, making sure your website is mobile-optimized, and adding multiple ways for new patients to contact you, like with a click-to-call phone number, a lead contact form, a contact us page, and live chat.
Related: Find out how your website stacks up to the competition with our free website grader!
4. Add live chat to your site
Speaking of live chat, this is a crucial element to incorporate into your website.
Live chat allows prospective patients to get answers to their questions immediately, whether your practice is open or closed, as well as request an appointment or a callback.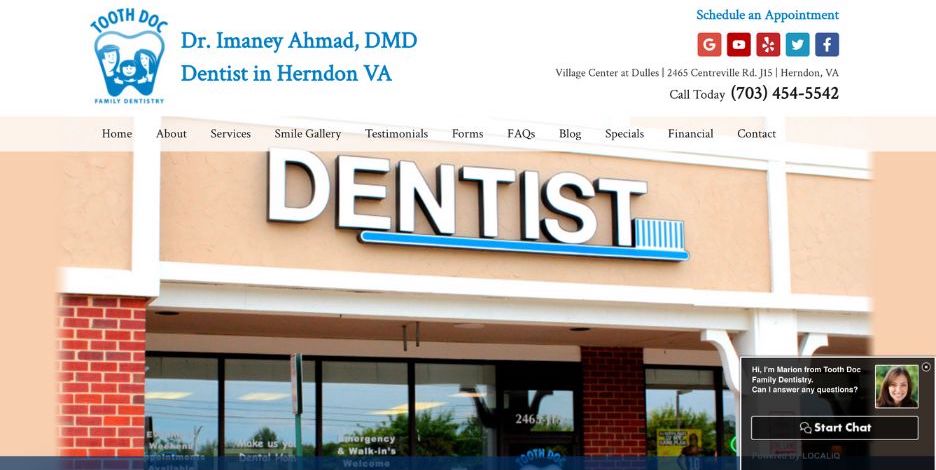 This not only improves the patient experience, but it can help you capture new patients directly through your website.
Plus, people prefer live chat over any other form of online communication, so this is a great addition to your dental marketing.
5. Pay attention to your About Us page
Back to your website for a second. A great About Us page can make your dental website shine, especially when you incorporate messaging that aligns with what your target audience is looking for.
Make sure to share the basics about your practice, like your specialties and who you serve, as well as any information or stories that will help you stand out. 89% of people stay loyal to brands that share their values, so don't leave that out of your website!
6. Create and include patient testimonials (or a smile gallery!)
When making a large decision, such as finding a dentist, reviews are helpful, but sometimes people want more. Creating patient testimonials or even adding a "smile gallery" to your website can help you win over new patients who are on the fence.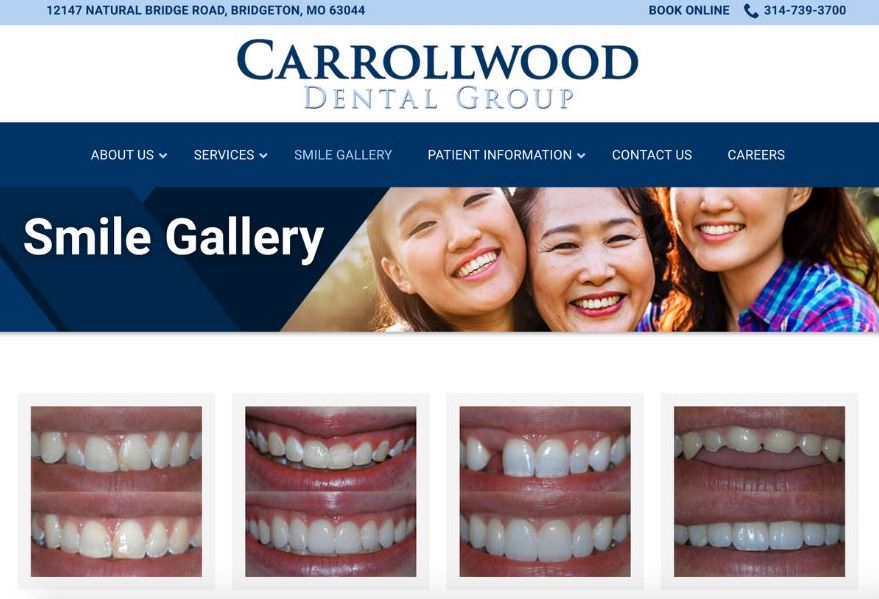 In addition to including these on your website, they also make important social media content pieces to engage your audience and expand your reach.
To get started creating patient testimonials, you can reach out to a few of your most loyal patients and ask if they'd be willing to be featured on your website. From there, all you need is a picture and a quick quote to share with your audience online.
7. Invest in a local SEO strategy
Search engine optimization, or SEO, is another important component of a strong dental marketing strategy—especially when it comes to reaching new patients on search engines. A strong local SEO strategy that includes keyword-optimized website content, accurate local listings, and review management can help you show up in search results for relevant searches as well as in the Google Map pack, which shows just below paid search ads.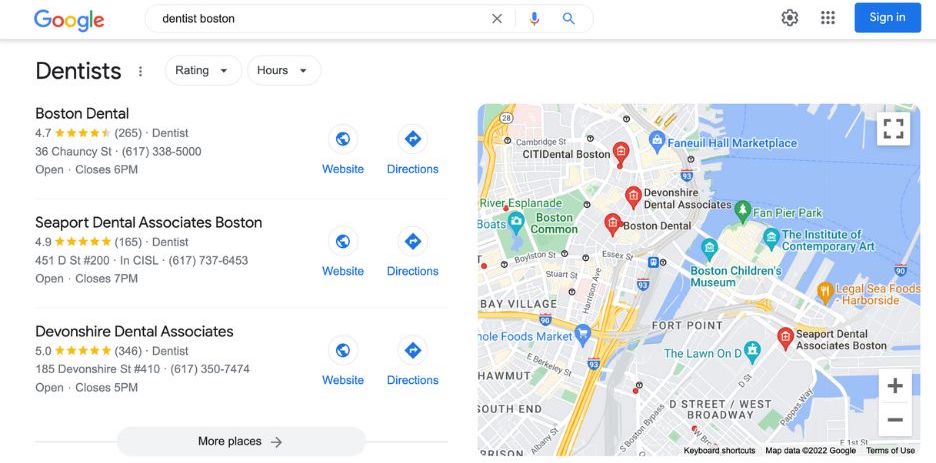 Related: Discover the right keywords for your SEO strategy with our guide to local keyword research.
8. Claim and optimize your Google Business Profile
Your dental office is a local business, which means you want to capture local searchers looking for your services. When someone searches for a local dentist on Google, the first results that show up (beneath paid search ads) are Google Business Profile results in the 3-pack.
In order to have your dental practice show up in this crucial position on the search results page, you need a claimed and optimized Google Business Profile. This means taking control of your profile, ensuring all information is accurate and updated, and adding relevant information that can help you stand out.
Some easy ways to optimize your Google Business Profile include:
Filling out every field available to build out your profile
Adding images of the outside and inside of your dental practice
Adding a clear and compelling business description
Answering any questions submitted on your profile
Regularly adding Google Posts
Getting and responding to reviews
9. Get reviews (and respond!)
Speaking of reviews, 84% of people trust online reviews as much as personal recommendations, so collecting (and responding) to reviews—especially through your Google Business Profile—should be a key part of your dental marketing strategy.
If you're just starting out collecting reviews, try reaching out to five of your top patients and asking them to leave you feedback on Google. And make sure to include a link to your Google Business Profile on your website and in email communications so patients can easily navigate there to leave reviews. You can also add signage within your dental practice that reminds people to review you on Google.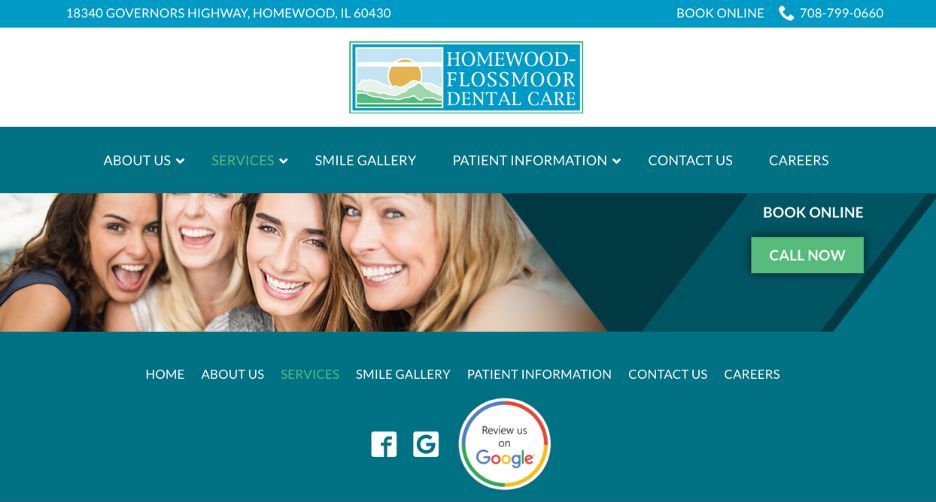 Once you receive reviews, make sure to respond promptly and effectively. At times, the way you respond to a review can be as important—or even more important—than the review itself. In fact, 97% of people who read reviews will also read review responses, and nearly 40% of people who leave negative reviews say they're simply looking for an apology from the business.
Related: Get more online review statistics here.
10. Track your leads (and follow up promptly)
Pretty much all of your dental marketing strategies are meant to drive new patients to your practice. But you want to have visibility into where leads are coming from and what's driving the best results for your dental practice. That's where lead tracking comes in. Lead tracking allows you to get a picture of the dental marketing strategies that are bringing in the most leads—and new patients. From there, you can adjust your dental marketing strategy to the channels and campaigns that are working best to reach your overall business goals.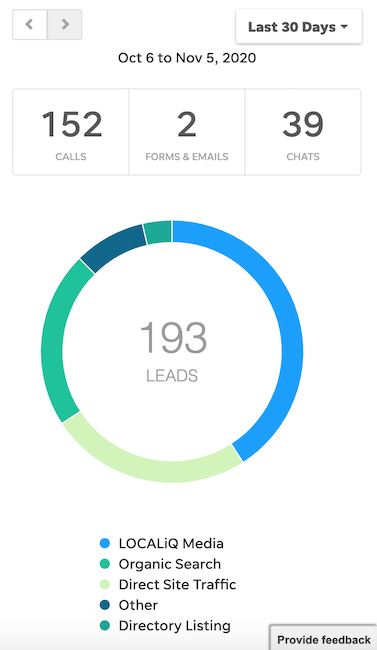 However, if you're getting a ton of patient inquiries without proper follow-up, it's not going to matter how effective your marketing is—or where leads are coming from. That's why lead follow-up is so important.
Make sure you have a process in place for responding to leads promptly and that you have a way to triage leads that come in, like through a CRM. A CRM can aggregate your leads from all marketing sources and give visibility into who's been followed up with and who needs to be contacted.
11. Create a strong social media presence
Because so many consumers are spending time on social media, social media marketing should be part of your dental marketing strategy. Our data shows that social media drove the most actions among those searching for new dentists.
Make sure to invest in a paid + organic social media strategy, meaning you engage your existing audience through social media posts while targeting new audiences with social media advertising (we'll talk more about this next!).
Dentists also have a great opportunity to educate on social media in engaging ways—whether it's a fun video on how to brush your teeth the right way, or it's a post about foods to avoid for healthy teeth. Think of interesting topics that your patients would be interested in and craft posts that boost engagement.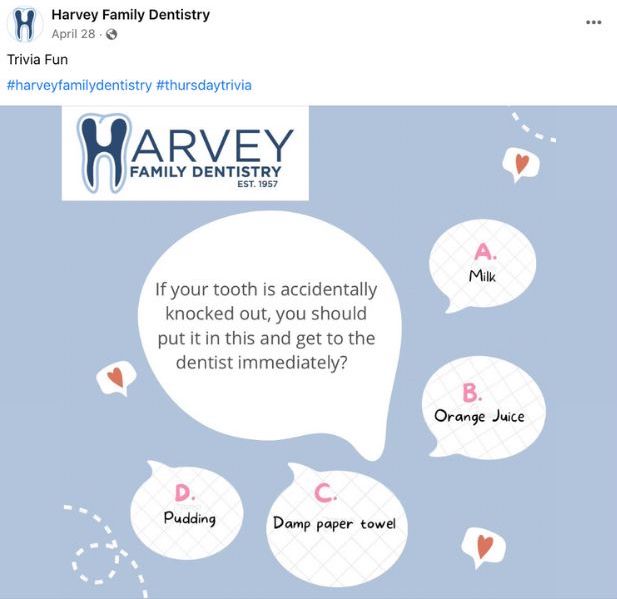 Related: Get ideas for what to post on Instagram.
12. And run social media ads
To take your social media marketing strategy to the next level, you'll want to invest in social media ads. Social ads like on Facebook and Instagram help you reach an audience outside of your existing network.
This can help you reach prospective patients and get them interested in your dental practice.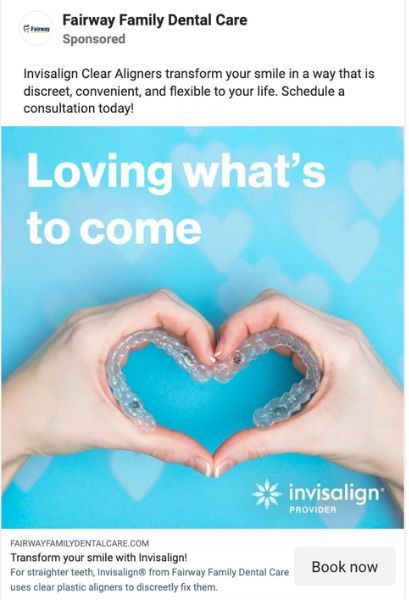 You can run social media ads promoting new patient specials, a new location, or just your general services to people in your area.
13. Try email marketing
Email marketing is another strategy that was found to drive high responses from target patients. Email marketing can help your practice stay top of mind with existing patients—reminding them of upcoming appointments, providing helpful information, and educating them through newsletter content.
Email marketing can also help you reach new patients by advertising existing specials, positioning your practice as a dental expert with educational content, and keeping leads engaged as they navigate the customer journey.
A monthly newsletter can help you stay relevant with existing patients and win over new ones. You can keep your newsletter content fresh by aligning it with monthly holidays and observances (we put together some ideas for you here). And make sure to create email subject lines that adhere to best practices while still capturing attention in your patients' inboxes—35% of people open emails based on the subject line alone.
14. Send direct mailers
Direct mailers are another effective dental marketing strategy that can help you reach a locally-targeted audience. Plus, if you send direct mailers with a special coupon code, it can be easy to track the effectiveness of your campaign.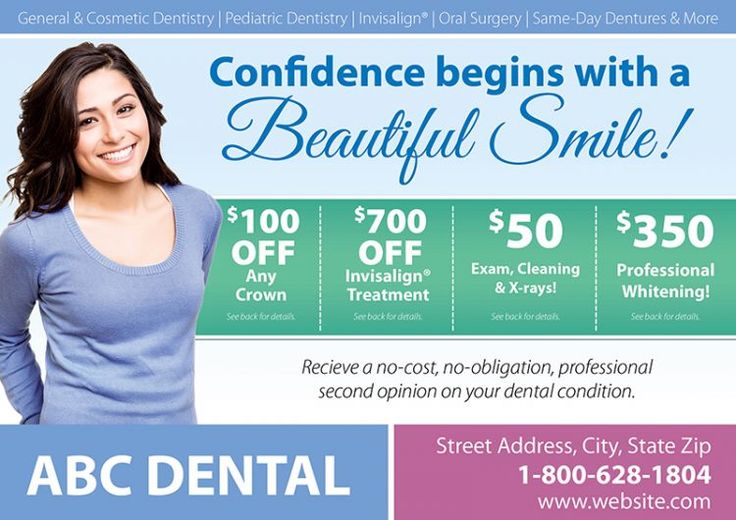 Target prospective patients near your office with a special limited-time offer and include either a tracking phone number or a coupon code specific to that mailer to identify direct mailers as the source of your new patients.
Make your dental marketing strategy shine
By creating the most effective dental marketing strategy using these ideas and insights, you can reach the right audience in the right ways. Understanding your prospective patients is a crucial first step that can set you up for success in the long run.
For more dental marketing insights, ideas, and tips, download our guide.
Here are those dental marketing strategies and ideas to try:
Adjust your marketing messages to your target audience
Run search advertising campaigns
Create an effective dentist website
Add live chat to your site
Pay attention to your About Us page
Create and include patient testimonials
Invest in a local SEO strategy
Claim and optimize your Google Business Profile
Get reviews (and respond!)
Track your leads (and follow up promptly)
Create a strong social media presence
Run social media ads
Try email marketing
Send direct mailers