A landing page is a crucial element when it comes to directing traffic from your digital advertising efforts. After all, it is the first thing visitors land on after clicking a link from search results or other online marketing and may likely be the first impression they have of your business.
Many businesses select existing pages on their website to use as the landing page for their online advertising campaigns, but creating a specific landing page can help you increase conversions — and, in turn, get more customers.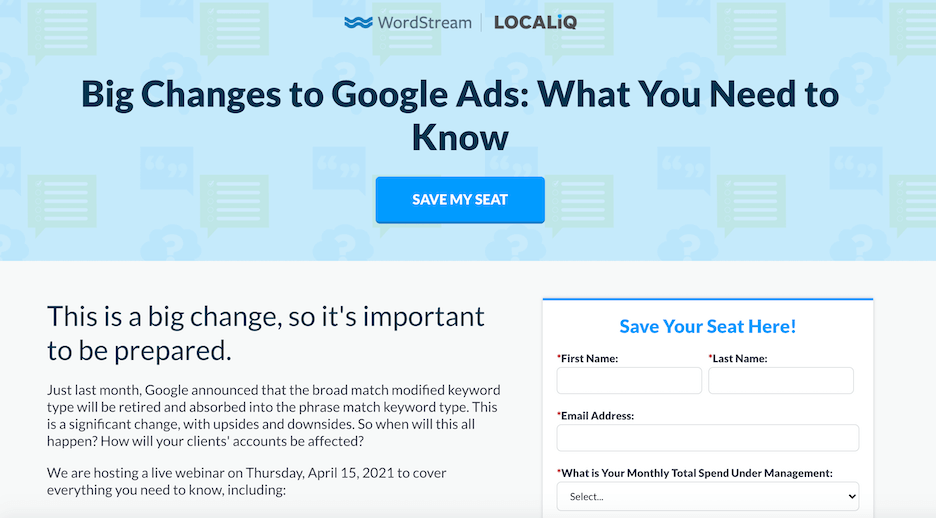 An example of a high-converting landing page from WordStream.
There are many factors that go into making a landing page that converts visitors into paying customers. In this post, we'll explore:
Why you need a landing page optimized for conversions.
Best practices for creating high-converting landing pages.
How to get started.
Why Do I Need a Landing Page?
Landing pages use a design that serves a single purpose, and that purpose is usually to drive a conversion using a call to action (CTA).
Here are some reasons you need to use high-converting landing pages for your digital advertising.
Landing Pages Are Targeted
Typically, businesses create a landing page that correlates with a specific campaign. For example, if you're running a search advertising campaign targeting keywords related to "pool cleaning," you would drive users to a landing page with information about your pool cleaning services rather than a general page about pool equipment or saltwater conversion.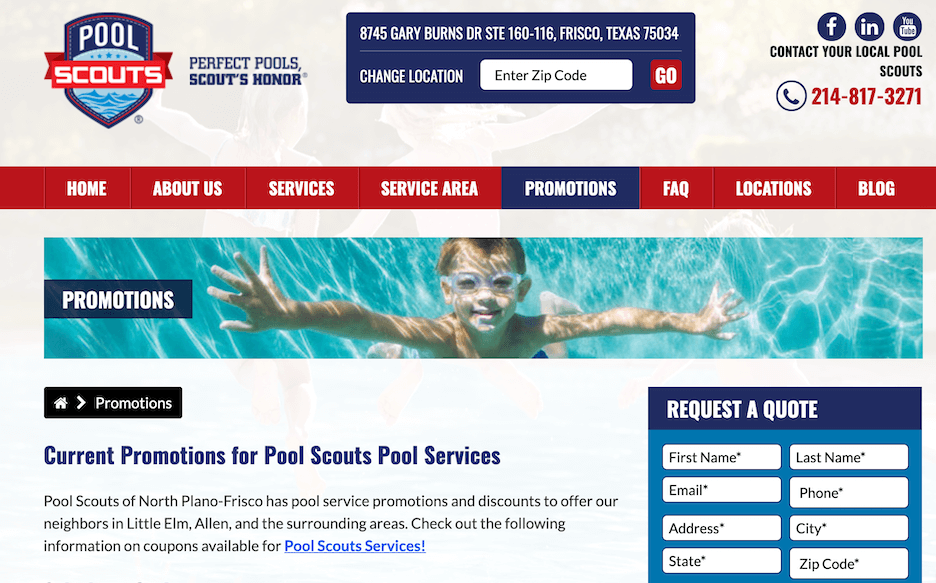 This landing page from Pool Scouts advertises their pool cleaning rather than maintenance, saltwater conversion, or other services they offer. 
Because landing pages are created for specific campaigns, the language you use can be tailored to visitors of that page, which can increase the chances of conversion.
Landing Pages Make Lead Generation Easy
An effective landing page is a more simplistic version of your website and typically lacks a full navigation bar and additional information — it's focused on providing enough information to get the visitor to take an action, whether that's to fill out a form, make an appointment, or download a resource. This makes lead generation and collection easy — users know what they're supposed to do on the page and are given few other options.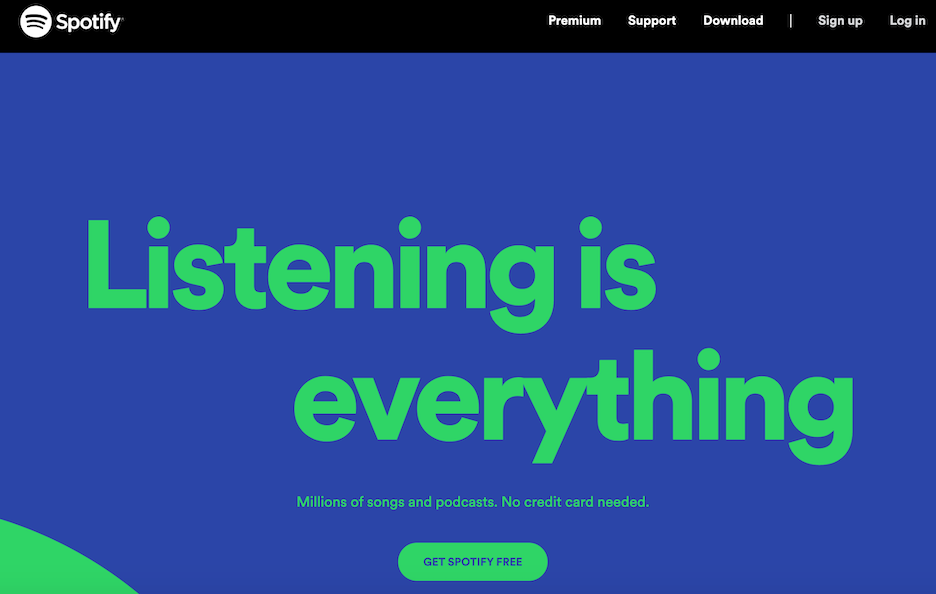 When you're on this Spotify landing page, you know what action you're supposed to take.
Landing Pages Can Increase ROI 
Landing pages are powerful tools that can take the traffic you already generate through your other marketing activities and maximize your earning potential by turning visitors of the page into customers. Landing pages are best used with your online advertising strategies such as pay-per-click (PPC) advertising or display advertising. As we mentioned, using landing pages that are relevant to your PPC or display ads can increase the chances that a visitor will convert from your ad and can increase your return on investment from your online advertising.
Best Practices for a High-Converting Landing Page
If you want to create an excellent landing page, there are a few essential practices to keep in mind that allow you to make the most of the page. Read on for our list of four critical elements of high-converting landing pages.
Only Include the Most Relevant Content
While the design of your landing page is important, it's best to start your landing page design by outlining the content you want to include. Beyond text-only content, you might also consider images, a video, graphics, and quotes to reinforce your landing page's message or theme — all with the intent to encourage users to fill out your form and become a lead.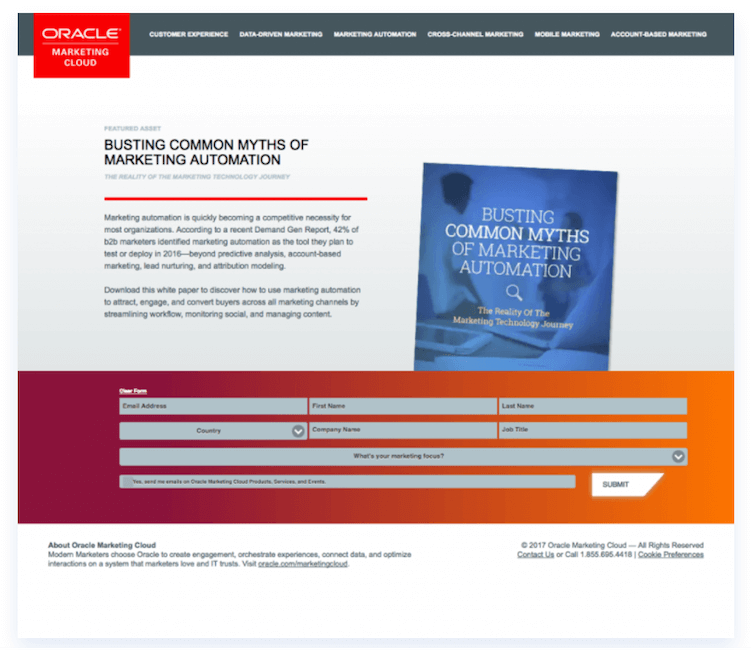 This landing page contains relevant information about the guide that Oracle is advertising to entice users to fill out the form below.
Data and stats, reviews, and even testimonials can also lend a helping hand here.
Additional content you should incorporate into your landing page includes:
Information about upcoming events.
Contact information.
Hours of operation.
Location-specific data like menus or photos.
Related: Get more landing page best practices to try here.
Stick with an Uncluttered & Polished Design
A cluttered landing page design can create a negative user experience and keep people from filling out your landing page form, so it's best to focus on your CTA and isolate that element from the other content on the page whenever possible.
A simple design that is uncluttered and organized can keep the visitor engaged and drive them to take an action — so don't try to cram in too much information or too many design elements.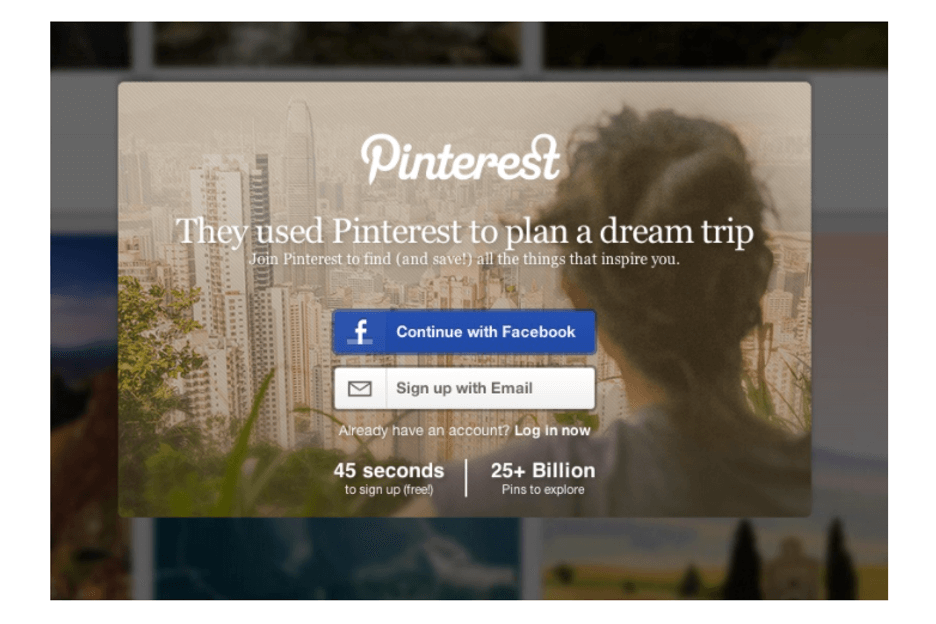 This landing page for Pinterest is very uncluttered and points the user to sign up or sign in to the channel.
It's also important to make sure that your landing page is aligned with your branding and includes your logo, any images of your or your business, and other elements that can help build brand awareness.
Choose a Responsive Landing Page Design
A responsive design is one that looks seamless across any device — whether desktop, tablet, or smartphone. Designing a landing page to look and function great no matter how a person finds it will help standardize the experience and increase the likelihood of conversions.
Responsive designs have been a standard in UI/UX design process for a few years now, and most users expect to be able to visit a webpage on their smartphone or desktop and have the same experience. Most users also expect the landing page to function smoothly even if their screen size is small, and most designs can adapt automatically to ensure this consistency across any device.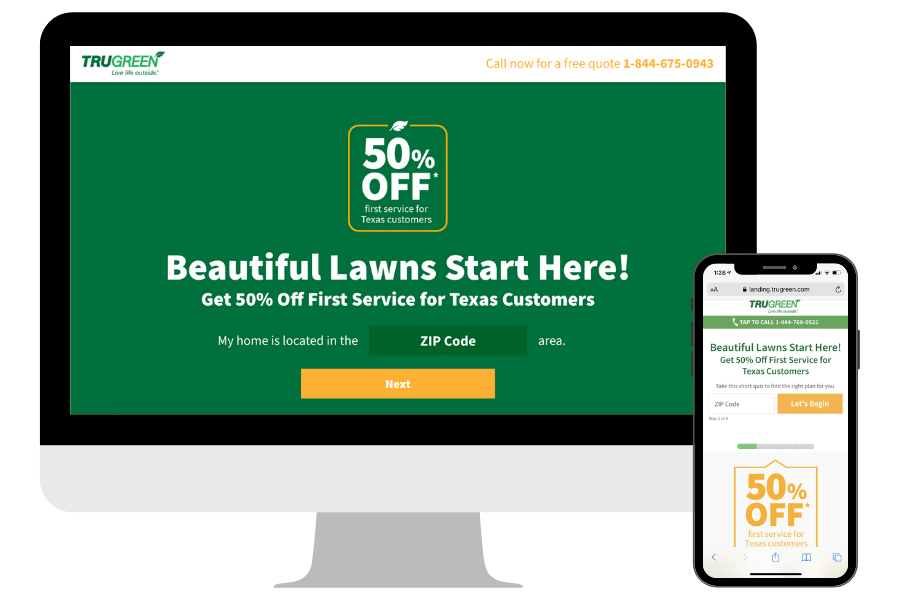 This landing page from TruGreen looks great on both desktop and mobile devices. 
Plus, you want to make sure it's easy for users to fill out your form or take the next step to become your customer no matter what device they're on.
Include a Compelling Call to Action 
A solid call to action is one of the most important parts of a successful landing page as it directs the visitor to the next step, which results in sales. The CTA is the "gateway" between your company and the user, so following a few tips can increase your conversions without costing you additional money or time.
Related: Get 50 powerful call-to-action phrases that will help you convert more customers.
First and foremost, you'll want to place the CTA in a spot that is easy to see — typically in a place they would see before they would have to scroll down the page.
If you feel strongly about placing content near the CTA on your landing page, consider using images and other visual cues that fit well and don't clutter up space. For example, you can use pictures of everyday people on plain backgrounds or add brand consistent colors for contrast.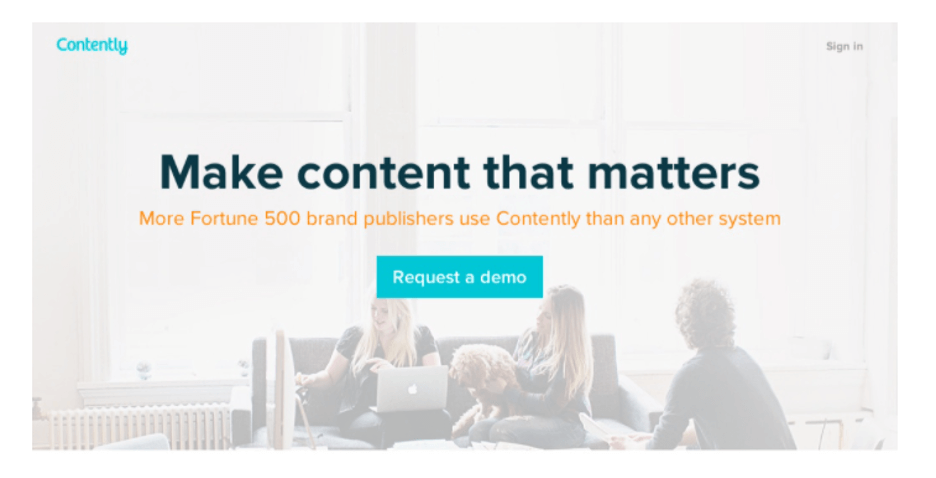 This landing page from Contently teases just enough information to get users to take the action of requesting a demo. You can also see there's no additional navigation on the landing page other than an option to sign in so users are encouraged to click the CTA.
Your CTA should also include a button that directs people to take an action. Short phrases such as "Sign Up Now" or "Get Started Now" work well for a CTA, but shorter, single-word phrases often don't create higher conversions. Use these tips to create effective CTA buttons.
Get Started Building High-Converting Landing Pages
A high-converting landing page takes advantage of design and marketing techniques that have a significant impact on users. To get started building high-converting landing pages, follow our highly effective tips so you can generate more leads, buyers, or subscribers from your digital advertising campaigns.
About the Author
Romy Toma-Catauta works in the marketing field and is passionate about writing on web design, business, interior design, and psychology.