By 2024, over 4.4 billion people globally are expected to use email to communicate. That's an incredible number, right? 
No wonder why email marketing is gaining more momentum. Brands are realizing that it can be a great medium to reach out to a broad audience base and keep them engaged.
But the catch is that users receive hundreds of emails every day in their inboxes. If you want to stand out, you need to make sure that you're doing something different.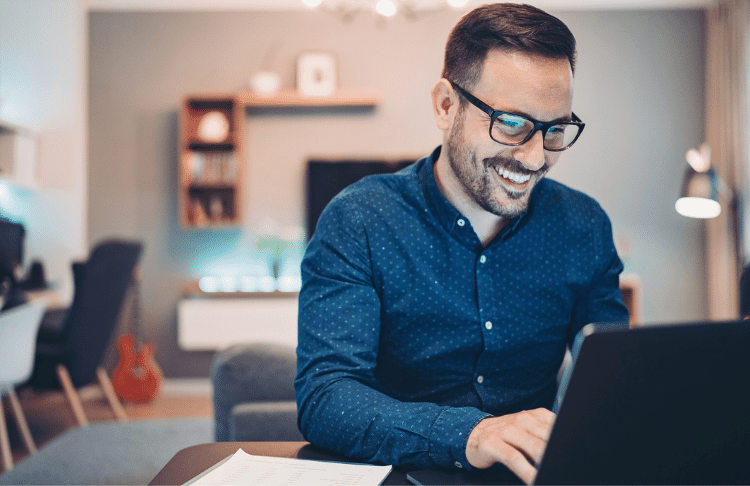 In this post, let's discuss how you can make your email campaigns more engaging using email marketing best practices like engaging subject lines, segmentation, and much more.
Email Marketing: How to Create More Engaging Campaigns
Sending straightforward text emails is passé. If you want to get your audience interested and get their attention, you need to work harder. 
Not sure how?
Here are some best practices for email marketing that can make your campaigns more engaging:
1. Use Intriguing Subject Lines
When a recipient gets your email, they read your subject line before checking it out. Think of it as a make-or-break opportunity to grab their attention. If your subject line isn't interesting, users may keep scrolling or just open another email.
So, how can you create intriguing subject lines?
One way to do so is to clearly state the value that recipients can get from your email. Alternatively, you can also include cliffhangers or shocking statistics to get their attention. 
If you are offering a special gift or discount, make sure you highlight that in the subject line. You can also add emojis to make it more appealing.
Here is an example of how the Instagram marketing platform Later uses emojis frequently in their subject lines:
2. Segment Your Email Lists
What may be engaging for someone may not necessarily amuse another person. It all boils down to personal interests and preferences. That's why sending the same email to all of your recipients doesn't make sense.
If you're doing that, your email campaign is likely to give you disappointing results.
Instead, you should segment your list so you can provide relevant content to your recipients. For this, you can segment your lists based on your location, age, buying journey, gender, and other criteria. 
You can use specialized tools that can help you segment your lists and further schedule them. Through segmentation, you can help boost your campaign's clickthrough rate and overall engagement rate. 
3. Add Videos In Your Emails
Don't want to add too much text to your emails but still have a lot of information to convey? One way to fit details without adding big blocks of text is via videos. In fact, 86% of buyers say that they would like to see more brand videos.
Not sure which kind of videos to add?
Explainer videos related to your industry or product can be a great way to educate your target audience. Alternatively, you can showcase your products or sell a certain kind of lifestyle.
The key is to make videos that have engaging visuals. 
Take inspiration from this video embedded in an email by Adrenaline Travel, a Dubai-based travel agency.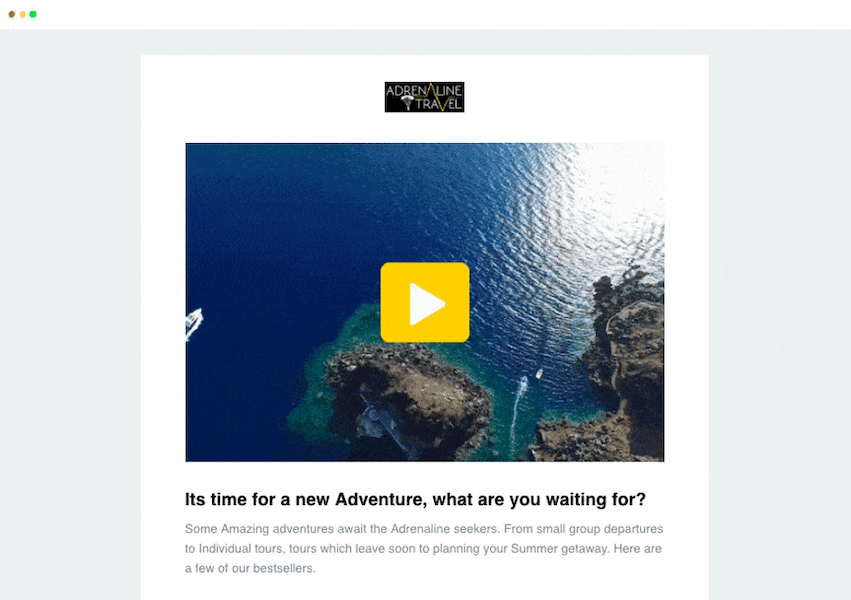 4. Include Interactive Elements
The best way to add fun to otherwise boring email copy is to add an interactive element. This could include quizzes, polls, GIFs, games, maps, and other elements.
These elements encourage the recipient to participate or get involved in some way. So, they are likely to catch their attention.
Take, for instance, the below email from Pret a Manger, an international sandwich franchise chain. When you click on the options given at the bottom, the drink in the cup changes based on your choice.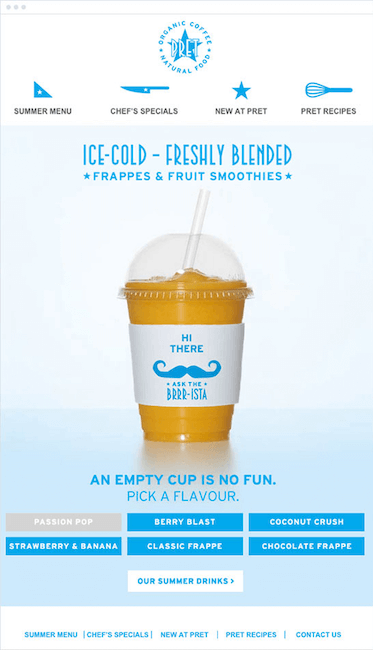 5. Add Personality to Transactional Emails
Transactional emails don't have to be dry. Of course, you need to mention that a user's order is confirmed or that their parcel has been delivered. Since it's an update to an order, recipients are likely to open this email.
Utilize this opportunity to showcase your brand personality and win over your audience. Use clever copy and unique graphics to make the email more appealing. 
Take a look at how Hulu makes a transactional email seem creative: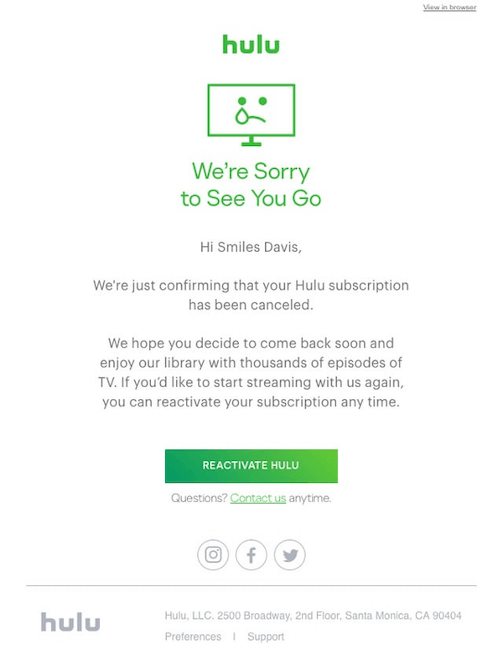 6. Collect Feedback
If you really want recipients to be engaged, ask them for feedback. After all, it shows that you care about their experience and opinions. 
Wondering how to ask for feedback in emails?
You can add in a quick survey with multiple-choice questions or a questionnaire with space for detailed answers.
Here is how Airbnb uses this strategy to make its email campaigns more engaging: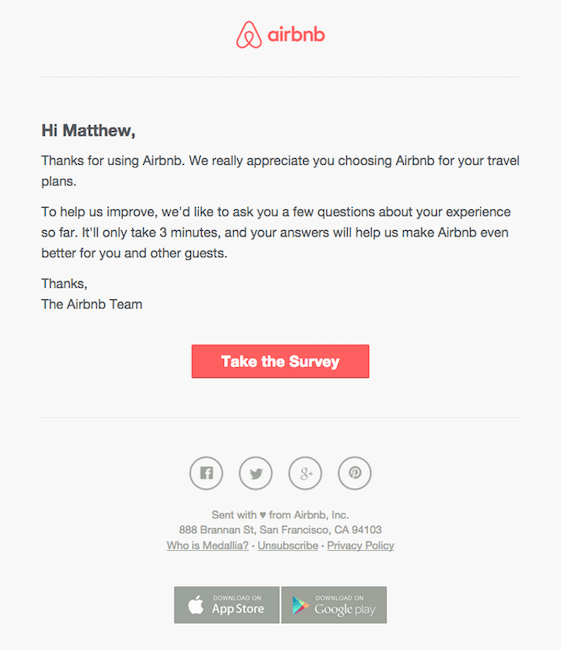 Not only does it make emails more engaging, but it is also an easy way to find out which areas you need to improve on. 
To encourage your audience to put in the time and effort to fill out your survey or feedback form, you can also offer them incentives. This can go a long way in getting them to give you feedback.
Make Your Email Marketing More Engaging Now
Making your email campaigns more visually appealing and interactive is the key to boosting your engagement rate. 
In addition to this, writing catchy subject lines and adding more personality is also important. Segmenting your lists can also help you add a more personalized touch to your emails. Use a mix of these strategies to create targeted email campaigns that are more engaging. 
Ready? Set? Go!
About the Author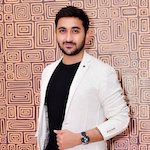 Gaurav Sharma is the Founder of Attrock, a digital marketing company. He works closely with top marketing influencers and has helped numerous brands, e-commerce firms, and SaaS companies grow.
He is also a certified Google Analytics and Google Ads specialist and regularly contributes to reputable publications like HuffPost, TechCrunch, and many more.