Some things are just meant to be together, like peanut butter and jelly, surf and turf, salt and pepper, and… fall and Instagram!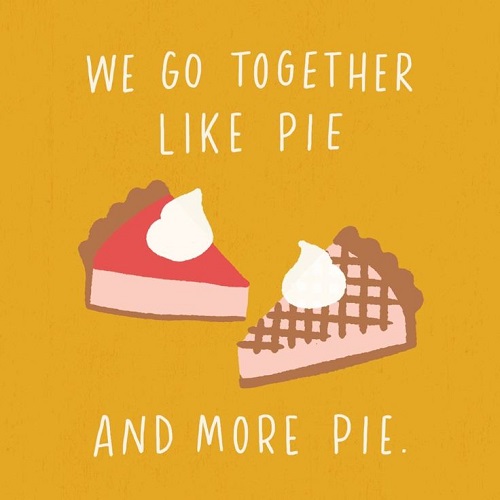 Your business's account and these fall Instagram caption ideas go together like pie and more pie!
Instagram is the perfect social media platform for posting about the sights, scents, and festivities of the fall season. You know you want to post to Instagram this fall, but thinking of a caption to go along with your content is easier said than done. That's why we've put together this ultimate fall Instagram posting guide, complete with answers to questions like:
What should I post in the fall?
Are there any Instagram caption best practices to keep in mind?
What are some good fall Instagram captions?
Whether you're using these fall Instagram captions as inspiration for your personal account or your business's account, you'll be sure to see a boost in likes, shares, comments, followers, and more!
Table of contents
Related: Don't have an Instagram account just yet? Find out how to create a new Instagram account–and optimize it to get followers.
Our best fall Instagram captions anyone can use
Whether you're trying to build your personal brand this season or boost your business's brand account, these universal fall Instagram caption ideas below are sure to be a hit:
Happy fall! We love fall here at [Business Name] and can't wait to celebrate the spooky season. Give us some ideas to start by commenting below your favorite fall activities:
Falling for fall along with ya!
Fun, fun, and… more fall fun for everyone?
Fall season incoming! What's your favorite part of fall? Post your fall faves and tag us back to spread the seasonal sweetness.
Channel the flannel: it's fall weather now!
Pumpkin spice or apple spice? Comment below which you prefer and we'll reveal our favorites in our next post ?
Never fear, pumpkin-flavored everything is here! Our favorite fall dish has been passed down for generations. Click the link in our bio to get the recipe!
Our favorite season is here! What's your favorite season? Let us know in the comments below to see which one is REALLY the most popular ?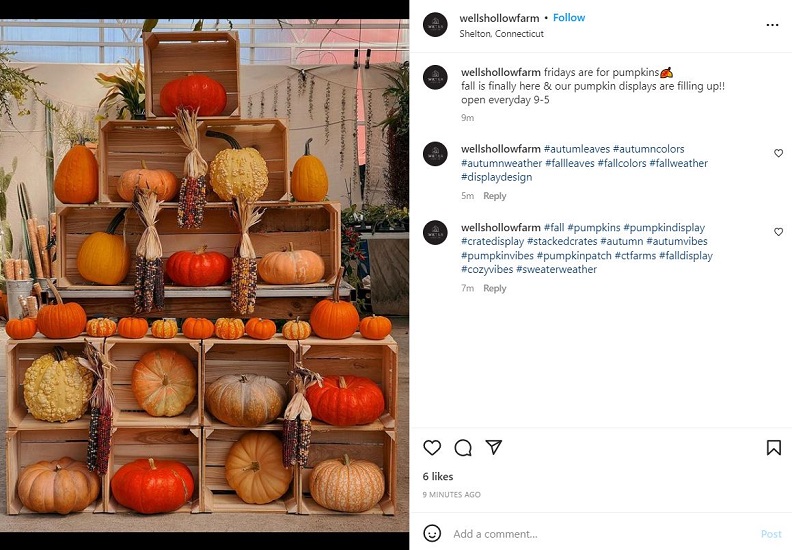 First day of fall Instagram captions
The first day of fall is on September 22 this year (in 2023, it will fall on September 23—pun intended), so you might want to stir up some excitement with these first day of fall Instagram captions.
Time for long sleeves and autumn leaves??It's the first day of fall, after all!
Ah, first day of fall ? Leaves are falling, autumn is calling, and we're balling out with our hot new fall pics
See ya, summer ? hello fall
Sippin' on cider and breathing in some crisp fresh air. Is this heaven? Nope. Just the first day of fall!
It's the first day of fall! ?How about them apples??
'Tis the season! Happy first day of fall, everyone! How are you planning to enjoy the season? Let us know in the comments below! Best comment gets reshared to our story?
RIP Summer! Long live the fall?
Leafing? behind the lazy days of summer? for the first day of fall ?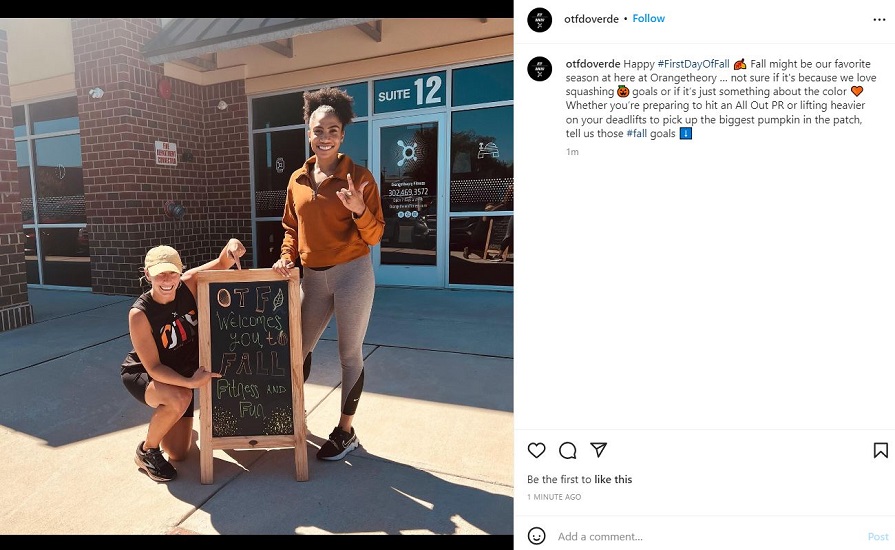 Related: Get Instagram Story ideas you can use all season long.
Simple and one-word fall captions
Some days this fall you might not have much to share, and that's okay! In that case, use these short and sweet on-word fall Instagram captions:
Fall?
Cozy SZN
✨Crisp✨
Harvested✅
Fireside vibes
Golden hour
Foliage
Candlelight night
Refreshed
Brisk & crisp
?Amber autumn
We ❤ the fall
Inspirational fall Instagram captions from quotes or songs
Inspire your followers with these creative fall Instagram captions:
"But I miss you most of all, my darling, when autumn leaves start to fall." – Autumn Leaves by Nat King Cole
"The autumn moon lights my way." – Ramble On by Led Zeppelin
"Autumn leaves falling down like pieces into place." – All Too Well by Taylor Swift
"Nothing lasts forever, even cold November rain." – November Rain by Guns N' Roses
"Two roads diverged in a yellow wood." – The Road Not Taken by Robert Frost
"Life starts all over again when it gets crisp in the fall." – F. Scott Fitzgerald
"It was a beautiful, bright autumn day, with air like cider and a sky so blue you could drown in it." – Diana Gabaldon
"The leaves are all falling, and they're falling like they're falling in love with the ground." –Andrea Gibson
"The heat of autumn is different from the heat of summer. One ripens the apples, the other turns them to cider." – Jane Hirshfield
"It looked like the world was covered in a cobbler crust of brown sugar and cinnamon." – Sarah Addison Allen
"Delicious autumn! My very soul is wedded to it, and if I were a bird I would fly about the earth seeking the successive autumns." – George Eliot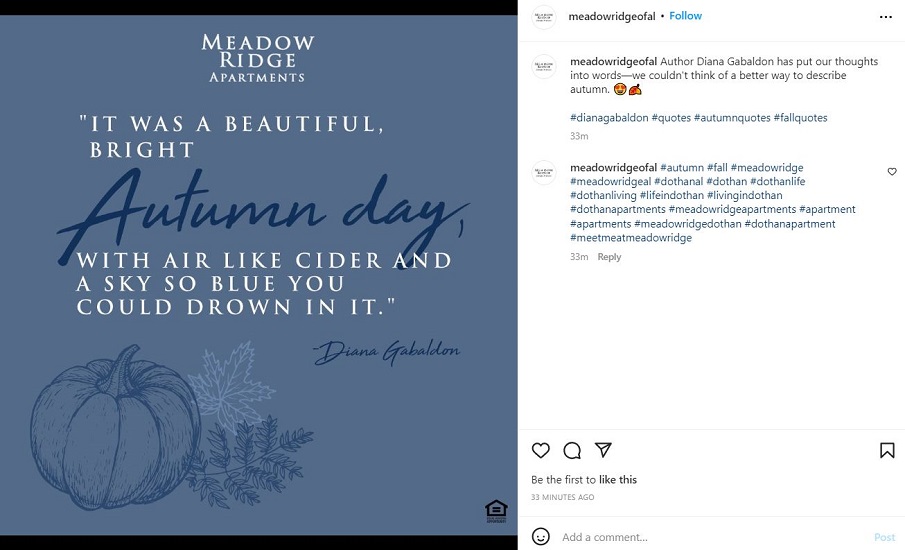 Cute fall Instagram captions
Pumpkin spice and everything nice!
You're never too old to play in the leaves?
We're having a jack-o-blast of a good time this fall?
Sweaters and cold weather are better together
Autumn skies and pumpkin pies
Pilates?! You mean pie and lattes☕
A bunch of cutie pies? pumpkin pies, that is!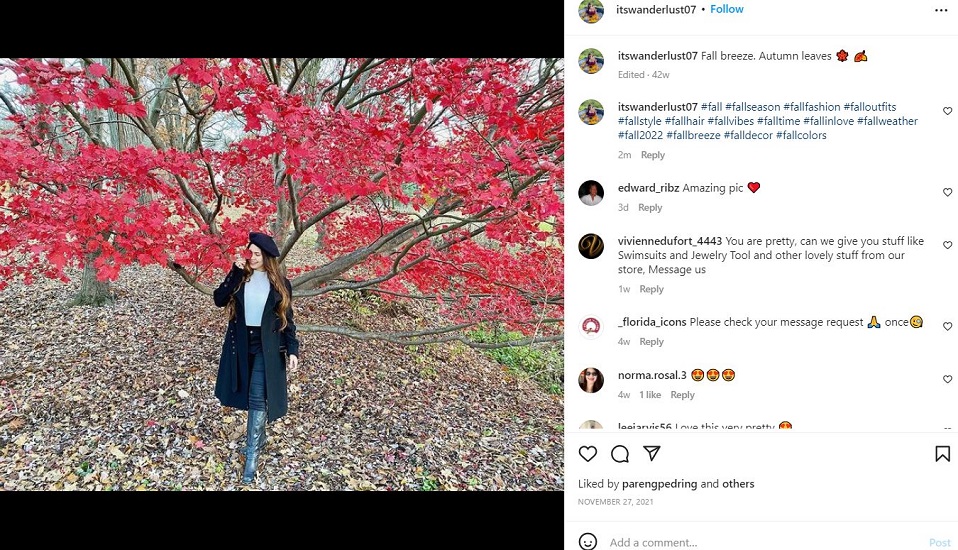 Funny fall Instagram captions
Foolish fall! We can't get over this funny post. Comment with your reactions lol ?
Why shouldn't you tell a secret in a cornfield? Because the corn have ears…
Why did the scarecrow win a Nobel prize? He was outstanding in his field!
Why did the apple pie cry? Its peelings were hurt?
If pumpkins could join the military they'd be on the coastGOURD
What's a ghosts favorite nursery rhyme? Little BOO peep
What time of year do people get injured the most? In the fall, of course!
What happens when winter arrives? Autumn leaves.
What do you call the ghost of a chicken? A poultry-geist.
?let's get smashed ?
Why did the pumpkin lose its license? It was always smashed!??
Why's it so easy to trick a leaf in the fall? They fall for anything.
Fall? Never heard of her. Winter, spring, summer, too? I only know football season, hockey season, basketball season, baseball season…
Fall? Don't you mean football season?!
Oh, my gourd!?
Never mind the squad, we're squashgoals!
Don't stop be-leafing?
Maybe she's born with it?maybe it's maple leaves?
It's sweatah weatha!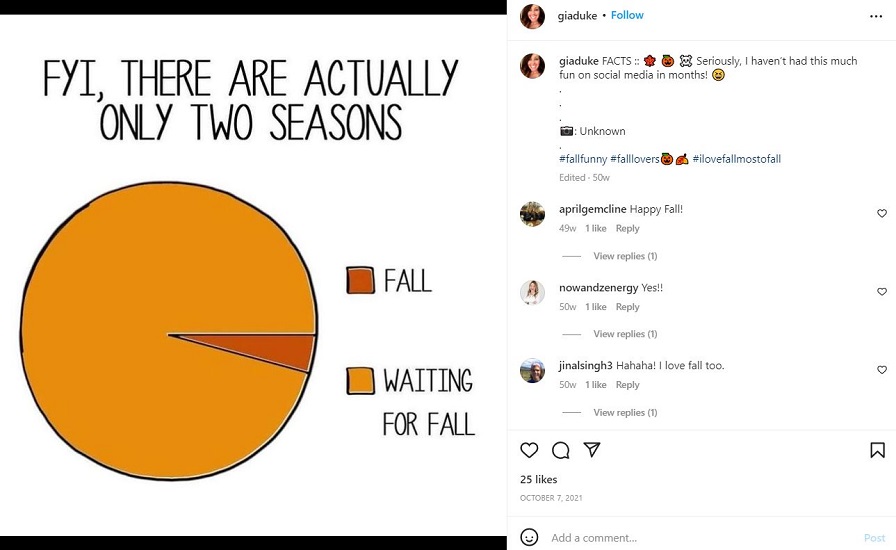 Fall couple Instagram captions
While everyone is falling for fall, I'm falling for you?
I hope my smooth moves don't spook ya!
Winter, spring, summer, or… fall! I love you all year long❤
The seasons might be changing but my love for you will never change.
FALLing hard for you?
We go together like pumpkin and spice!
You're the apple of my eye
Forever my apple picking, pumpkin carving, and trick-or-treating buddy❣
Halloween Instagram captions
BOO! ?.. woops! Did we scare you?
?Wickedly witchy things are brewing around here…
Happy Halloween from [Your Brand Name]
Trick or treat, but don't smell our feet…
Trick or Treat? Comment trick or treat below and we'll let you know which option REALLY is the most popular…
Trick or Treat ?
Treats in store for you all October long, no tricks!
No tricks, these treats are legit!
R-YES-V-P to our freakishly fun fall happenings every day leading up to Halloween
Eat, drink, and be scary this Halloween
We're hootin' and hollerin' with Halloween excitement!
The exclusive Halloween costume contest live now on our website! Click the link in bio to go submit your best costume photos and we'll share the results on our page.
Hoo, hum Halloween so far? We're pumpkin-spicing things up with a live, virtual costume contest. Tag us in your costume posts to win a feature on our page and a spooky sale price on an item of your choice!
? Get even more Halloween Instagram captions here!
Fall Instagram captions for your business's accounts
When it comes to promoting your business on social media, you need to strike a balance between selling your brand's unique value and having fun with your audience. These festive, yet effective, fall Instagram captions help you do just that:
Captions for fall product launches
We're turning over a new leaf?, literally! Our latest [product] dropped just in time for fall! Grab it now while you can.
Fall forecast says 100% chance of… NEW. PRODUCTS. That's right! Our fall launch is finally here and we're so excited to share it with you all comment below your favorites off the new fall drop.
Go big or gourd home, right? We're releasing our fall product launch today in honor of the season.
Ready, set, LAUNCH! Fall product launch is live + free shipping on all orders now through 11/30/2022! Tag us once you get yours
?new fall product launch alert?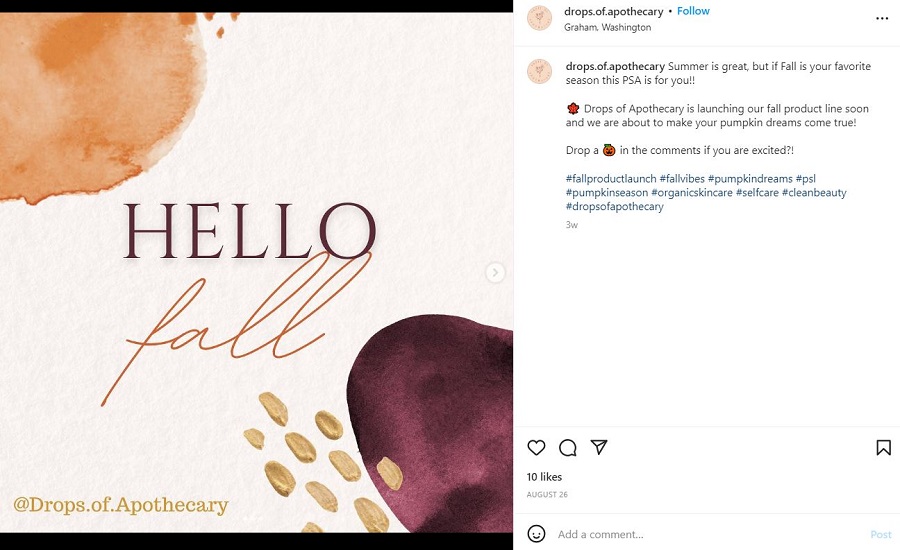 Captions for fall sales and discounts
Fall's well that ends well! You might be bummed that your sweet summer is over, but don't worry, we've got you covered with some super fall sales.
.. Fall sales… Dropping… NOW! Go, go, go to the link in our bio!
After all, it is fall, right?? Treat yourself to deals from our biggest fall sale! Live now.
No thoughts, no words, just fall sale on the mind ??
The best part about fall? The sales! Shop ours now through November to save big bucks on all your favorites.
Fresh season, fresh air, and fresh discounts now applied at checkout!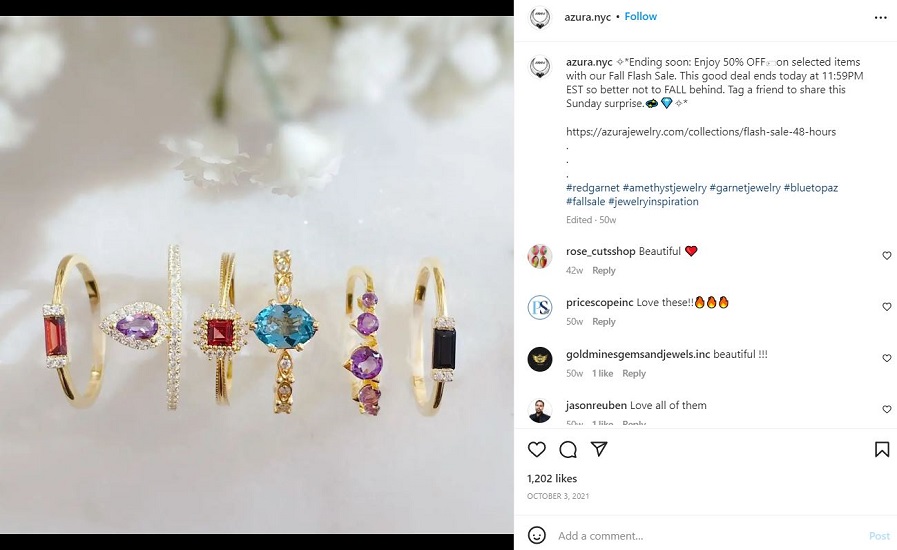 Fall captions for promoting services
Fall "book now, pay later" service options available. Don't wait!
Fall books are open and we can't wait to see you! Put a ? in the comments if you already set your appointment to show you're ahead of the game?
Fall is a time of getting things done. So don't wait and book with us now!
Why do we love fall? Because we open up new appointment times, duh! Book your seasonal services now with the link in our bio.
Finding that fall project to be, well, a handful to say the least? We can help! DM us or click the link in our bio to book a consultation.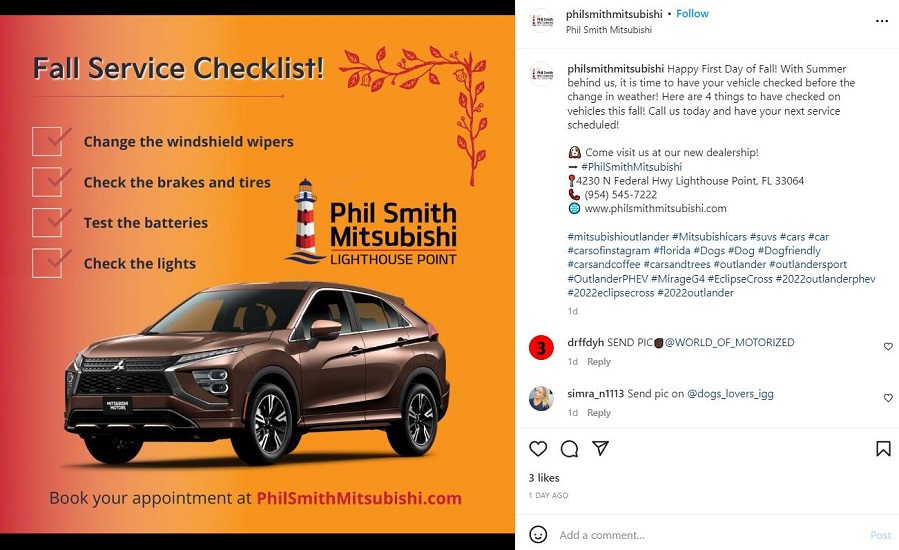 Captions for fall Instagram contests or giveaways
A fall Friday calls for a contest! Share how you're spending your fall weekend in the comments and we'll pick the account with the most creative answer to win a 25% off coupon!
Let the fall festivities begin! We're kicking things off with an exclusive, can't miss giveaway found ONLY in the link in our bio
Guess in the comments how many pieces of Halloween candy are in this pic! The closest answer gets a special fall freebie. Ready, set, go!
The ultimate fall repost giveaway share your favorite post of ours from our page to win two fabulous fall gifts for you and a friend
Boo! Enter our fall contest if you dare ?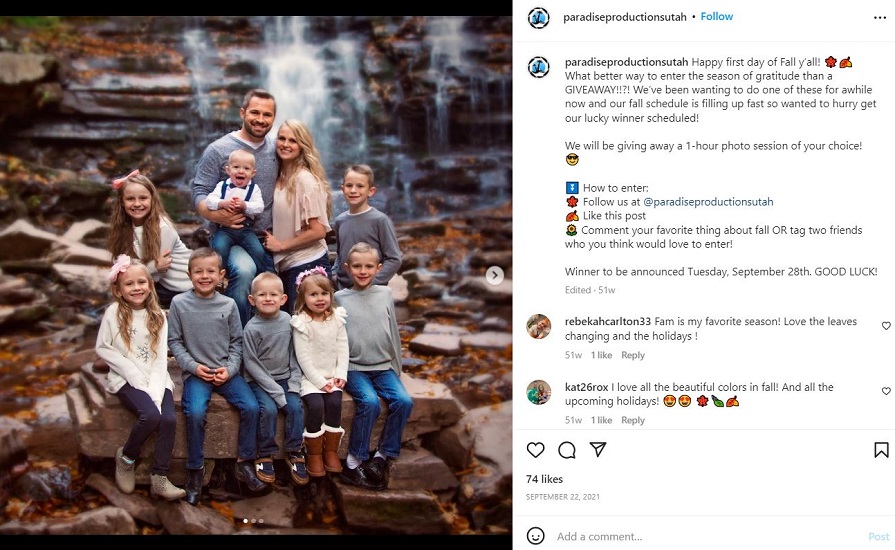 5 fall Instagram caption tips and best practices
Now that we've walked through all our top fall Instagram caption ideas, it's time to craft your own! Follow these social media tips to turn the above fall Instagram caption ideas above into your own unique killer Instagram caption:
1. Add emojis (carefully!)
You can't think of social media without emojis coming to mind. Emojis are a top social media trend that catch the eye of your audience and demand attention in a fun, creative way.
Luckily, there are plenty of fall-themed emojis you can try out in your captions, like the jack-o-lantern, leaves, ghosts, and more! You won't be alone in following this trend, either, as more than half of social media captions and posts contain emojis already.
Just be wary of overwhelming your audience with too many emojis. Too many emojis can appear spammy or tacky, so try just using one to three per fall Instagram caption to start.
This small business account added a tasteful, single emoji to its post's fall Instagram caption. 
2. Use hashtags (sparingly!)
Hashtags are an amazing social media tool your brand can use to grow your following and show up in feeds later. Plus, they can be a playful way to make your fall Instagram captions stand out.
When it comes to how many hashtags you should be using in your captions, there is no right or wrong answer as every account has different goals and needs. However, a good rule of thumb is between 5 and 11 hashtags per post. Try varying the number you use to test and see which hashtag formula works best for your account.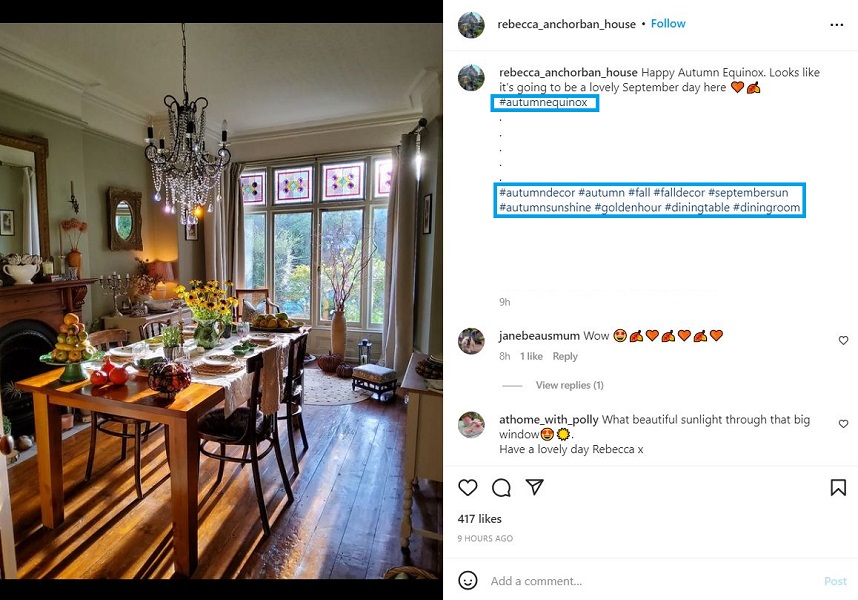 An example of a small business fall Instagram caption using seasonal hashtags. 
3. Keep it concise
Let's face it: your audience isn't browsing social media to do any sort of deep reading. Plus, over 80% of social media content is consumed on a mobile device (which is why mobile marketing can be so important), so your caption is most likely showing on a small screen. Don't let your caption get cut off or lose the interest of your viewers by making it too long.
Luckily, the average character count you shoot should for might be more than you think. In fact, the maximum character length for the average post has increased over the years. Shoot for a caption that's at or under 405 characters, or 60-70 words.
4. Always have a goal in mind
Brainstorming fall Instagram captions is easier when you know what you want to get across to your audience. Having a goal or purpose for each caption that connects back to your brand's marketing objectives will help to make your strategy as effective as possible. Try to be as clear as possible as to what action you ideally want your followers to take after seeing your caption (our list of 50 most powerful call-to-action phrases can help).
For example, if you're looking to drive more traffic to your website, you might want direct your audience to click to the link in your bio for more information, and so on. Just be ready to properly follow through on whatever you promise in your caption. Using that example again, if you're increasing clicks to your small business website, you'll want to be sure your website is updated with whatever you promoted on your fall post (and ready to handle the increased traffic).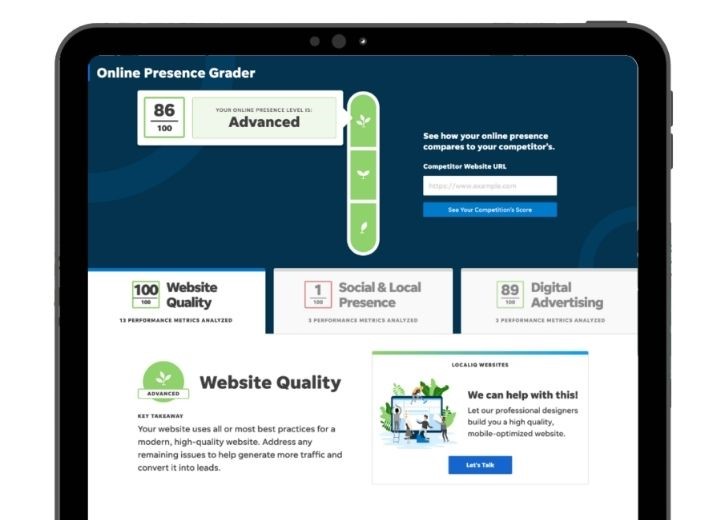 LOCALiQ's website grader can help you prepare your site for socially sourced web traffic this fall for free.
5. Add value with purpose-driven posts
This fall, your target market is likely on the lookout for new brands or accounts to follow, buy, or learn from as holiday shopping kicks into gear.
That being said, with over 66,000 photos and videos shared on Instagram every minute, you need to make sure your fall Instagram captions stand out. Your posts can add value to your followers' feeds when they have a purpose or goal in mind that's relevant to the season. You can post on Instagram in the fall to:
Introduce yourself to new followers
Celebrate the fun and festive fall season
Share out any fall promotions or sales
Announce a fall product launch or business update
And more!
Use these fall Instagram captions for lasting social media success
Elevate your social media marketing strategy this season with these likable fall Instagram captions. When you've got your seasonal captions all planned out, posting on Instagram will be a breeze. And, if you ever still feel like your social media is struggling, our experts have got your back and are here to help.
Need more Instagram caption ideas? We've got you covered: