Toward the end of every year, getting into a fitness regimen is always on my list of New Year's resolutions. And, I'm not alone. In fact, 11% of gym memberships are purchased in January, which is more than any other month in the year.
So, as we near peak season for fitness marketers, how can you get new customers and set yourself up for a successful year?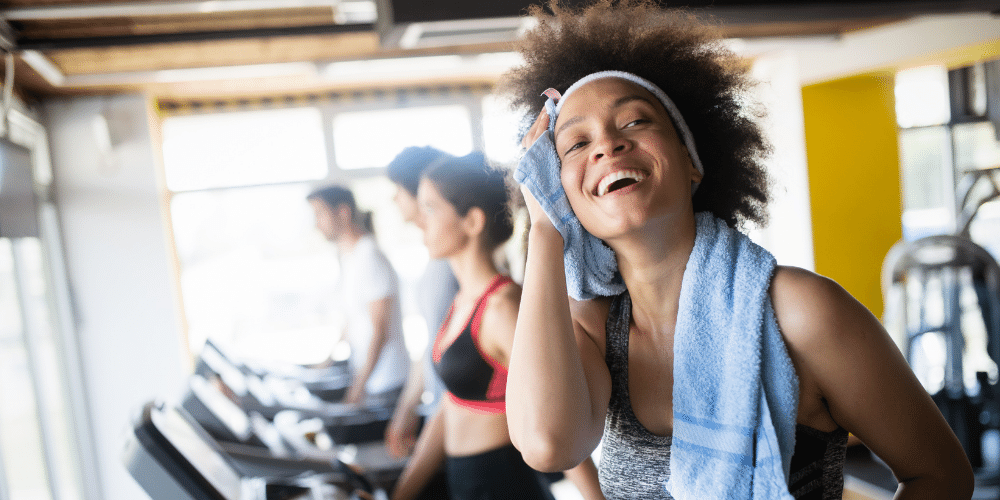 We're going to explore nine fitness marketing strategies that can help you do just that!
But, first, let's get clear on who belongs in this "fitness marketing" category. Fitness marketing encompasses more than just gyms – it includes:
Health food and supplement companies.
Fitness gear and swag businesses (clothing, watches, etc.).
Fitness and nutrition apps.
Local gyms, workout studios, and health clubs (think barre/yoga/spin classes, etc.).
If your business focuses on health and wellness, you can take advantage of these fitness marketing strategies to get new customers.
1. Take Advantage of Instagram & Facebook Advertising
While people are spending records amount of time on social media and looking for ways to stay healthy while staying home, Facebook advertising is a key fitness marketing strategy you can take advantage of right now.
Facebook offers robust audience targeting options for Facebook and Instagram ads so you can feel confident your ads are reaching the right people, in the right place, at the right time.
Here's an example that shows how you can target people in a specific zip code who are active shoppers, newly engaged, and interested in weight training or yoga.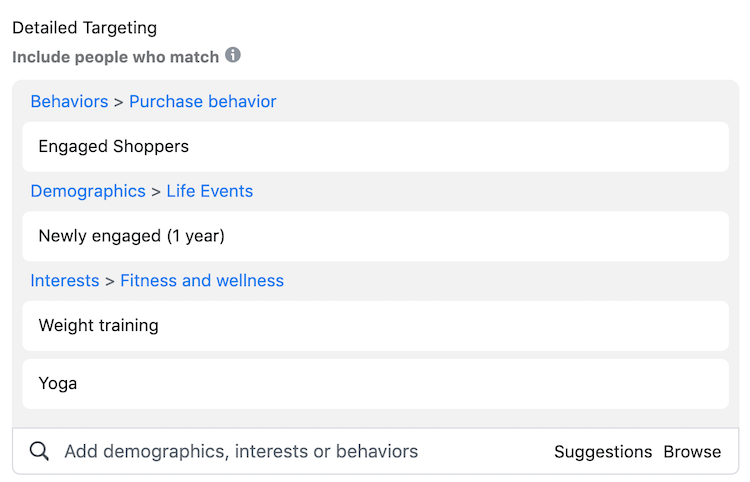 This targeting allows you to fine-tune your ad messaging and design to this exact audience. For the above example, your ad could speak to getting healthy before an upcoming wedding.
This level of personalization increases the chances that your ad audience will be interested in taking the next step to learn more about your fitness business or contact you.
PS: Want to know what types of results you can expect from your fitness advertising on Facebook? Check out our healthcare advertising benchmarks. 
2. Get Motivational on Social Media
Speaking of Facebook and Instagram, these social channels are an important way for you to connect with prospective customers and share information that just might win them over.
Don't feel like you have to share inspirational quotes – there are a variety of social posts you can share to make the motivation more tangible and engaging!
WW (formerly Weight Watchers) shares a mix of motivational social content in the form of jokes, recipes, and more. But, their most impactful posts come from sharing real success stories from current clients.
So, pay attention to your organic social media strategy and share content that will resonate with your audience – it just might be the push they need to become your customer!
3. Share Success Stories & Reviews
Success stories aren't just great for your social media sites – they're an important way to get new customers to want to do business with you. People rely on reviews to make decisions – especially for goods and services that have a longer path to purchase, like in the health and wellness industry.
So, it's important to share customer success stories and reviews to get new customers as part of your fitness marketing.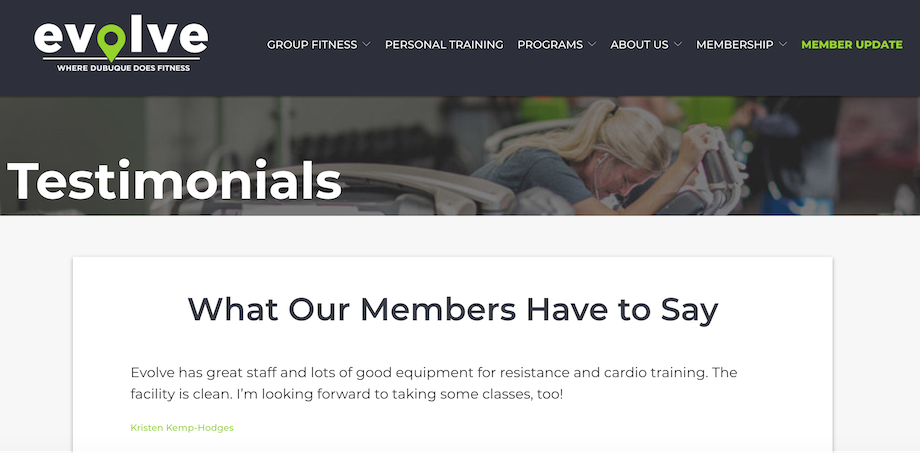 This gym includes a page of member testimonials on their website.
If you have great reviews and a high star rating on your Google My Business profile, you can incorporate these into your Google search ads. Use customer quotes in your social media posts. And, even take some time and resources to create a short customer testimonial video to share on your website and social sites.
A good reputation is important when it comes to getting new customers – so if you've got it, flaunt it!
4. Create a Seasonal Marketing Strategy
Many fitness businesses experience seasonality – there are definite peaks around the new year and the summer – and business may slow down a bit toward the end of the year.
In order to combat this slow season, create a seasonal marketing strategy that allows you to capitalize on your busy season and keep customers coming during your typically slower months.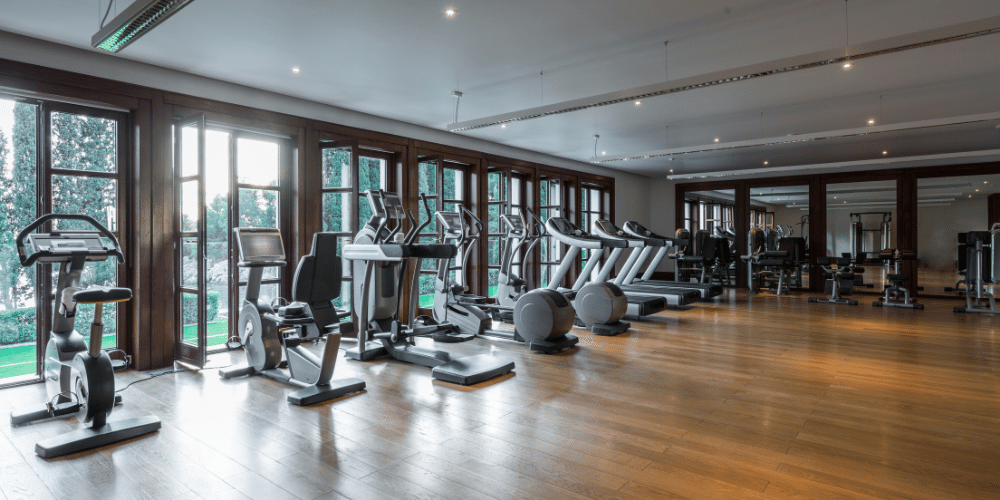 Look at the trends your business experiences and think of creative ways you can continue targeting your audience year-round with seasonal promotions, awareness campaigns, and more.
Then put a little more focus and budget around your fitness marketing strategy during your busiest times so you're getting the most new customers when fitness motivation strikes.
5. Create Special Intro Offers & Promotions
It seems like there's a new health and wellness business on every corner nowadays – so how can you stand out? You need a special way to get new customers to choose your fitness business over the other guys down the street.
One way you can do this? Special introduction offers and sales promotions – and I'm not talking about a T-shirt. I'm talking about a free personal training session or a free health evaluation.
Your special intro offer should be enticing enough to get prospects in the door and give them a taste of what they could experience if they sign up with your fitness business.

A boxing gym in my area offers a free class for first-time guests. I never really considered boxing before, but I'm a fan of free stuff, so I went. I loved it! Then, for taking a free class, you get a special introductory rate for your first month – so it feels like you just have to sign up or you're missing out on a great deal.
6. Be Upfront About Your Pricing
Pricing is an important consideration for people when it comes to health and wellness businesses. There's nothing worse than having to dig for pricing information or to feel deceived when you see those hidden fees.
If you really want to stand out with your fitness marketing and get new customers, you can be upfront and transparent about your pricing.
Let clients know exactly how much a membership costs, any associated fees (and why they exist), plus any additional fees or add-ons they might encounter right on your website.
You can (and should!) also include this information in other places – like in your Google Ads and potentially on your Facebook page in your About section.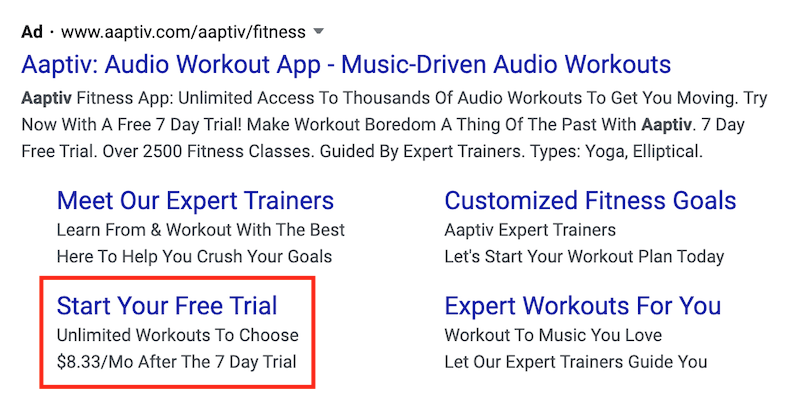 Take this example PPC ad from Aaptiv. It has the price listed twice and advertises a free trial!
7. Consider a Free Trial
If you really want to get new customers through the doors of your fitness business, you'll consider offering a free trial for a set period of time. It could be as short as a week or as long as a month – but it should be enough time to allow people to get a feel for your business and what you offer.
Giving customers time to understand what makes your fitness business so great can only help you in the long run.
This gym advertises a free trial right on their website.
This might be especially successful now when many people might be wary to visit gyms. By communicating your health protocols and giving them a chance to see it in action, you might be able to convert more prospects into customers.
8. Retarget Your Leads & Customers
Retargeting is the perfect fitness marketing strategy because it keeps your business top of mind until a prospect is ready to convert.
Maybe they've visited your website a few times but aren't entirely sure whether or not they're ready to take the pledge. But, then they see a retargeted ad offering a free class, and that's the extra push they need to sign up.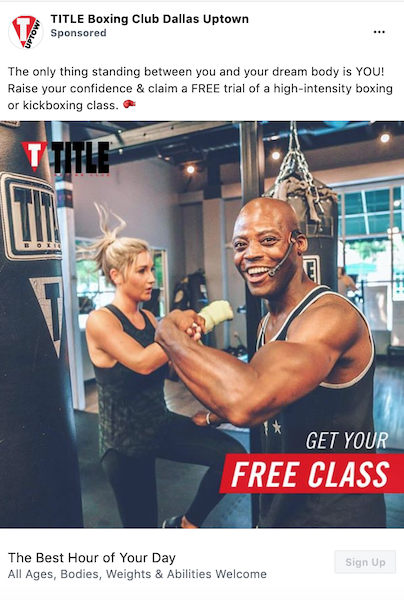 Once they've taken advantage of the free class, you can continue retargeting them with relevant offers until they take the plunge and become a paying customer.
You can also retarget lapsed customers with display ads or targeted email marketing campaigns to entice them back to your business.
9. Don't Sleep on Direct Mail
There's something really exciting about getting mail – especially when it has birthday money or a great coupon. Many businesses have neglected direct mail as we've shot into the digital age, but the truth is that direct mail still works.
Why? Because you're able to directly reach people within a certain area who are likely interested in what you have to offer – especially if it includes a compelling offer.

So, test out a beautifully designed promotional mailer as part of your fitness marketing strategy to reach a new audience in your area.
Pump Up Your Fitness Marketing
Now is the time to get your fitness marketing in gear to capture new customers as we move into 2021.
Use these nine fitness marketing strategies to help you generate leads and sign new clients:
Take Advantage of Instagram & Facebook Advertising
Get Motivational on Social Media
Share Success Stories & Reviews
Create a Seasonal Marketing Strategy
Create Special Intro Offers & Promotions
Be Upfront About Your Pricing
Consider a Free Trial
Retarget Your Leads & Customers
Don't Sleep on Direct Mail