If you're one of the 1 billion TikTok users or 5 million businesses on TikTok, you've probably spent a lot of time scrolling through the platform's feed. But have you filmed your own videos yet? If you haven't, you need to: TikTok has grown exponentially and its users want to see your content. In fact, 91% of people want to see more online videos from brands in 2023 and 2024.
However, it's not just a matter of the quantity of TikTok videos you produce, but the quality as well. Behind every high-performing TikTok video is a strong editing strategy. While you don't have to be a video wiz to achieve this, there are a few ways you can edit TikTok videos to help increase your brand's performance and grow your business. Use this post as your complete guide to TikTok video editing!
How to edit videos on TikTok
Ready to level up your online presence with TikTok video edits? Here are 21 creative ideas on how to edit a TikTok video.
1. Cut your time
Research tells us that our attention span is shrinking. While screens used to hold our attention for a little over two minutes, we can now only pay attention for about 47 seconds.
So how do you captivate your target market when there's no time? You create shorter videos.
While TikTok now allows you to post videos that are three minutes long, you shouldn't make videos that long just because. Shorter videos will hold your audience's attention better.
2. Use the countdown timer
TikTok allows you to set a countdown clock before you begin filming. It's just any camera: setting a countdown timer allows you and any other video participants to prepare for filming.
By using the countdown timer, you can operate your camera hands-free so you can get in position, grab props, or film videos where you walk into the camera frame.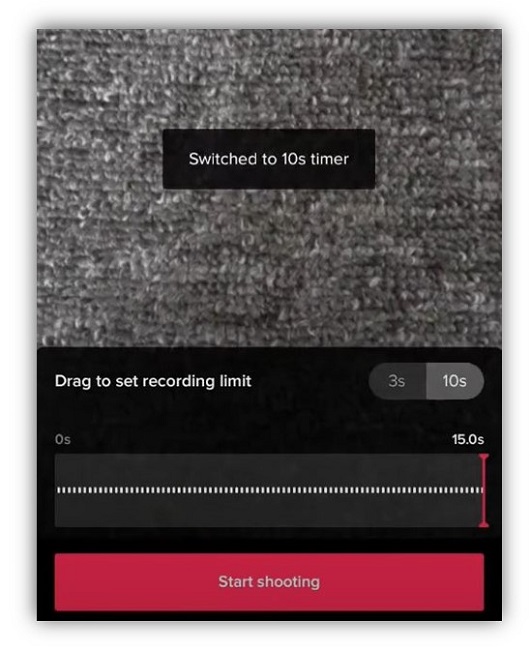 3. Use the green screen
One of the most frequently used video effects used on TikTok is the green screen. With the green screen filter, you can make any video or photo your background. The green screen makes any virtual setting look realistic enough for your skits, how-to videos, and entertaining productions.
For example, TikToker Micky Overman uses the green screen effect to create a forest background in a skit.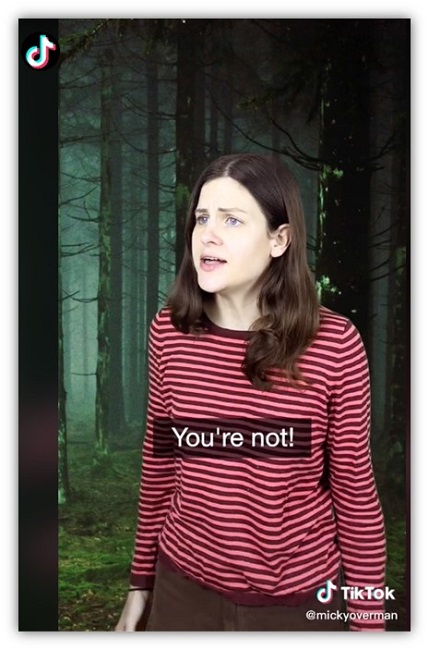 4. Create a loop video
Loop videos are endless videos where the end of the video repeats back to the beginning. With no natural conclusion, your audience keeps watching—an action that TikTok rewards as the algorithm wants people to watch complete videos. For example, if your audience watches your loop videos for longer, you'll have a higher likelihood of ending up on the TikTok For You Page (FYP).
A looping video can be as short as 15 seconds or as long as three minutes. Creating a loop video is more simple than it sounds. To loop videos on TikTok:
You'll want to have consistent lighting.
The transition from end to beginning will need to feel natural.
You'll need to create identical ending and beginning movements.
You don't have to include any voiceovers or music to create a loop, but if you speak you need to create complete sentences that connect your ending to your beginning. You need to have an ending "outro" segment that flows into your beginning to close the loop.
For example, your ending could say "you need to know this because…" and your intro can say "you must know how to start."
5. Adjust for high-quality audio
There is nothing more annoying than having subpar audio. If you want to edit videos on TikTok that wow your TikTok followers, then you need to ensure that you're recording high-quality audio. Have a mic on hand and record in a quiet area. If that's not possible, do what you can to reduce background noise.
Once you've got your audio recorded, it's fairly easy to customize audio on TikTok:
Tap the audio track.
Slide it to the right to delay the audio from starting.
If your audio is hard to hear, then you need to use captions, voiceovers, or music instead, or just rerecord your video.
6. Insert transitions between video clips
Creating smooth transitions between video clips ensures that your audience isn't jarred while watching your video. TikTok has built-in transitions like "switch off," "zoom in," and "shooting frame." But you can use jump cuts to seamlessly transition from one clip to the next. Stitch video clips together with the person or object in the same position in the frame.
If you're unable to do that, there's a lot of really cool ways to hype up your video. Try creative TikTok transitions like:
Snapping your fingers to switch from one scene to the next.
Zooming in on one book page and zooming out on another.
Cover up the camera with your hand and then uncover the camera.
Pull the phone away from you, change something, and then zoom back in on yourself.
Walk out of the frame and into another one.
Change out photos with the beat of a song track.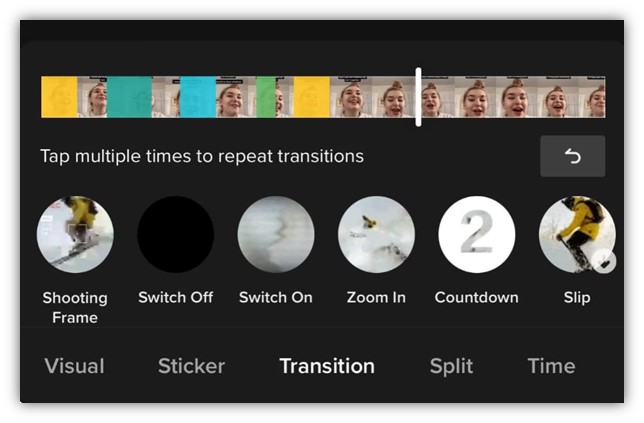 7. Create stop-motion videos
Who doesn't love a great stop-motion video? The best part is that stop-motion videos are created by stitching together multiple photos, so if you're feeling intimidated by creating videos, start here.
TikTok has a stop-motion video feature. Click the "effects" button, then "interactive", and then "stop motion."
8. Try adding text throughout your video
TikTok makes it very easy to have text pop up in any video you create! You can use this feature to have text in different colors and fonts pop up throughout your video. Use text to create a numbered list, support your story, or promote a call to action.
To add text to a TikTok video, tap "text" at the bottom of the editing screen. Select what you want and hit "done." Then all you have to do is drag it to a certain point on your screen. Changing the text size is as simple as pinching the text on your screen.
To change the duration of your text, you just tap your text and select "set duration." Then all you have to do is drag the timeline editor to adjust when your text pops up and how long your text appears on your video.
9. Respond to people's questions and comments with the reply sticker
With TikTok, it's easy to interact with your followers by directly answering their questions or replying to their comments. Your TikTok reply video will appear in the comment section and will become a new video featured on your account.
Tap on the comment you want to respond to.
Hit the camera icon near the comment.
Record your video.
Attach the comment to your video as a sticker.
Post the video.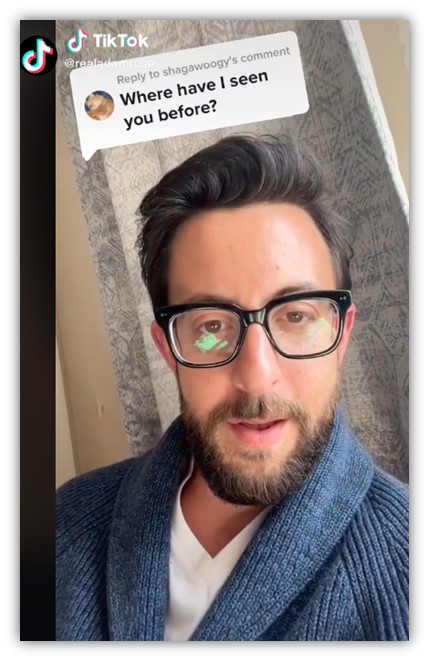 10. Use trending audio
If you hear a popular song or sound making its way through TikTok videos, then you should try to find a way to incorporate it into one of your videos. You could try to create a video that's timed to the beats of a popular song or use a trending piece of audio over existing footage.
Trending audio is a fun way to engage with your audience and it's really easy to do.
Tap the "add sound" button.
Look through TikTok's different playlists to find popular audio clips.
Select a trending sound and use it in a video.
11. Add a video cover
You've shot and edited your TikTok video but you want to make it look cohesive with the rest of the content on your account. This will make it easy for your audience members to sort through your videos. Adding a video cover to each video is an excellent way to differentiate between your videos.
To add a video cover:
Tap "select cover" on your post's page.
Drag the frame to a certain point on your video.
Tap "save."
12. Try shooting your TikTok video from different angles
Change up how you film your videos! Instead of just standing in front of the camera, try moving away from it, walking into the line of sight, or shooting interesting perspectives
Professional videographers and cinematographers use different perspectives to communicate important stories. Try out different techniques:
Shoot from your point of view (how you see the world).
Shoot aerial shots of your environment.
Shoot close-ups (your face in the frame).
Shoot from low and high angles.
Shoot long shots (far-away shots).
Transition from close-up shots to wide shots.
Shake your camera—for example, Noodle's Jon Graz shakes his camera to show excitement.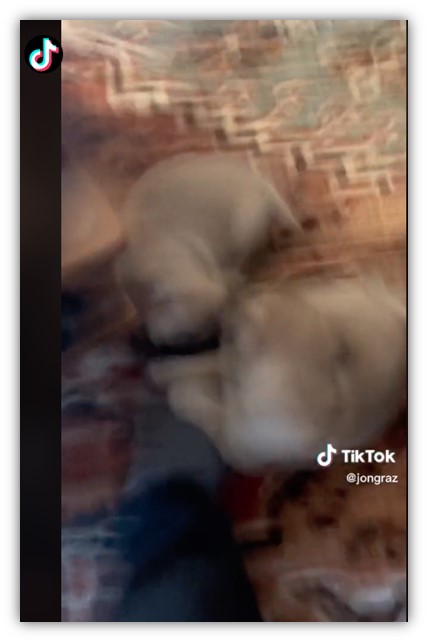 13. Leverage TikTok video effects
You gotta have a little fun with whatever you are creating! Experiment with the many video effects TikTok provides and learn how to use them to your advantage.
For example, TikToker Adrian Bliss shares comedic skits and costumes with his 20 million-member audience. But Adrian's ability to play many roles—leading characters, supporting characters, and twins—comes directly from TikTok's effects. Adrian is able to clone himself, create voiceover narrations, and incorporate the many versions of himself into each video.
One important note: TikTok's features are sometimes only able to be used with footage recorded in TikTok. Some TikTok effects are only available while you're recording, while others are only available after. Add text, stickers, and emojis after filming.
Use effects during filming:
Tap the "effects" button.
Look through the options and choose one!
Tap the recording button and start filming.
Review the video you just made.
14. Use TikTok filters to your advantage
The right video filters can add the va va voom to your production. Filters add a level of showmanship and keep you in tune with ongoing TikTok trends.
There are many to choose from and you don't need to use all of them. Here are just a few:
The Bling effect creates the shine of a diamond flash across your video.
The Beauty filter evens your skin tone and improves your appearance.
The Fantasy filter adds a pink hue to your video for a romantic feel.
The Clown filter creates a clown effect on any face.
The Color picker filter allows you to change the saturation of your videos so you can adjust the color of specific video elements.
To add a filter to your video:
Tap the filters on the right side of your screen.
Select a filter to use.
Review the video you just made.
15. Stitch existing videos with yours
It's fun to see unexpected collaborations between different people. TikTok's Duets makes it easy to stitch together existing content with your own original videos. By stitching your videos with others, you'll be able to engage with other people's audiences and be a part of a community.
Boost your TikTok engagement with Duets:
Invite your audience to Duet your videos with their own.
Duet other fun videos with creative answers.
Add valuable information to existing videos, like historical context, advice, or a helpful how-to.
Gordon Ramsay is a great example of how effective stitching videos can be. He uses the tool to playfully critique home cooks.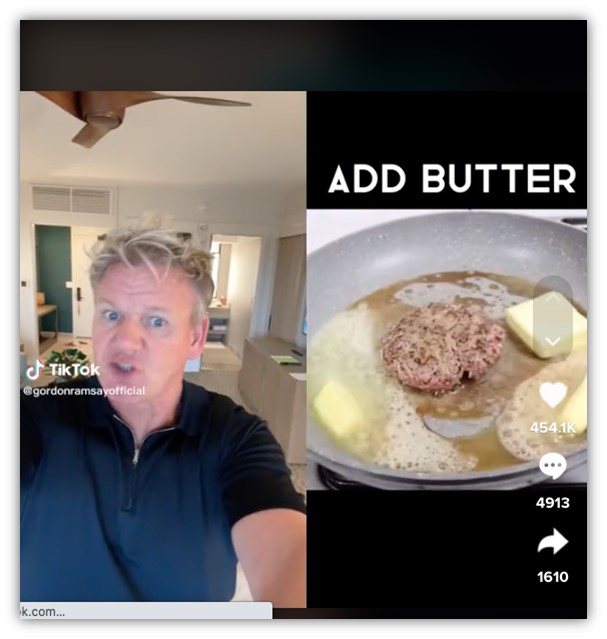 16. Narrate videos with a voiceover
TikTok makes it easy to record a voiceover right in the app. Just click the voiceover button after you've filmed your TikTok.
Need ideas on what to record in a voiceover?
Narrate behind-the-scenes content.
Add funny voice reactions.
Mix your voice into existing music.
17. Add voice effects to your video
Adding original sounds, music, and voiceovers to your videos to make them more exciting is a great start, but you can take it one step further by adding voice effects.
TikTok offers many fun voice effects! You can sound high-pitched like a chipmunk, robotic, electronic, or like you have a deep baritone.
Add voice effects to your video now:
Record a new video.
Tap the "voice effects" button.
Choose from the different voice effects available.
Review your work and publish!
18. Shoot and edit in short clips
It's much easier to edit a TikTok video with short clips than to film one long video. Try shooting different scenes or segments in short video clips. Then all you have to do is trim down the video clips in TikTok. You can even change the order of the clips by simply dragging them around in the editor.
19. Use TikTok auto-captions for accessibility
Some of your audience members may not be able to see the pretty filters you apply, the clever dance moves you make, or hear the intelligent advice you're giving.
One in four Americans lives with a disability. And 69% of consumers watch videos with the sound off. If you're not using closed captions, you're excluding part of your audience from your content.
Turn on TikTok's auto-captions:
Go to your settings.
Tap the "accessibility" tab.
Select "always show auto-generated captions."
You should use auto captions in every video you create to make them accessible.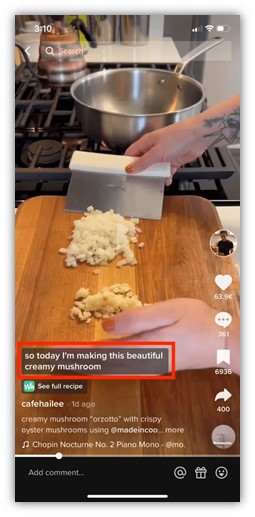 An example of a TikTok video using auto-captions. 
20. Write captions with a call to action
You may think that your TikTok video is the most important part of your content. I'd argue that your caption is just as important. With a caption, you can further explain video content, point people toward your resources, and add related hashtags so people find your content.
So editing your video is not the end of your work! Write your caption before posting your new video:
Include any necessary details that support your video.
Write a call-to-action that gives people direction on what to do next.
Include relevant hashtags connected to your content.
21. Leverage video editing tools
We've discussed 20 ways for how to edit videos on TikTok by using TikTok's built-in features. If you're interested in leveling up your videos with free or paid tools, we have three TikTok editing tools to suggest.
Use TikTok's CapCut video editor. CapCut is an editing app created by TikTok's parent company, Bytedance. It's completely free and downloadable on iOS and Android. CapCut comes with video editors that allow you to trim, split, merge, and edit videos. You can even add animations, take advantage of a freeze feature, and slow-motion effects.
Work with Funimate. Funimate is another video editor that works on iOS and Android devices. Funimate will help you create transitions, add text effects, and create keyframe effects.
Try Adobe Premiere Rush. Adobe Premiere Rush is a free mobile app that allows you to import and edit audio, adjust the speed and color of your videos, and create transitions. You can use built-in templates to add titles and text to your videos. Download it for free on iOS and Android devices.
Create and edit TikTok videos today for success tomorrow
92% of people say that video marketing gives them a good return on investment. There's no better time than now to start editing videos on TikTok. When you edit your TikTok videos for optimal performance, you're maximizing your chances for success on the app and beyond!
To recap, here are the top ways to edit TikTok videos:
Cut your time
Use the countdown timer
Use the green screen
Create a loop video
Adjust for high-quality audio
Insert transitions between video clips
Create stop-motion videos
Try adding text throughout your video
Respond to people's questions and comments with the reply sticker
Use trending audio
Add a video cover
Try shooting your TikTok video from different angles
Leverage TikTok video effects
Use TikTok filters to your advantage
Stitch existing videos with yours
Narrate videos with a voiceover
Add voice effects to your video
Shoot and edit in short clips
Use TikTok auto-captions for accessibility
Write captions with a call to action
Leverage video editing tools