Snapchat continues to be a great place for businesses to reach new customers and engage with current ones—especially with ads. Snapchat advertising helps you reach an audience primed to buy (in fact, Snapchat users are more likely to make purchases from their mobile devices than non-Snapchat users) in a cost-effective way (the average cost per swipe is $1 or less!).
But if you want to run Snapchat ads, then you need to enable a public profile.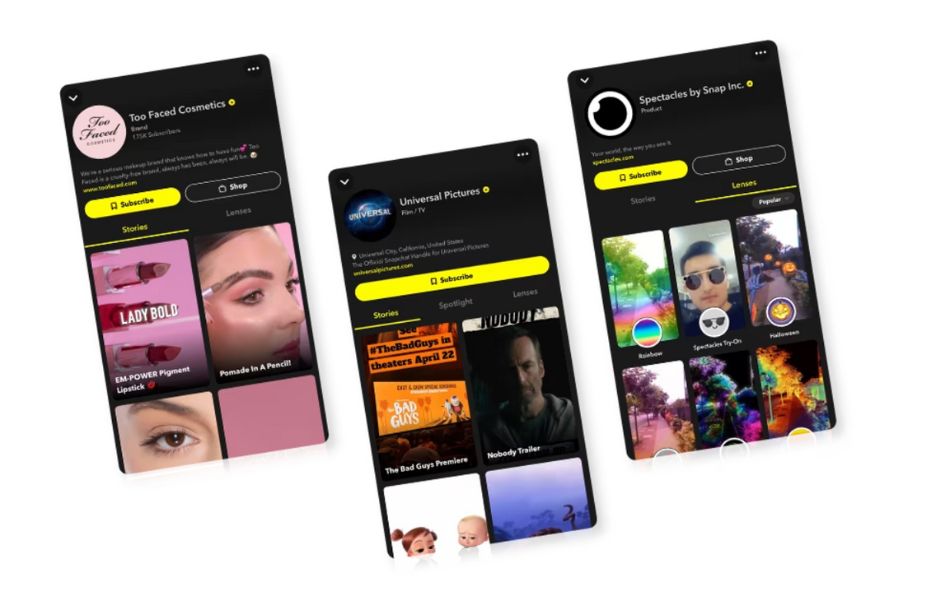 Some examples of Snapchat public profiles.
What's a Snapchat public profile, why do you need one, and how can you create yours? We're answering all those questions and more (with screenshot examples!) right in this post.
What is a public profile on Snapchat?
A public profile on Snapchat is a free place where your business can house content, encourage engagement with followers, and provide helpful information. This is also where you can manage your profile, connect your store, and get access to additional Snapchat features (which we'll get into in a second!).
Snapchat profiles were previously private, meaning only those who were friends with your account could see your content. With Snapchat public profiles, you're able to share content externally so users can find, view, and engage with your business easily.
Public profiles on Snapchat contain…
Your business name
Your username
Your subscriber count (this is optional)
A business description
A link to your website
Saved Stories
Lenses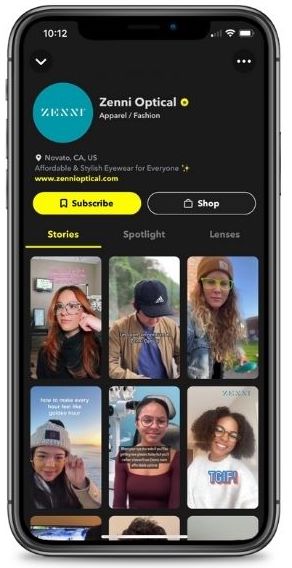 Why do you need a Snapchat public profile?
You might be wondering if a Snapchat public profile is important for your business. Here are some reasons it is.
Allows users to find and subscribe to your business
As mentioned, a Snapchat public profile allows users to find your business on the app through the browse or search tools. From there, they can subscribe to your business to see and engage with your content. This allows you reach a new audience and drive them to your website or store.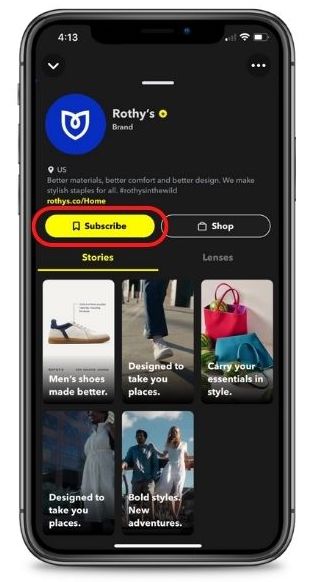 Helps you get more views and engagement
With increased discoverability, you'll be able to get more views of the content you create for Snapchat. Your Snapchat public profile also allows you to save Stories permanently for people to view and engage with.
Enables Snapchat advertising
Snapchat launched public profiles in 2020 but recently made them mandatory for anyone looking to run ads on the app. And Snapchat advertising can be a big boost for your business, especially if your audience is comprised of mostly Gen Z and millennials.
In fact, Snapchat was found to reach 75% of all 13 to 34-year-olds, which, according to Hootsuite, "means Snapchat is reaching more 13 to 34-year-olds in the USA than Facebook, Messenger and Instagram combined."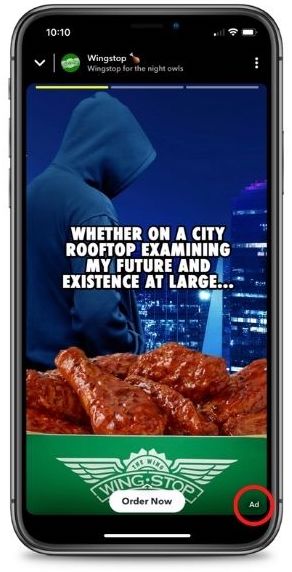 This is reason enough to make a public profile on Snapchat!
Related: Get Snapchat ad examples and best practices.
Who can make a public profile on Snapchat?
Public profiles are available to (almost) all Snapchat users but are especially useful for businesses. Here are the eligibility requirements needed to make a public profile on Snapchat:
You must be 18 years old or older. (Make sure a birthday is added to your account so Snapchat can verify this information.)
Your account can't be new—it has to have been created at least 24 hours prior to making a public profile.
You need at least one friend (that has added you back).
You must follow all Snapchat community guidelines.
Easy enough, right? If for some reason you're not seeing the option to create a Snapchat public profile even after meeting all eligibility requirements, contact Snapchat support.
How to make a public profile on Snapchat
Follow these simple steps to make your business's Snapchat public profile.
(Need to make a Snapchat business account first? Read this!)
1. Open the Snapchat app and tap the account icon in the top left.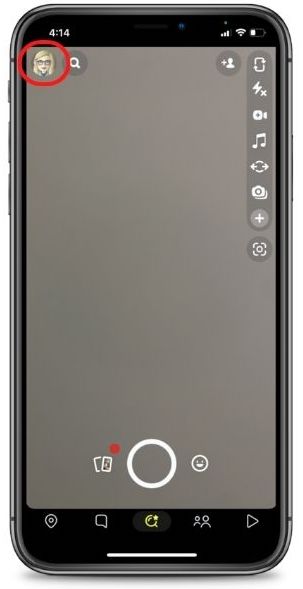 2. Scroll down to the Public Profile section, and tap Create Public Profile.
3. Read through the page describing public profiles and tap Continue. Then click Get Started.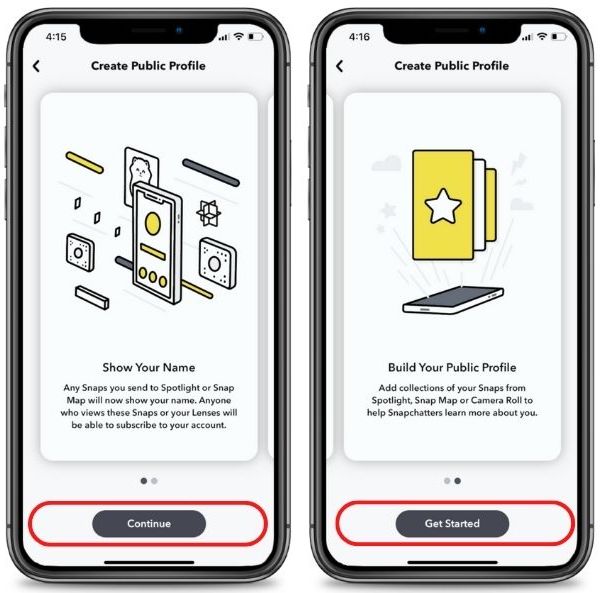 4. Once the box pops up prompting you to create a public profile, tap Create.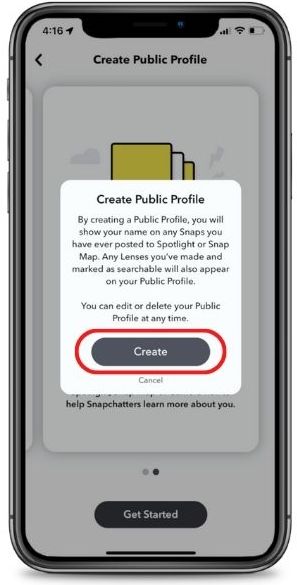 5. Voila! Now you have a public profile.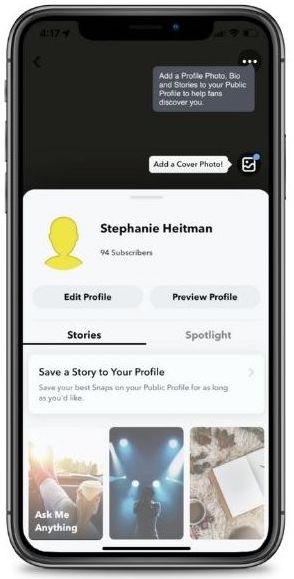 What to add to your public profile
Now that you've created a public profile, make sure to fill it out with the right information and assets.
Add a profile picture. For your business public profile, it's best to use your logo.
Create and add a Snapchat business bio. Your Snapchat bio can be up to 150 characters. (Get tips for writing your business description here.)
Add your website link. If you're setting up a public profile for your business, include your website link so people can visit your site from your profile.
Save your favorite Stories. You can save your best Snaps to your profile for subscribers or viewers to see when they visit your profile.
Add any Lenses. If you have Lenses available, you can add them here.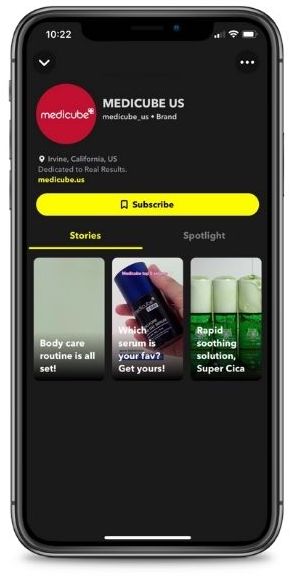 Adding these items will help build out a complete public profile and give visitors some helpful information and engaging content to view from your business.
How to edit or delete a public profile on Snapchat
Need to edit (or, heaven forbid, delete) your Snapchat public profile? Follow these steps.
To edit:
1. Open the Snapchat app and tap the account icon in the top left corner.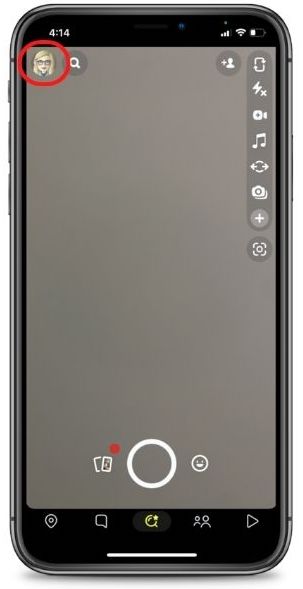 2. Scroll down to the Public Profile section and tap My Public Profile.
3. Tap the setting icon in the top right corner to manage your public profile or the Edit Profile button.
4. On the Manage Public Profile page, you can make edits and perform actions like:
Editing your profile
Saving stories to your public profile
Sharing your profile
Deleting your public profile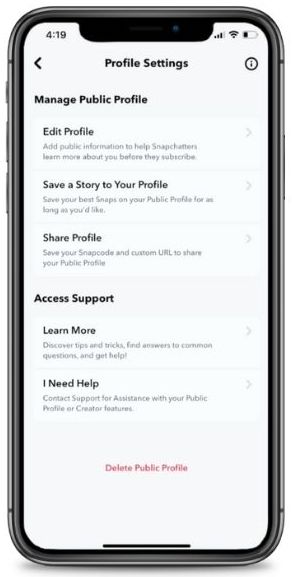 5. Once you're on the page to edit your profile, complete the desired actions, like adding an image, your bio, a location, and determine whether or not you want subscriber count to show.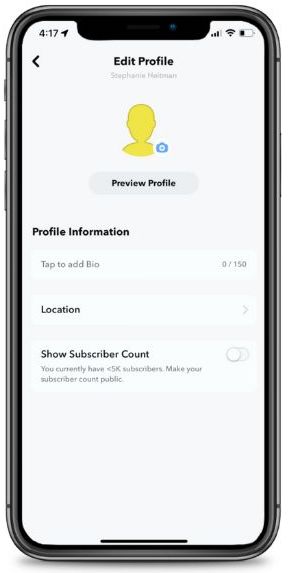 To delete:
1. Follow the above steps to get to the Manage Public Profile page.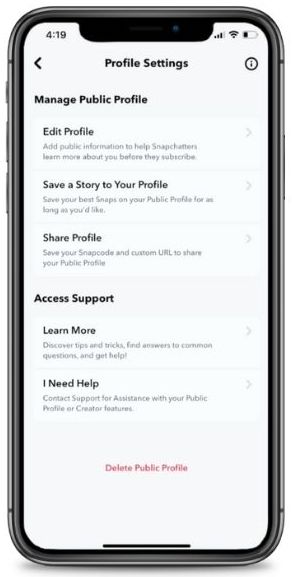 2. On the Manage Public Profile page, tap Delete Public Profile.
3. Confirm that you want to delete your public profile.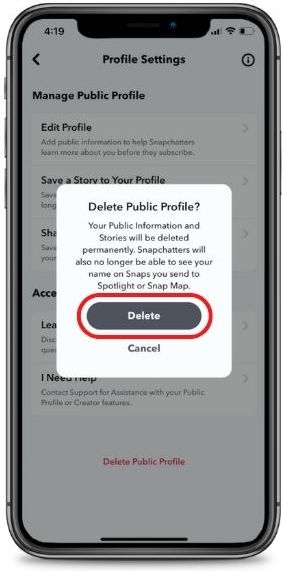 Deleting your public profile won't impact your Snapchat account. And you can go through the process to create a public profile again if needed.
Make your public profile on Snapchat in a snap
Creating a public profile on Snapchat is a quick and easy way to help you get found on the app—and get your business ready for Snapchat advertising. Snapchat continues to be a great way to reach an active audience while driving website visits, engaging with customers, and educating prospects.