My dear readers, I present to you my feelings about the following small business marketing stats in the form of…dog.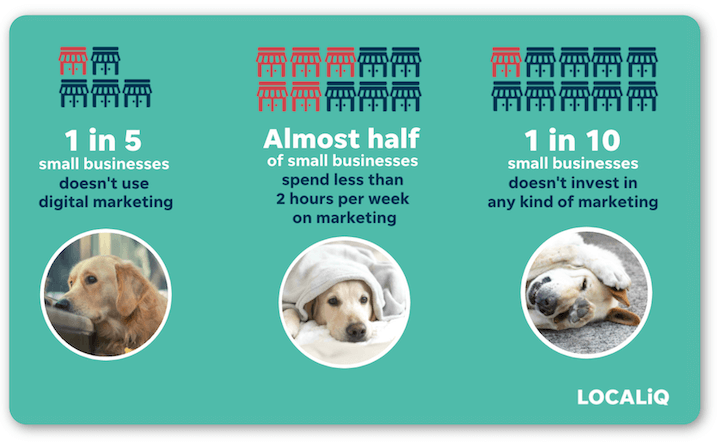 There are 31.7 million small businesses in the U.S. This means that:
6,340,000 small businesses don't use digital marketing.
Roughly 15,000,000 small businesses spend less than two hours per week on marketing.
3,170,000 businesses don't invest in any kind of marketing.
It's no wonder that roughly 50% of businesses falter by their fifth year.
But guess what. Marketing your business sounds harder than it actually is, and there are tons of affordable strategies out there that you can do, even with zero background in marketing. So today, I'm sharing with you 36 ways to market your business—most of which are free!
Table of contents
How to market your business with…
How can I market my small business?
First and foremost, there is no one best way to market your business as a multi-channel strategy is essential for any business today. The right marketing channels for you will vary according to your industry, audience, marketing goals, and more, but in general, they will be a mix of online and offline strategies.
Here are some of the best ways to market your small business:
Search engine marketing: SEO and search ads.
Social media: organic posting and paid ads.
Email marketing: nurture, trigger, and engagement emails.
Word of mouth: reviews and referrals.
Content: website, blog posts, ebooks, reports, and more.
Offline: events, sponsorships, trade shows, and more.
We're going to cover all of that and more in this guide, with examples and ideas at every turn. So buckle up and let's get down.
How to market your business on Google
Capturing more than 90% of the market share, promoting your business on Google is one of the best ways to get in front of consumers who are actively searching for the products, services, and expertise you provide. Here are the best ways to use Google to get your name out there.
Get a website
Every business needs a website today. Social media may be huge, but at the end of the day, your website is what a person wants to see before they make any purchase commitments.
In fact, 56% of consumers won't even consider a business without a website (that is, 56% of those who can even find you in the first place!).
If your website:
Makes your offerings and key information immediately clear
Adds value with helpful and visually appealing content
Embodies your brand's personality and distinguishing qualities
Contains prominent calls to action
Follows these website design tips
…it will market your business around the clock.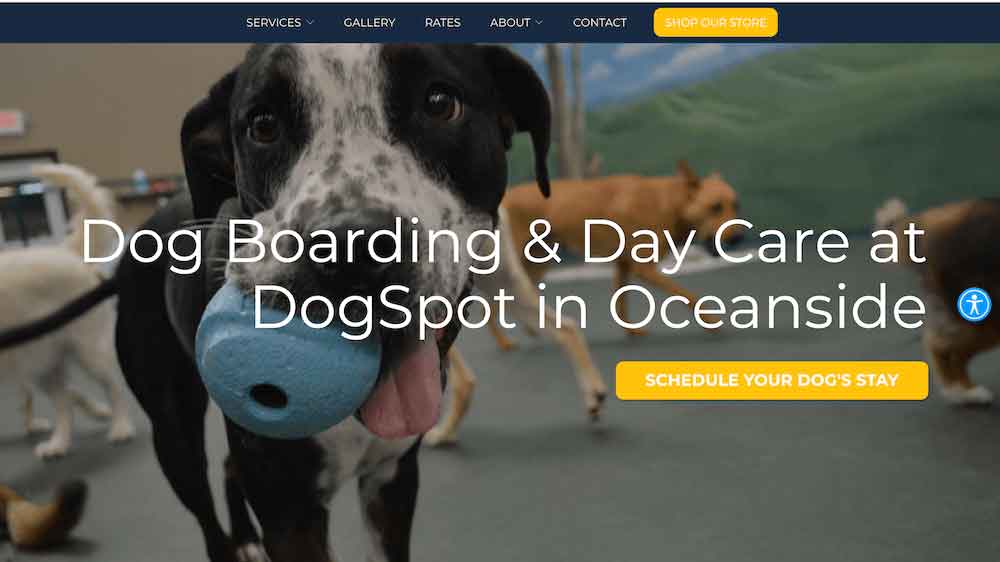 Although there are free website builders out there, you'll want to invest if you are serious about marketing your business. Your website is the heart of your marketing efforts. Having your own domain name, a professional look and feel, and the ability to scale and add features as needed are all essential for growth.
SEO your website
So it's nice that your website markets your business, but who is it marketing to if no one is visiting it? SEO is a set of practices that collectively improve your rank on the SERP—and given that 90% of people don't go past the first page of Google—this is paramount to driving traffic to your website.
SEO tactics to promote your business include:
Technical SEO: Make sure your site is fast, secure, responsive, indexed properly, and organized.
Local SEO: Target local keywords and include your site in listings.
Content SEO: Produce high-quality, keyword-targeted content regularly.
When your business is ranking high in results, Google is basically marketing your business for you—and not just to anyone, but to the people searching for what you have to offer. Doesn't get much better than that.
Is your site optimized for search? Get an instant audit with the free LOCALiQ Website Grader.
Create a business blog
We just touched on this in the previous strategy, but content is such an important driver of SEO that it deserves its own section. You can only target so many keywords with your core website pages, but there are hundreds of searches your potential customers are performing on Google other than just your business name or service.
This might be "kids birthday party ideas" for an event rental business or "neck strengthening exercises" for a chiropractor.
Educational, long-form content that provides the information your customers are seeking will not only give you more opportunities to rank on Google, but it will also demonstrate your expertise and authority.
Use a keyword research tool to identify the best keywords for your blog and write a variety of SEO-optimized blog posts, including:
How-tos and instructionals
Top 10 lists of strategies and resources
Q&A or interview writeups
Thought leadership pieces
Example/template/ideas posts
For help with this, you can use WordStream's Free Keyword Tool
Create a Google Business Profile
No local SEO checklist is complete without a Google Business Profile. This is what allows your business to show up in Maps results and both the local section and right-side Knowledge Panel in Search results.
With so many opportunities to show on the SERP, this free listing should be a top priority. But just having a listing won't cut it. You'll need to claim your Google Business Profile and make optimizations like these:
Ensure information is accurate and consistent
Populate the Q&A section
Write a "from the business" blurb
Respond to reviews
Related: Find out how to protect your Google Business Profile from unwanted edits.
Run Google Ads
While SEO will help you to get to the top of results pages, this is a long-term marketing goal that can take weeks, even months to start seeing results. For a more immediate way to gain exposure, Google Ads is the way to go.
Yes, it's a paid method, but showing up at the top of results pages for high-intent searches is well worth the investment. Plus, thanks to the way the Google Ads auction works, this is a lucrative option for any business looking to do lead generation on a budget.
Google Ads campaign types include Search, Display, Shopping, YouTube, and more.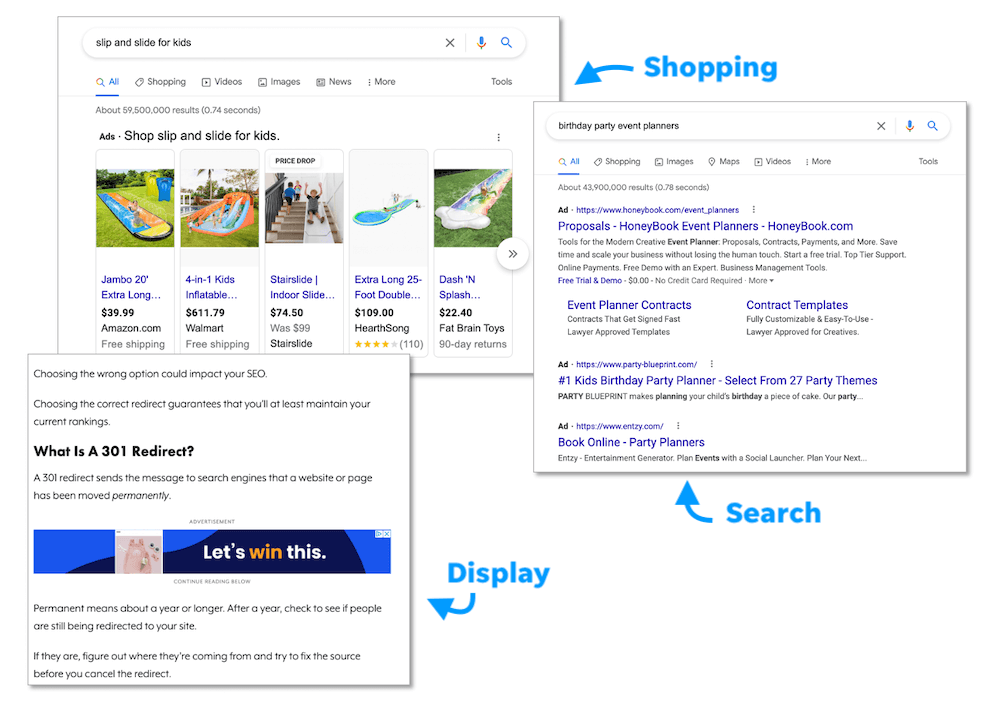 You'll find everything you need to get started with Google Ads in our Essential Beginner's Guide to Local PPC.
Related: Find the best free marketing tools your business should try.
How to market your business on review sites
Consumers routinely visit online directories to search for and vet businesses that fit their specific needs. In addition, since directories are major websites, it's not uncommon for your listing or your business name to show up on the first page of Google through these domains: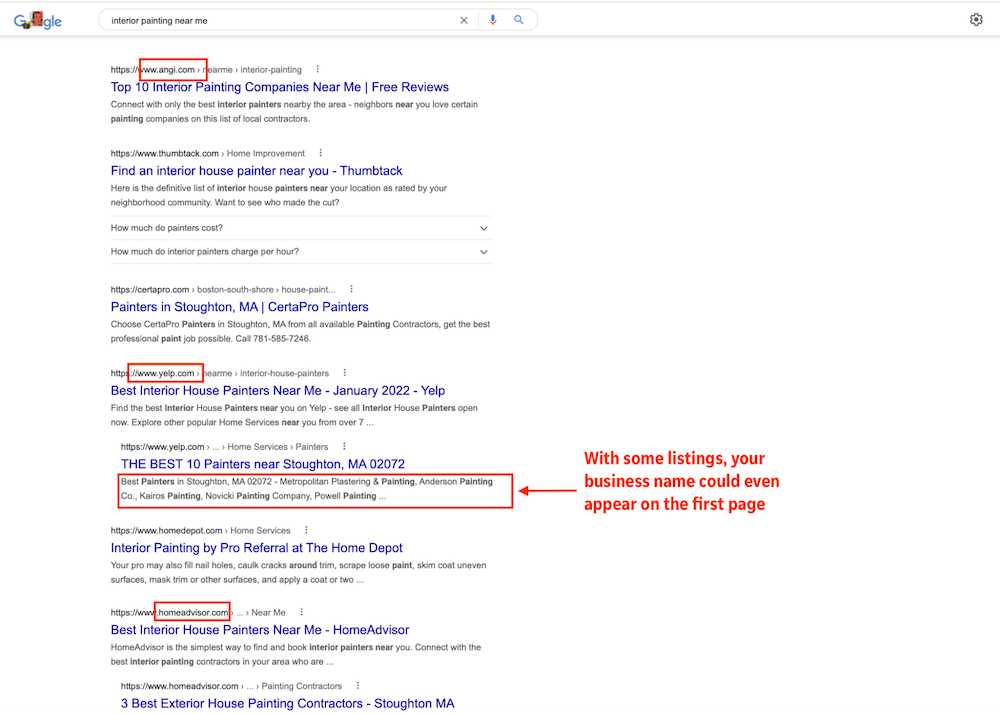 Listings that market your business to nearby, high-intent customers? This is free advertising on Google.
Prioritize the major directories
Smaller directory sites pull data from larger ones, which means that by creating listings on the major sites, you'll also likely begin showing up on smaller directories automatically. Below is a list of the best free local listing sites to start with.
Google (see tactic #1)
Yelp
Facebook
Better Business Bureau
Glassdoor
Foursquare (Even though it's dead as a social platform, its data is used by thousands of platforms.)
Yellow/White Pages
Bing
Applicable niche directories like TripAdvisor, Angie's List, etc.
Optimize your listings
Directories use algorithms too, so the quality of your listing matters. Here's how to optimize your listings to rank above competitors in results and improve your reputation:
Fill out every field available and provide photos whenever possible.
Keep it updated. An inaccurate listing can actually demote your business.
Keep your information consistent. Google doesn't like when businesses have inconsistent information across the web.
Add photos. Businesses with 100+ photos in their Google Business Profile get 520% more calls, 2,717% more direction requests, and 1,065% website clicks!
Get reviews. This one is huge. We'll get into that next!
Get reviews
One of the best ways to market your business is to let your customers market it for you. In fact, 93% of people read online reviews before making a purchase, and 84% of people trust them as much as recommendations from friends or family.
But one positive review isn't going to promote your business. In fact, having only one review doesn't look good. You'll want to have a review strategy in place so you're getting reviews on a regular basis. Here's what it should entail:
Provide excellent customer service. Treat your customers so well that they'll want to spread the word about your business.
Ask for them. You'd be surprised at how many people are willing, they just need a prompt.
Make it easy. Add links to your listings on your website and use easy-to-remember URLs in your offline materials.
Ask for a specific platform. We recommend Google and Facebook.
Respond to them. Seeing that you respond encourages your customers to leave them. Plus, an onlooker can learn a lot from how you respond to reviews.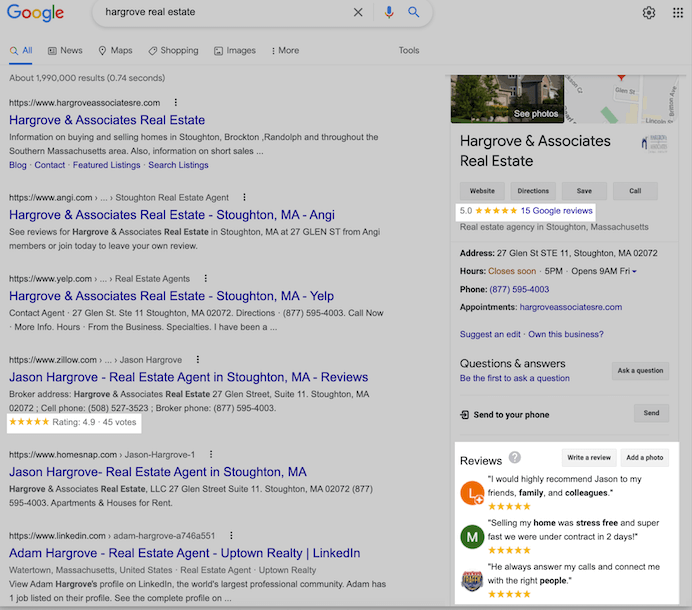 Related: Leaving (positive!) reviews is one great way to support your favorite small businesses. Get more creative ways to support local businesses here.
How to market your business on social media
More than half of the world's entire population (56.8%) uses social media. The most popular social media platforms are Facebook, Instagram, LinkedIn, and Twitter, but don't ignore other sites that might be specific to your niche, such as Pinterest or Reddit.
Share your content
A blog that shows your expertise, approachability, and genuine desire to help your audience is the perfect marketing tool for a business. So don't just publish your posts—promote them! On social media, via email newsletters, or even turn them into downloadable guides to help you collect leads.
Better yet, if you produce content with shareability in mind, your blog posts will likely get noticed by other credible websites who will mention and link back to your site on their site or social media feeds—marketing your business for you.

Interact with your followers
Marketing your business on social media isn't a one-way street. You can't just post great content and expect to get followers and page likers. No matter which channel you're using, be sure to engage with your audience. Ask them questions. Spark discussions. Answer comments. Proactively engage with their content. This is how you attract followers and customers.
Have a local strategy
The vast audiences on social media have a downside—they're not just audiences, they're competitors posting their own content and forever expanding the black hole that organic content so easily gets lost in.
Apart from social media advertising, a local approach is one of the best ways to stand out on social to who those who matter most to your business.
We actually have a free course dedicated to local social media marketing but here are some starter tips:
Use location-based hashtags on Instagram and Twitter.
Share local news articles on Facebook.
Share industry insights from influencers in your geographic community on LinkedIn.
Use Snapchat geofilters and SnapMaps.
Add your location to Facebook so you can show up in Places results.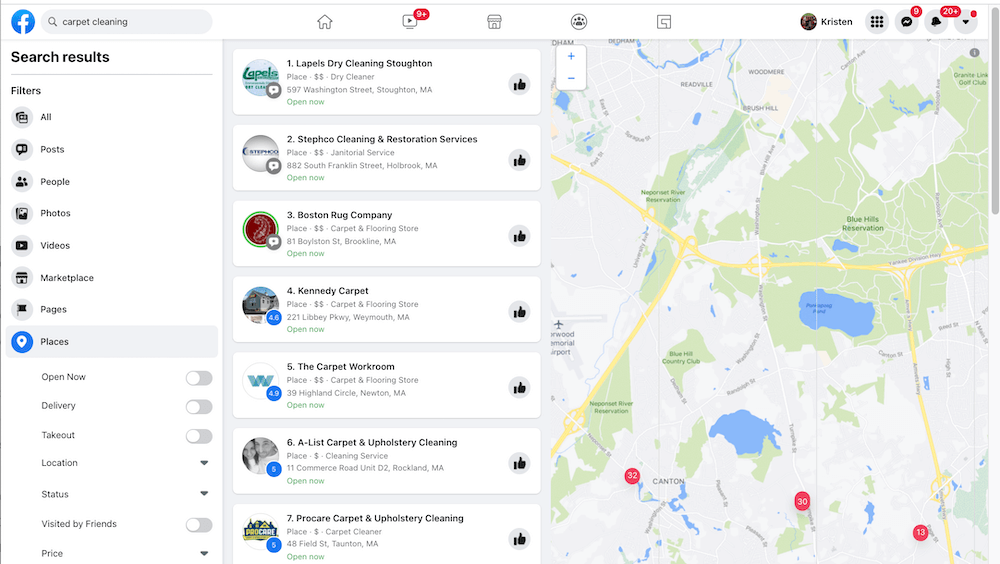 How to market your business on Facebook
The best ways to market your business on Facebook will vary depending on your industry, but here are some ways to promote your Facebook page and get the most out of this platform.
Turn your Facebook page into a hub
Businesses often use their Facebook page as a way to provide updates and build a community around their brand. Here are some ways to do that:
Enable Messenger
Add a CTA to your Page
Share upcoming events and announcements
Spark discussions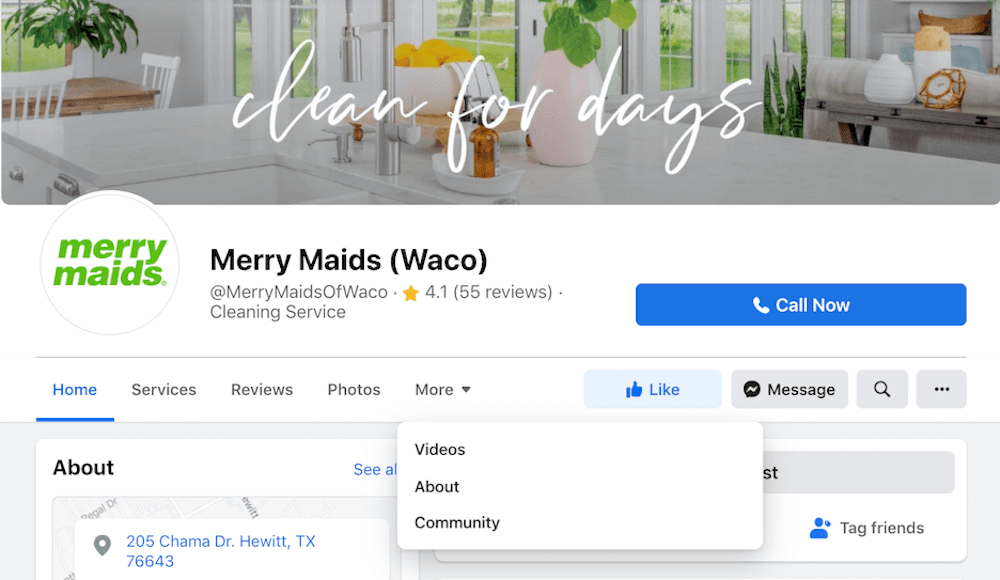 Run Facebook ads
Facebook advertising allows you to reach highly specific audiences, since you can target according to user profile information such as marital status, occupation, interests, and more.
You can learn more in our beginner's guide to Facebook ads for small businesses, but here are some quick tips:
Make sure you have all of the post-iOS 14 update requirements in place.
Focus on creating high-quality visuals for your ads to stand out in news feeds.
Choose the right objective based on your goals.
Use both the Facebook Pixel and Conversions API for tracking.
Your Facebook ad copy is also very important here. Make sure to incorporate trigger words to drive action!
Build relationships
At the heart of any successful Facebook marketing strategy is relationships. Sure, Snapchat and TikTok are popular but they don't give brands opportunities to build relationships with individual followers. And while Instagram gets a lot of engagement, it's not very discussion-friendly. Facebook allows you to have meaningful conversations that aren't limited by character counts or eclipsed by images.
How to market your business on YouTube
Did you know that YouTube was originally designed to be a dating site? Now that we have that crucial fact out of the way, here's how to market your business on YouTube.
Create how-to videos
People don't just use YouTube for entertainment. It has a practical side too. As in, over 100,0000 "how to" searches per month. And given that Youtube is the world's second-largest search engine, posting these types of videos is a no-brainer.
Plus, the regular Search SERP on Google is often dominated by video for "how to" queries.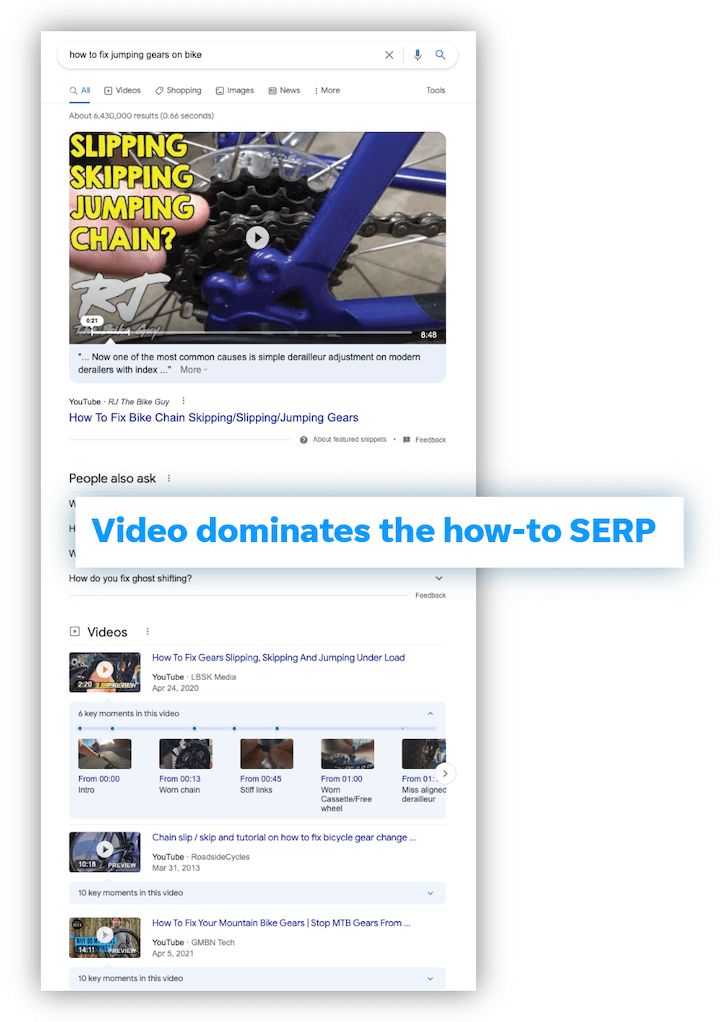 You can find plenty more YouTube video ideas here.
Do your YouTube SEO
There are far too many ways for your videos to show up in search results these days. There's YouTube search results, the video section of regular Google Search results, Google Video results, and even Google Image results sometimes. With so much opportunity, YouTube SEO is a must for your videos.
You don't have to go crazy, but you'll be doing yourself a disservice if you don't:
Use appealing thumbnail images to attract clicks in results.
Add keywords and a timestamped table of contents to your video descriptions.
Embed your videos to blog posts.
Encourage comments and subscribes.
Categorize your video
Run YouTube ads
As with the other advertising ideas mentioned in this post, YouTube ads can be an investment that pays off if it's done right. You can advertise on YouTube by creating video ads that play before videos in relevant categories, or through text ads that appear in search results: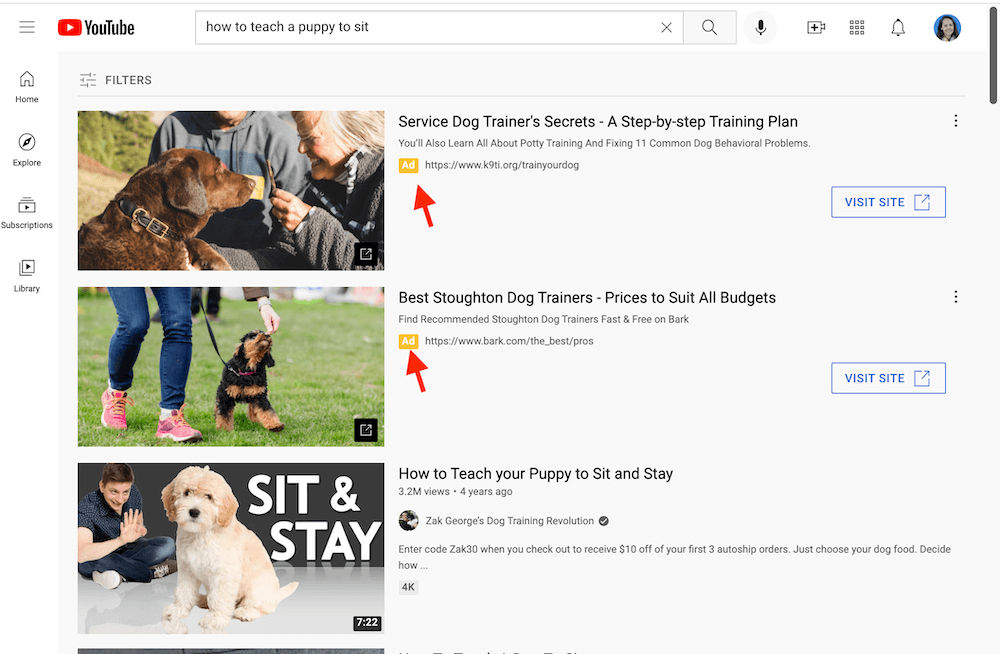 Browse our guide to YouTube advertising costs to see if this is a lucrative marketing channel for your business.
How to market your business on Instagram
Here are some reasons and tips to market your business on Instagram—other than the fact that the first photo ever posted on it was a picture of a dog.
Use all the formats
With its diverse posting formats (Feed posts, short-lived Stories, IGTV series, live sessions, Highlights, and more), there is a variety of ways to use Instagram to market your business. You can:
Announce sales and promo codes with hashtags to expand your reach.
Run giveaways for something relevant to your business to get more quality followers.
Host shoppable live streams to increase online sales.
Include polls and links to increase engagement.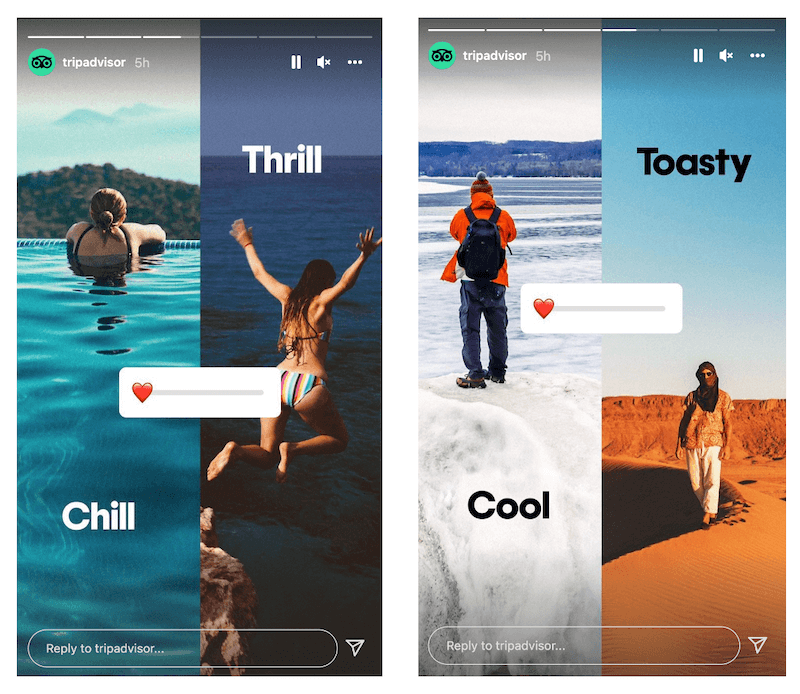 For more tips, check out these 12 ways to promote your business on Instagram.
Connect with influencers
Influencers are respected experts in your niche with a large following on social media—which means that getting mentioned or featured by one can market your business to a massive, relevant audience.
But you can't just reach out to them out of nowhere. Quick influencer etiquette:
Find influencers highly specific to your niche.
Take at least two weeks to familiarize yourself with them and engage with their content on social.
Reach out with a clear ask and something to offer in return (such as a month of free classes in exchange for a review on their blog and mentions on social media).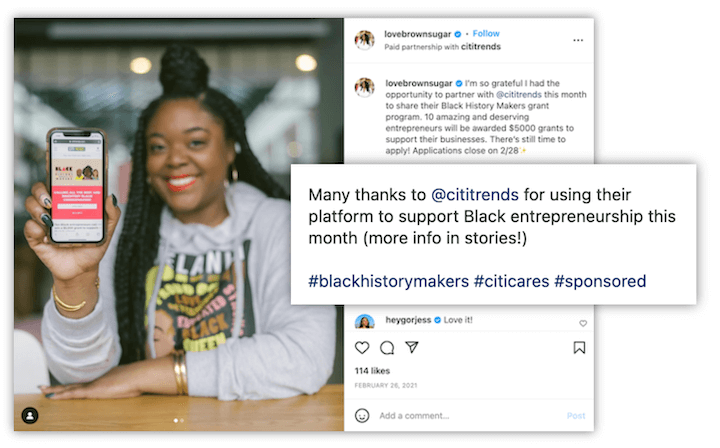 Run giveaways
Instagram giveaways are a cheap and easy way to market your business to a relevant audience. Users can enter by using your branded hashtag, tagging your business in a post, tagging a friend, and more to increase your exposure. The prize should be relevant to your ideal customer, and make sure that participation in the contest is fun—not just winning it!
How to market your business on LinkedIn
It should come as no surprise that LinkedIn is the best social network for lead generation. But as you'll see, LinkedIn has a softer side that you can use to market your business as well.
Build an impressive LinkedIn Company Page
Be sure to create a LinkedIn Company Page and use all the features available. The information on this page is useful for not only potential clients, but employees, partners, and investors.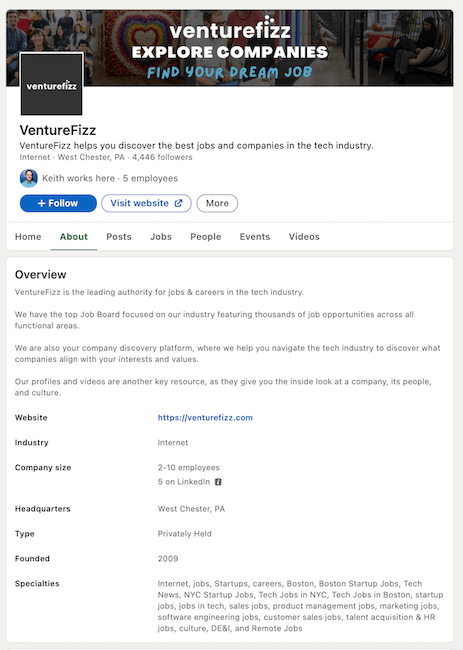 Encourage your employees to share your content.
According to Linkedin, employees have a network 10x larger than its company's follower base. And Social Media Today tells us that content shared by employees receives 8x more engagement than content shared by brand channels.
Help others grow
LinkedIn is more than just a place to post your online resume and network; it's also a place to help others grow, promote your business to employee candidates, and demonstrate core values and company culture.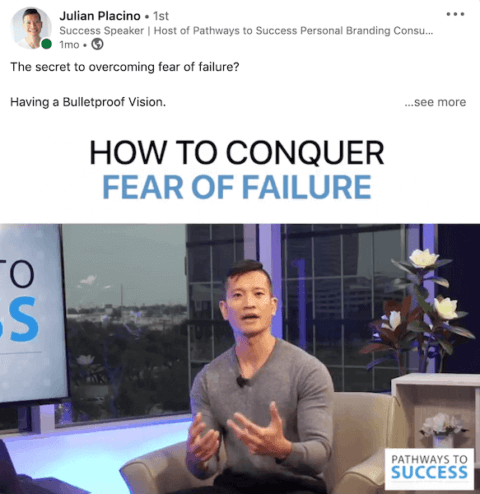 Build your personal brand
LinkedIn is the one social platform where you should cross-promote your personal and professional profiles. Use your profile to build your personal brand by adding all of your resume information, posting content central to your values, and even writing LinkedIn articles with your perspectives. You can also join groups and provide useful information and insights.
How to market your business offline
No matter your business size, your role in your geographic community has a direct impact on your reputation, and there are a number of ways to contribute to it in a way that markets your business. Here are some offline marketing strategies to try out.
Get local press
Pitching your business happenings to the local press may feel intimidating, but the truth is, local blogs, newspapers, and online publications are always on the hunt for fresh content.
Reach out to your local news sources and see if you can contribute an article—whether it's a thought leadership piece, a list of resources, or a newsworthy update about your business. If your business's story is compelling enough, you might even be able to get someone else to publish a featured write-up.
You can also ask to write about an event you are hosting in your community, or invite a local writer to attend for free in exchange for a recap.
Form partnerships
Partnering with non-competitive businesses that serve the same clientele can be a great way to promote your business in your local network. Once you have established a relationship, you can cross-promote each other's services and content through your email lists, in-store flyers or coupons, social media contests, and more.
Host, sponsor, or attend local events
Even in a world that is increasingly digital, attending, hosting, or sponsoring events in your community is a great way to promote your business while strengthening your connection with local customers.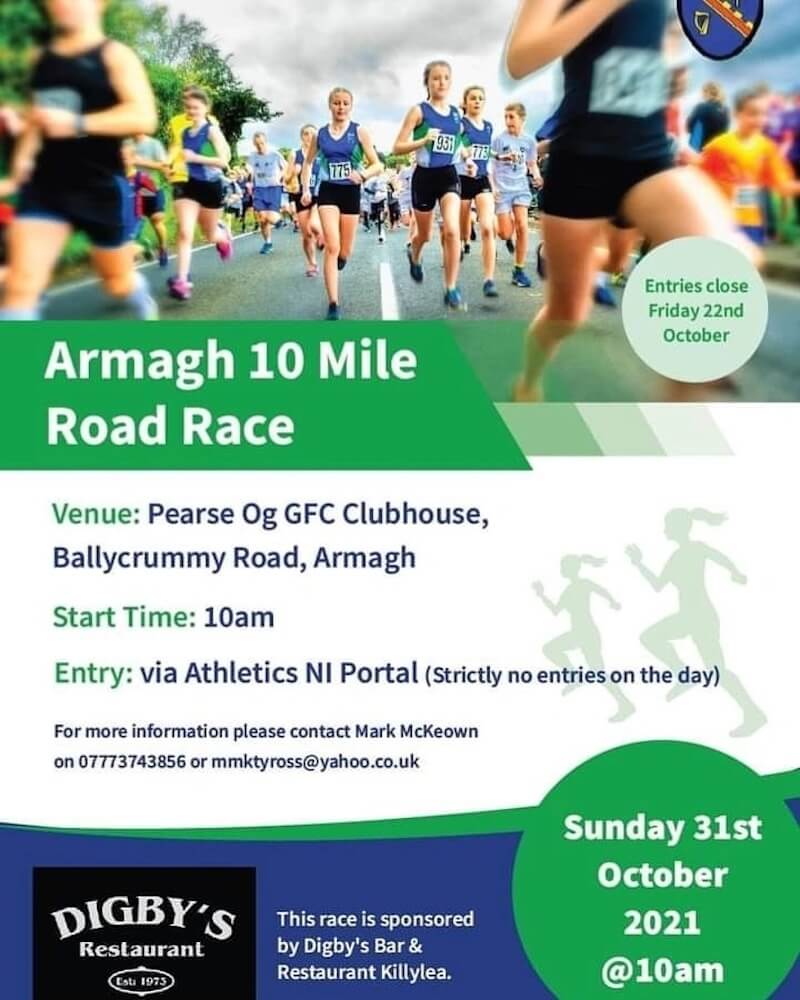 You could run a class at your location, offer to teach a class at a school, library, or another local establishment, or even just host a fun seasonal and/or family-oriented event. Even better, record your teaching session then upload it to your YouTube channel later.
Advertise offline
Local newspapers, magazines, radio stations, and even TV stations are other options for local business promotion. If you are considering promoting your business through print ads or any of these offline strategies, the key is to make sure you are tracking everything so that you can know the effectiveness. You can get even more tips with these 10 effective local advertising ideas for small businesses.
Send direct mail
Despite the dominance of digital media today, sending postcards, flyers, letters, or other types of mail can still be an effective way to promote your business to nearby customers.
One of the biggest challenges with this promotional method is that you can't exactly target your mailings, so you'll need to print out and send a high volume of mail in order to get a response. The benefit is that if you get it right, you can repeat the process.
You could also send your customers gift packages, like upon onboarding, on anniversaries, or during holidays. A personal touch goes a long way in promoting your business.
Attend trade shows
If you are targeting a national audience and want to sell your products to retailers, going to a big trade show might make sense. If you are unsure of how beneficial the trade show will be for you, and you have some time to figure it out, you might consider just attending as a visitor or shadowing another business before investing the money in your own booth.
More ways to market your business
These promotional strategies are last but definitely not least (just look at the email and referral marketing stats).
Network
First of all, this is the best way to form partnerships. For example, a home organizer may look to connect with local moving company so they can refer customers to one another.
But your network doesn't just consist of partners—it includes neighbors, like-minded individuals, other business owners, customers, mentors, mentees, and more. The concept of networking is simple: contribute to the community and this will naturally promote your brand.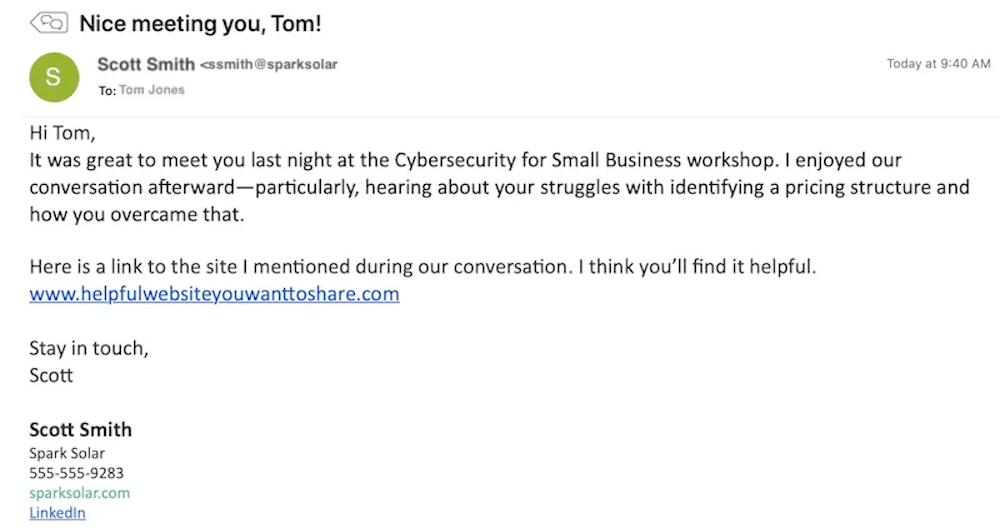 These nine networking email templates will help you out!
Referral marketing
Referral marketing is basically getting your customers to promote your business for you. Aside from providing wow service that will get them to refer their friends and family to you, you might also consider setting up a referral program. It may be an investment of time and money, but consider these facts:
Customers are 4 times more likely to buy when referred by a friend.
A referred customer is 18% more loyal than customers recruited through other means.
A referred customer spends 2% more on average than a non-referred customer.
Email marketing
Email marketing has been around for ages, but the strategy has by no means become less effective over time. In fact, 77% of people prefer to get permission-based promotional messages via email versus other modes of communication and email marketing generates a 30x average return on investment.
Quick email marketing tips:
Use email automation software so you can measure results and manage your lists.
Start a monthly newsletter with useful content, company updates, and helpful resources for your audience.
Segment your lists for targeted, personalized emails.
Use these email templates for small businesses and eye-catching subject lines to get started!
Case studies and success stories
Success stories are like customer reviews on steroids. A proper success story includes background on the customer, then presents their problem, your solution, the result, and any additional benefits they experienced. Just remember these tips:
Get consent from the customer and let them tell the story in their own words.
Quantify the results and use visuals.
Include them on your website and share them on social media.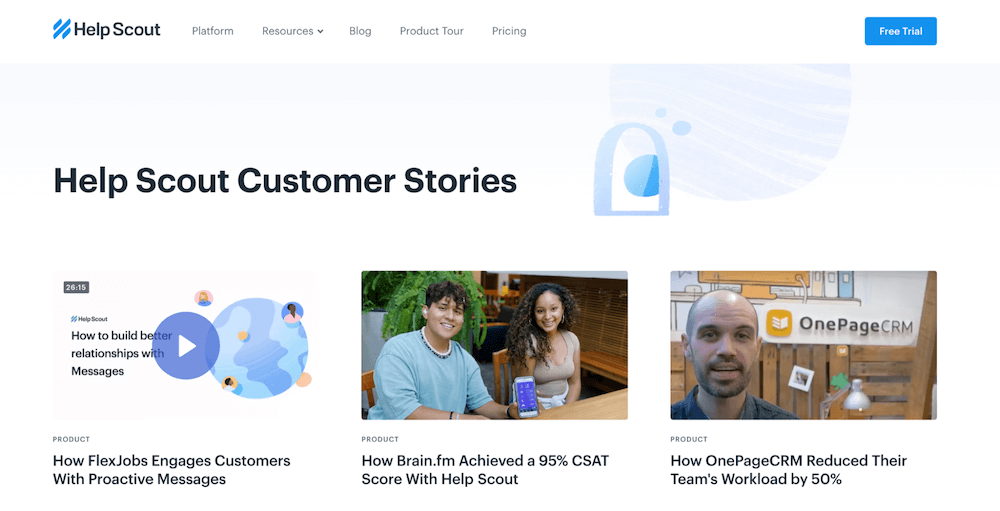 Video testimonials
Video testimonials are the happy medium between a customer review and a success story. They're often short clips where the customer is sharing their success with your business.

There is no better proof of your credibility than a customer singing your praises in person. You can easily do this by recording a Zoom meeting or even having them send you a video they recorded themselves.
Seasonal sales promotions
The above ideas give you plenty of outlets to promote your promotions, but what kinds of promotions should you run? There are tons, like BOGO, free shipping, flash sales, and more. But the best way to make them creative is to incorporate themes of the month into them. Bookmark this list of social media holidays and you'll never run out of marketing ideas again.
How can I market my small business?
If you're asking yourself (or others) this question, ask no more. Here are the 36 best ways to market your small business:
Get a website
SEO your website
Create a business blog
Create a Google Business Profile
Run Google Ads
Prioritize the major directories
Optimize your listings
Get reviews
Share your content
Interact with your followers
Have a local strategy
Turn your Facebook page into a hub
Run Facebook ads
Build relationships on Facebook
Create how-to videos
Do your YouTube SEO
Run YouTube ads
Use all the Instagram post formats
Connect with influencers
Run Instagram giveaways
Build an impressive LinkedIn Company Page
Encourage employees to share your content
Help others grow on LinkedIn
Build your personal brand
Get local press
Form partnerships
Host, sponsor, or attend local events
Advertise offline
Send direct mail
Attend trade shows
Network
Referral marketing
Email marketing
Case studies & success stories
Video testimonials
Seasonal sales promotions