We don't have to tell you that awards are great – it's pretty much common knowledge. Who doesn't like to receive some form of recognition? It doesn't matter whether it's a trophy, a certificate, or even an email commendation.
Awards are confirmation that people like you, they really like you.
And when you win an award for your business – that's even better. Not only do customers love your business, but they've taken the time to nominate you, vote for you, and spread the word about you. It's a win all around.
Local awards, like Reader's Choice, Best of, Chamber of Commerce awards, or local awards from national organizations can give your business a big boost and help you win new customers.
In this post, we're sharing 10 award-winning (in our opinion!) ways to promote your business's award to help you increase awareness, thank your supporters, and get new customers.
The Benefits of Winning Awards (You Can't Ignore)
Before we get to our tips for marketing your award, let's first talk about why winning business awards is so important.
1. Awards Give Your Business Credibility
You know your business is great and your customers know it's great, but what about the average person in your community? Awards lend a certain credibility to your business that others without awards may not have.
Think about it: You have a choice between the "Best Coffee Shop in Portland" and a coffee shop with pretty good reviews – but no award. Which would you choose? I'd bet you'd choose the "Best" coffee shop.
2. Awards Increase Brand Exposure
When you win an award, you usually get listed on a page of winners for that award. This page might show up in local searches, get featured in local write-ups, and get shared on social media.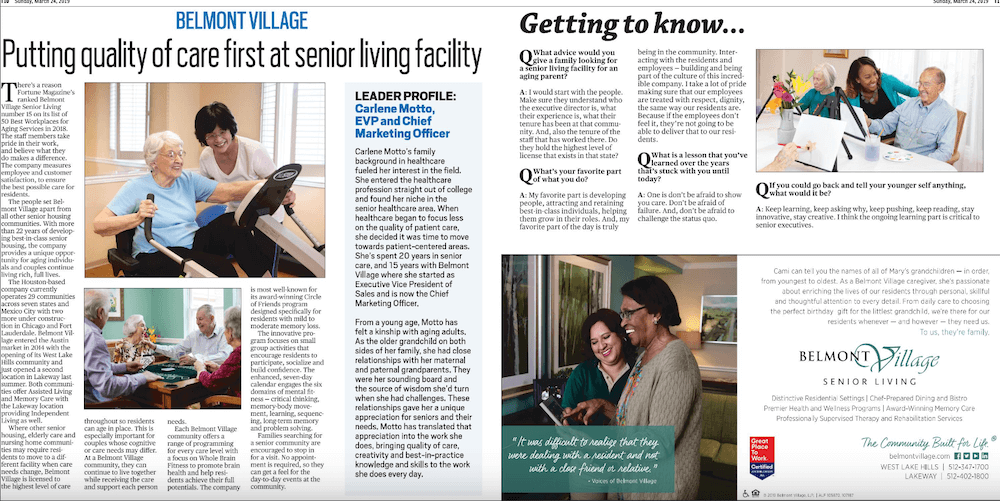 Here's an example of a write-up for a business that won Best of the Best in Austin.
This is an additional place for your business to get found online, increasing the amount of exposure for your business.
3. Awards Excite Your Employees & Help Recruit New Ones
Everyone loves to work for and work with the "best." Getting an award can help you recruit new employees and reinvigorate your current employees. They're working for an award-winning business – what's not to love about that?
4. Awards Can Breed Word of Mouth Marketing
If your award is determined by voting, you likely need to get your current customers involved to vote for your business. When customers love a business and want to champion it, something magical happens: word of mouth marketing.
Word of mouth marketing is when happy customers promote your business to their friends, family, neighbors – pretty much anyone.
This is powerful because we know that 92% of people trust recommendations from other people – they don't even have to know them personally.
So, if your customers are asking people on social media to vote for your business or sharing that you won an award and telling others to pay you a visit, that's a huge added benefit for your business.
5. Awards Give You a Boost of Confidence
Running a business is hard work – and you might not always feel appreciated or valued. Winning an award gives you a little boost – your business is great! People love you! It's all worth it.
And, when you promote that award successfully, you can give new customers that extra boost of confidence they may need to try you out.
10 Award-Winning Ways to Promote Your Award
Now, the award is all yours! Time to get the word out – but, where to start?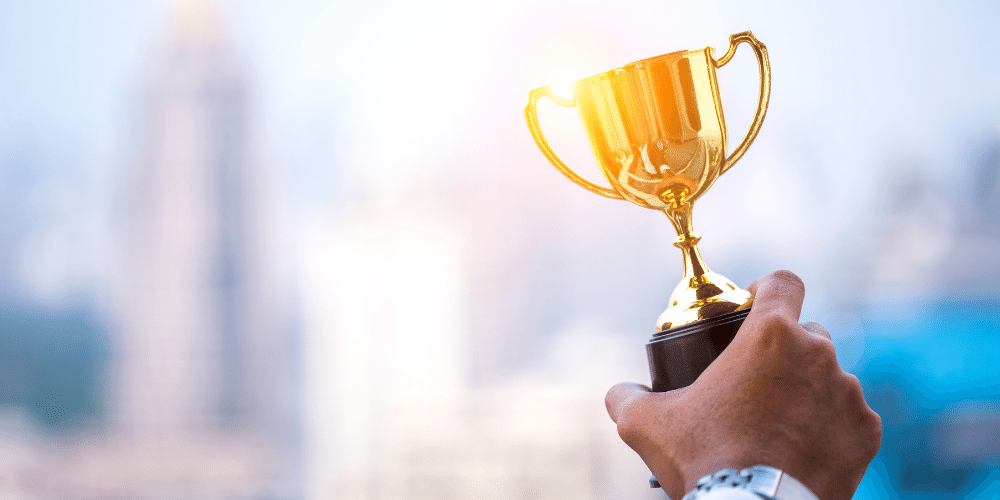 Here are 10 ways to promote your award to increase brand awareness, generate excitement, and get new customers through the door.
1. Add Your Award to Your Website
Your award is a big deal – make sure website visitors know about it as soon as they navigate to your site by including it on your homepage, your About Us page, and any other related page on your website. If you won "Best Cakes in Lubbock," include a seal on your online menu next to your cake section.
How to get started: Create a banner at the top of your website that directs to a short announcement on your site about your award. This will capture attention right away!
2. Share Your Award on Social Media
You already have fans on social media, so share this award announcement with them. You can share posts regularly about your award win (Come visit us to see why we were named Best Boutique in McKinney!) to keep it top-of-mind. You can also include your award in the About section on your Facebook page and your Twitter bio.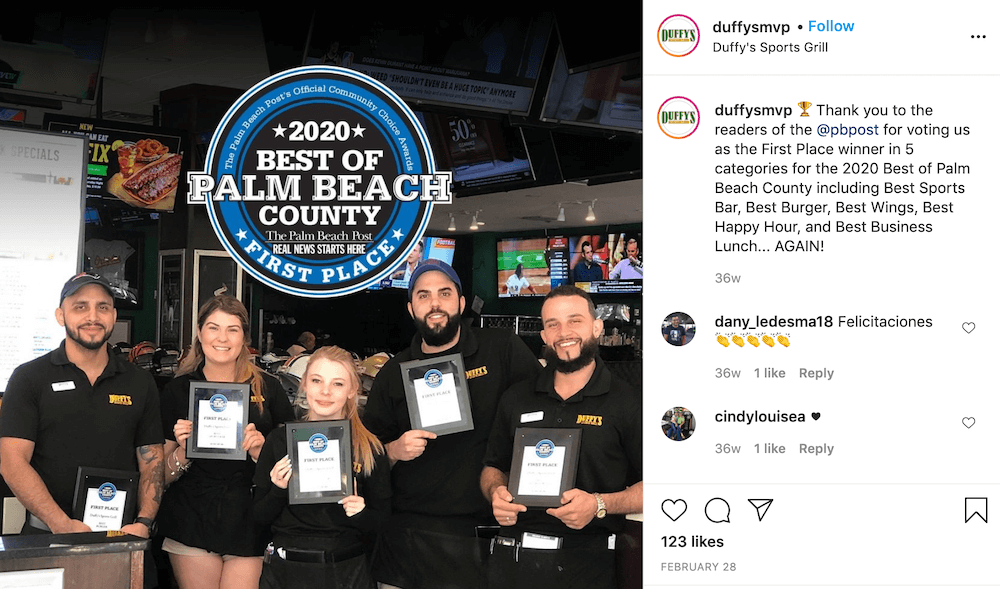 Here's an idea: Run a social media contest to celebrate your award and encourage your fans to get the word out online. Ask them to share a picture from your business or check-in at your location and tag you on Facebook or Instagram.
3. Send an Email Announcing Your Award
Let your customers know the happy news by sending an email marketing campaign around your award win. Thank the customers who voted for you, callout any highlights you might have received or special recognition, and maybe even add a special promotion (more on this in a minute!).
As a reminder: Make sure to include a mention of your award in any follow-up email marketing communications. This can be as simple as a badge somewhere in the email or a callout in the banner of your email.
4. Callout Your Award in Display Ads
Display advertising is a great way to increase local awareness for your business, and what better way to entice someone to try your business than by letting them know other customers already think you're great? That validation may be just what they need to take the next step and become a customer – or at least do some more research on your business.
Here's a tip: Try including a customer quote with your award callout in your display ads.
5. Include Mention of Your Award in Your PPC Copy
If you had to choose between a plumber and an award-winning plumber, which would you choose? Including your award in your search advertising copy can set your business apart and capture a user's attention when they're searching for a business like yours.

Test this: Include your award callout in your headline copy and in your description copy to see which gets the most traffic to your site.
6. Share Your Award in a Storefront Display
When people pass by your business, make them take a second look by including some kind of storefront display highlighting your award. This could be as simple as a sticker or as elaborate as a painted display outside your business. This might entice passersby to step inside or give patrons an extra vote of confidence as they visit.
New to storefront displays? Partner with a local artist or organization to create your storefront display. Have them tag your business on social and make sure to give them a shoutout for their work!
7. Add Your Award to Your Local Listings
Your local listings not only serve as a place for customers to find information about your business, but they can also house reviews. By including your award on your local listings, not only are you presenting a positive view of your business right off the bat, but you can also mitigate any potential negative reviews you may have (don't worry, every business has at least a few!).
Don't forget: Many local listings sites allow you to upload pictures – so make sure to upload a picture of your award badge or trophy (and pictures of that storefront display we just talked about!).
8. Create an SEO Strategy Around Your Award
Many customers include "best" in their local searches. You've probably done this before when searching for a new business. You obviously want your business to show up when locals are searching for the "best." So, you can create an SEO strategy around your award and increase your chances of ranking when a customer performs a search like this for your business.

This spa calls out their award-winning spa and notes that they're "Austin's Favorite Spa."
Did you know?: Search engines will typically show local map results with a star rating of 4 or above for "best of" searches ahead of organic search results, so make sure your local reviews are helping you get there.
9. Create a Video Highlighting Your Award
Take the celebration to the next level by creating and sharing a video about your award. You can use this video on your social sites and your website to give customers (and prospective customers) another way to engage with your award.
Looking for a video idea?: Feature customers who voted for your business in your video so they can tell other people – in their own words – why your business is so great.
10. Run a Special Promotion to Celebrate Your Award
Invite your customers and local prospective customers to celebrate your award win with you by running a special promotion. Your award win can help get new customers in the door, and a low barrier to entry in the form of a discount or special can help close a sale. Consider a limited-time sale, launching a new customer loyalty program, or offering future-use coupons after a customer visits.
One last tip: Promote your special offer or deal through print ads, mailers, and digital marketing like PPC ads and display ads to bring the most people into your business.
Don't Be Afraid of a Little Self-Promotion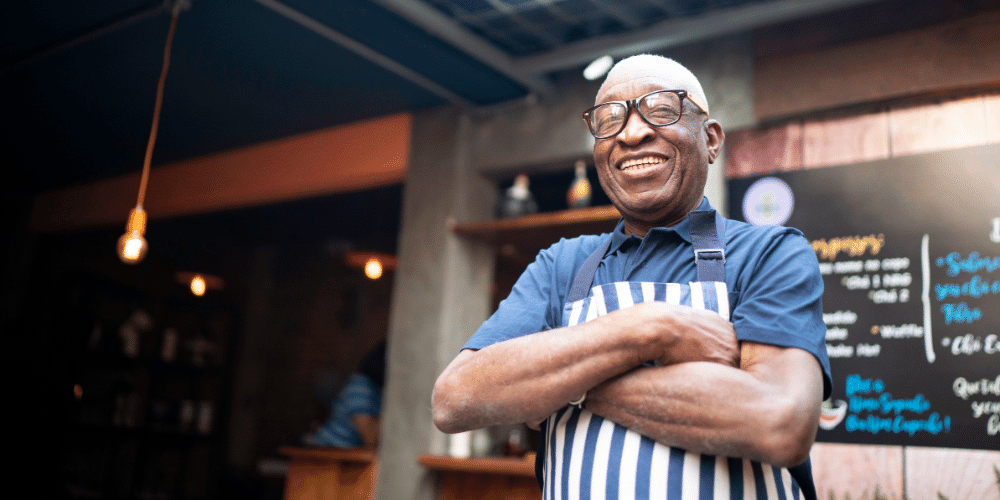 We know it can often feel strange to brag about your business, but a little self-promotion of your business's award can go a long way in getting new customers and increasing awareness for your brand in your community.
To sum it all up, here are the top 10 ways to promote an award your business wins:
Add Your Award to Your Website

Share Your Award on Social Media

Send an Email Announcing Your Award

Callout Your Award in Display Ads

Include Mention of Your Award in Your PPC Copy

Share Your Award in a Storefront Display

Add Your Award to Your Local Listings

Create an SEO Strategy Around Your Award

Create a Video Highlighting Your Award

Run a Special Promotion to Celebrate Your Award