It's no secret that we're huge fans of Google Business Profiles. They're a free way to get your business found on Google, after all, and they provide searchers with valuable information about your business that can help sway them to visit your website or become a customer. But what happens when Google thinks it knows your business better than you do?
You may have recently noticed aspects of your Google Business Profile changing—hours of operation off-kilter here, a new service added there. Some of these updates may be correct and even helpful, but what about when the edits or updates aren't right—at all?
How it feels when Google makes an update to your Google Business Profile.
In this post, we'll explain:
Why Google's been making automatic updates to Google Business Profiles.
How Google sources its information.
How to protect your GBP from unwanted (or inaccurate!) edits.
Let's dive in.
Why Google updates your Google Business Profile
In an effort to continually provide the most accurate and updated information about businesses to its users, there are times when Google takes matters into its own hands or relies on the community to provide updated information.
While this can sometimes offer a benefit to your business—perhaps if you forgot to reflect your updated hours on your Google Business Profile (GBP)—there are times when the update or change is either inaccurate or even harmful.
For example, it's not hard for a competitor to submit an "updated" website URL that actually redirects to their site (or maybe even worse, like in a case Sherry Bonelli shared in Search Engine Journal where her son's high school Google Business Profile was updated to link to a porn site for over 24 hours ?).
In order to understand why these updates are made, it's helpful to know where Google is sourcing this information. There are a few main sources:
Crowd-sourced suggestions and updates
When you see a business's Google Business Profile, there's now a section that prompts you to "Suggest an edit." Once you click that prompt, you can choose to suggest changes to the business information or mark the location as "Closed, non-existent, or duplicate."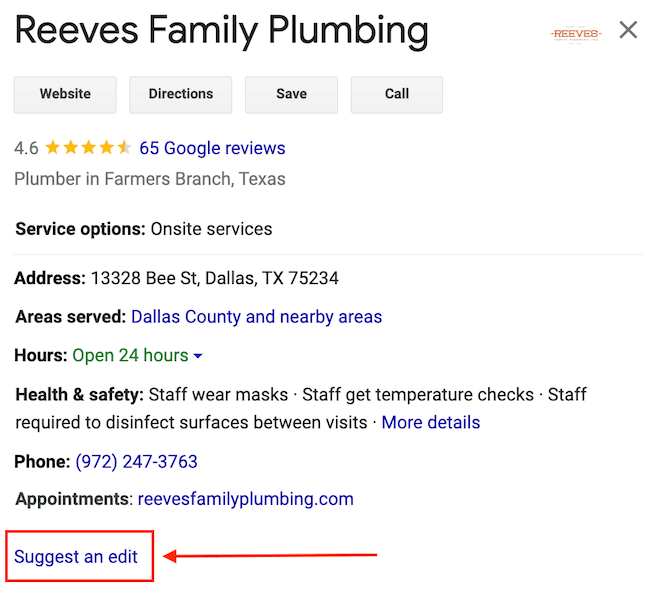 In the Knowledge Panel, Google also prompts users to "Share the latest info."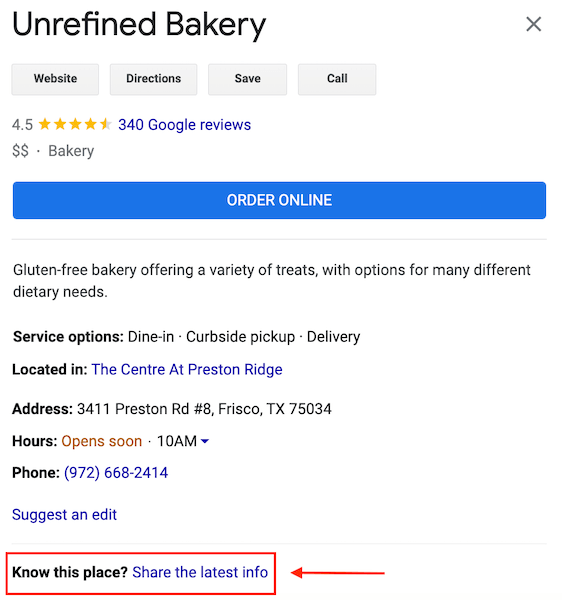 From there, users are asked questions to help Google make additional updates and edits to the business's Google Business Profile.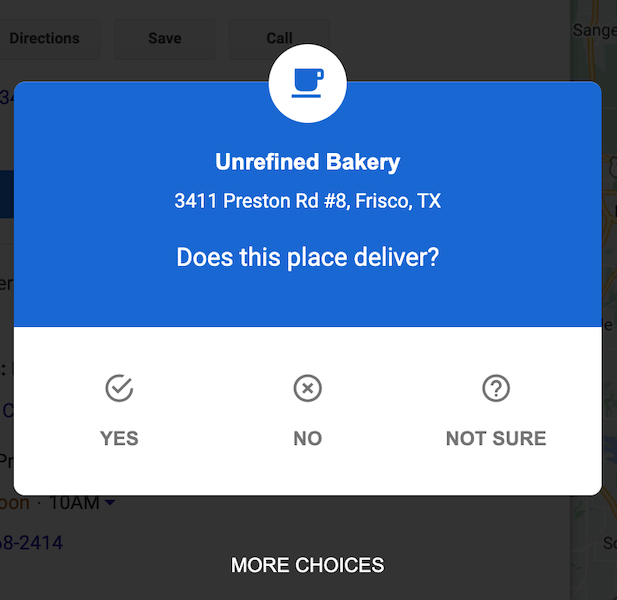 While the intent behind crowd-sourcing these updates is positive (i.e.; people providing the latest information about a business to help other users), it may not always be accurate or even in good faith.
So what happens after someone suggests an edit (or multiple edits)? You'll have a chance to review them. Sometimes you'll be able to review the changes before they're made, and others, Google will push the updates through before allowing you to review.
You'll see a notice like this:

Suggested edits will appear orange in the backend of your listing (when editing through the GBP dashboard):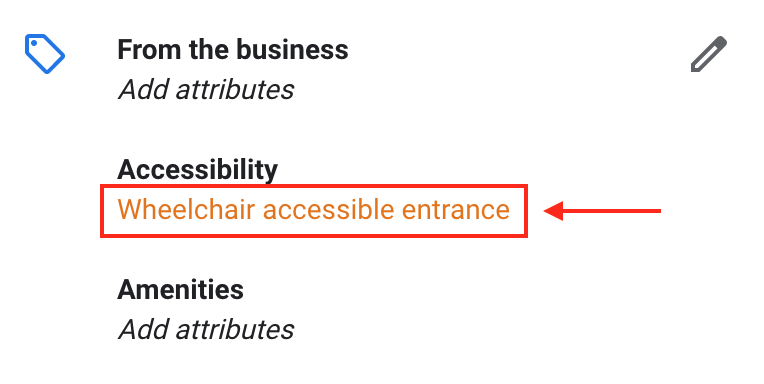 From there, you can reject suggested edits or accept them.
Information across the web
Another source Google uses to update your Google Business Profile comes from the information it sources across the web. For instance, Google could gather information from your website, other business listings, government sources, and more.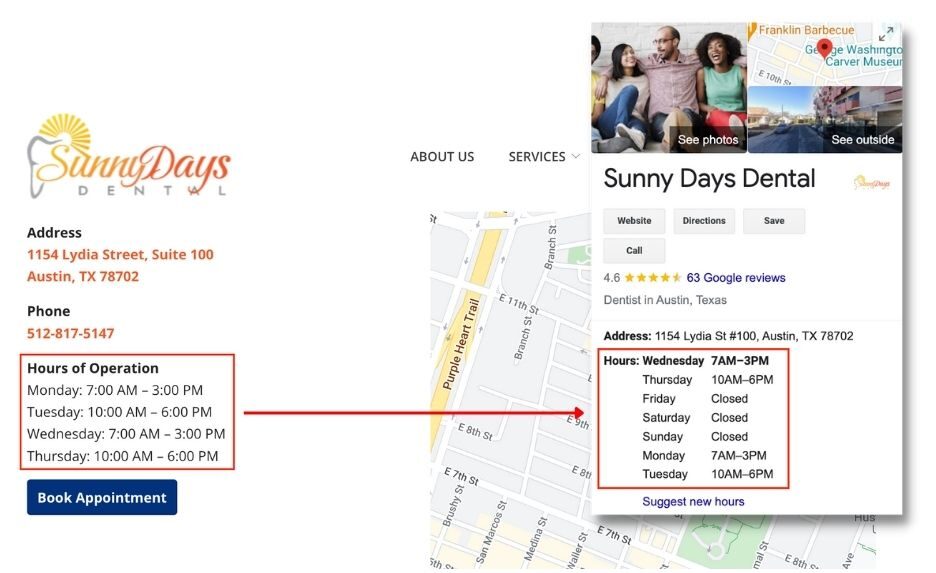 If it finds information that doesn't match your Google Business Profile, it may make an automatic update if it deems the information it found was more trustworthy than what exists on your listing.
Like with user-generated suggestions, you'll have the opportunity to review and revert once a change is made. (But if the change has been live for a significant amount of time, it could result in lost customers and even a damaged reputation.)
This is why it's so important to maintain consistent information about your business across the web. If there's inaccurate information about your business somewhere, Google could find it and think it's more trustworthy than what you have listed and make an automatic change.
Connected third-party apps or software tools
If you've connected third-party apps or software tools to your Google Business Profile, you've given Google another source to collect potential updates. If you've connected a listings management tool to your profile, these updates can be a good thing—it ensures you're providing accurate information across all your local citations. But if it's a different type of app or software, it can make unwanted changes (or even delete your profile or get it suspended!).
When connecting third-party apps to your Google Business Profile, be mindful of the permissions you're granting.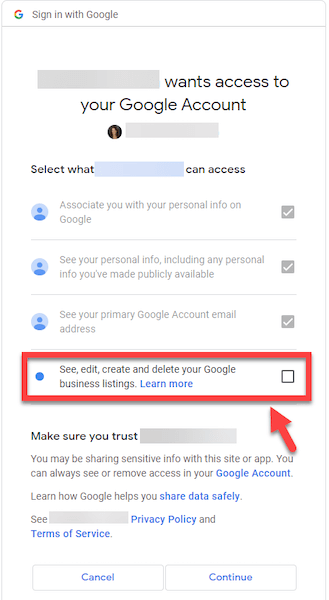 It's also a good idea to audit these connected apps regularly to determine if they're needed. To review what apps you've granted access to your Google Business Profile, simply:
Log into your Google account
Click the profile icon and select "Manage Google Account" (or choose the brand account you want to manage)
Click "Data & privacy"
Scroll down to "Apps and services."
Click "Third-party apps with account access." This will show you what apps have access to your account and what access they have. You can edit or remove from there.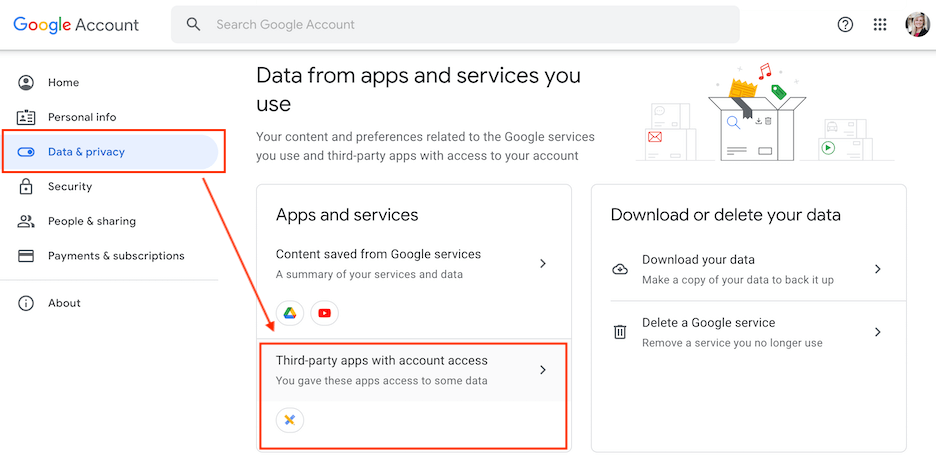 It's important to do this every so often so you don't lose your listing because an app updated that you didn't even remember was connected to your account
Google's own AI
Not surprisingly, Google has developed AI that can make automatic updates to Google Business Profiles. Moz found that Google's AI is often sourcing this information from Google Maps—looking at the hours of operation listed on the business storefront and reflecting that change within the business's Google Business Profile. Seems like it could be handy, right? That is until you remember that some Google Maps images of businesses are a few years old. Not really the most updated information anymore.
This image from Google Maps with business hours is from 2017, so it may no longer be accurate.
Google is planning to update more than 20 million businesses' hours of operation in the next six months. So you'll want to keep an eye on your Google Business Profile to ensure any updates are accurate and not outdated.
How to manage changes and updates to your Google Business Profile
If these auto-updates are getting you a little worried, have no fear! There are some steps you can take and some routine maintenance you can perform to ensure your Google Business Profile is accurate and updated so you don't miss out on customers.
1. Claim your Google Business Profile
This is an obvious one, but the first order of business is to claim your Google Business Profile if you haven't already. This is also a good time to make sure there are no duplicate or errant GBPs for your business out there. You can claim those and delete them or mark them as duplicates so searchers see a single source of truth when it comes to your Google Business Profile.
In order to claim your Google Business Profile, simply:
Navigate to google.com/business to create or find your listing
Follow each step of the process
Verify your listing
Voila! You're now ready to proactively manage your GBP.
2. Fully fill out your profile and keep it updated
Often, Google is sourcing information across the web to add to your profile so it's more valuable. If you fully fill out your profile, you can combat this a little. Take some time to go through all the options available on your GBP and add relevant information.
Next, make sure to keep your Google Business Profile up to date. Changing hours? Update it asap. Added new services? Add them to your profile. New pictures? Add those too!
The more information you have, and the more you update it, the less chance you'll have of Google making an unwanted change to your profile. And the easier it will be to catch any updates or edits.
3. Consistently manage suggested updates and changes
As users suggest changes or Google edits your profile, it's important to be on top of any updates so you can correct inaccurate information. You should receive an email from Google letting you know a change has been made or you have updates to review.
It will look like this: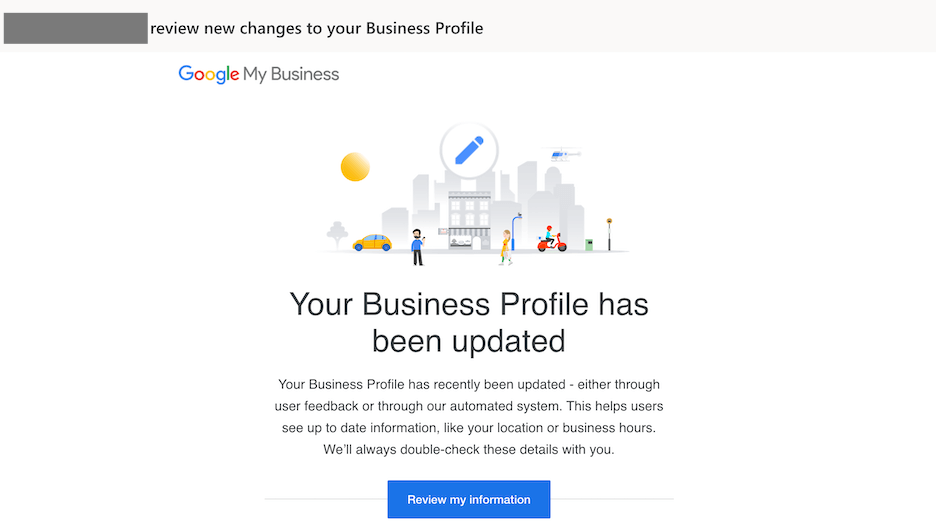 But you can also check in regularly on your GBP to ensure your listing has the best and most accurate information.
4. Keep all your business information consistent and updated
As mentioned, Google may update your Google Business Listing based on the information it finds across the web. This means that if you have inaccurate or outdated information about your business on an old listing site or government site (like a Chamber of Commerce page), Google may make an update that isn't going to serve your business.
Make sure any information about your business online is correct and accurate, including on your website, your additional business listings, all review sites, and anywhere else information about your business is listed. Oftentimes, these can be found by Googling your business and cleaning up what you find.
5. Take advantage of GBP features
Google Business Profiles offer some really helpful and useful features for business owners. Features such as Questions & Answers, Google Posts, and adding specials or promotions can help your listing stand out and win you new customers without them ever leaving the search engine.
Regularly partaking in these features also gives you a consistent touchpoint to keep an eye on your listing and can show Google that you're regularly engaging with your listing, meaning the information there is the most accurate.
This business is regularly adding COVID-19 updates as well as new pictures.
Protect your Google Business Profile
Your Google Business Profile is a valuable free tool for your business to show up in search results, educate prospects about your business, and ultimately win new customers. While Google is always working to provide the best and most accurate information for searchers, there will be times that it misses the mark or sources some inaccurate information, which is why staying on top of your listing is so important.