A landing page can make or break the success of your product or service. We've all encountered a landing page that's too confusing and confounding: its message is unclear, its visuals are wonky. So instead of scrolling through the landing page to learn more, you click away and forget about it.
Thankfully landing pages have come a long way from layouts like this!
An effective landing page provides all the necessary information a potential customer needs and leads them down a path to convert.
So how do you create a landing page that educates, engages, and encourages conversions? You follow landing page best practices! That's why we put together all the landing page best practices you need in this quick, easy guide. Plus, read on for a free landing page checklist!
Landing page best practices
Abide by these landing page best practices to fully optimize your website and gain more customers!
1. Make your landing page accessible
How can everyone enjoy your landing page if not everyone can interact with it? You must make your landing page accessible to every member of your audience. Since one in four Americans lives with some kind of disability, they may be unable to hear the videos you post, read the copy you've written, or see your fancy layout.
Do the following:
Use inclusive marketing terms and phrases in your copy.
Include alternative text for any photos and images you include.
Have captions for any videos or multimedia elements.
Include representation in the photos and videos you post.
Make sure that your color palette has contrast so people can read text clearly.
Check out our website accessibility checklist.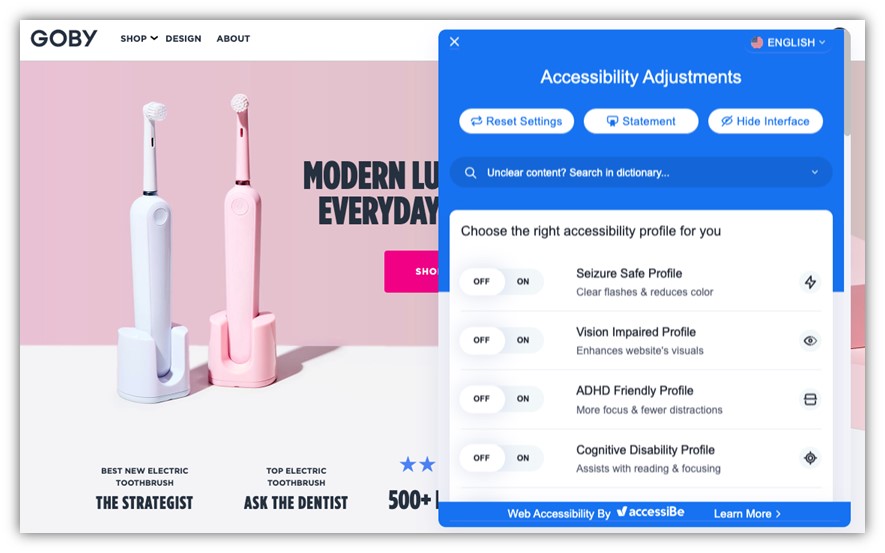 2. Test your copy
Your landing page copy must be concise. Large blocks of text are intimidating, and people will scan over them without understanding your message. Break up copy with subheads, headlines, bullet points, and numbered lists whenever possible. Write copy while thinking about the layout of the landing page.
Test your copy. Test your call to action. Run different tests so you understand what language performs best.
3. Include a call to action
You must include a clear call to action (CTA) that tells your audience what to do next. Your call to action can say anything: "get started for free," "book your appointment," or even "buy now!"
Misfits Market makes a strong case for why potential customers should press its call to action button by mentioning its huge discount. The company has kept its message simple with a short "get started" but brings clear attention to it with the hierarchy of design and a bright yellow box.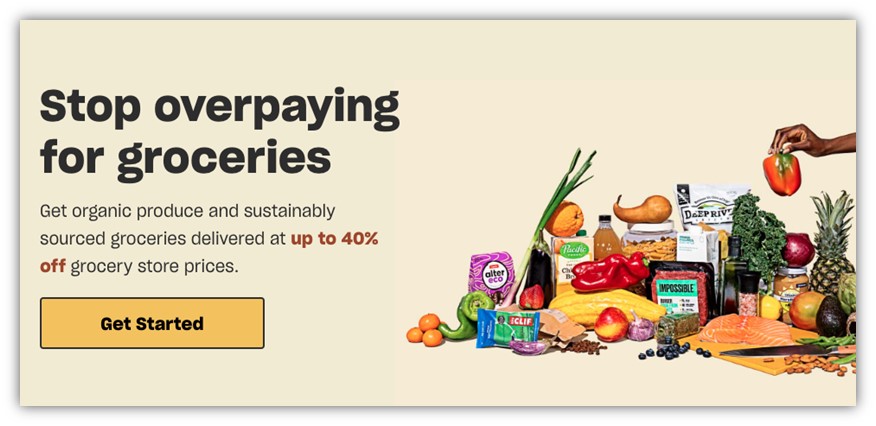 Try the following:
Give your audience a good reason to hit the call to action button.
Test different CTAs to see what resonates.
Use strong verbs and words that promote action.
Use colors and good design to bring attention to the CTA.
4. Add a product demo
Your landing page should make a convincing argument for why customers should buy your product. Including a product demonstration is a fantastic way to give people a taste of what you're offering. Wordtune includes a live product demo directly on its landing page that makes it easy for people to understand how it would be valuable to them.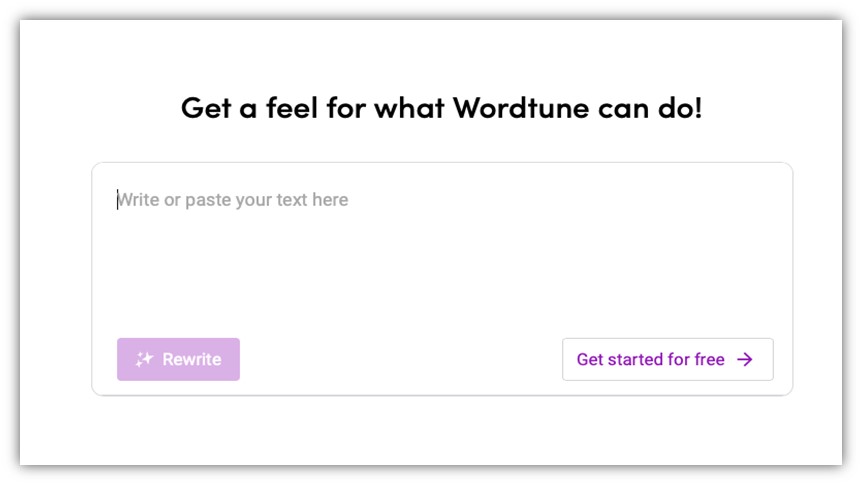 5. Integrate social proof
Before you buy a product, what do you do? You check the reviews. Integrating reviews or customer testimonial videos into your landing page gives you the opportunity to promote all the compliments people have given you. You could also just include the logos of companies and publications that have given you good reviews.
Generally speaking, it's best to include embedded reviews and testimonials toward the bottom of your landing page. You can easily embed new reviews on your landing page with Yelp, Google Business Profile, and Trustpilot.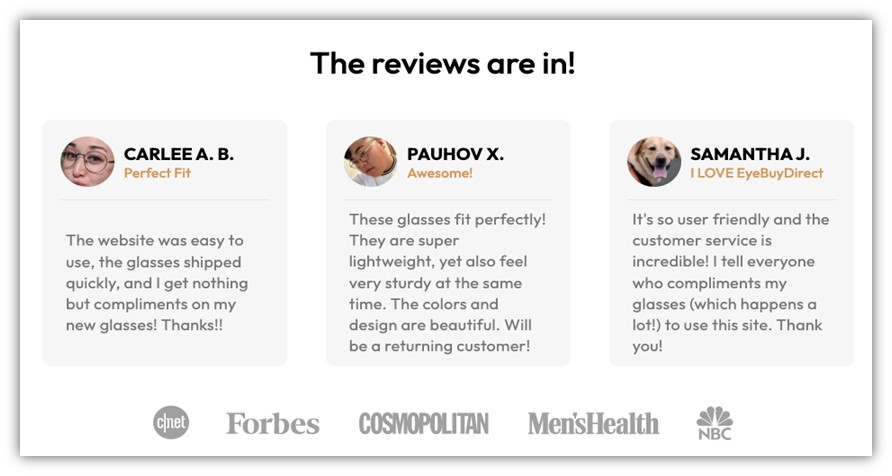 6. Ensure your landing page is mobile-friendly
You can't control where people look through your landing page, and they may see it on mobile. You must make your landing page accessible for any screen. If you're using a website builder like Wix, Squarespace, or WordPress, your landing page is optimized for mobile as you create it. You'll be able to see what your landing page looks like on different screen sizes before launching.
70% of mobile landing pages load visual content in less than five seconds. So regardless of what you include on your landing page, make sure it's able to load fast on a mobile page.
Keep copy concise.
Make sure that your forms are minimal.
Make sure that your load time is fast.
7. Check that your landing page loads fast
This landing page best practice sounds pretty basic, but it's an easy step to skip. With all the images, copy, and embedded parts of your landing page, you may unintentionally bog it down.
Test your website speed. Google's Pagespeed Insights and LocaliQ's Website Grader offer free insights into how to improve your website and landing page experience.
Compress your image size. Large file sizes take longer to load, while compressed images load fast.
Reduce the number of plugins you use. Plugins are a useful tool, but using too many will slow your page load time. Get rid of the ones you aren't using.
8. Put important information at the top
As you look through landing pages, you'll notice that they're designed like the front page of a newspaper. The important information is at the top, while less important information is toward the bottom. That's because these landing pages have included the most important information "above the fold."
Your audience members may not scroll down to read everything on the page, so you need to put the most important information right in front of them. Ask yourself these questions as you craft your landing page:
Are you including the information your potential customers need?
Does this flow of information make sense?
Are you leading with the most important points?
Have you included a CTA toward the top?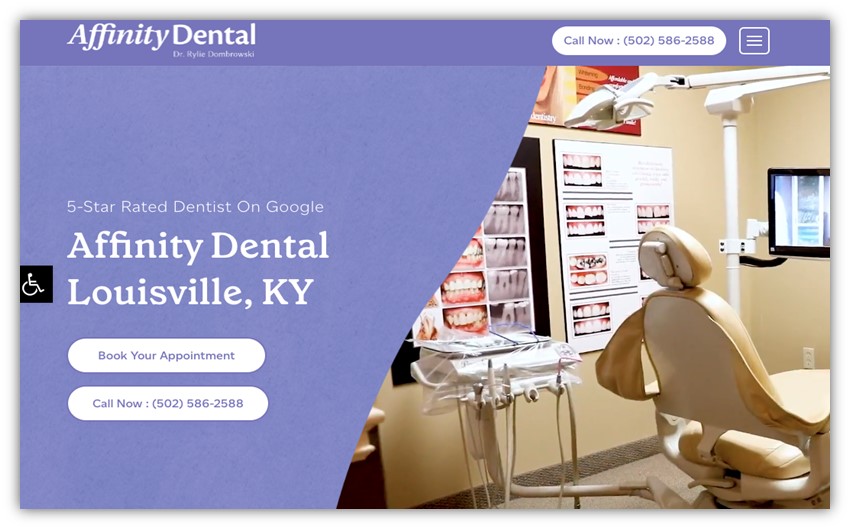 9. Use the hierarchy of design
The best landing pages have a cohesive color scheme that matches your business's overall branding and follows the hierarchy of design. The hierarchy of design uses design principles, including size, white space, balance, contrast, color, and typography to structure visual designs so they emphasize important information.
Try the following:
Check your color palette contrast.
Make sure that your flow of information makes sense.
Evaluate the balance of your copy, images, videos, and call to action.
10. Include fantastic images
High-quality images tell a more powerful story than anything else on your landing page. For example, Olipop's landing page below features bright colors and crisp images of its different soda flavors.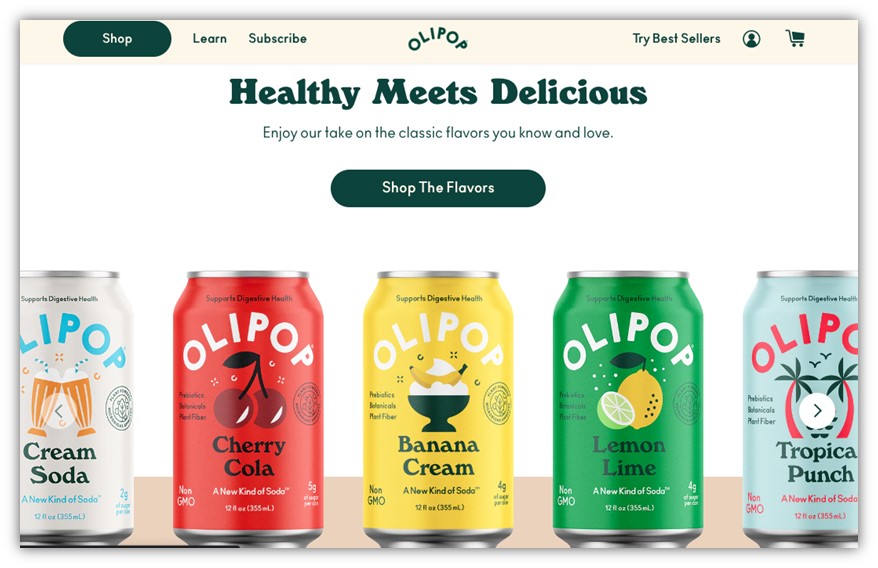 If you don't have professional photos of your products or to represent your services, then it's time to shoot new ones! Getting new product photos doesn't have to take a ton of marketing budget, either, as high-quality shots from your phone or tablet can still make a positive impression on your audience.
11. Create a comparison table
If your service or product is similar to existing businesses, then you should consider setting up a comparison table on your site.
A comparison table can list all of the advantages of your solution and compare them to existing products on the market. It can help visitors decide whether they want to choose your brand or not, and build credibility with them.
12. Add ways to get in touch with your business
People who visit your landing page may have more questions or may need to contact your team. Similar to how you would set up your local listings, adding your contact information (like an email address or phone number) to the bottom of your landing page allows your audience to get in touch easily.
Alternatively, setting up a live chat feature on your website will automate part of the customer service process, so you can serve your customers even better.
13. Add an FAQ section
Adding an FAQ section to your landing page will provide potential customers with answers to their questions upfront. FAQs can help you save time by already helping visitors understand your value. Additionally, FAQs can help you rank higher in search engines as long as you are answering important questions with relevant and helpful answers.

Landing page checklist
As you run any type of advertising campaign, you want to drive them to a landing page built for conversions. If your landing pages are not optimized, you won't be able to convert website visitors sourced from your other marketing channels into customers. Following these landing page practices will help you maximize your marketing ROI. 
Here's a quick landing page checklist to review as you craft your new landing page: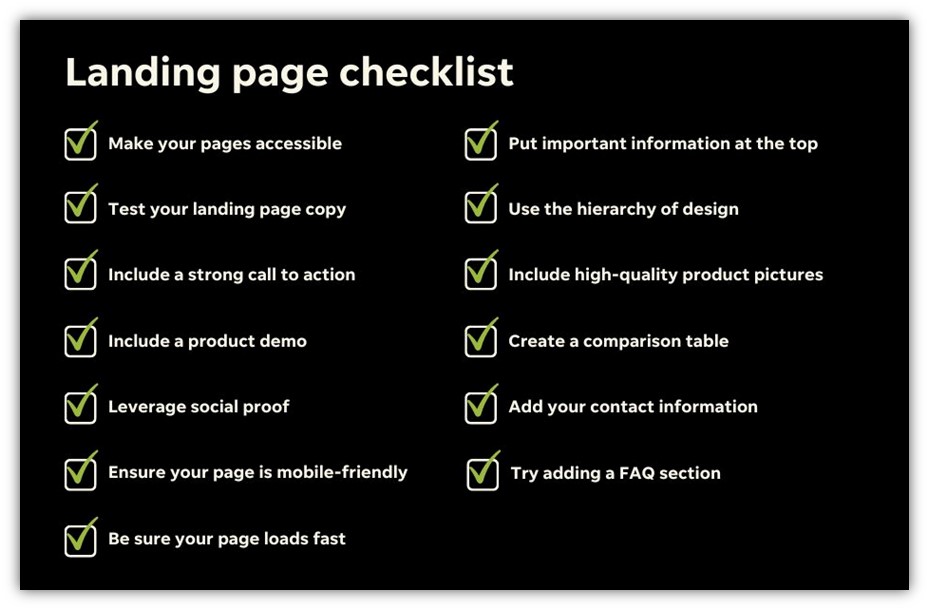 To recap, here is a summary of the landing page best practices we covered:
Make your landing page accessible
Test your copy
Include a call to action
Include a product demo
Leverage social proof
Ensure your page is mobile-friendly
Be sure your page loads fast
Put important information at the top
Use the hierarchy of design
Include high-quality product pictures
Create a comparison table
Add your contact information
Try adding a FAQ section