March is a confusing month. It's not yet fully spring, but it doesn't quite feel like winter either. Pick one, March!
A strong March is crucial to your business's marketing plan since the end of the month also marks the end of the first quarter of the year. Be sure you're staying on track with your 2023 marketing goals by taking advantage of each day this month has to offer on social media. We'll help you to do so by calling out our best March social media hacks like:
Tips to have a miraculous March on social media.
March social media holidays to post about this month.
Even more March social media ideas any business can use.
When you're done reading this post, you'll feel ready to manage March marketing with ease.
Related: Need marketing ideas for the rest of the year too? Download our free 2023 marketing calendar to get ideas, tips, and tricks fit for every month.
Tips for your March social media calendar
Before you unleash March magic onto your accounts, check out these social media tips to keep in mind this month:
Know your goals
As Q1 ends in March, this is the perfect time to check in on your social media goals. Before you start using the ideas we discuss below, be sure that your post schedule aligns with your business's overall marketing goals.
If you don't already have social media goals in place to reference, it's never too late to establish a few! Start by evaluating any business challenges you hope social media will solve and use handy goal-setting templates like the one below:
An example of the SMART goals guidelines used for social media planning.
Check out micro-influencers
If you're struggling to create posts of your own, it never hurts to check out what's trending on social media! Leveraging influencers or micro-influencers to gather ideas for various posts will help your business stay on top of the latest and greatest on social media.
If you have a bit of budget, you can even take your social media marketing a step further by partnering up with a micro-influencer in your niche market. A micro-influencer is typically someone with a following of less than 50,000—which makes them more approachable for a business looking to grow.
This is a great way to tap into your target audience through an influential person with ties to your industry. You could pay an influencer a small fee for an Instagram tag or go all out with a post too.
Have fun with social media trends
While influencers can help you brainstorm posts, there are also a few known social media marketing trends across platforms that you can add to your posts for creative flair.
For example, using emojis in your post captions or content can increase your engagement. In fact, posts with emojis get 33% more comments and shares. Plus, 78% of people say using emojis in your posts makes your brand more likable and 63% think emojis increase your business's credibility.
Aside from emojis, you can use hashtags to help your posts get found in feeds. Hashtags allow your posts to show up in your audience's hashtag searches later. Plus, hashtags are customizable. When you use hashtags, you'll have the flexibility to create your own custom hashtag to fit your business or follow trending ones like these March hashtags below:
#marchingon
#keepmarchingon
#marchmadness
#marchmayhem
#marvelousmarch
#marchmagic
#magicalmarch
#marchmiracles
#winter
#spring
#mellowmarch
#marchmunchies
#moneymarch
#womenshistorymonth
#internationalwomensday
#happystpatricksday
#stpattysday
#lucky
#greenwithenvy
#luckoftheirish
#merrymarch
#madmarch
#marchmail
#marchwatch
#magnificentmarch
#marchupdates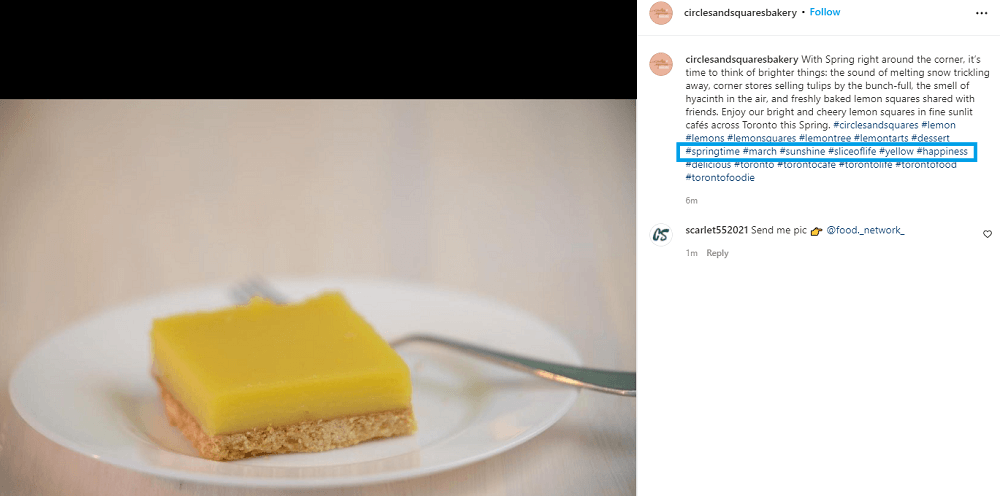 Keep to the right sizes
When it comes to social media, your image and video specs can make or break your posts. That means you'll want to avoid images that could be cropped poorly or blurry and ensure any video content is playable the whole way through.
If you don't feel confident in your social media content sizing, save our quick and easy image below to keep your posts on track with each platform's requirements:
Take a look at our full breakdown of social media image sizes here.
March social media holidays (with ideas and examples)
Now that we've covered the basics with our tips above, it's time to march on with these magnetic March social media holidays and ideas:
Irish-American Heritage Month
Irish-American Heritage Month was made official by Congress in 1995. This makes sense as this monthly observance falls around the same time as St. Patrick's Day. (Speaking of, here are some St. Patrick's Day marketing ideas and catchy St. Patrick's Day phrases to try this month!)
There are about 32 million people in the U.S. with Irish heritage, so odds are these Irish-American celebratory post ideas will resonate with your audience:
Share your own business's history with Irish heritage! If you or your team have Irish cultural roots, you could do a video interview discussing any Irish traditions your family had. Giving your followers a sneak peek of the backstory behind your business will add personality to your brand.
The best part of any culture? The food. There are plenty of traditional Irish dishes your followers will be dying to try. Post a picture of your Irish food of choice to draw your audience in and give them a recipe to follow to keep them engaged. You could even have your followers comment back or tag you if they've made your Irish recipe or call for them to share their own.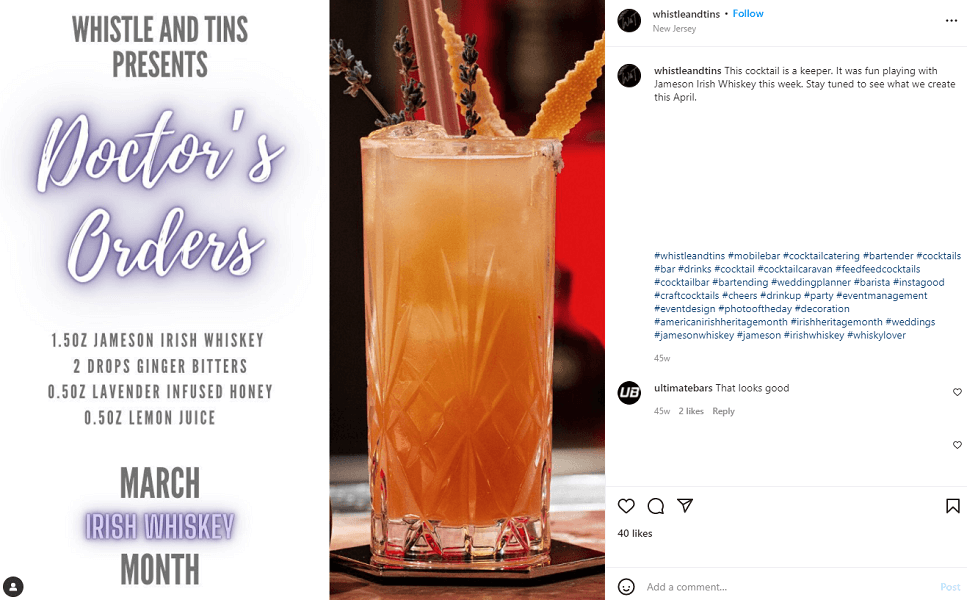 International Ideas Month
All of the amazing accomplishments we've seen throughout history started as just an idea. International Ideas Month is all about recognizing the potential ideas have to turn your dreams into reality. Inspire your followers with these, well, ideas for International Ideas Month!
Share a great idea you have! Maybe it's the main idea your business is based on, or a new feature you look forward to rolling out in the future. Your willingness to be open about ideas you have might inspire your followers to comment back with their own thoughts and ideas!
Provide your audience with brainstorming tips to achieve their ideas and goals. It can be easy to blank on what your next great idea should be, so help your followers out by sharing your idea brainstorming process.
Remind people of how your business all started. Odds are your business came to fruition with a strong idea behind it. Use this as an opportunity to share your business's success story.
National Peanut Month
While you may hesitate with this monthly observance at first, it's comforting to know that peanut allergies only impact about 1% of the U.S. population. Don't shy away from National Peanut Month! Here are some National Peanut Month post ideas to help you celebrate:
Still wondering how many people in your target market have peanut allergies? Create a poll asking your followers to comment back whether they're allergic to peanuts or have them share if they're a fan of the food. Not only will this information help you tailor National Peanut Month posts for years to come, but the extra engagement from all the comments is sure to give your social media accounts a boost.
Another way to get your followers to comment back for National Peanut Month is to ask them about their favorite peanut snack. You could post a picture or give a backstory of your own favorite snack to relate with your audience. Try taking this one a step further by asking your employees their thoughts on peanuts too and share the results.
Share a product or service offering you're nuts about! Go nuts during National Peanut Month by creating buzz around a specific product or service. When you highlight an offering on a social media post, you're guiding your followers down the sales funnel.
National Women's History Month
National Women's History Month started in 1982 as "Women's History Week" and celebrates all the outstanding accomplishments women have made throughout the years.
While diversity and inclusion in marketing should be a goal for your business throughout the year, use these ideas to show your female-identifying followers, friends, employees, and community members how much your business cares this month:
Give back to a female-led nonprofit organization. You could run a donation drive for organizations helping women and invite your followers to join in on giving back. If you don't have the resources to donate or run a drive, set aside some time to volunteer at a women's shelter or female-led event, like a Girl Scout's fundraiser. Be sure to take plenty of photos of your day of giving to post on social media later.
Run an educational series. Over half of social media users log on with the intention to learn or do research. Your audience will appreciate the chance to educate themselves on women's history with your posts on your favorite female fun facts or stories on influential female figures.
Pass your business's platform over to a woman that matters in your life! You could have a woman do a social media "takeover" on your brand's account to share her story of what being a woman means to her.
Share out Women's History resources! Between YouTube videos, books, and more there are plenty of materials you can link to in your bio for your followers to click to all month long. Post reminders to encourage your followers to check out your favorite resources, or even partner with an educational women's organization to shout one another out.

March 1: World Compliment Day
Who doesn't love getting a compliment every once in a while? Spread the love and kindness onto social media with these World Compliment Day post ideas:
Compliment your followers! Thank them for helping your business grow with all the love they give your posts. On top of complimenting your audience for being the best customers around, you could show your appreciation by posting an exclusive offer just for them.
Instead of complimenting your followers, be sure to show your team some love too. You could post a series giving a compliment to each of your employees. This will show your followers how much you care about your team which could make your business more likable.
Compliment yourself by highlighting a top product or service you offer. Be sure to explain why your specific offering is so great in your post caption. This post will knock out two goals in one sweep: it celebrates a social media holiday all while showcasing an offer to your potential customers.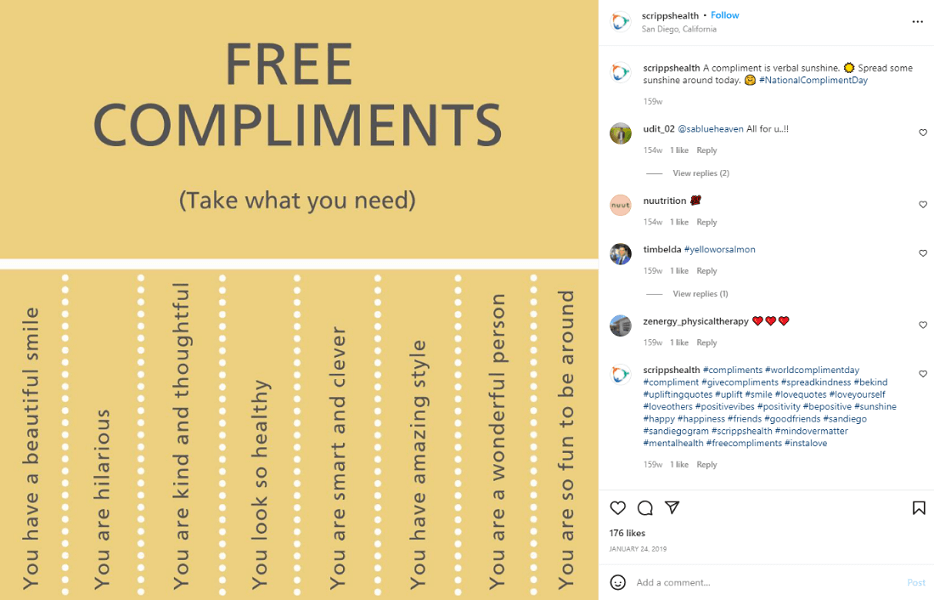 March 4: Employee Appreciation Day
If there's Boss's Day, then we're bound to have to celebrate employees too! Employee Appreciation Day started in 1995 to encourage employers to focus on employee recognition. Help foster a positive working environment for your business's own employees and community with these Employee Appreciation Day social media post ideas:
It sounds simple, but actually showing your employees some appreciation can go a long way. Nearly half of consumers prefer brands that show they care for their employees. Use Employee Appreciation Day to post about all the amazing things your team does for your company. You could even kick this post up a notch by sharing how you'll be giving your employees a small gift or a few hours off.
Post work-life balance tips to remind your followers how important it is for all employees to have a healthy relationship with their job. You could do a series of tips or bundle them into one graphic for a larger post, but your followers will appreciate the ideas of how they can improve their own work lifestyle.
March 8: International Women's Day
While you'll be posting about Women's History all month long, International Women's Day is a March social media holiday you won't want to miss out on. Since this day can be busy on social media as all users celebrate women and their rich history, help your business stand out using these post ideas:
Highlight a superstar female employee. Post a picture of a female team member and caption it with all the great work she does for your brand.
Partner with a woman-owned business and share the social media wealth. Find a woman-owned local business in your brand's community and invite them to do a social media partnership. You could shout one another out or even feature her products on your page for the day.
March 20: International Day of Happiness
Social media is all about building a community and spreading information that brings people joy. That makes International Day of Happiness the perfect March social media holiday to fit into your marketing calendar.
International Day of Happiness was first established back in 2012. Based on the fundamental goal of promoting happiness and well-being for all people, here is how your business can be a part of this cheerful day:
Showcase a happy customer by posting about a positive review your business has received. Getting reviews for your business from local listings should be a tactic you're implementing year-round, so this is the perfect opportunity to have that hard work pay off by sharing out all the great things your customers have to say about your business.
Post about what makes you happy. It can be as simple as sharing a picture of your favorite spot for relaxation or listing off what you do to stay happy, but this can get your followers thinking about their own happiness. Your followers could even comment back with their own ways they maintain happiness.
Share how your business can make your customers happy. International Day of Happiness is an ideal opportunity to post about all the benefits your product or service brings to your customers. For example, post a behind-the-scenes video of all that your business does to keep your customers happy.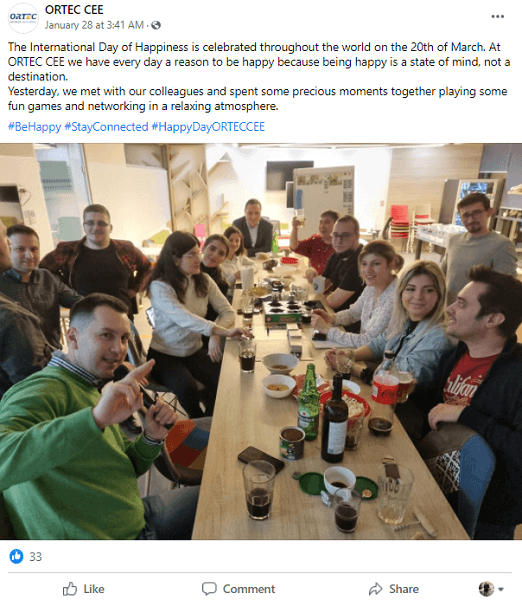 March 23: National Puppy Day
When it comes to March social media holidays, it doesn't get much cuter than this. Posting about National Puppy Day using these ideas below is sure to tug at your followers' heartstrings:
Post a picture of a puppy. Need we say more? All kidding aside, studies have shown that the cuter the content, the happier it makes the viewer. Adorable posts even lead to more sales than other types of content. Don't miss out on this opportunity to make your brand all that much more likable by posting a photo or video of puppies in your business's community.
Promote a puppy contest! If you don't want to post about puppies yourself, call upon your followers to do so. You could have your audience tag you in posts or stories of their own dogs and offer a small prize for whoever wins "cutest puppy."
March 29: National Mom and Pop Business Owners Day
National Mom and Pop Business Owners Day is a March social media holiday growing businesses can't afford to miss. There are over 27 million small businesses in America and those brands provide 70% of all new jobs within the country. Be proud of what your brand has accomplished with these post ideas:
Share the history behind this holiday with your followers. Inspirational posts will have a higher likelihood of keeping your viewers engaged, and this story is one they won't want to miss. The holiday was established by the children of husband-and-wife business owners, Mr. And Mrs. Segel, that opened a hat shop in 1939. The shop grew from a small, local store to a 10,000-square-foot clothing shop worth $2 million.
Post your business's backstory. While sharing others' inspiring business stories is fun, nothing will resonate with your audience more than your own brand's history. Try posting a photo from your early days as a business and showcase your brand voice by captioning the post with the story of how it all started.
Encourage your followers to shop local. National Mom and Pop Business Owners Day can be a great reminder to all of how important it is to keep small businesses running. If you're tight on time, recycle your Small Business Saturday marketing content and swap out the text to get the same point across.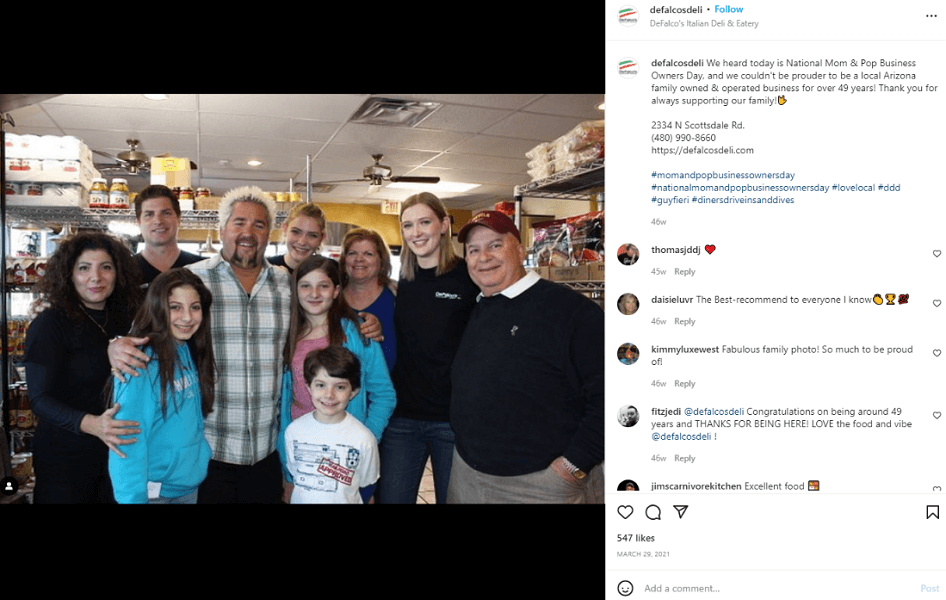 More March social media holidays
Hungry for more March social media holidays? We've got you covered with our complete list below:
Brain Injury Awareness Month
Endometriosis Awareness Month
Asset Management Awareness Month
Multiple Sclerosis Awareness Month
National Athletic Training Month
National Caffeine Awareness Month
National Craft Month
March 1: National Wedding Planning Day (Get wedding marketing ideas here!)
March 1: National Pancake Day
March 1: Zero Discrimination Day
March 2: Read Across America Day
March 3: Caregiver Appreciation Day
March 3: World Wildlife Day
March 4: National Salesperson Day
March 4: National Backcountry Ski Day
March 6: National Frozen Food Day
March 6: National Dress Day
March 7: National Cereal Day
March 9: Barbie Day
March 9: National Crab Meat Day
March 9: National Picnic Day
March 10: Harriet Tubman Day
March 11: World Plumbing Day
March 12: Plant a Flower Day
March 13: National K9 Veterans Day
March 14: National Potato Chip Day
March 14: Pi Day
March 15: World Consumer Rights Day
March 16: Panda Bear Day
March 17: St. Patrick's Day
March 18: Global Recycling Day
March 19: National Poultry Day
March 20: World Oral Health Day
March 20: Proposal Day
March 21: World Down Syndrome Day
March 22: World Water Day
March 23: World Meteorological Day
March 24: National Cheesesteak Day
March 24: National Cocktail Day
March 26: National Spinach Day
March 27: World Theatre Day
March 29: National Vietnam War Veterans' Day
March 30: Doctors' Day
March 31: Manatee Appreciation Day
March 31: National Clams on the Half Shell Day
Related: Check out our big list of 480 social media holidays to find ideas for every month of the year!
March social post ideas (not about holidays!)
If you're tired of March social media holiday posts, try these ideas out instead:
March Madness
March Madness, the pinnacle of collegiate sports, is a hot March happening that's widely celebrated. Wager a friendly bet with your followers by sharing who you're rooting for—if the team wins so can your customers. Share out coupon codes that could become available once March Madness results are in.
Post prep tips for spring weather
March is often a strange, in-between month weather-wise for most of the country. Odds are, your followers are either gearing up to break out their swimsuits, or putting on layers to face rain and snow. Add value to your March posts by providing helpful tips like how to store winter gear or steps to get ahead on yardwork for the coming spring.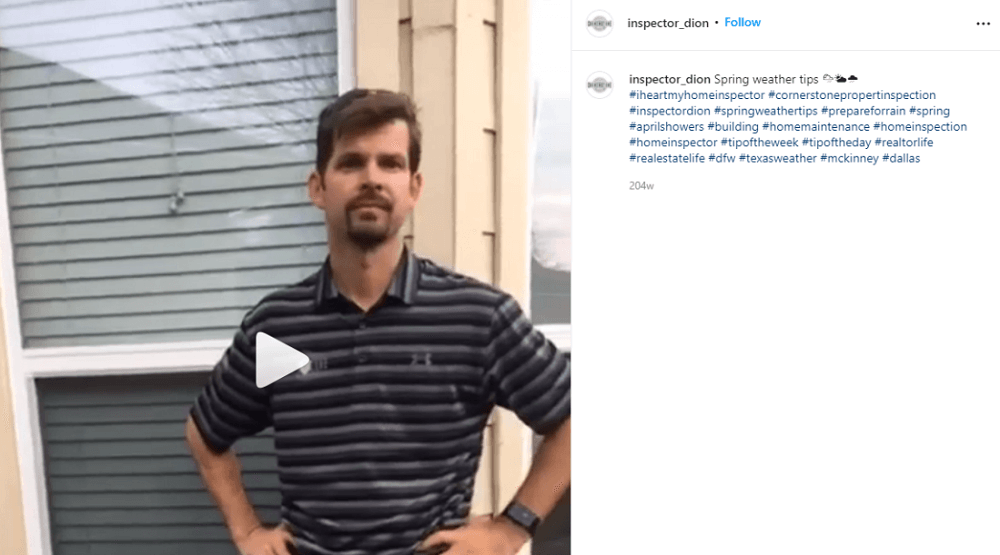 Related: Try these spring marketing ideas to make your business bloom.
"Marching on" March
We'll admit, March doesn't have a ton going on. With no long weekends in sight, your followers may be overworked, tired, or patiently awaiting their summer adventures. Use this time to remind them to keep "marching on" in March with tips to maintain their health through this quiet month. You could post self-care tips or provide mental and physical health resources to show your followers you care.
March social media ideas can turn into meaningful results
Clearly, you'll have plenty to work with all March long on social media. When it comes to social media marketing for growing businesses, maintaining relevancy through timely holidays is key. If you can't keep up with creating new content for each week in March, try passing the work off to a marketing partner. That way, you'll save time while maintaining brand consistency throughout March.