The LocaliQ Marketing Dashboard is kind of the unsung hero of our product suite. It allows our customers to see a full view of how their different marketing campaigns are performing and working together to drive leads, website visits, calls, and more.
As we continue our series of spotlights on LocaliQ's platform and technology to give our audience a better sense of how our products can help businesses grow, we're taking you behind the scenes on some of the work being done to evolve and develop this dashboard.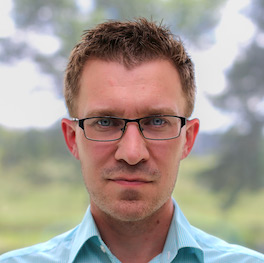 We talked to Brian Nelson, Director of Product Management for the LocaliQ Marketing Dashboard, about the newest releases for this product, what his team is working on next, and how the dashboard helps businesses get a better handle on their marketing.
Brian went to school for graphic design and got his start in the digital marketing industry as a web designer. He joined the LocaliQ team in 2014 and began working as a product designer, eventually transitioning to a product manager.
He now manages Marketing Dashboard, our lead management and automation solution. His knowledge of product design and experience creating websites gives him valuable insight into how to create a user-friendly and effective product that even the busiest business owner can master.
Your team develops and supports our Marketing Dashboard. Can you tell us what that is and how it works to help business owners simplify their marketing and reporting?
Our Marketing Dashboard is a one-stop shop for business owners. We provide a dashboard that gives a business owner everything they need to manage and market their business, follow up on new contact activity, engage with existing customers, and review the performance of their marketing campaigns. Our reporting covers everything from search ads, which has been a long-time staple of our business, to tactic-level display ads, one of our newest offerings.
The dashboard can also integrate with CRM systems our customers are using already. This enables them to keep track of their leads in one place and see the true results of their marketing investment.
How do you feel the technology your team works on helps local businesses achieve their growth goals?
I think the Marketing Dashboard plays a key role in a business's partnership with LocaliQ. At any time, the business owner (or anyone they've added from their business) can log in to see the up-to-date performance of their marketing, and we provide the information a business can use to make smarter decisions for their marketing campaigns.
In addition, we deliver incoming lead activity directly to business owners and provide the tools to stay engaged, nurture the relationship, and win new business.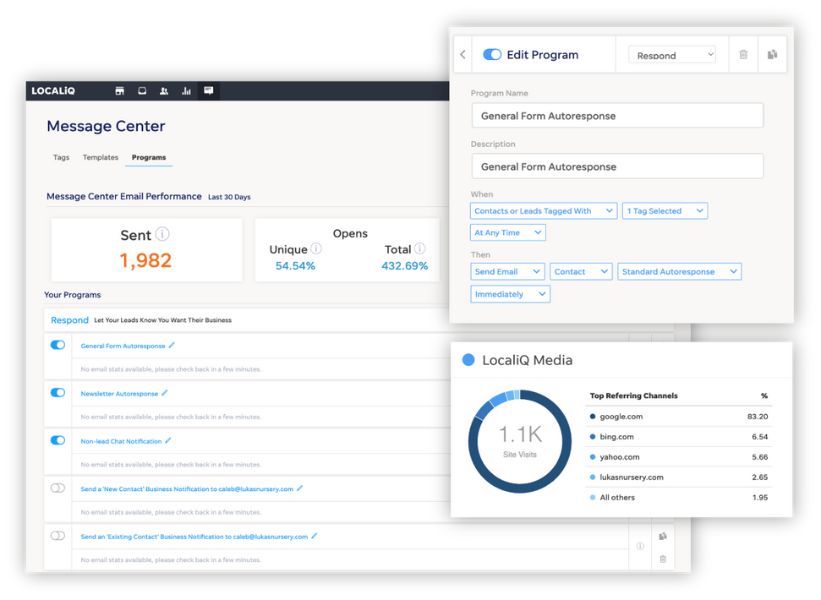 Business owners and marketers face many challenges, especially when it comes to tracking and reporting on their marketing. How do these challenges look different for smaller, local businesses compared to agencies or multi-location businesses?
I think the primary thing that we see consistently across businesses is that every business is unique and has specific challenges and needs.
At the local level, connections between the business and its customers tend to have the biggest impact. If we're able to show a business owner how a specific customer saw their ad, visited their site, and picked up the phone to call, that's a powerful story to tell. And it clearly shows where they should be investing their marketing budget to bring in more of those customers.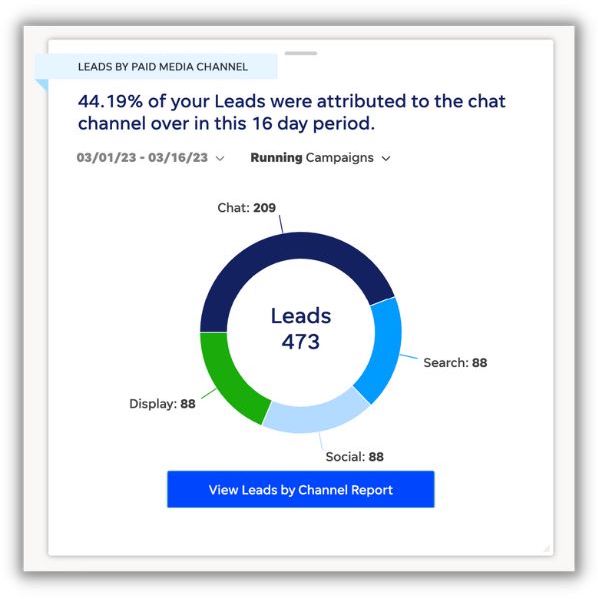 Your team is constantly working on new updates and features for the dashboard. What are some of the new features you're excited about? And can you give us a sneak peek into what we can expect this year?
We've been hard at work on some really exciting enhancements. One update that I briefly touched on already is our tactic-level reporting for display ads. Display ads can be difficult for many customers to measure and track their effectiveness, so this update will make that impact clearer. We can now get super granular to show how targeted display efforts are working together to yield the most impact.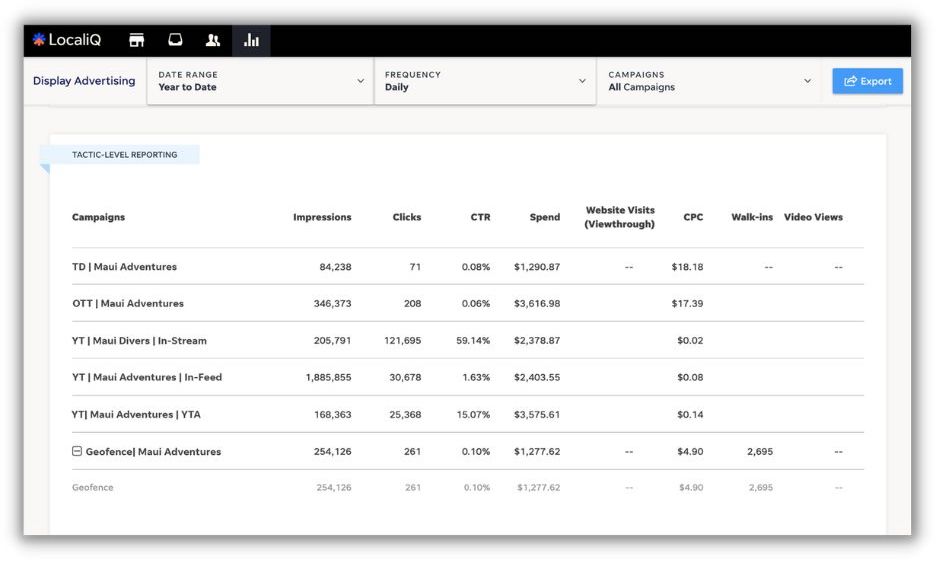 Another recent update was adding Snapchat reporting to our dashboard. This will show our customers how Snapchat ads are contributing to the overall success of their social ads campaigns.
Our next big update will include a new integration to Google Analytics 4 (GA4). Google is sunsetting its previous Universal Analytics version so we are preparing for the upcoming transition with new reporting that supports GA4.
We're also improving our lead automation email template editor, supporting new products like Google and Bing Shopping campaigns, and always working to improve performance and user experience.
Can you tell us a little more about the lead automation piece of the Marketing Dashboard? What is that and how does it work to help businesses nurture leads?
Our Lead Automation feature within the dashboard is a great way for a business to stay engaged with their potential customers and existing clients as well as respond to inquiries.
Customers can set up lead automation within the dashboard based on various triggers or events. It functions as a set of rules that run all the time, sending out autoresponders, newsletters, or nurture emails to the business's contacts when they meet the criteria.
By continuously engaging potential customers through these automated messages, businesses can stay top of mind and convert more leads into customers. It's a low-touch solution for the business.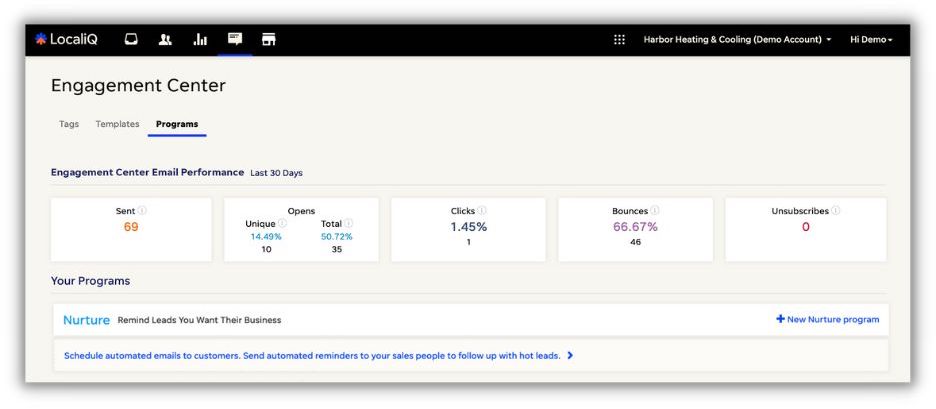 We've heard business owners say the dashboard gives them unparalleled insight into their marketing and how it's working. What else have you heard from business owners who use the features within the dashboard? What would people be surprised to learn?
Some of the most popular features deal with where and how customers and potential customers interact with a business.
The ability to listen to call recordings, for example, is always a favorite. This allows business owners to listen to and analyze the calls they're receiving from their campaigns. And business owners love our "Calls by Time & Day" heatmap, which can highlight key times throughout the week when a business is getting a LOT of calls.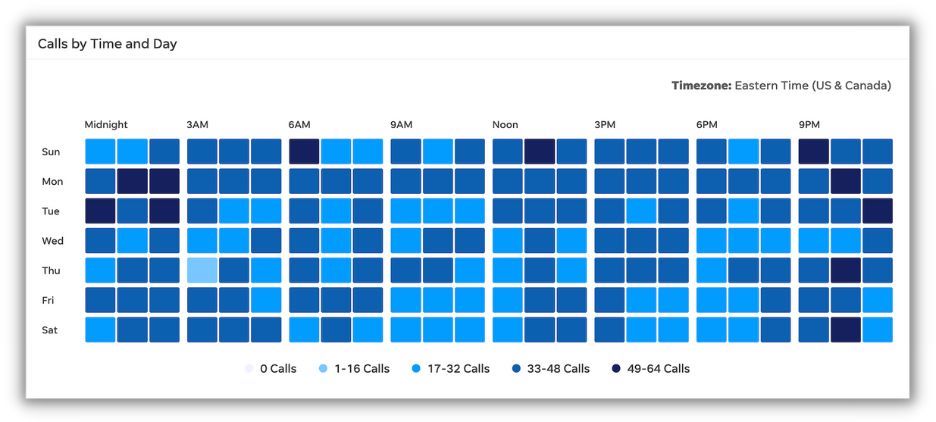 Ad previews also resonate with business owners. Showing them exactly how their business appeared on a Facebook News Feed or how users interacted with their ad is something our customers love.
The Marketing Dashboard was built to give business owners transparency into their marketing performance and enable data-driven decisions to convert more customers. Our team will continue to evolve the capabilities within the dashboard to make it an even more powerful tool for our customers.
Learn more about the Marketing Dashboard
Thanks to Brian for his insight into the Marketing Dashboard and the great work he and his team are doing!
Want to learn more about our Marketing Dashboard? Sign up for a demo to see how it works. And stay tuned for the next installment of our product and technology spotlight!