Memorial Day is historically a big weekend for businesses, particularly retailers and consumer-focused brands. There are sales aplenty, and consumers are on the lookout for deals. In fact, 47% of Americans plan to shop over the long weekend.
The holiday deals may be even more enticing to consumers this year as the sting of inflation persists. Memorial Day sales represent an opportunity to get something they've been looking for at a price that might fit more comfortably in their budget.
And while it's undoubtedly good news that consumers are seeking out deals, it also means you won't be the only business hoping to win their attention. You've got to create some persuasive, eye-catching messaging to stand out in a crowded inbox.
That's why we've rounded up some suggestions to help you write Memorial Day email subject lines that grab attention and generate clicks.
Keep reading for subject line best practices that can win you sales and leads year-round, plus some specific Memorial Day subject line ideas to help you make the most of the upcoming holiday weekend.
7 quick Memorial Day email subject line tips
Before we get into the components of an effective Memorial Day email subject line, let's first pause and remember some key email subject line tips:
1. Remember the history
While Memorial Day has become a holiday that marks the unofficial start of summer, complete with barbeques, picnics, and family vacations, the holiday was initially created to honor members of our military who died in service. Take care not to lose sight of the holiday's solemn origins when developing your Memorial Day marketing ideas.
It's okay to offer deals and speak to the lighter associations the holiday has taken on, but don't forget why it started. There are many families for whom this is a somber day of reflection and remembrance, and it's important to keep your messaging respectful.

2. Try including numbers
Surveys consistently show that incorporating numbers into your email marketing copy can increase engagement. Instead of writing out the number, use the digit to save space and catch eyeballs. You could include a start and end date for a promotion or event, a percentage or dollar amount off for a sale, and more.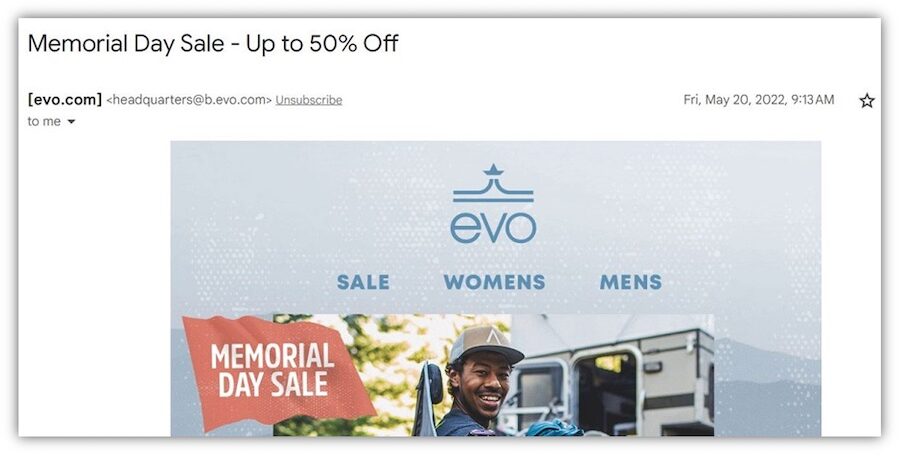 3. Use emojis (sparingly)
Emojis can also help with open rates (Campaign Monitor attributes a 56% boost in brands' open rates boost in brands' open rates to emojis!). Of course, emojis won't suit every brand's voice, and overusing emojis can make your subject line feel spammy. Only include them if they're right for you, and do so in moderation.

4. Keep it short, sweet…
You'll see conflicting reports about the ideal number of characters or words to include in your email subject line. Ultimately, what's most important is writing a subject line that conveys your message.
Try using a tool to see how your email subject line will display on desktop and mobile can help you write subject lines that won't be cut off on smaller screens. Also, be sure to save this handy guide below to have an idea of how long your Memorial Day subject Lines should be:
5. …and personal
Most email marketing tools have features that let you include things like a recipient's first name in an email subject line. Personalization is always an attention-grabbing marketing trick since it helps you connect with your recipient in a unique way.
Aside from using your recipient's first name, you could create targeted email campaigns for segmented email lists using varying content to speak to recipients as they're in different stages of your sales funnel.
6. Create urgency and excitement…
This is easy to achieve when you're emailing about a special event like, say, a Memorial Day sale. Your offer has an expiration date, and explicitly reminding your audience about it can drive clicks. "Shop our sale" and "Only 12 hours left to shop our sale" hit differently, right?
How can you create interest, excitement, and an irresistible desire to click on your email subject line? Giving readers a little taste of what they'll see if they open the email can drive clicks.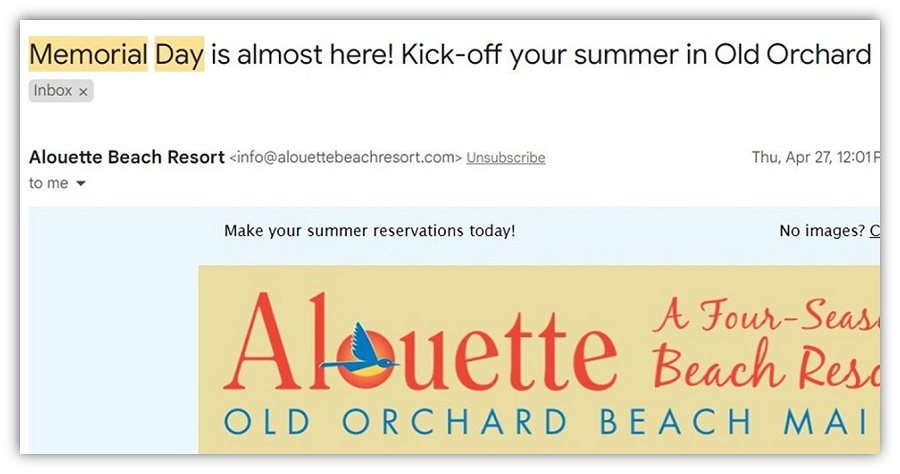 7. …but avoid spam triggers
While it's great to tease what's inside your Memorial Day emails, you'll want to avoid being dumped into your recipients' spam folders. Keep your Memorial Day subject lines relevant to your brand and avoid any bait-and-switch tactics. The FTC's CAN-SPAM Rule, which governs what brands can and can't say in their email marketing, dictates that your subject line must accurately reflect what's inside your email.
You likely intuitively know what spam looks like–it's full of claims that sound too good to be true or otherwise like a scam. Phrases like "100% free" or "guaranteed to work" are the types of email subject lines that will land you in the spam box. Check out this list of 188 spam words to avoid if you need further guidance. An overabundance of emojis can also get your email flagged. As mentioned above, one emoji is great, but seven? That feels spammy!
Finally, those all-caps email subject lines will likely land you in the doghouse, too. There's a fine line between creating good urgency–the kind that drives up open rates–and just yelling at your audience. A caps-only subject line feels like unnecessary shouting.

Avoid writing email subject lines like this as it will get your message flagged as spam.
Memorial Day subject line ideas to try
Now that you know what goes into a great email subject line, let's turn our attention to the matter at hand: Memorial Day email subject lines.
Many businesses run sales or deals over Memorial Day weekend, and it's okay to tout them in your email subject line, but remember: Don't over-rely on words like "free," which can veer into spam territory.
There are some other Memorial Day themes and concepts you can tap into to help write creative, eye-catching subject lines. Many consumers will associate Memorial Day with the following:
Barbeques or picnics
The unofficial start of summer
Outdoor activities, like swimming or baseball
A three-day weekend–the first major holiday of the summer season
Family gatherings and perhaps even a long weekend getaway
Memorial Day subject lines for sales
Here are some sales email subject line ideas that can create urgency for your Memorial Day sale or event:
Memorial Day discount code TODAY ONLY
12 hours left on our Memorial Day sale! ⏰
3 days only – [Brand Name]'s Memorial Day sale
[Brand Name]'s Memorial Day event starts NOW!
Ends tonight! $0 shipping with code [Coupon Code]
Surprise Memorial Day deals inside 👀
Thomas, R-YES-V-P to Our Exclusive Memorial Day Event
You're Invited! Memorial Day Secret Sale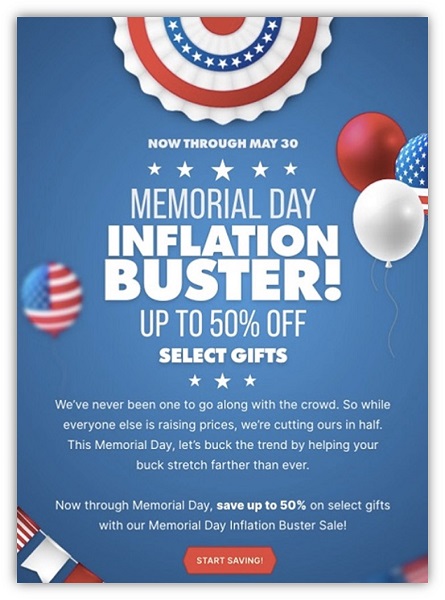 Memorial Day subject lines for services
Services-based businesses can stretch out their Memorial Day email promotions across the whole weekend to maximize bookings. If you want to tie into the long weekend theme, try these Memorial Day email subject lines:
Start the long weekend right ✅
Big savings all long weekend
Shivani, Book During Memorial Day Weekend for a Bonus Prize
Save all weekend long – 3 full days!
Our Books for Memorial Day Weekend Are Open
We're Closed for Memorial Day, Books Filling Fast!
Long weekend + big deals = 🎉
3 days, 1 big services sale. Details inside!
How Our Offices Are Honoring & Remembering the Brave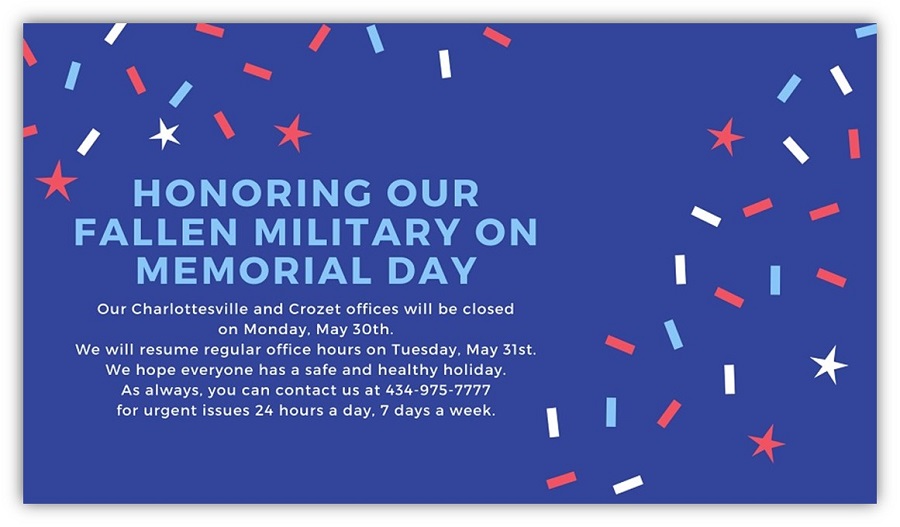 More fun Memorial Day email subject lines
How about linking your Memorial Day messaging with the weekend's barbeques or other enjoyable summer activities?
[Brand name] cookin' up big deals 🌭
Celebrate Memorial Day with us!
Beers, burgers, and bargains
The grill can wait. These deals can't.
Only thing better than BBQ? Our Memorial Day sale.
Dive into big deals! 🏊‍♀️
Memorial Day sale – dive into summer
Swim on over to our sale
Sail into summer with these deals ⛵️
Cruisin' into summer with 30% off 😎
[Brand name]: Deals are heating up 🔥
Soak up the ☀️ and grab these deals!
Start summer right! Deals inside. 👉
Welcome summer with our sale
Summer kick-off SALE IS ON!
Deals on 3 summer essentials inside
8 summer must-haves. Discount code inside.
Kick off summer with our sale – sitewide!
We're Grilling & Chilling This Memorial Day
Jared, A Memorial Day Grill Recipe You Won't Want to Miss

Kick off Memorial Day weekend in your customers' inboxes
As you can see, there are dozens of ways to approach your Memorial Day email subject lines–it's really about finding the one that works best for your business.
Consider blocking out some time to brainstorm concepts with your team; groups have a way of building on each other's ideas and hitting on unexpected, inspired ways to approach your messaging campaign.
And if you're looking for even more email marketing ideas, check out our guide on email subject lines for every month of the year!
Be sure to take advantage of these other Memorial Day marketing resources, too: