Let me ask you a question: When does marketing stop?
You may find many answers to such a question, but one thing is for sure: Marketing doesn't (and shouldn't!) stop after a sale.
In fact, you could say it only becomes more crucial after a sale. The reason is that it's easier to sell to existing customers than to new ones. It's also more profitable. In fact, it can cost five times more to attract a new customer than to retain a current one.
There are plenty of customer retention strategies you can try to keep your people coming back to your business. One such strategy is by investing in post-purchase marketing. The goal of post-purchase marketing is to develop loyal customers that keep coming back month after month, year after year. These are the customers that recommend your brand to their friends or who even buy gifts for them. Your business needs loyal customers, which is why you need to focus on the post-purchase experience.
One way to foster customer loyalty in this way is through a post-purchase email campaign. Post-purchase emails are often overlooked but can be the make-or-break-it difference between a one-time customer and a loyal one. In this post, you'll learn:
What a post-purchase email is
Types of post-purchase emails
Why you should send post-purchase emails
How to create a post-purchase email campaign
What is a post-purchase email?
A post-purchase email represents any email communication done after someone makes a purchase. This type of email allows brands to send relevant messages that develop a long-lasting relationship with their customers.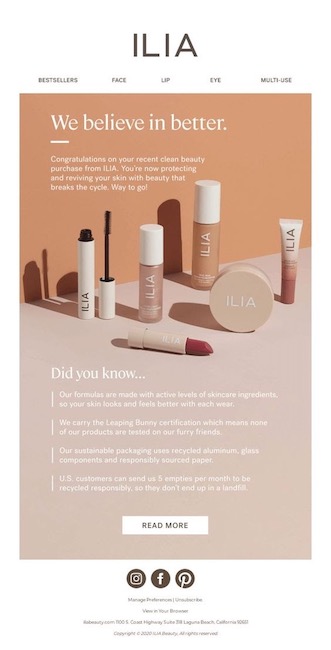 There are different types of post-purchase emails that fit different points in a buyer's journey, such as:
Order confirmation
Shipping confirmation
Company stories
Company news
Blog content promotion
Loyalty programs
Special discounts and offers
Subscription programs
Reactivation campaigns
Despite the versatility of post-purchase emails, we're going to focus on those that allow brands to nurture their customers' loyalty, such as company stories, loyalty programs, and special discount emails.
The major benefits of post-purchase emails
Half of a marketer's job is to drive traffic to a website and persuade searchers to make a purchase; the other half is to keep them purchasing. Customer retention is crucial as a 5% increase in customer retention can boost profits between 25 to 95%.
To keep customers buying from your business, you need a unique value proposition that connects with your customers on a deeper level, such as:
A relatable founding story or mission
Excellent customer service
Unique products
A commitment to the environment
A flawless buying experience
With a strong value proposition, your business can deliver a post-purchase customer experience that exceeds your customers' expectations. One way to do so is through email marketing, which over 85% of marketers currently use and nearly 70% believe is effective in reaching their target audiences.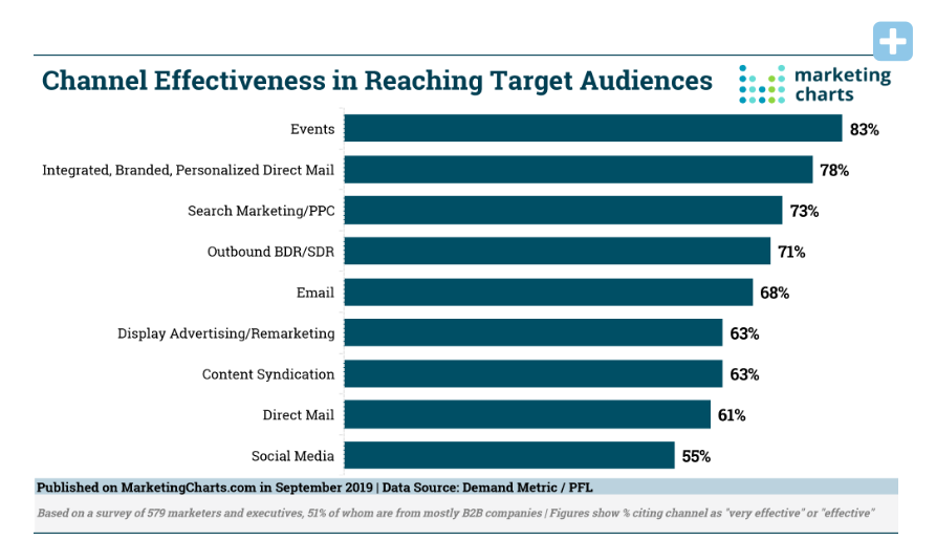 Post-purchase emails are particularly effective within an email marketing strategy, as Klaviyo found that they generate 217% higher open rates, over 500% higher click-through rates, and 90% higher revenue per recipient than the average email.
How to create a post-purchase email campaign
Now that we've covered what a post-purchase email is and the benefits, let's walk through the steps to building a post-purchase email campaign.
Segment your email list
You need to start your post-purchase email campaign by segmenting your email list, which you can do by using lists or tags.
Lists are static by nature; you create them every time you need them. For example, you may want to create a list for a holiday marketing campaign to target only your existing customers who bought a product using a discount this year. Any marketing software provider would let you create a list with these attributes easily; the problem is that they aren't scalable. For example, if you have thousands of email subscribers and customers, it would be a mess to do so every time you need one.
In contrast, tags are dynamic. Think of them as a post-It note you add to every subscriber you have. Using the previous example, you could create an automation that added a "Discount Customer" tag to every new customer who used a discount during purchase. By the time you create an email campaign targeting these customers, you already have the list done for you.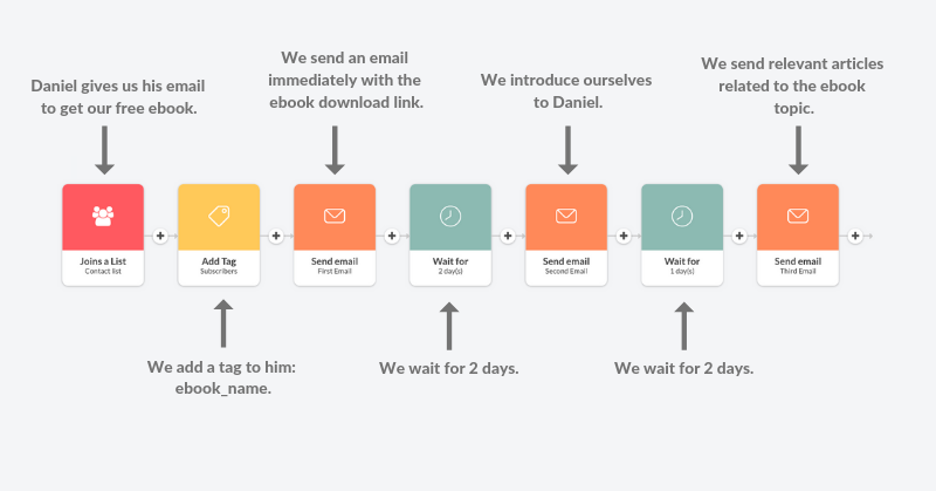 Whether you should use lists or tags depends on a lot of different factors, so to simplify this decision, create a list if you haven't used any tags up to this point—if you have, use them!
In any case, you will need to connect your point-of-sale system and your e-commerce platform to your email marketing tool so the data from the former two goes to the latter because that's how you will get your customers' email addresses.
Make sure to segment your list to target past customers exclusively. It may seem obvious to make such a statement, but you wouldn't believe how easy it is to mess up your segmentation and send post-purchase emails to non-customers. Remember that the goal is to foster loyalty with your existing customers.
Determine the right structure and cadence for your post-purchase email campaign
As you saw previously, there are many types of post-purchase emails. Purchase confirmation, product news, and loyalty program emails are all very different in their nature, intent, and the way you structure them.
With the amount of post-purchase emails that exist, you may feel tempted to create your email campaigns based on each type (i.e., one campaign for product news, one for loyalty programs, etc.).
A better way to think about your email campaigns is to focus on your ultimate goal. Revenue and sales are great, but ideally, you want to align your goals with your customers.
In order to use post-purchase emails to foster customer loyalty, your goal would be engaging past customers to keep buying from your company over many months and years. To do so, your post-purchase email campaigns can focus on:
Providing great service: Your emails should ask about the experience they had with the products they bought—an opportunity to ask for reviews—and how were the logistics and overall shopping experience since they finished their purchase. Also, you want to share the returns policy, the product warranty, the customer service contact points, and so on.
Creating an emotional connection: Your emails share information on your company's history, its mission and values, past customers testimonials, and any other type of content that takes the customer beyond the purchase itself.
Promoting your loyalty program: Your emails promote your loyalty program; they explain what it is about, what your customers get, how they can sign up, and so on.
Encouraging repeat purchases, upsells, and cross-sells: The goal is to get them to buy again, get upgrades for the products they bought, and purchase similar products.

Once you have picked a focus, you can start structuring the emails your post-purchase campaign will have. Let's imagine you decided to create a post-purchase email campaign focused on providing great customer service. After thinking it through, you decide that this campaign will have five emails.
Email 1: Send notifications on the product shipping.
Email 2: Ask how they received the product. Remind them of the returns policy and customer support contacts.
Email 3: Share a tutorial that explains how to use the product.
Email 4: Explain how your company focuses on sustainable manufacturing.
Email 5: Ask for a review.
Obviously, such a campaign structure is way too generic to copy for your business's needs. The goal is to illustrate how you want to organize the emails you will send.
Next, define the timeline. You want to send the first email within the first few days after the customer purchase and, if possible before they receive it. The customer should receive the second email two to three days after they receive it, and so on.
Finally, write an outline for each email. Explain in a few sentences what each email will include and what graphics they will have.
Write your post-purchase emails
The content of your post-purchase emails will depend on your goals, as we mentioned previously. Whatever your goal, each email must have one message. Good email copywriting will drive customers to open the email, read it, and take the desired action.
If you look at every successful online retailer, you will see their emails have a simple layout. Usually, they have a header with the company logo, one message in the middle—like an image that promotes a sale—and a footer with some links to their site.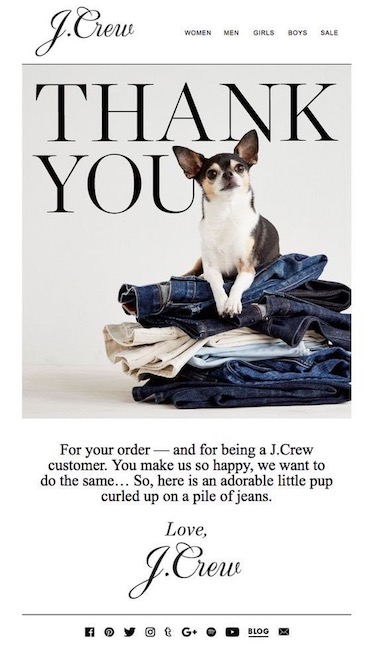 In every post-purchase email, the recipients should understand what they need to do. If it's an email that notifies them about the product's shipment, they should get the information they need clearly. Any other goal, like getting them to buy more, should be secondary or removed altogether.

Take your existing outline and write the email copy with its subject line. If you need any graphics, get them done so you can add them in the next step. When in doubt, err on the side of simplicity: less is more. By making your emails clear, you will analyze their desired action in the final step.
Set up your post-purchase email campaign
Now it's the time to go to your email marketing platform of choice, create the campaign, and put everything together. It shouldn't be too complicated if you have already done all the hard work.
After you have added your content, test your emails. Make sure the links work fine, the subject lines are clear, and that your analytics are tracking the right metrics (we'll cover the top ones to track next).
Some email platforms offer a visual structure to set up your post-purchase email campaigns, so this should make everything much easier.
Once you have finished setting and testing your campaigns, pick a day and time that has shown the best results for your business, and schedule them accordingly.
Analyze and optimize your post-purchase email campaign
Wait a few days after your campaign has been launched to look back at your reports, as people tend to take some time to open their emails. Whatever your campaign's length is, wait until the whole campaign is finished.
Go to your email marketing analytics and check the following metrics:
Open rate
Click-through rate
Bounce rate
Delivery rate
Unsubscribes
Conversions
Compare your metrics against your past campaigns and your industry's benchmarks. Mailchimp has an extensive data set (last updated in October 2019):
Ideally, your metrics should be near the average or above them. If they are below them, make sure you give at least a 20% margin of failure. If every metric in every email you sent is below your industry's performance, then you need to rethink your entire campaign.
When in doubt, ask for feedback. Customer feedback (also known as "qualitative data") is always better than your own quantitative data. Send a survey and see what may have caused the problems with your campaign's performance.
Was it the timing?
Was it the amount of information you sent (too much, too little)?
Was the copy unclear?
Were there any delivery issues (e.g., graphics not uploading in the recipient's email client)?
Make the necessary corrections and run tests. Observe how your changes affect the metrics and keep optimizing.
Use post-purchase emails to build customer loyalty
A post-purchase email campaign will build the foundation for long-term happy, loyal customers. It may take a few weeks to follow the steps shown in this article, but they will be worth it.
Make sure you take the time to decide on the right goal for your business. Structure your campaigns focusing on delivering a great customer experience. After you have launched your post-purchase email campaign, look at the results and optimize accordingly.
Author the author
Ivan Kreimer is a content marketer at Getsitecontrol, a leading popup builder that 5000+ Shopify stores use to get more email subscribers and sales. For the past six years, Ivan has been published in influential sites like Shopify, BigCommerce, Entrepreneur, and MarketingProfs. He also likes helping people become freelance writers on Content Fiesta.