With property rates shooting sky-high, real estate agencies and realtors are in a race to sign new clients and find qualified buyers. And if you want to be successful in the real estate industry right now, you need a strong real estate SEO strategy.
Why? Consider these stats:
90% of homebuyers use Google to search for properties.
Over half of homebuyers start their search for a new home online.
43% of homebuyers search online before contacting an agent.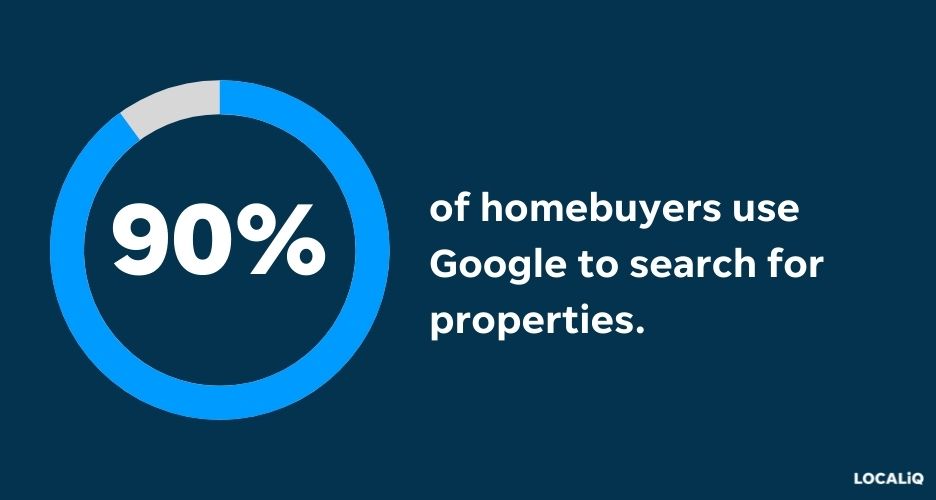 So if you ace real estate SEO, you have all the odds in winning qualified real estate leads. Not sure where to start? Let us guide you through 11 real estate SEO tips that will help you win big, including:
On-site real estate SEO tips
Off-site real estate SEO tips
More tips to improve your SEO for real estate
8 on-site real estate SEO tips
The foundation of any SEO strategy starts with your website. Use these tips to improve your website for better real estate SEO. 
1. Create a local real estate keyword list 
As mentioned, 90% of buyers begin their search for homes on search engines, and nearly half look for real estate agents on Google before contacting someone. Are they finding you?
If you're not targeting the right real estate keywords on your website, the answer is probably no.
It's important to build a real estate keyword list that you use throughout your local SEO efforts–especially on your website. You can use tools like the Google Keyword Planner or WordStream's Free Keyword Tool to identify the best keywords for your real estate business.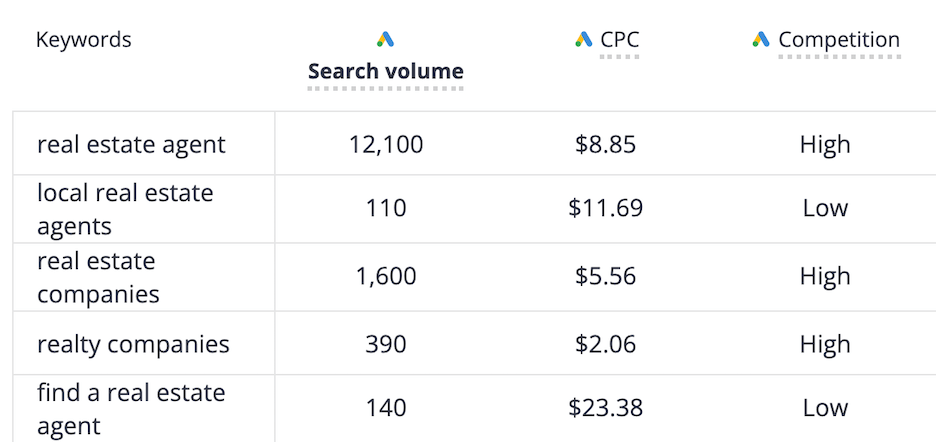 Here are some examples of good local real estate keywords you may want to incorporate into your website content as part of your SEO strategy:
(location/area/city) realtors
Best real estate agency in (area/city)
Buy a home in (area/city)
Condo for sale in (area/city)
Apartment for sale in (area/city)
(area/city) Real estate listings
How to buy a house in (area/city)
Condo prices in (area/city)
Related: Get more popular real estate keywords. 
2. Address crucial long-tail real estate keywords
Take your keyword research a step further to incorporate long-tail keywords. Long-tail keywords are phrases that searchers use to find highly-tailored search results–leading you to more qualified searchers finding your real estate website.
Incorporating long-tail keywords into your real estate SEO strategy can improve the relevancy of your content and help you rank for more searches.
For example, rather than targeting simply "homes for sale" on your website, you could target "luxury homes for sale in Uptown Dallas." By optimizing your web content for this long-tail keyword, you can increase your chances of ranking for more specific–and relevant–searches.

3. Do a competitor analysis and apply your findings to your real estate SEO
The real estate market is highly competitive. But while the competition can be daunting, it's actually good to have competitors. Here are some reasons why:
You can identify what keywords your competitors are targeting and target the same keywords with your real estate SEO strategy.
You can identify what your competitors are doing well on their sites to improve your own website SEO performance.
You can see how your competitors are positioning their agency and what works (and what doesn't) to refine your own strategy.
You can also take this time to conduct a SWOT analysis of your own business, meaning you outline your strengths, weaknesses, opportunities, and threats. Researching your competitors can help you fill this out fully.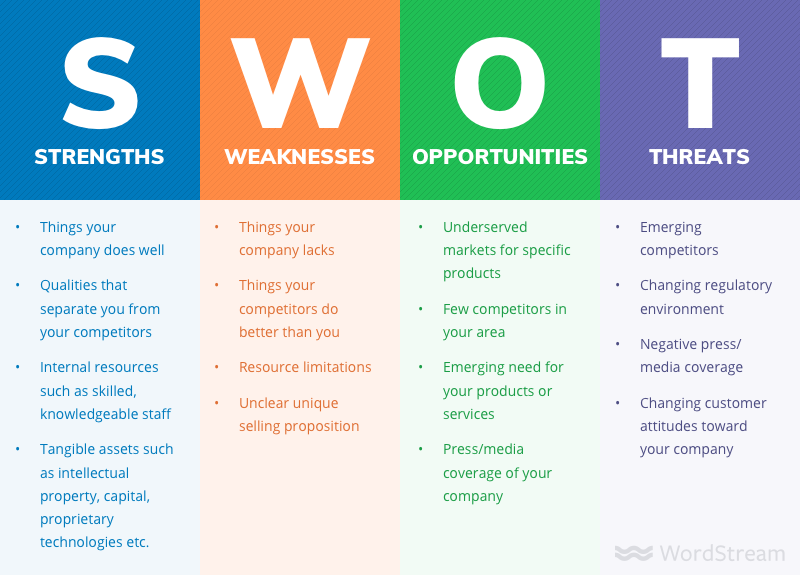 4. Add Schema markup to your real estate website
Schema markup allows search engines to better comprehend the content of your webpage and display it in search results, which is huge for your real estate SEO. For example, your home listings page has details like price, location, and dimensions of a property. Schema markup allows bots to understand these details easily on your page and then display them in detail in search results.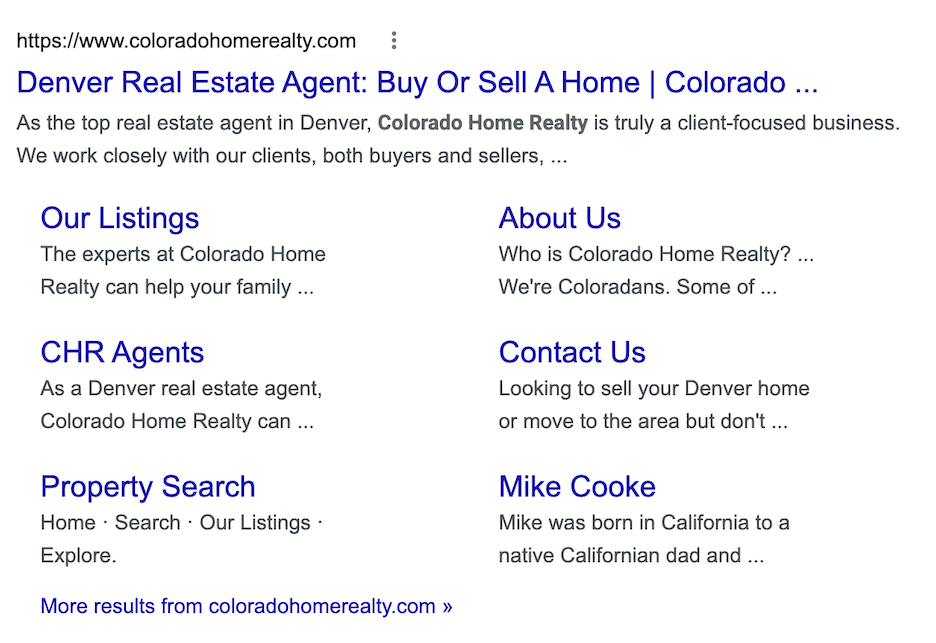 Adding schema markup can grow your search visibility and can increase your click-through rate (CTR). In fact, pages with schema markup can expect about 20-25% higher CTR.
Related: See the average CTR for real estate ads.
As a realtor, you will want to include schema markup for your name, address, phone number, opening hours, etc. so you can rank for searches related to this information.
If you haven't added schema markup to your site, now is the time to talk with your website developer to get it added!
5. Optimize your real estate site's speed 
Real estate websites are packed with images, videos, and other media elements. And while this is great for getting clients and buyers interested, it can take a toll on your website's speed, which can hurt your real estate SEO performance.
Google uses site load speed as a ranking factor and has been urging web owners to keep their site's loading time up to one second. This means if your site takes a long time to load, you're going to have a hard time ranking on the first page of Google.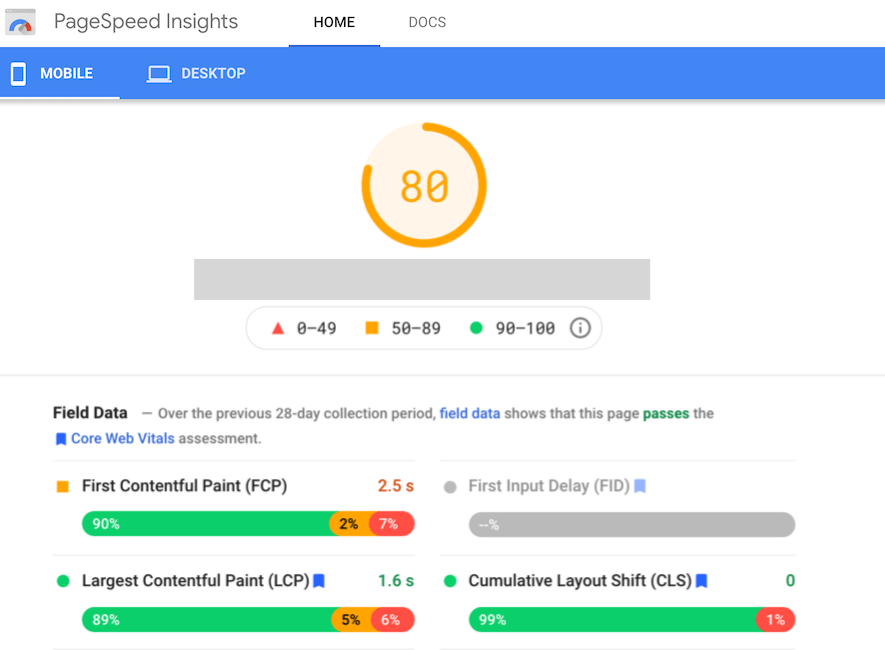 So you want to take a few steps to optimize your site speed:
Get more tips to improve site speed.
6. Improve your real estate site's user experience
Another way to improve your real estate SEO is by improving the user experience on your website. If your website isn't user-friendly, people will exit your site without taking any action–which is bad for your real estate agency and for your SEO.
User experience can be measured with SEO metrics like time on site, bounce rate, CTR, and more. Use Google Analytics and Google Search Console to analyze these metrics and identify top-performing pages on your website. Also, analyze the pages with high bounce rates and exit pages.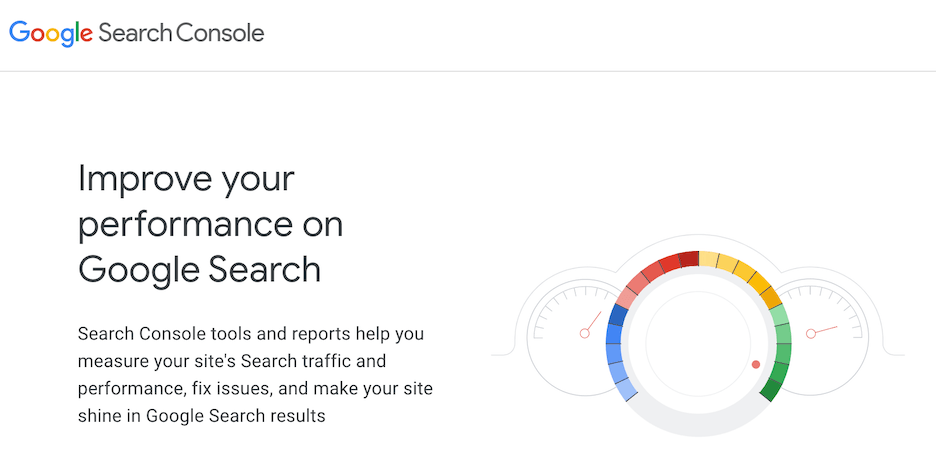 See which property listing pages are drawing inquiries and the forms that are performing the best. Add their characteristics to other pages to reduce bounce rate and improve the user experience.
7. Offer an impressive experience to mobile users 
It's not enough to deliver a great experience for searchers on their desktop devices. You have to optimize your real estate website for mobile. If your website lacks mobile compatibility, you are probably losing over 50% of your potential leads. Why? Because mobile-based search accounts for 52% of the total website traffic.
Plus, Google has switched to mobile-first indexing, meaning that for most sites, Google analyzes the mobile version rather than the desktop version when determining your page rank.
Use Google's Mobile-friendly Test Tool to check how your site performs on mobile devices.

If you find any shortcomings, make quick changes for a big impact on your real estate SEO performance.
8. Build engagement through real estate blogs and FAQs 
Blog content, case studies, and an FAQ section can help you incorporate the right real estate SEO keywords to boost your search visibility and rank for relevant searches.
Many of your potential leads may be searching for more top-of-funnel topics that you can address on your site before they're even looking for a realtor.
For instance, if you are a realtor in Dallas, you can create various blog topics to engage homebuyers in that area. For example:
Best Places to Live in Dallas and Why?
10 Best Localities in Dallas to Plan Your Future Stay
Top Activities to Plan while Staying in Dallas
Why (YourPropertyOffering) is a not-so-ordinary commercial property scheme?
This content can incorporate your keywords and help you rank when it matters.
An example of a real estate blog.
Then, your case studies can help you convert leads as they get closer to purchasing or signing with a realtor.
Additionally, you can address the common user queries by creating FAQs. Search the common queries on Google, Quora, and user-generated content. And incorporate your long-tail keywords here!
Related: Get spring real estate marketing ideas to take your strategy to the next level.
3 off-site real estate SEO tips
Once you sort your on-page SEO elements, it's time to address the off-page SEO. Use these tips to improve your real estate SEO:
1. Create (and optimize) a Google My Business profile
For any realtor or real estate agency, a significant amount of leads come from local searches, which means you need to bolster your local SEO by optimizing your local listings.
Arguably the most important local listing is Google My Business (GMB). Claim your business on Google and update your listing with:
Your business address
Your website URL
Your hours of operation
Your telephone number and other contact details.
Photos of your business, property listings, clients, etc.
Real estate categories (Residential, Commercial, Buy/Sell, etc.)
Ensure that you use the same NAP (Name, Address, Phone Number) across GMB, other listings, and your site. NAP consistency plays a crucial role in defining your business's authenticity.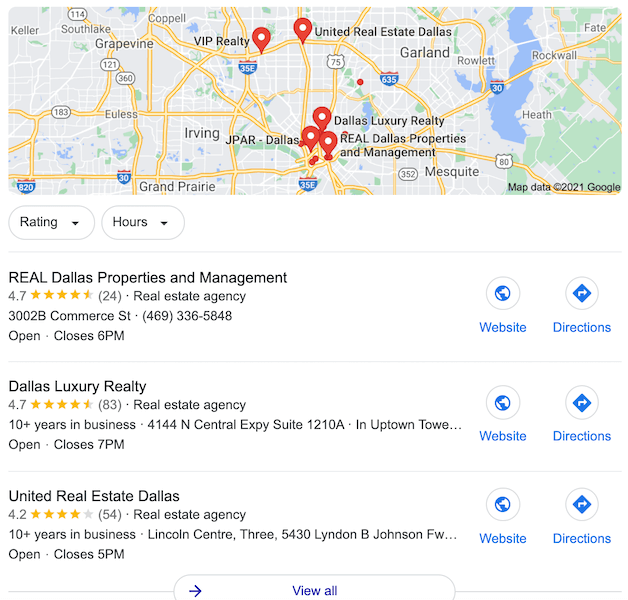 Another component of an optimized Google My Business listing is new reviews and review responses. Make sure to get Google reviews and respond accordingly to both negative and positive reviews. (Get our tips for responding to reviews.)
2. Build local citations for your real estate SEO
As you build your local presence, you'll also need to get citations from popular real estate business directories aside from GMB. These citations act as your rank signals for better performance in search results. Plus, real estate directories and listing aggregators witness huge traffic regularly.
Some of the popular real estate directories include:
Also, list your real estate agency or practice on the top free local listings sites. Make sure that all your listings follow NAP consistency and provide up-to-date information.
3. Attract high-authority inbound links on your real estate site
One important off-site SEO strategy you need for real estate is to get high-authority inbound links to your real estate site.

Here are some tips:
Try producing a better version of popular real estate content. And then attract backlinks on this new content.
Post guest blogs on high-domain authority sites that publish real estate-related content. Include backlinks to your website.
Find backlink opportunities through competitor analysis.
Build exclusive long-form blogs that rank for crucial long-tail keywords and attract backlinks.
Use these real estate SEO tips to win big
With the right real estate SEO strategy, you can spend more time converting web visitors into buyers or clients and less time cold-calling or pounding the pavement.
Here's a recap of the best real estate SEO tips:
Update your GMB profile and grow citations from business directories
Highlight client testimonials on your website.
Target real estate keywords with informational, transactional, and navigational intent.
Localize your content for local real estate leads.
Draw SEO insights from other realtors and real estate businesses.
Optimize on-page elements and gain quality inbound links.
Address common queries of homebuyers in blogs and FAQs.
About the author
Joseph Schneider is an entrepreneur and Marketing Head at Haitna. He is passionate about content marketing, social media marketing, and search engine optimization and he always keeps up with industry trends.