Scroll, tap, purchase.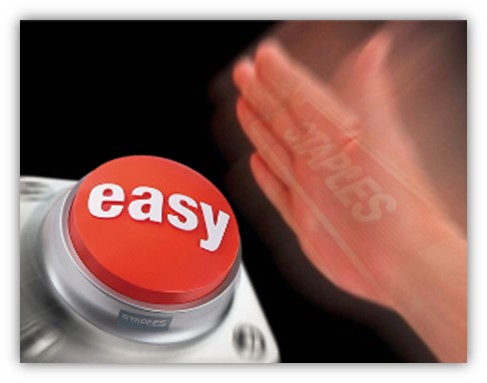 Shoppable ads make it fast and easy for customers to buy your products! With shoppable ads, viewers are able to purchase your products without leaving their social media app. Now, you might be wondering:
What are shoppable ads?
How do shoppable ads work?
Why are shoppable ads important?
Luckily, we're here to walk you through all the shoppable ad details you need to know, including different types of shoppable ads and how to use them to increase sales for your business.
What are shoppable ads?
Shoppable ads are embedded advertisements on social media that allow customers to purchase products without leaving the social app they are currently using. Instagram, TikTok, and Facebook shoppable ads all feature product images, descriptions, and prices.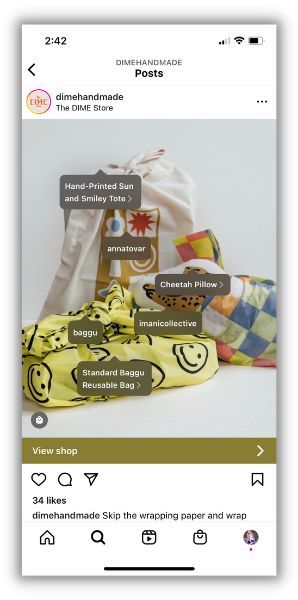 Customers click on these images to see more details and complete a purchase on a product page. Growing businesses use shoppable ads to generate more sales and increase brand visibility. If it helps, think of shoppable ads as the social media version of the search-based Google Shopping Ads.
The 4 types of shoppable ads and posts
There are four different types of paid shoppable ads as well as organic shoppable posts your brand can choose from across social media platforms.
1. Shoppable user-generated content
Shoppable user-generated content is a type of shoppable ad that includes any kind of social proof created by influencers, customers, and thought leaders. Sharing social proof—like reviews, customer testimonials, influencer posts and videos, and how-to posts and videos—are ways to entice new customers and build confidence in your brand reputation.
Plus, sharing user-generated content allows you to fill your feed with new posts without relying on a ton of social media content created by you or your team.
2. Shoppable social media posts
As you scroll through Instagram, you may see a post where you can tap a sale link. That's because shoppable Instagram ads are posts that include images of products and tags. Social media sites, including Facebook, TikTok, and Instagram, make it easy to create shoppable social media posts.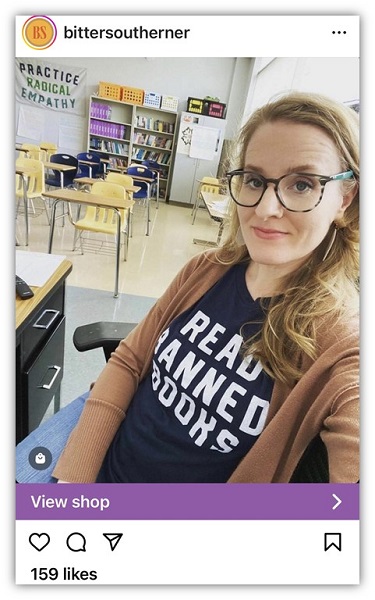 3. Shoppable videos and live streams
Shoppable videos allow you to show off your products so people can get a real idea of what your product looks like in real life. By seeing your products in action, customers can imagine how they will use them in their everyday life.
Creating more video content via shoppable ads will keep your viewers happy. In fact, 91% of people want to see more online videos from brands in 2023.
4. Shoppable ads
Paid shoppable ads aren't like other social media ad campaigns. This ad format is typically marked as sponsored and includes a "shop now" button. They will look like other social media posts, and be able to blend into your followers' feeds seamlessly.
3 shoppable ad examples
Browsing through Instagram, TikTok, and Facebook shoppable ads will give you great ideas of how to create shoppable ads for your own content. However, here are some examples to help you brainstorm ways to use shoppable ads for your business:
1. Shoppable Instagram ads
On Instagram, Pretty Old Books shared a new shabby book set for sale. Potential customers can either tap the image itself to see more product details without leaving Instagram or hit the "view shop" banner at the bottom of the image.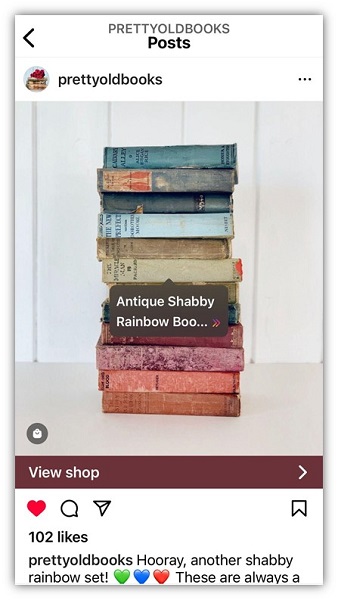 2. TikTok shoppable ads
On its TikTok, Instacart highlights its puppy supplies on National Puppy Day by sharing a video made by a TikTok content creator featuring Instacart pet toys and bones.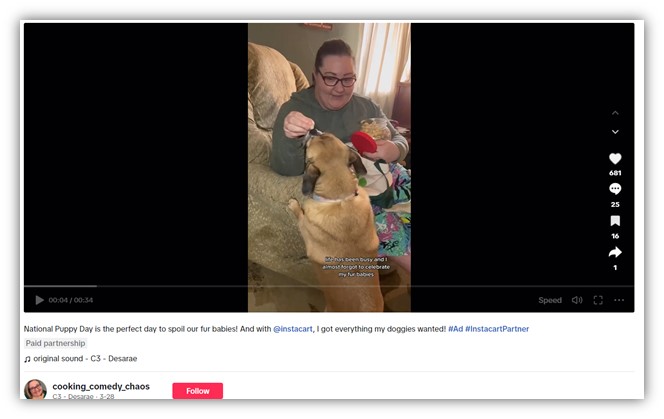 3. Facebook shoppable ads
As one of the most popular shoe brands, TOMS knows that many people are probably already familiar with what they do. TOMS shoppable ad shares several new products under $100 with a "shop now" button. They're trying to entice shoppers with a combination of a lower price and the convenience of shopping through their feed.
11 tips for how to use shoppable ads to increase sales
We've got 11 ways to use shoppable ads to increase sales. Experiment with what works for you.
1. Partner with influencers
Influencers are seen as sources of social proof, and people trust their opinions. Teaming up with influencers will increase the reach of your shoppable ad as you will have the power of their audience.
Remember: the people with the largest followings may not be the best match for your brand. Look for professionals who use your product or who are aligned with what you do.
Target's a great example of a brand that teams up with influencers. Target often works with influencers for specific events, like holidays or month-long celebrations like Black History Month.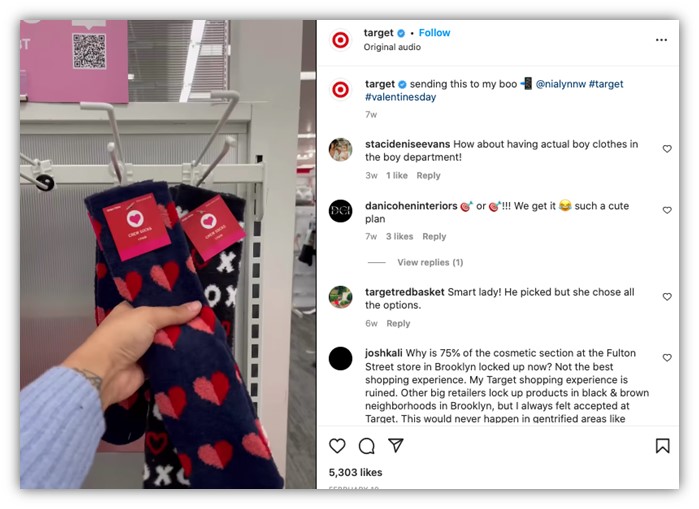 2. Lean into social proof
When you want to earn your customer's trust, you must leverage your social proof. Social proof is how people determine how credible your small business is, as they weigh what other brands, individuals, and experts have said about your business.
If you check reviews and people's posts before buying a product, you're not alone: a whopping 90% of people say they trust user-generated content more than any other form of marketing.
Social proof is super important, and you can't ignore it. This doesn't mean that you need well-known celebrities or influencers to support your brand. Any positive customer review, award, social media post, or video from anyone works to support your brand and build credibility with your audience.
Incorporate social proof into your shoppable ads and overall social media strategy:
Share user-generated content (but ask permission first)
Share videos from customers to your Instagram Stories or duet with them on your TikTok
Create social media posts that include testimonials, awards, and endorsements
3. Feature new products
Shoppable ads are a great launching point for showing new products to your viewers. 79% of people report that watching a brand video has made them buy a new product. So just think of how successful your shoppable videos may become!
4. Use high-quality photos
In the world of Instagram, Facebook, and TikTok shoppable ads, your shoppable ad is only as strong as the visuals you use. Make sure that any image or video you use looks nice and authentic to your brand. If you need assistance creating graphics or adding text to images, try out graphic design software like Canva (learn how to use Canva here) or Adobe Express.
If you're shooting videos of your product, make sure that you get different angles and linger on shots of people using and enjoying it. For example, MudLove's new LOCO Active Gear launch features many videos of kids and families using the activewear in addition to videos focusing on the product itself.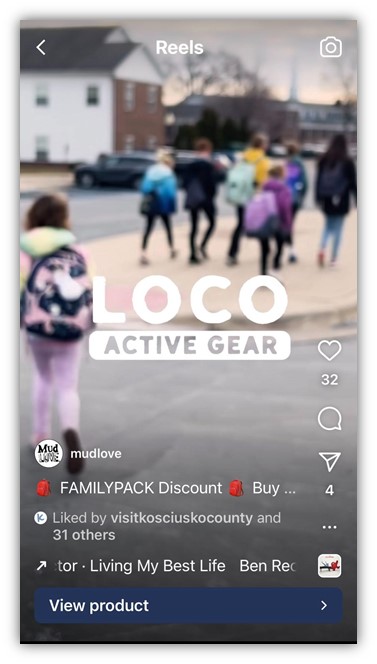 However, keep in mind that people have said that businesses being able to speak to their personal interests was twice as important as high production quality. Try to strike a balance in your shoppable ads so that they're relevant to your target market's interests while also providing high-quality photos and videos of your offerings.
5. Include a clear call to action
Like any other type of social media post, your shoppable ad must include a clear call to action. Try A/B testing to see what works for your audience, but don't overthink it. Using a basic "shop now" is a direct CTA that can prompt your audience to act.
Here are a few examples of other CTAs you could use in your shoppable ads:
"Buy now"
"Click to Shop"
"Shop today"
6. Provide relevant details
The people seeing your shoppable ad may not be familiar with your brand. As you create your shoppable ad, imagine that viewers are seeing this product for the very first time. Include relevant details, including multiple photos, a product description, sizes, and prices.
ACANA Pet Foods' shoppable Facebook ad is a great example of this. Its ad shows three products without overwhelming the viewer and highlights its main selling point (wholesome ingredients).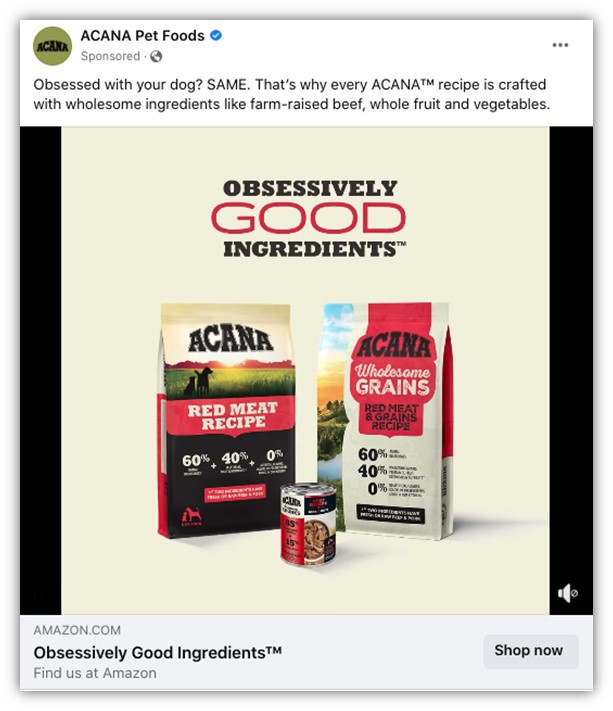 7. Personalize your shoppable ads
Shoppable ads can increase your conversion rates. By publishing shoppable ads, your customers can go from looking at a product to buying it without having to open a new application or tab. Streamlining the shopping experience makes for happier customers and can increase your brand loyalty.
Plus, while other types of social media ads can be hidden by ad blockers, shoppable ads appear like regular posts. Shoppable ads can be personalized to your customers' interests and demographics so you can share the exact type of content that will resonate with them. That personalization will lead to a higher engagement rate, and hopefully sales.
8. Tailor your shoppable ad to short attention spans
Remember that you don't have a lot of time to get your viewers' attention. People have short attention spans. For example, Gen Z loses attention after 1.3 seconds.
If you overload your shoppable ad with too many products and too much information, you'll end up inadvertently alienating your audience. Instead, focus on creating short shoppable videos and posts that are focused on one product or a few products concentrated on a specific theme.
9. Turn existing content into shoppable ads
Repurposing existing content is cheaper than producing brand-new content. By turning your images and posts into shoppable ads, your brand will save on production costs and get a higher return on investment (ROI) on your marketing efforts.
10. Try live shoppable events
Leaning into live shoppable events gives your brand the opportunity to showcase new seasonal products during a scheduled time.
For example, Target partnered with Ashley Tisdale for a live shopping streaming event on Instagram. Viewers could shop the brand virtually from home by seeing what the celebrity picked out.
Walmart's also leaned into shoppable live events, with its Walmart Shop Live platform and its TikTok account. All viewers have to do is tap a product pin and checkout during or after the event.
11. Review your performance data and adapt in the future
You can align your shoppable ads with your social media goals and track your sales progress as you go. By measuring your post's views, interactions, click-through rates, and conversion rates, you'll have a much better understanding of the type of shoppable ad content your audience interacts with. This performance data will allow you to better tailor your posts and videos in the future.
Use shoppable ads to increase sales directly on social media
Use shoppable ads to your advantage to engage your audience in a new way. Experiment with different types of shoppable ads on Facebook, TikTok, and Instagram. By sharing social proof, featuring new products, and tailoring your shoppable ads to your audience, you'll be able to shorten your social media marketing funnel and increase your sales.
Have fun exploring shoppable ads for your brand!
To recap, here are the 11 ways to create high-quality shoppable ads on social media:
Partner with influencers
Lean into social proof
Feature new products
Use high-quality photos
Include a clear call to action
Provide relevant details
Personalize your shoppable ads
Tailor your shoppable ad to short attention spans
Turn existing content into shoppable ads
Try live shoppable events
Review your performance data and adapt in the future