As of 2023, Snapchat's usage in the US reaches over 75% of Millennials and Gen Z and Snapchat users create over 5 billion Snaps daily. With its massive popularity among younger audiences and innovative ad formats, it's no wonder businesses flock to Snapchat to connect with their buyers.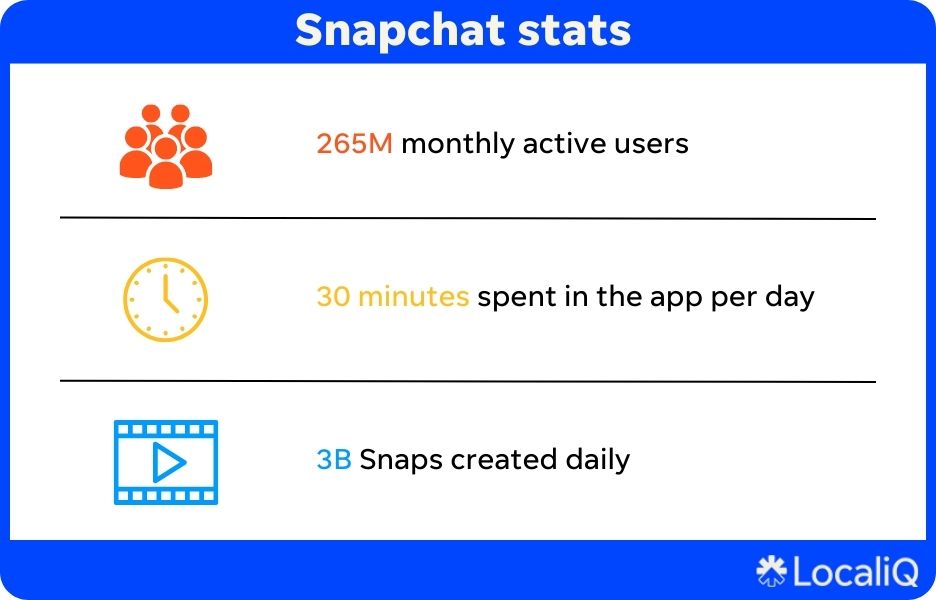 From immersive filters and captivating story ads to engaging AR experiences, Snapchat offers a diverse range of ad options to help you connect with your target audience in unique, native ways.
In this article, we will dive into the exciting world of Snapchat ads, exploring killer examples and best practices to help you make the most of this dynamic platform and drive your business's success. So, get ready to snap into action and discover the secrets of Snapchat advertising.
Effective Snapchat ad examples (+why they work)
Here are some of the best Snapchat ad examples we love and why they work so well.
1. e.l.f Cosmetics: Diverse target audience
e.l.f Cosmetics used Snapchat's video ads to showcase its products and build brand awareness.
The campaign was a success, as e.l.f Cosmetics saw a 20% increase in site visitation in Q1 2020 compared to Q4 2019 and a 39% increase in CPM efficiency over the same period of time. The campaign also boosted ad recall by 60% and brand awareness by 10%.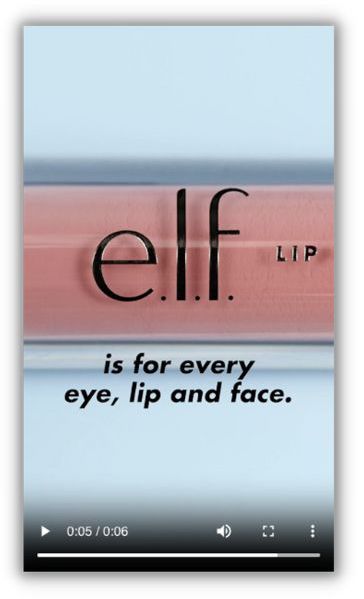 This Snapchat video ad example is effective for several reasons:
The videos showcased the brand's personality and products in action, resonating with the target audience's values and interests.
The video is only 6 seconds long, a perfectly concise length for a young, distracted audience.
By emphasizing that their products are for "every eye, lip, and face," e.l.f. Cosmetics conveyed a sense of diversity and inclusivity. Inclusivity and diversity are important to many young consumers.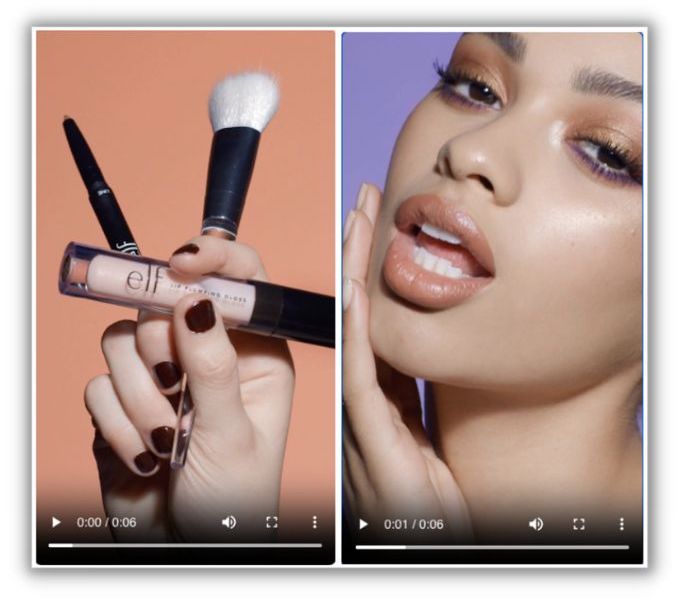 2. Ralph Lauren: Consistent brand aesthetic
When it comes to effective Snapchat advertising, Ralph Lauren's collection ad sets the bar high with its visually captivating aesthetics.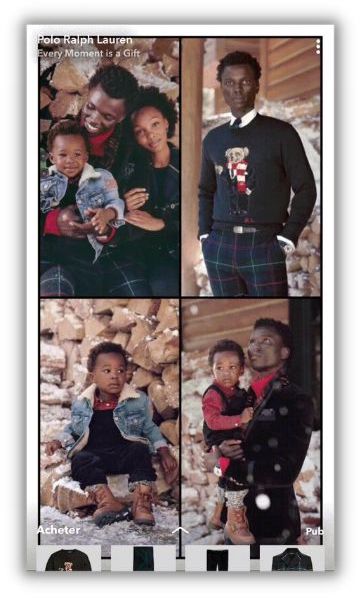 This Snapchat ad example stands out for a few reasons.
First, they maintain a consistent brand vibe by using muted colors and a style that matches their overall aesthetic.
Another factor contributing to the ad's effectiveness is its use of collection (or catalog) ads to drive users to the website. If you click on any of the products showcased in the collection ad, you'll directly land on their product page. And the chances are you'll be tempted to make the purchase. It's Ralph Lauren, after all!
Finally, the ad's clean and visually pleasing design creates an engaging and captivating experience. By presenting a well-curated collection in an elegant manner, Ralph Lauren sparks interest and draws viewers in.
3. Depop: Eye-catching variety
Depop is another brand that nailed it with its Snapchat Ads.
Here's how Depop used Story Ads to showcase its online marketplace for fashion and lifestyle products: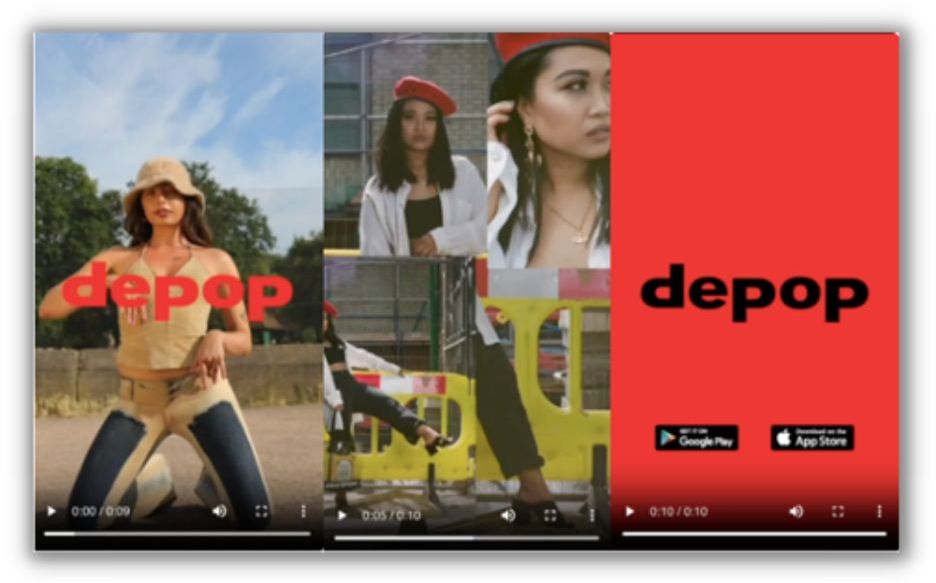 They made sure to feature a variety of sellers, each with unique styles, which resonated with their target audience of young women.
And to top it off, they cleverly included those familiar Google Play and App Store icons, urging viewers to easily install the Depop app and start shopping in no time.
4. Tinder: Visual and appealing
Tinder used Commercials to promote its dating app and increase app installs. The Commercials featured different scenarios of young people enjoying their single life and meeting new people.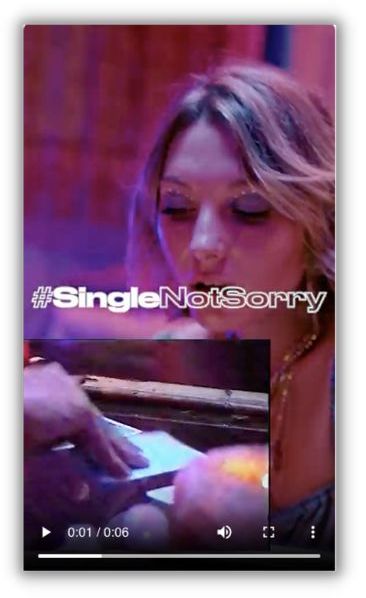 The result? Tinder managed to decrease its cost per completed view (CPCV) by more than 9x and beat its CPCV goals by more than 4x.
Tinder's Snapchat ad campaign was effective for a few reasons:
Firstly, they targeted their desired audience of Gen Z and Millennials, who are active on both platforms. They did it by promoting a positive attitude towards being single, highlighting adventure, fun, and self-discovery.
The use of Snapchat Commercials, which are six-second forced views, also helped Tinder capture users' attention quickly.
The visuals also played a crucial role, showcasing singles enjoying their freedom and engaging in exciting activities.
5. Adobe Creative Cloud: Creatively driven call-to-action
Abode Creative Cloud's Snapchat ad has managed to showcase everything their product is all about in a short Snapchat ad.
The ad begins with the statement, "everything you need to make everything you want," which succinctly captures the essence of Abode Creative Cloud.
And they show off their features in action–all the while keeping the ad short and snappy.
The visuals also successfully capture the viewer's attention and showcase Adobe's creative possibilities. Given that Abode Creative Cloud is a design app, it's vital for the ad to reflect the product's visual capabilities.
Plus, they have a direct call-to-action that says "for creative pros," speaking directly to their audience and encouraging them to take action.
Snapchat ads best practices (with more examples!)
Snapchat ads can be a great way to reach your audience, but if you don't know what you're doing, they could also cost you a lot of money. To help you avoid costly mistakes, we've compiled a list of best practices for Snapchat ads:
Optimize for vertical viewing
The most important thing to remember is that Snapchat is a mobile-first platform. Don't forget to optimize your content for vertical video ads instead of horizontal ones. Your ad's video or image should fill the screen and match the aspect ratio of 9:16.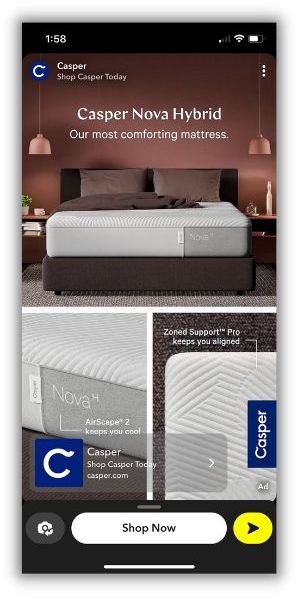 This Snapchat ad example from Casper fits a lot of info into a small vertical space.
Ask a bold CTA
Include a clear call-to-action (CTA) in your ad to encourage users to take the desired action, such as visiting a website, purchasing, or installing an app. Make the CTA prominent and easy to understand.
This Snapchat ad example includes the CTA "Enhance Your Shower Experience."
Segment your audience with intelligent targeting options
Snapchat is a mobile-first platform with a user base that skews younger than other social media channels. Because of this, brands need to think about how they can best reach their audience on Snapchat. One way to do this is by segmenting your audience based on demographics or interests.
You can use Snapchat's targeting options to reach your desired audience based on demographics, interests, behaviors, or location. This will help you deliver more personalized and relevant ads.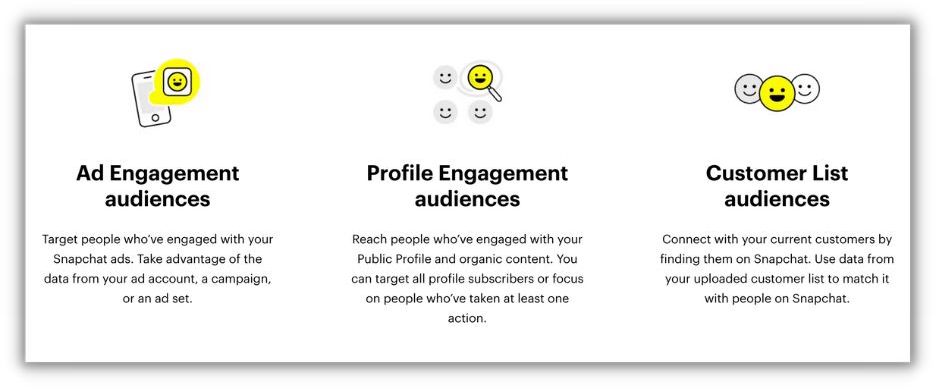 A few of the custom targeting options on Snapchat.
Design visually appealing and engaging ads
Your ad should be engaging enough that people want to watch it from beginning to end (or at least watch it more than once). This means creating unique visuals, using filters, and telling a story through your ads. Try using bright colors and incorporating text into your images so that people can easily read along as they watch your story unfold in real-time (or even replay if they missed something).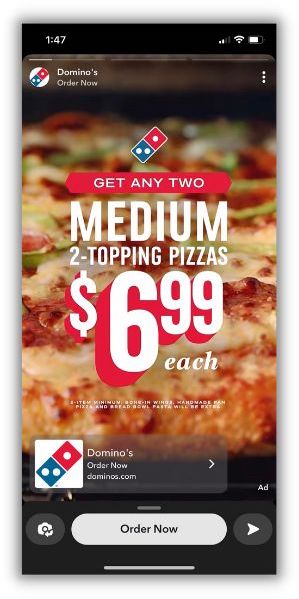 Incorporate user-generated content (UGC)
To include user-generated content in your Snapchat ad campaign, encourage users to submit content related to your brand or product. Create contests or campaigns that motivate them to share their experiences. And once you have a pool of UGC, carefully curate the most relevant and compelling content that aligns with your campaign objectives.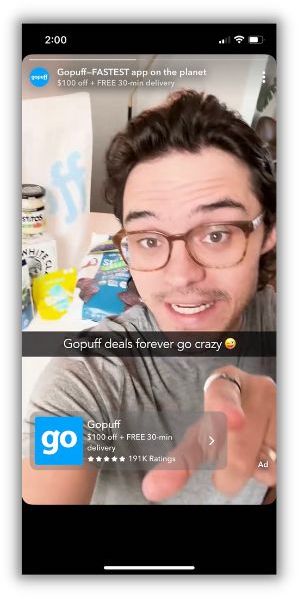 Use Snap Pixel
Use Snap Pixel to implement retargeting campaigns and reach users who have already interacted with your website or shown interest in your products or services. By retargeting these users with tailored ads, you can stay top-of-mind, drive conversions, and maximize the return on your ad spend.
Unleash your creative Snap-potential!
Snapchat ads are all about capturing attention and engaging users in unique ways. These Snapchat ad examples used multiple Snapchat ad formats, approaches, and creative to reach their goals and their audiences.
To maximize your ad spend, set your business goals, keep your message clear, visuals captivating, and calls-to-action strong. Target specific audiences based on their interests or location to target users that are most relevant to your business.
The best part? With the help of Snapchat Ads Manager, you can easily set up an ad account, create ad sets, and utilize custom audiences to target specific groups of users.
So, create ads, tell compelling stories, and use Snapchat's features to connect with your audience. It's time to make a lasting impact and drive meaningful results through Snapchat ads.