Your business may be small, but that doesn't mean branding is any less important for you than it is for larger businesses. In fact, building a strong brand foundation now is part of what will help you grow your business. For example, a consistent brand increases revenue by up to 33%.

That said, how do you go about branding, specifically on one of the top marketing channels at your disposal—social media? That's the question we're about to answer.
We'll cover both how to develop social media brand guidelines that align with your goals, as well as tips for maintaining a strong (and branded) social media presence. But first, we'll cover a brief overview of what social media branding even is and why it matters in the first place.
Table of contents
What is social media branding?
Social media branding is the practice of conveying your business's unique persona to users on social media. When you have a strong social media branding strategy, you're providing your current and potential followers with a consistent brand experience across all social media platforms. Anything you create or share on social media that is associated with your business could be considered part of your social media branding strategy, such as your:
Brand voice
Brand colors or fonts
Employee testimonials
Product images or demos
Usage of platform features (live stories or Reels)
Posting schedule
And more!
Basically, your social media branding is all about how your business represents itself online.
Social media branding guidelines are guidelines you create to keep your brand consistent across social media sites. These guidelines can be shared with your internal teams and employees to ensure everyone is speaking (or posting) about your business consistently online.
Why are social media branding guidelines important?
Bad social media branding has consequences. For instance:
Unattractive visuals can hurt your professional image and deter potential customers before they get a chance to see what you're about.
Inconsistent visuals make your business hard to recognize and even tougher to remember, keeping you from being top-of-mind when potential customers are ready to buy.
Inconsistent brand messaging can confuse your target customers, preventing them from building the trust needed to buy from you.
Misaligned brand messaging that doesn't highlight your value propositions won't drive sales or engagement.
In contrast, an appealing and well-planned brand—on and off of social media—does the exact opposite. It attracts future customers, makes a positive and memorable impression, and encourages people to engage and buy.
Plus, clear and easily accessible social media brand guidelines reduce the chances of posting off-brand or potentially damaging content.
How to develop social media branding guidelines
Now, for the million-dollar question. How can you enjoy the benefits of small business social media branding? Here are the four steps you'll need to take.
1. Map personas to your platforms of choice
"Go where your audience is." You've probably heard that before, and it's good advice. To get the highest possible return on investment from social media marketing, it's important to focus your attention on the platforms where your target market spends the most time.
However, this doesn't necessarily mean that your audience will be identical across platforms.
For example, research shows that social media users aged 50-64 tend to be most active on Facebook, while Instagram is more popular among people aged 18-29.
In that case, a business might post social media content that would be more appealing to the empty nesters on Facebook. And go for content tailored for the younger audience on Instagram.
The same principle can apply when, for instance, you serve several different locales that would require different content. For example, Dentsply Sirona has separate accounts for the various countries it operates in.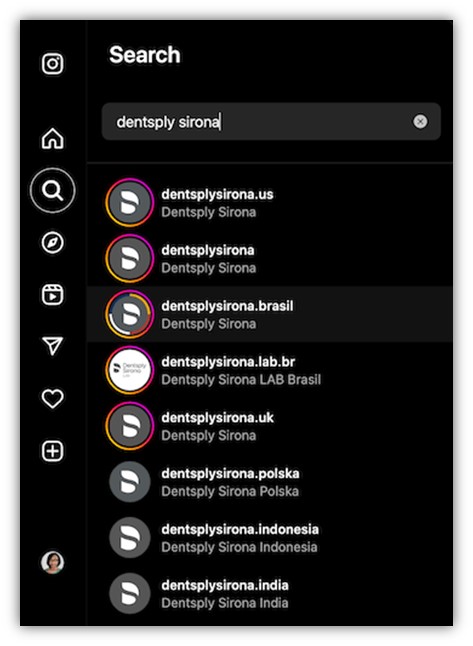 If your business hasn't expanded into the global market yet like this one, don't worry. This example is meant to highlight the importance of catering not just to your audience as a whole, but to the different personas within it.
2. Determine your social media goals
Without knowing what you want social media to do for you, it's much harder to plan for and measure success. So, decide on your social media goals. For example, the top three outcomes businesses want to achieve on social media are:
Increased brand awareness
Increased acquisition of new customers
More leads or conversions in general (like inquiries, purchases, etc.)
Small businesses usually focus on the first two—brand awareness and new customers. Those will likely be good areas of focus to start with.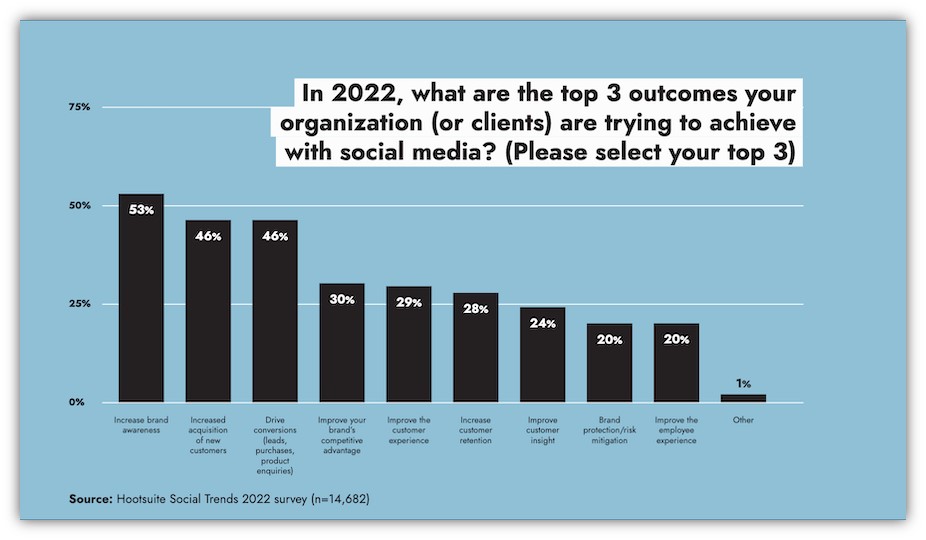 Next, set a SMART goal—that is, one that's specific, measurable, achievable, relevant, and time-bound. For example: "Increase our Instagram followers by 30% in the next 6 months."
Then, start developing a plan for how you'll accomplish your goal. This includes deciding on:
Content types. For example, humorous, meme-based content could be good for boosting awareness, while posts sharing the expertise of different team members could be good for generating leads.
Content topics. What content themes do you want to be known for? The answer is probably similar to the themes you focus on in your other content such as blog posts or emails. But, in any case, it's harder to be memorable and make an impact if you cover a hodgepodge of subjects. So, decide what you want to be known for and commit to covering the topic thoroughly.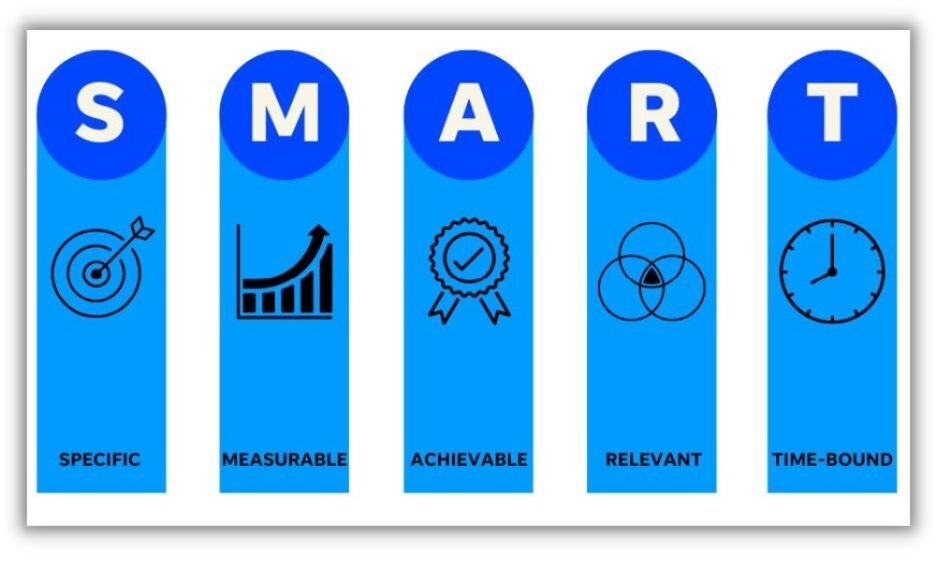 3. Define your brand identity
Brand identity is the combination of elements that a company uses to portray the right image to its consumers. It includes visual aspects such as logos, colors, and design, as well as non-visual aspects like how you communicate with customers and what your brand stands for.
Brand identity is an important tool for businesses to differentiate themselves from their competitors and create a memorable impression on their audience. So, needless to say, developing it is an important step in social media branding for any business. How do you go about it?
Reflect on the core values of your brand and think about how you'd like to communicate them.
Make a habit of social listening to gain insight into what people are saying about your brand and get ideas for refining your brand identity.
Identify your closest competitors and analyze social media performance in your industry trends to develop a competitive edge and stand out from the crowd.
By taking these steps and investing in the development of a strong brand identity on social media, businesses can ensure they are creating a lasting impression that will engage customers now and in the future.
4. Create written social media brand guidelines and templates
With your brand identity decided, the next step is to articulate it in writing. Not just for members of your team to refer to, but for yourself as well. This step in your social media branding process can help you maintain brand consistency. Your social media brand guidelines should include your rules for:
Brand voice and tone
Preferred terminology and brand-specific language
Hashtag usage and selection criteria
Brand colors
Fonts
Logo usage
Imagery
Emoji, filter, and effects usage (if allowed at all)
Brandland, Zendesk's brand guide, is the perfect social media branding guidelines example. Although it's not just for social media, it covers many of the elements above. Plus, it does give some guidance on how the brand should be presented on social. It can serve as some much-needed inspiration for your own guide.
While guidelines are a good way to start maintaining a consistent brand image online, you can take this a step further and create design templates. That way, no matter who creates content for your channels, the colors, fonts, and other elements of your social media aesthetic will always be on-brand. Not only will it save you time on creating visuals, but it will also progressively make your business more recognizable.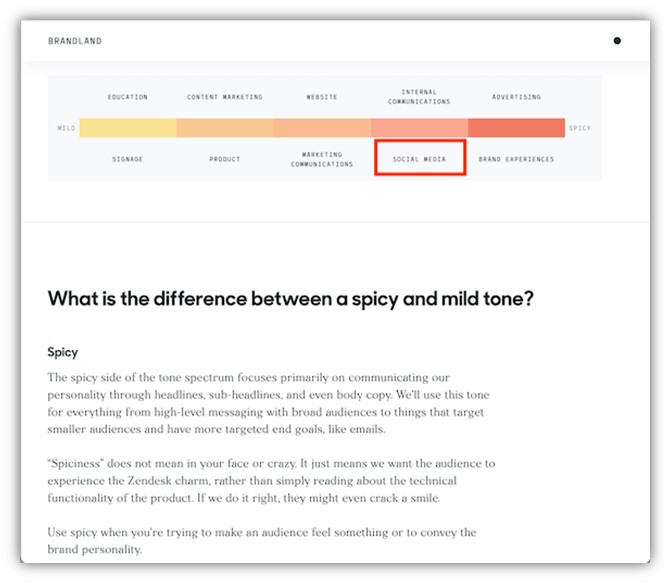 4 tips to build solid small business branding on social media
So far, we've talked about how to get started with small business branding guidelines for social media. Now, let's get into some ways to set yourself up for long-term success.
1. Repurpose content
As mentioned, a big part of branding is consistency. I'm not just talking about visual consistency or publishing frequency. Having a consistent message is also important. By repurposing content, you can make sure that your message and the way you present stay the same. Without always having to create all new content for all your channels.
Whenever possible, repurpose other types of content you create (e.g. blog posts) into social media content. Then, tweak applicable social media images and captions for each social media platform you're active on.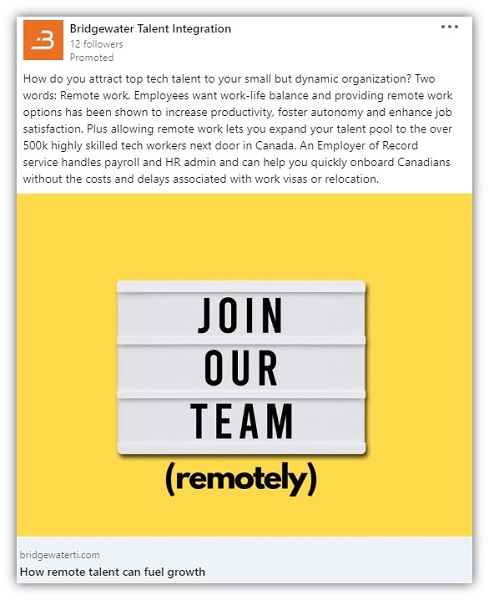 An example of a business repurposing blog content into a LinkedIn post. 
2. Post often
If you don't post often enough, your brand is likely to be forgotten about. It can easily be crowded out by the countless other social posts on your audience's feeds. Not to mention the hundreds of brands also fighting for your audience's attention daily via other marketing channels.
But what does "post often" really mean? It depends on the social media platforms you and your audience are active on. For example, some research shows that, ideally, you should:
If you repurpose larger pieces of content to create your social media posts, this is doable. But, if you need to ease into this frequency, try to post at least a few times a week consistently.
To make this easier, use a marketing calendar (like the one below) to get ahead on planning and scheduling posts. It will help with consistency. And it will help ensure you're posting quality content that's interesting and beneficial to your social media followers. (This is much better than rushing to post something at the last minute).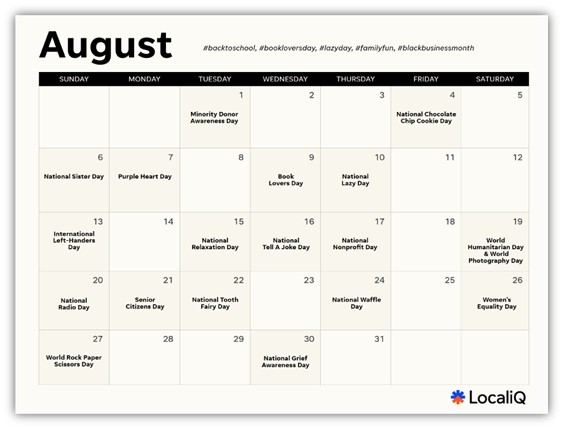 Our free marketing calendar can help you pre-plan your social media schedule. 
3. Learn from competitors (but don't copy)
Your social media branding impacts how credible and professional potential customers perceive your business to be, as well as how recognizable and memorable it is. In this digital age, acing your branding on social media is critical. Especially for small businesses that face an uphill battle to earn consumer attention and support.
But what if you're unsure of where to start? Analyzing competitors' social media branding and performance is smart. It's a great way to:
Identify competitor weaknesses such as inconsistent brand messaging.
Understand what resonates with the kind of social media users you're looking to establish relationships with.
Spot different approaches to branding that you could adapt for your business.
The goal is, of course, not to copy what competitors are doing. You want to stand out from the crowd, not blend in. But you can certainly gather intel and inspiration to be used to your advantage.
4. Revisit your branding periodically
Visual branding that was great two years ago may not be so appealing or feel so authentic now. A brand message that was impactful then may not be as compelling or relevant now. Therefore, it's important to revisit your social media branding from time to time. Make sure it still:
Resonates with your customers
Represents you the way you'd like to be represented
Is suitable for the current times
You don't need to start from scratch every time you revisit your social media branding. You should, however, be willing to make changes and improvements when they're needed. This can help ensure that social media is a powerful marketing and communications tool for your business.
Create social media branding guidelines to solidify your success
Especially for small businesses, making positive impressions, building trust, and being memorable are all crucial. Social media branding guidelines, which encompass how to speak about your business and keep posts consistent across sites, is a top way to accomplish those things. To that end, it's worth reflecting on:
How you'd define your brand personality
Who your target audience is
What aspects of your brand identity would resonate most with your audience
Strengths and weaknesses of your competitors' social media presences
From there, you can iron out social media brand guidelines to get your personality across the right way and keep it consistent. As long as you stay active on social media and check that your branding still resonates every so often, you'll be able to enjoy the benefits of a strong social media presence.