In the last year, Instagram Reels has gone from the newest social media launch to something users and businesses are creating on a regular basis.
So how can your business get in on the action–and should you?
In this post, we're answering:
What is Instagram Reels?
How do you use Reels?
Should you make Instagram Reels for your business?
Plus, we're sharing nine Instagram Reels ideas for your business.
What is Instagram Reels?
Instagram Reels is essentially a TikTok competitor launched directly through the Instagram app. Instagram first tested Reels with users in Brazil before launching to U.S. users on August 5, 2020.
With Reels, users can create and edit 60-second videos that can then be synced to music or audio clips. If it sounds familiar, it's because that's what you can do on TikTok (although TikTok videos can now be up to 10 minutes). One of the key differences between TikTok and Reels? Reels show up directly in users' Instagram feeds, the Discover feed, and live on the poster's profile. You can tell a post is a Reels video based on the little icon in the bottom left-hand corner.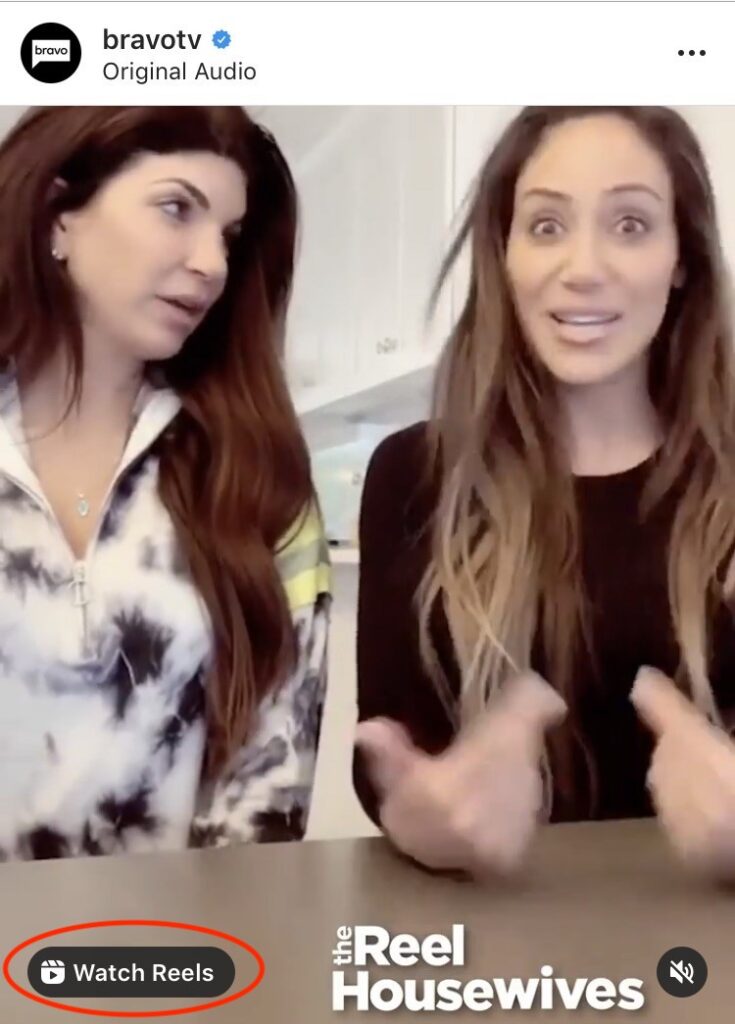 Instagram Reels for business: Is it a fit?
Instagram Reels might be a good fit for your business if you already have an established audience on Instagram. Because you don't have to establish a new presence on a completely different app (like with TikTok), it might be worth testing Reels for your business to see if you get any traction and to capitalize on this trend.
However, if your business doesn't have a large following on Instagram or Reels content wouldn't align with your business's brand identity, it might be okay to sit this one out.
How to create Instagram Reels
If you want to create an Instagram Reels post–either for your personal profile or your business profile–here's your step-by-step guide for creating one:
Open the Instagram app and click on the camera icon in the top left-hand corner (like you're creating a Story).
Swipe over to Reels, and tap Get Started. (Note: If you've already opened Reels, you won't get this screen — it will automatically show the capture screen.)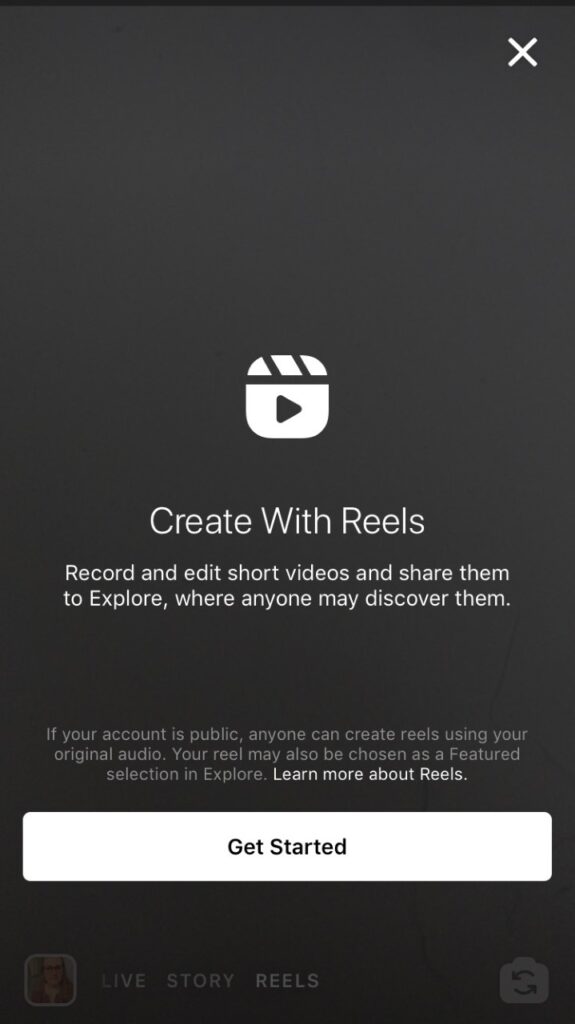 Once you've opened Instagram Reels, you'll see some icons that will allow you to customize your reel with audio clips, the speed of your reel, effects, and a timer for the length of your clip. When you use the timer, you'll get a countdown before filming starts, and the video will stop once the timer goes well. If you don't want to record a video clip directly through Instagram, you can also upload a video from your camera reel.
You'll probably want to include audio for your clip, so search for the audio file you want to use through Reels, and then determine which part of the song or audio clip you want to feature. Once you've determined the clip you want to use, tap Done.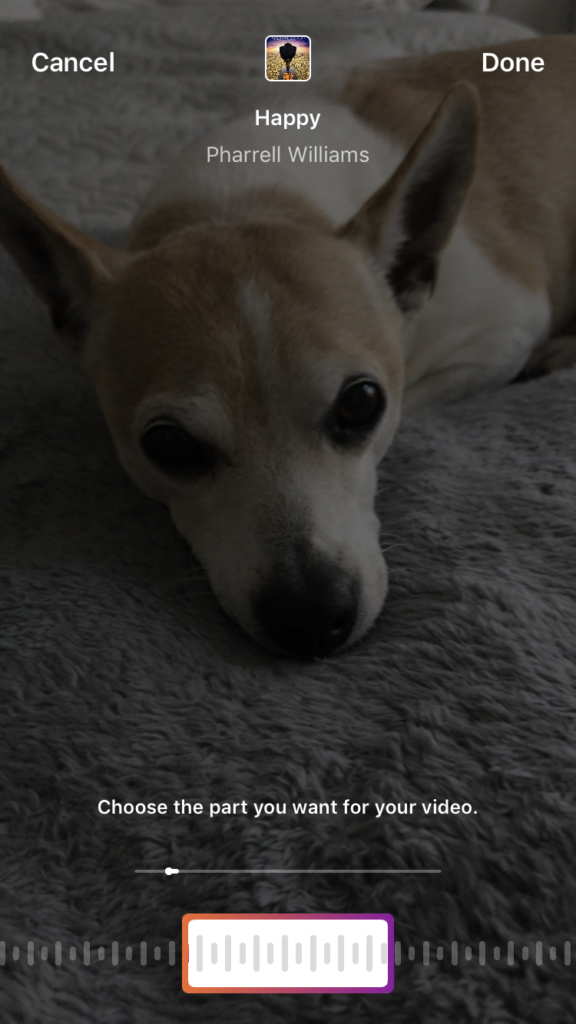 Next, you can choose an effect. There are a lot to choose from, including some branded effects from companies like WW. I went with the party lights effect. (Note: If you upload a video from your camera reel, you won't be able to use an effect at this time.)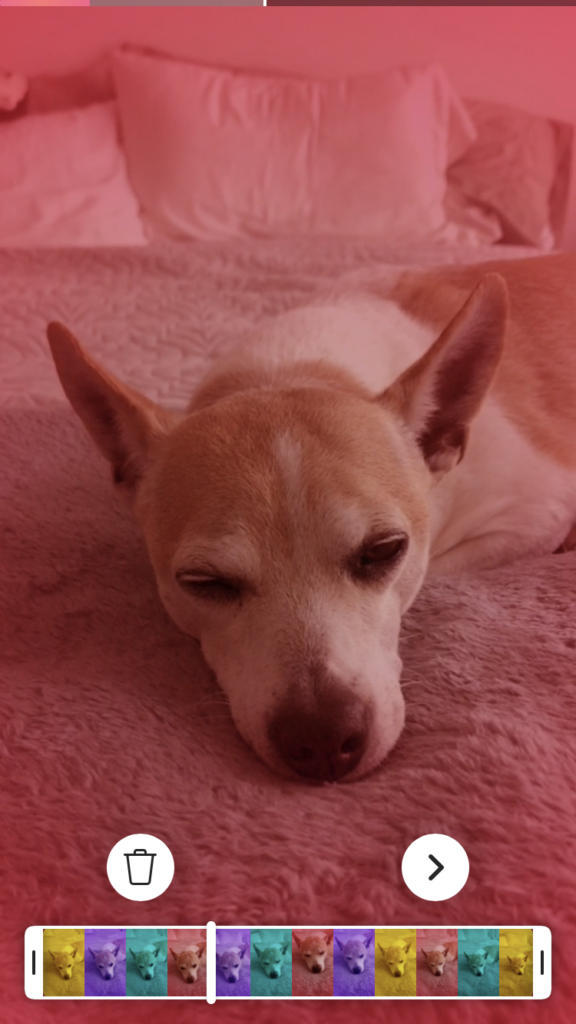 Once all your presets have been chosen, it's time for lights, camera, and action! Hold down the Reels icon to film your video.
Once your video is filmed, you'll tap the arrow next to the Reels icon to go to the next step. Now, it's time to share it with the world. Add your caption, determine whether or not you want to also share it to your feed (if you don't opt in to this, it won't be shared out with your other posts to your followers), and tap Share. If you're not ready to share your masterpiece, you can tap Save as Draft.
If you've saved your reel as a draft, it will live in the Reels tab on your profile, where you can go in and make edits to your video and share it at a later date.
So, now that you know how to use Reels on Instagram, should you?
9 Instagram Reels ideas for your business
If you decide that you do want to test out Reels for your business, here are some types of posts to consider along with a few ideas.
Show off your brand's personality
Instagram Reels provides a simple way for you to share fun content with your audience that sheds a light on your brand's personality. Don't be afraid to be silly (as long as it aligns with your brand's tone). Instagram Reels can really help you humanize your business and show off your team. Here are some ideas:
Employee dance party. Have your employees dance around to one of the available song clips, and use a fun effect. Quick, easy, and fun.
Get in on a trend. Look at the audio clips that are showing up in your Discover tab and recreate your own version.
Go behind the scenes. Give your audience a peek behind the curtain – whether that's a quick tour of your location or one of your team members sanitizing their station for the day. Think about how you can share content that's relatable for your audience.
Show off your products (or services)
Instagram Reels are the next big thing, so capitalize on that by using the feature to highlight what you're all about and get people interested in your business. Here are some ideas:
Video new products. A clothing boutique can share a Reels with some try-ons of new outfits. A restaurant could video a new menu item.
Highlight your services. A service business can get in on the action by sharing a video of a technician fixing a leaky sink (before and after). A dentist could share a video of how they're keeping their office sanitized and safe right now.
Amplify any special services you're offering right now. Are you providing curbside pick-up or home delivery? Feature that in a reel as an additional way to let customers know what you're offering.
Show off your educational side
While Instagram Reels are inherently great for sharing fun content, you can also use this short-form video to share some educational or resourceful information. Here are some ideas:
Q&A. Answer one or two commonly asked questions on a Reels video. You might even have these written up on your website or Google My Business page already, so you can quickly film something to share!
Quick fix. If you're a service business, you can show a quick tip for keeping your home clean, tightening a loose screw, or oiling a squeaky car door.
Tips. Think about some tips you can share that relate to your business and put them on Reels. A restaurant could share wine-pairing options for different meats. A retailer could share styling tips. A financial planning office should share savings tips to use now.
Get started with Instagram Reels for your business
Instagram Reels give you another format to engage with your audience on Instagram–and potentially increase your reach. Determine whether Instagram Reels is right for your business, and then use our tips to create some posts for your brand. With the uncertainty of TikTok's future hanging in the balance, Instagram Reels just might be a great opportunity for your business to take advantage of right now.