If you've spent any time on YouTube, you've seen YouTube ads–the videos that play at the beginning, middle, or end of the content you're watching. Maybe you've even discovered a new brand that way; their video ad compelled you to click on their link and learn more.
But even if you've seen it in action, you still might be hesitant to try YouTube advertising for your own business. Creating video ads can seem intimidating, and can the return on investment really outweigh the cost of YouTube advertising?
The short answer is yes. YouTube advertising is actually relatively inexpensive for small businesses and the cost might even surprise you.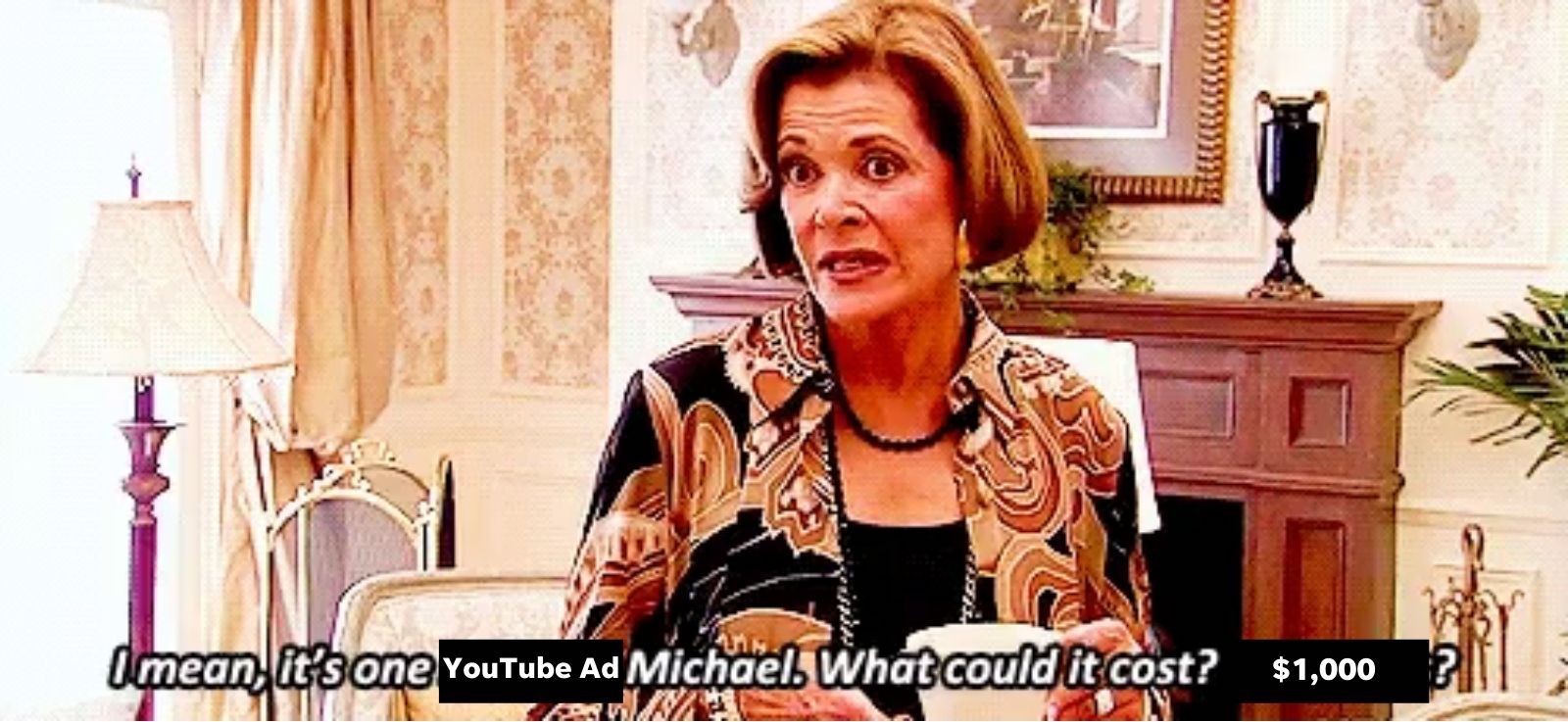 In this post, we're going to cover:
How much YouTube ads cost
What influences YouTube advertising cost
5 ways to maximize your budget to get the most out of your advertising on YouTube
(Hint: look for the 🎬 icon for quick tips!)
How much does YouTube advertising cost in 2023?
The answer to this question is more complex than a simple number. YouTube advertising cost ranges (on average) from $0.10-$0.30 per view or impression, but the cost can vary based on a number of factors, which we'll cover in a second.
Here are some other benchmarks around YouTube advertising cost:
YouTube ads are measured in CPM (cost per thousand), and most businesses pay a CPM of between $4 to $10.
The average business sets a $10 to $50 daily budget for its YouTube advertising campaign.
It costs around $2,000 on average to reach 100,000 views of your YouTube ad.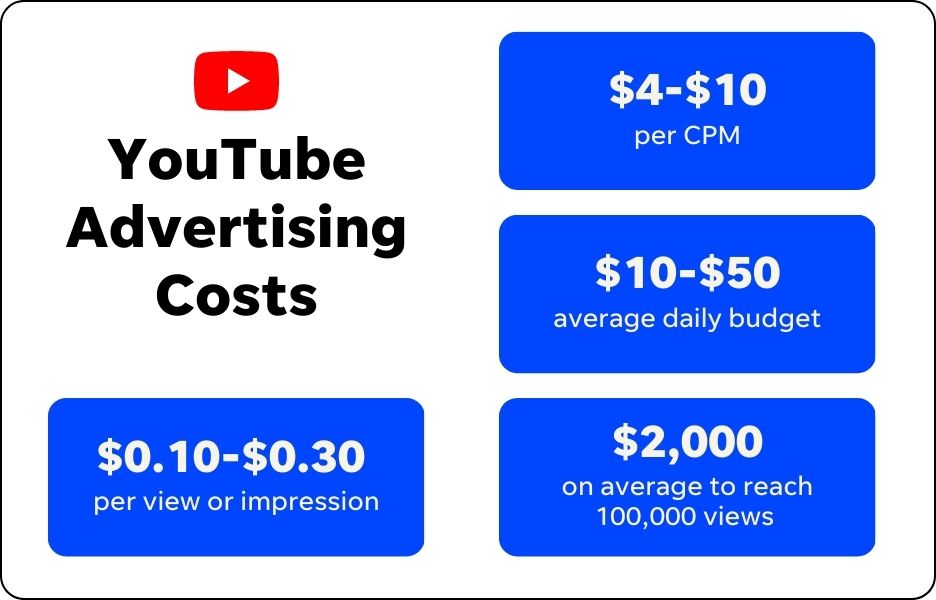 🎬 Understanding YouTube ad costs can help as you set your marketing budget, but it's important to consider the factors that influence YouTube advertising costs when calculating your potential marketing ROI.
Top factors that influence YouTube advertising cost
Now, while these numbers give you an idea of YouTube ad cost, a variety of factors can determine the overall cost of advertising on YouTube, including:
Your YouTube advertising campaign goals.
The upfront costs associated with video ads.
The type of YouTube ad you're running.
Your YouTube advertising audience targeting.
Your daily YouTube advertising budget.
🎬 Based on these factors, there are some ways you can maximize your YouTube advertising budget to make the cost work for your business.
5 ways to maximize YouTube ad cost
Now that you understand some YouTube advertising cost benchmarks and what influences the range of how much it costs to run YouTube ads, let's talk about some ways you can keep your costs low while maximizing your results.
1. Be realistic about your YouTube advertising goals
Like any type of online advertising or marketing you run, it's best to have a goal in mind before you get started. And, as is the case with many forms of marketing, the more of a budget you have, the greater the results you can anticipate.
So, if you're trying to keep your YouTube advertising cost low, you have to be realistic about what you're expecting from your YouTube ad campaigns.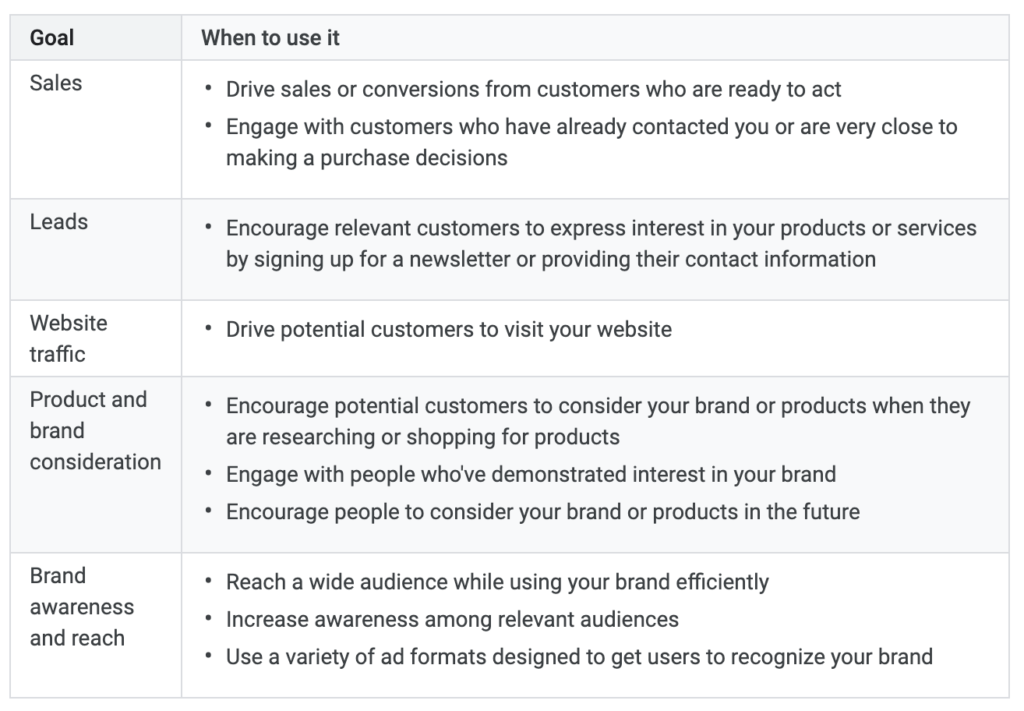 A list of potential goals for your YouTube advertising campaigns.
YouTube advertising is a great way to increase awareness for your business. It's not necessarily a lead-generation marketing tactic (although, that's not to say that you can't or won't generate leads from YouTube ads), so it's not realistic to expect YouTube advertising to drive you 100 leads in a week.
However, one of the benefits of YouTube advertising is that you pay for the ads that are viewed, so you can determine your YouTube advertising cost based on how many views you're hoping for your video ads, and you can measure the effectiveness of your YouTube advertising based on engagement metrics such as likes, watch time, shares, comments, and ultimately, brand awareness and brand lift.
According to Google, brand lift is "a measurement of the direct impact your YouTube ads are having on perceptions and behaviors throughout the consumer journey."
🎬 The bottom line: It's important to keep in mind that YouTube advertising is a valuable addition to any marketing strategy because you can increase brand lift and brand awareness–it's not necessarily going to be a primary driver of leads or even clicks to your website.
2. Understand the upfront costs of YouTube advertising
When you're estimating the cost of YouTube advertising, it's important to consider the upfront fees associated with creating a video for your YouTube ad. For a video advertisement, you'll obviously need a video–which means you'll need to come up with an idea, write a script, and film the content (or hire outside help to get it all done).
Depending on the quality and complexity of the video you're creating for your ad, this can get quite costly very quickly.
If you're looking for ways to decrease your YouTube ad cost, consider working with a YouTube advertising partner that can take care of the full video production process for you. Marketing companies oftentimes have in-house video creators or work with vendors who can create these videos for you at cost, decreasing the upfront expense for your business.
If you're looking to create the video yourself, remember that you don't need to create an Oscar-worthy video that breaks the bank. Your video just needs to be attention-grabbing right off the bat. You only have a few seconds to keep consumers from clicking that pesky "Skip Ads" button and moving onto their intended content. Want some inspiration? YouTube ranks the best YouTube ads videos each quarter here.
🎬 The bottom line: Your ad doesn't need to be that long or that fancy–focus on creating an enticing story that gets to the point right away and drives users to take action, whether that's visiting your website, subscribing to your YouTube channel, or giving you a call.
3. Identify the right YouTube ad type for your campaign goal
The type of YouTube ad you run influences your overall YouTube advertising cost, so it's important to choose the ad type that's right for your campaign goal and your business.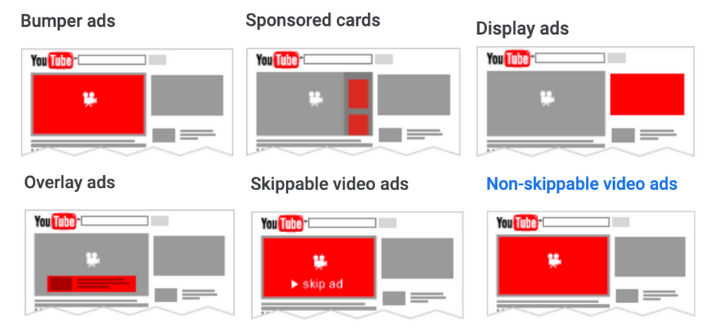 YouTube ad types
Bumper Ad: These 6-second ads must be watched before a user can view the intended video.
Sponsored Cards: These display content that is potentially related to a video (like products or services shown in the user's intended video–such as mascara for a makeup tutorial).
Display Ads: These desktop-only ads appear to the side or below the intended video.
Overlay Ads: These desktop-only ads appear on the bottom 20% of a video.
Skippable Video Ads: These ads allow users to skip watching after 5 seconds.
Non-Skippable Video ads: These 15- to 20-second ads must be watched before a video.
🎬 The bottom line: YouTube advertising cost varies based on the ad type you choose from the list above. For example, with skippable video ads, your business would only pay for a view if the user watched longer than 5 seconds, meaning you essentially get 5 "free" seconds of viewership. If you choose a non-skippable video ad, you pay per impression.
4. Adjust your audience targeting
YouTube is part of Google, so you know you're going to get some robust targeting capabilities when it comes to your YouTube ad campaign. And, just like when you run a PPC campaign, the cost of your YouTube advertising can increase or decrease depending on the audience you're targeting.
YouTube advertising targeting options
Demographics. This is a given, but you can define your ad audience based on demographics like age, location, and gender.
Interests. You can also define your audience based on views that share interests related to your brand. For example, a sporting goods company might want to target those who are interested in fishing or another outdoor activity.
Life events. This is a cool targeting feature that allows you to target users based on a life milestone that may make them more interested in your product or service. For example, a local florist would want to target YouTube ads to newly engaged users looking for someone to handle their wedding flowers.
Custom intent. You can direct your ads to consumers who have done research recently on products or services relevant to your brand.
🎬 The bottom line: The more competitive it is to capture the attention of your target audience or the more detailed your audience targeting, the more your YouTube advertising cost can increase. Look for ways to step outside the box of a competitive audience set or identify one key target audience you'd like to influence with your YouTube advertising to keep the cost low.
5. Choose the right daily YouTube advertising budget
The cost of running and maintaining your YouTube ad campaign is very reasonable. Most businesses start with at least $10 a day for their daily budget, but you can increase that based on the goals of your campaign.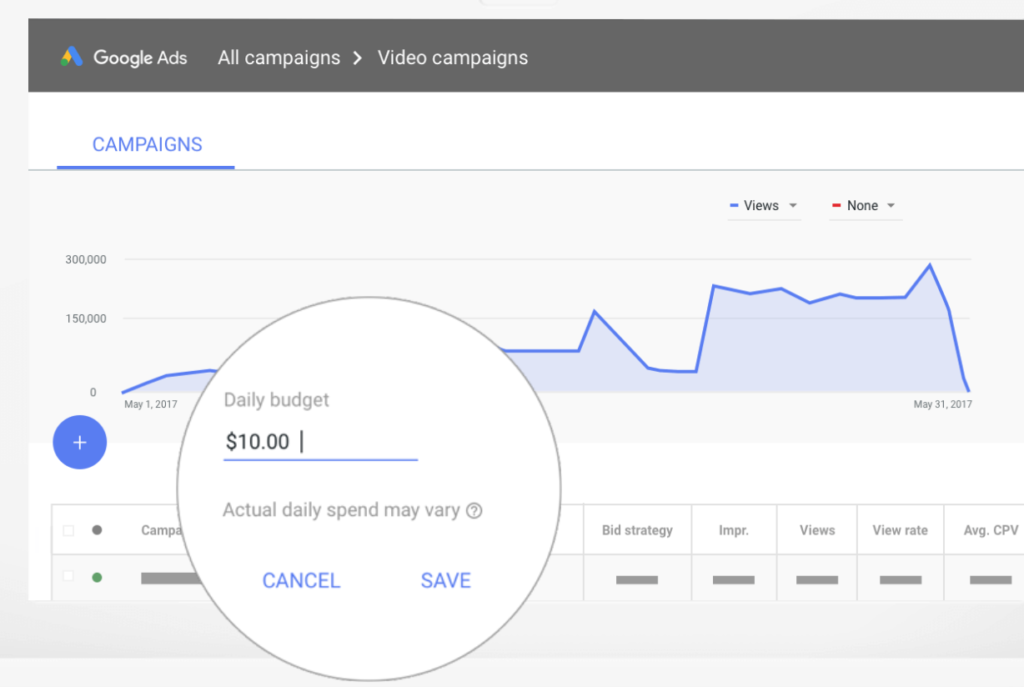 When it comes time to set your YouTube advertising budget, consider:
How long you'd like your campaign to run.
How much you need to spend per day to reach your campaign goals.
If there are any lower-cost YouTube ad types you can consider to maximize your budget and still be effective.
🎬 The bottom line: When it comes to YouTube advertising cost, you're in the control seat. You can choose how much you're willing to spend to get your business in front of YouTube users and what action you'd like them to take based on your ad. And, with the flexibility around YouTube advertising, you can play around with different ad types, targeting options, and daily budgets to help optimize your campaign to be successful.
Get the most out of your YouTube advertising
While advertising on YouTube presents great opportunities to help your small business get in front of a new audience, it seems that most local businesses haven't taken advantage of them yet. In fact, only 9% of all local businesses are creating YouTube ads.
This means that if your business can get in on YouTube advertising now, you're likely going to be ahead of the competition and can see some great results.
More about YouTube: