Brainstorming, filming, and editing your YouTube videos takes a lot of work.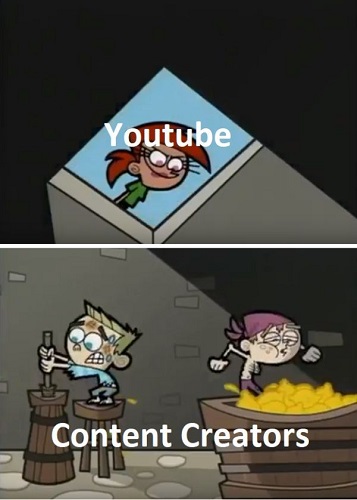 Working to build your brand's channel in a crowded space can sometimes feel like this!
In all the chaos, it's easy to overlook a crucial component of your channel—the description on your About page. Today, you'll learn exactly why you need to write a YouTube channel description and how to craft one of the best. We're giving you the answers to questions like:
What exactly is a YouTube channel description?
What are some YouTube channel description examples?
Which key YouTube channel best practices should you keep in mind?
By the end of this post, you'll walk away with a handy YouTube channel description template that will guide you through exactly everything you need for an all-star description.
What are YouTube channel descriptions?
A YouTube channel description is your chance to show up in search results and explain to your audience why they should follow you. Of course, you may have made an introduction video to welcome audience members to your channel anyway—but don't overlook that About section.
The About section may seem like the least important part of your video marketing strategy. Users often have to scroll to the right to even see the tab, and it doesn't have the pizzazz of a video or the attention-grabbing draw of a header image. But the YouTube channel description included in the About section shows up in Google and YouTube searches—making it a crucial way to attract new audience members and inherently increase your YouTube video views.
YouTube is the second-largest search engine, second only to the mammoth that is Google (which owns YouTube!). More than 2.6 billion users visit the site at least once every month. When done well, a YouTube channel description will help you gain new subscribers and take your YouTube videos to new heights.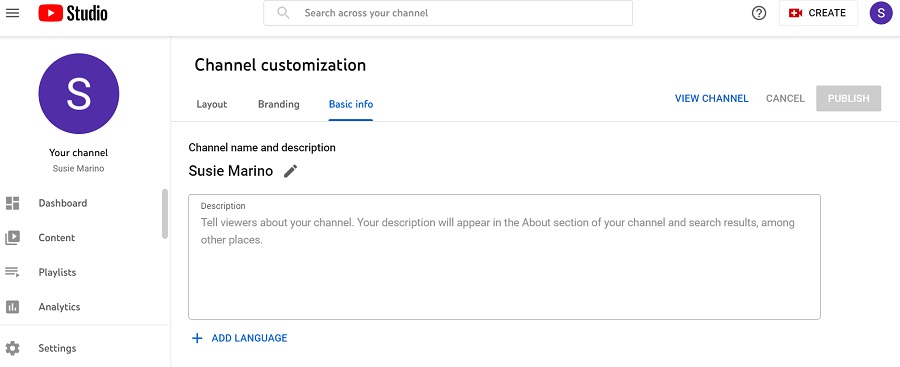 An example of the YouTube channel description editing portal.
Best YouTube channel description examples
From makeup experts to Twitch streamers to small businesses and famous brands, these YouTube channel description examples will inspire you to craft your own About page copy.
We've carefully selected YouTube channel description examples from both businesses and influencers. These descriptions run the gamut in length, presentation, and details, but all effectively convert people into subscribers. Let's take a look at some of the best YouTube channel description examples.
Example 1: Kelsey Impicciche
Kelsey Impicciche's YouTube channel description is pretty bare-bones, but one thing she nails in 144 characters: tone. Kelsey describes herself as a "professional internet person," which is a fun way to sum up her work as a YouTuber filming content about the Sims. Next, she has a punchy call-to-action: "Like and subscribe to join us in our quest for world domination." You're not subscribing to support her, you're an important character embarking on a journey together.
Here's Kelsey's full YouTube description:
Hi! I'm Kelsey Impicciche, a professional internet person.

Like and subscribe to join us in our quest for world domination.

INTERNET HIGH FIVE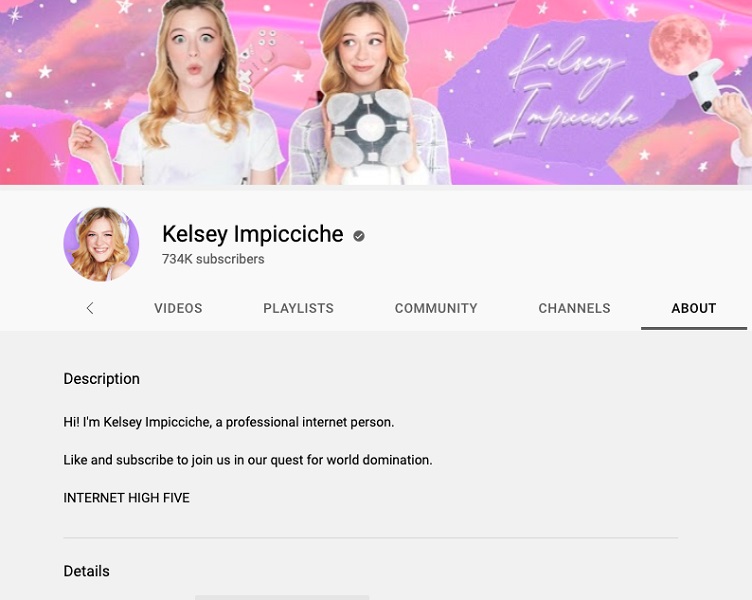 Example 2: Debt Free Millennial
Debt Free Millennial teaches viewers about personal finance, how to set budgets, and how to defeat debt. Debt Free Millennial's YouTube channel description is one of the best because it describes exactly what she does and who she does it for in one line: "If you're a millennial who wants to crush debt and live payment free, consider me your debt free millennial guide." Justine then quickly establishes credibility by mentioning how she overcame debt, and why she can help you do the same.
Check out Justine's complete description: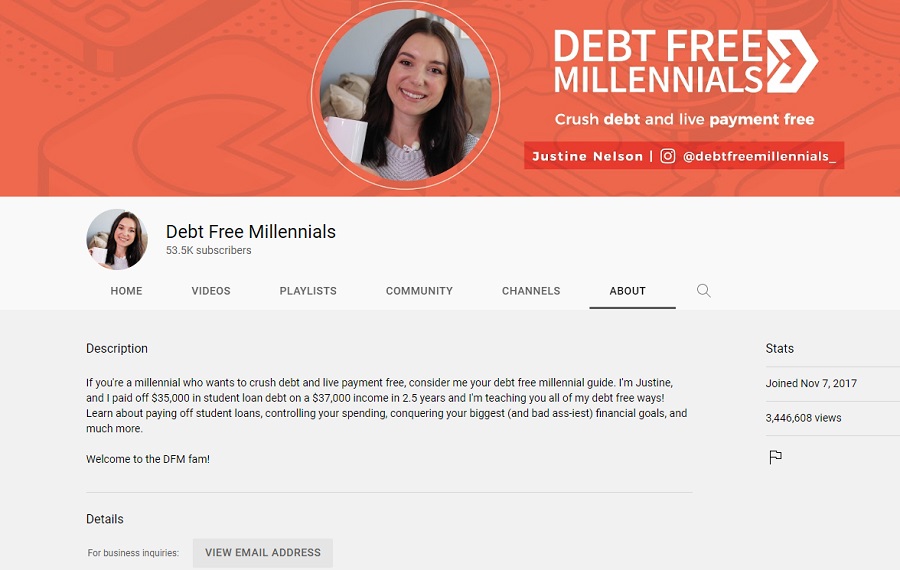 Example 3: Bookish Realm
At first glance, the Bookish Realm's YouTube channel description is nothing fancy. But in only 18 words, Bookish Realm describes exactly what types of content you'll see (ranging from book hauls to reviews) and when you'll see it (Wednesday, Friday, and Saturday). Take a look at the full description to see just how quickly an effective description can be put together:
Bookish Endeavors! Book Hauls, Reviews, TBR, and so much more!!! I upload videos every Wednesday, Friday, and Saturday!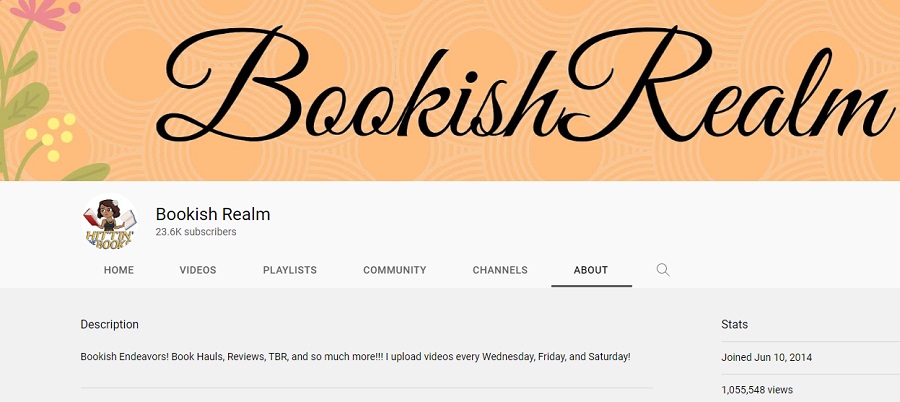 Example 4: Saturday Night Live
Saturday Night Live is a favorite of audience members across the world because of its skits and guest stars. Its YouTube elevates brand even further as it shares "favorite sketches, behind the scenes clips, and web exclusives."
As a more established brand with content available on multiple platforms, SNL does a great job of explaining why you should still follow the show on YouTube, while also promoting its call-to-action: "stream now!" Even if you're not the biggest fan of the show, SNL's YouTube channel description might pique your interest enough to subscribe:
Welcome to the official Saturday Night Live channel on YouTube! Here you will find your favorite sketches, behind the scenes clips and web exclusives, featuring all your favorite hosts and cast members.

All seasons of Saturday Night Live are now available on Peacock, the new streaming service from NBCUniversal. Watch thousands of hours of hit movies and shows, plus daily news, sports, and pop culture updates. Stream now on Peacock: https://bit.ly/3esVzIq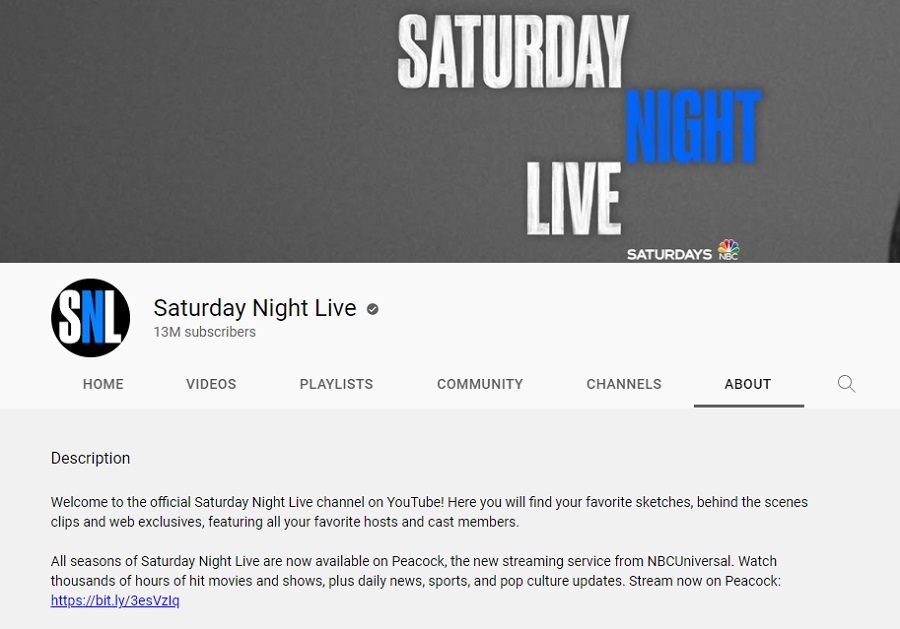 Example 5: Austin Flipsters
With more than 250,000 YouTube subscribers, Austin Flipsters use their channel description to convince viewers why they're missing out by not following them. They're very clear about the topics they cover: "all aspects of renovating and remodeling our flip houses."
They then segue into why you must follow them with phrases like "you won't believe the houses we buy" and "please subscribe to our channel so you never miss a flip." Next, the team doubles-down on their call-to-action: "these houses take a ton of time to renovate and film…we're working hard and love the support of our subscribers!" Wouldn't you feel guilty walking away without hitting that bell button?
Here's the entire description from Austin Flipsters:
Hi we're the Austin Flipsters, two friends from college who have teamed up to flip houses in Austin. We take you behind the scenes of our house renovations in Texas. We cover all aspects of renovating and remodeling our flip houses including the design and investing concepts behind our projects. Along the way, we share our best practices and the vendors and products we love to use in our houses.

You won't believe the houses we buy and how we transform them into dream homes. We love what we do and want to share the journey with you. Everyone loves a good before and after!

If you love real estate, design, investing or just being entertained by a couple of goofy friends, this is the place for you! Please subscribe to our channel so you never miss a flip. These houses take a ton of time and effort to renovate and film. We're working hard and we LOVE the support of our subscribers!

Send us stuff! Austin Flipsters 1401 Lavaca Street, Unit #27 Austin, TX 78701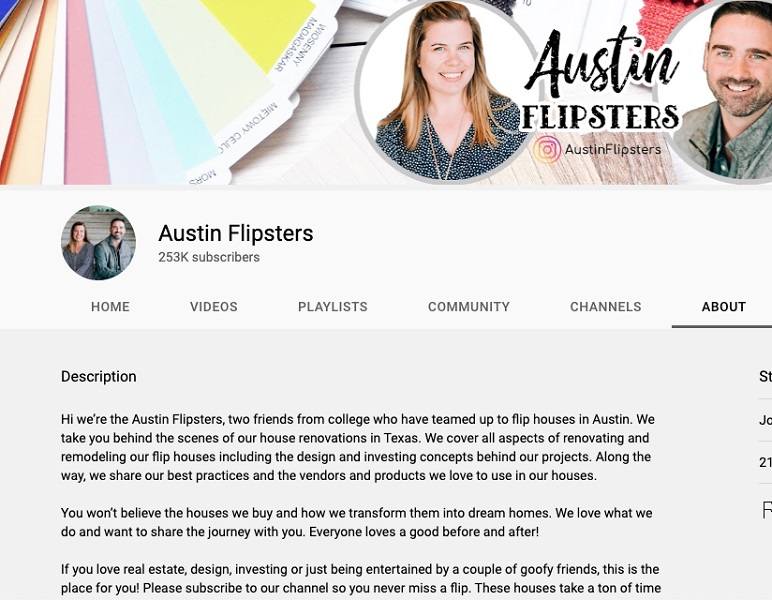 Example 6: Unbox Therapy
Unboxing videos are a new trend that isn't going away anytime soon. But with so many unboxing videos, how can you make your business stand out? Unbox Therapy shows us how: with great taglines and compelling copy. The concept is straightforward: Unbox Therapy shows off a variety of products and reviews them. As one of the best YouTube channel description opening lines says, it's "where products get naked." One of our favorite things about the description is how it clearly states how to get in touch with the team, as we can see in the full version below:
Where products get naked.

Here you will find a variety of videos showcasing the coolest products on the planet. From the newest smartphone to surprising gadgets and technology you never knew existed. It's all here on Unbox Therapy.

Business / professional inquiries ONLY – jack [at] unboxtherapy.com (please don't use YouTube inbox)
Example 7: Yoga with Adriene
How would we have survived lockdown without everyone's favorite yoga instructor? Adriene has more than 11 million subscribers on YouTube for a good reason: her YouTube videos are professional, approachable, and relatable. The Yoga with Adriene channel description reflects that.
Starting with a strong "WELCOME," Adriene sets the stage for body positivity and pumped-up exercise. Adriene sets the stage for what her YouTube provides by mentioning "high-quality free yoga videos" and "healthy at-home yoga practice."
The element that makes this one of the best YouTube channel descriptions is her important legal disclaimer at the end. If you're providing content that engages people in physical labor or exercise, it's a good idea to include something similar on your site.
Check Adriene's full description:
WELCOME to Yoga With Adriene! Our mission is to connect as many people as possible through high-quality free yoga videos. We welcome all levels, all bodies, all genders, all souls! If you're brand-new to yoga, check out my Yoga For Beginners and Foundations of Yoga series. These are designed to give you the tools to build a happy, healthy at-home yoga practice. Do your best, be authentic, and FIND WHAT FEELS GOOD. Jump on in! You don't even have to leave your house.

Love, Adriene

Yoga With Adriene, LLC recommends that you consult your physician regarding the applicability of any recommendations and follow all safety instructions before beginning any exercise program. When participating in any exercise or exercise program, there is the possibility of physical injury. If you engage in this exercise or exercise program, you agree that you do so at your own risk, are voluntarily participating in these activities, assume all risk of injury to yourself.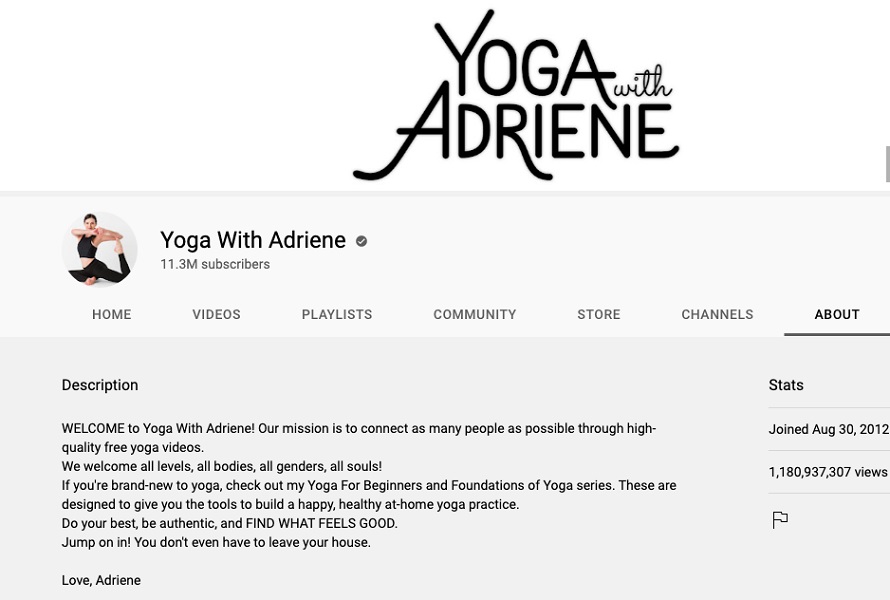 Example 8: Hyram
Hyram is a huge skincare influencer on YouTube with more than 4.5 million subscribers listening to his advice on what to use. His account has one of the best YouTube channel description examples because he clearly states who he is, what he does, how often he posts, all with a clear call to action.
Hyram is also upfront about his professional stance, clarifying that while he is a specialist, he is not a dermatologist or licensed esthetician. That quick disclaimer goes a long way toward boosting his credibility (as he's honest about his qualifications) while establishing that he does a lot of research on the products he shows:
Example 9: The Try Guys
The Try Guys radiate joy, confidence, and authenticity throughout their videos. They have one of the best YouTube channel description examples because they succinctly lay out a detailed description.
Since The Try Guys had an established brand with Buzzfeed before going solo, they clearly tell their loyal audience that they are now independent but are still creating the same great content. The group shares their posting frequency. Take note of the variety of calls-to-action they have: they invite people to follow their podcast, buy merch, and order a book. That's a lot to ask for, but it doesn't feel overwhelming or pushy.
One of the best parts of The Try Guys' YouTube channel description is the credit they give every team member working on their videos. If you have multiple people featured on-air or off-screen, use this YouTube channel description example as inspiration to give credit to all involved:
Welcome to our completely independent channel, featuring the same guys, with better videos. New episodes every Wednesday & Saturday!

Get tickets for our worldwide tour "Legends Of The Internet" at www.tryguys.com/tour

The TryPod podcast available everywhere at www.tryguys.com/podcast Order our book "The Hidden Power Of F*cking Up" at www.tryguys.com/book Official Try Guys merch at www.tryguys.com

THE TRY TEAM Executive Producer – Keith Habersberger Executive Producer – Ned Fulmer Executive Producer – Zach Kornfeld Executive Producer – Eugene Lee Yang Producer – Nick Rufca Producer – Rachel Ann Cole Production Manager – Alexandria Herring Assistant Production Coordinator / TryPod Producer – Miles Bonsignore Editor – Devlin McCluskey Editor – YB Chang Editor – Elliot Dickerhoof Assistant Editor – Will Witwer Social Media Manager – Kaylin Burke Office Production Assistant – Sam Johnson Production Assistant – Jonathan Kirk The Try Guys is the flagship channel of 2ND TRY, LLC.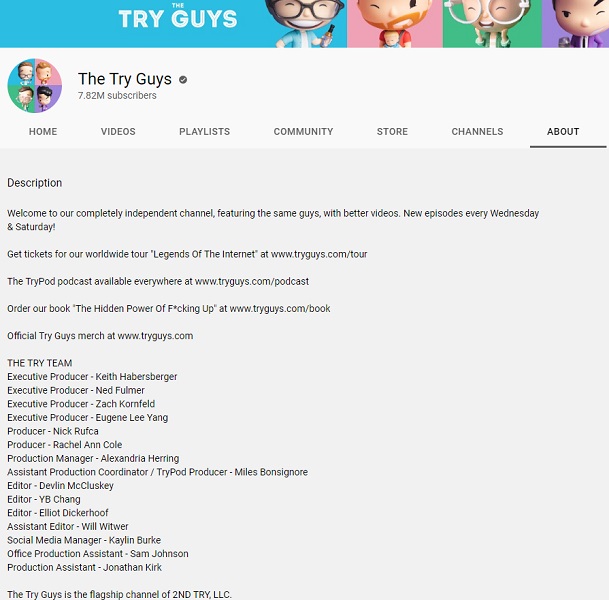 Example 10: The Organized Money
Financial expert Alaina has one of the best YouTube channel descriptions for one important reason: credibility. Alaina quickly establishes credibility in the second paragraph by mentioning where her work has been published. She ends with a simple call-to-action that invites users to follow her on other social media channels. Simple, effective—and easy to do yourself.
Here's Alaina's full description:
Hi! I'm Alaina. Teaching women how to organize their life, money, & business

My work has been featured in HuffPost, Yahoo Finance, Wired, The New York Weekly, Martha Stewart Living, & Fox News.

It's my mission to help women achieve financial peace through their planner.

You can find more of me here: LinkTree: https://linktr.ee/theorganizedmoney Check out the website: www.theorganizedmoney.com Follow me on Instagram: @theorganizedmoney Twitter: @theorderlymoney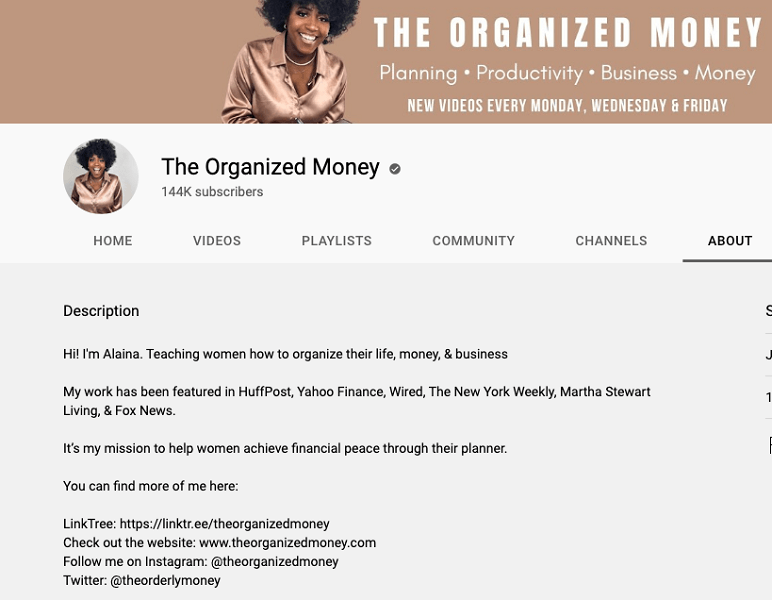 How to write your YouTube channel description
Here's how to write the best YouTube channel description.
Do keyword research and include them in your channel
Remember how YouTube attracts more than 2.6 billion users every month? Draw them in by including search engine optimization keywords that your audience is using. Do some keyword research on your own by typing different topics into YouTube's search bar. What questions pop up? Implement these phrases into your YouTube channel descriptions.
For example, when you type in the word "dog" YouTube auto-fills phrases like "dog barking sounds" and "dog calming music." If you're a dog trainer, you can include these terms in your channel description and in the videos you create. Your YouTube channel description may say: "I'm a dog trainer who will fix those loud dog barking sounds."
A YouTube channel description example that includes keywords.
Include your channel upload schedule
How often do you post videos? What kinds of videos do you create—and do you have a schedule for them? Your channel description should note when you're posting new videos.
Obviously, this means having a consistent schedule. It's important to be consistent as you post new content so your audience knows when to watch. Your YouTube upload schedule doesn't need to be complex, but it does need to be mentioned.
For example, your YouTube channel description may be something as simple as: "new videos every Friday!" Alternatively, you could note a more detailed schedule: "We post how-to videos every Monday, unboxing videos every Wednesday, and giveaways on Friday!"
The kinds of videos you post will change as you adapt to the needs of your audience and grow your following. Just update your channel as you add new topics or a different schedule.
Give your audience a call to action
The absolute best YouTube channel description examples include a call to action. Your call to action will give your audience members the next step to take. Decide what's most important to you, and remember that you can always change your call to action in the future. Here are a few things you can call attention to:
Your email list. "Subscribe to our newsletter for exclusive content!"
Your book launch. "Order our signed book at [link]."
Your YouTube channel. "Hit that big red subscribe button to see new episodes!"
Your Instagram account. "See behind-the-scenes content on our Instagram [link]."
YouTube description templates
Now that you understand what makes a great YouTube channel description, use our advice to create your own! Below are some easy YouTube description templates to implement:
Welcome to [Channel Name]! I'm here to help you [objective]. I post every [schedule information]. Click the bell icon to be notified of all new videos!
Welcome to my [Channel Name]! I create videos about [topic or keywords] for [your audience]. You should follow me because [anything that adds credibility]. I post every [weekday, Thursday, etc.]. Follow me on social media [links to different accounts]. Want to get in touch? Email me at [email address].
Here are some more examples you can customize for your template!
Want to become a photographer? Follow me for camera tutorials on Monday and photo editing sessions on Friday! If you want to request a video idea, email me at [email address]. Hit that bell icon to be entered into a weekly giveaway!
I post new Sims content every Tuesday and Thursday. Can't get enough? Follow me on Twitch for exclusive video content! Just hit this link to subscribe!
Welcome to our new channel! Our team of doctors creates high-quality videos about mental and physical health. Want to level up at home with concrete health tips from qualified professionals? Subscribe by hitting that bell to see videos every Sunday and Wednesday. Disclaimer: while we are medical professionals, you should still consult your physician before beginning new exercise routines.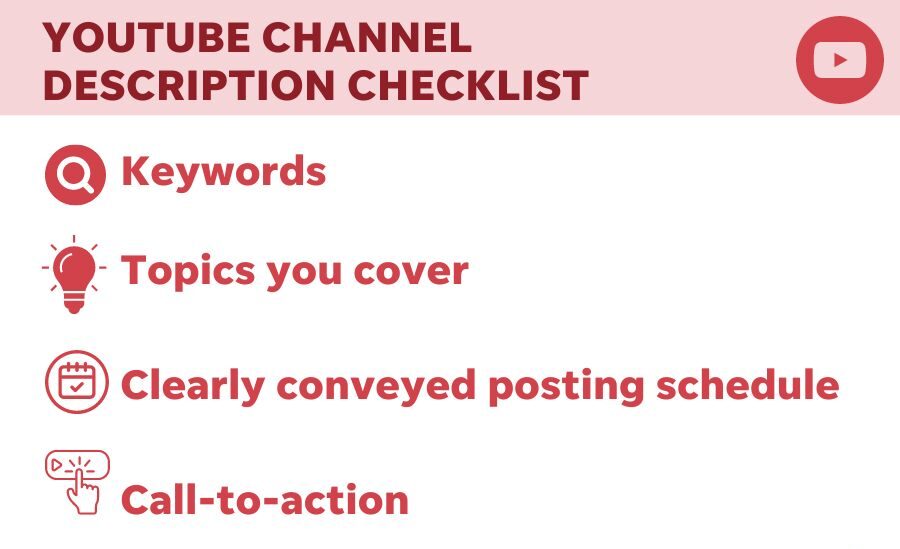 Boost your YouTube channel descriptions today
Creating and editing YouTube channel content can feel time-consuming. But if you neglect your YouTube channel description, you're neglecting a huge segment of YouTube users who could become members of your target market.
Our YouTube channel description examples, tips, and templates are just what you need to get started in a flash. To recap, your YouTube channel description should include:
A posting schedule
Topics you cover
Appropriate keywords
Why people should follow you
Ideally, it will also include anything that adds credibility to your channel and a tone that reflects your brand's identity.
Remember, you can always adjust your channel description later to reflect updated scheduling or important updates. The important part is just getting started!
Now that your YouTube channel description is ready to go, get tips for writing the best YouTube titles to get your videos found and viewed!