5 best Facebook ad examples
Reading up on Facebook ads best practices and exploring expert tips can be helpful as you practice creating a Facebook advertising campaign. But it's even more helpful to see examples of those best practices in real life. So, let's look at five of the best Facebook ad examples from local businesses and see what we can learn from them.
Check out these Facebook Ad examples:
Miloff Aubuchon Realty Group
Miloff Aubuchon Realty Group is a real estate company LocaliQ has worked with to provide a custom mix of marketing solutions, including social ads like this one.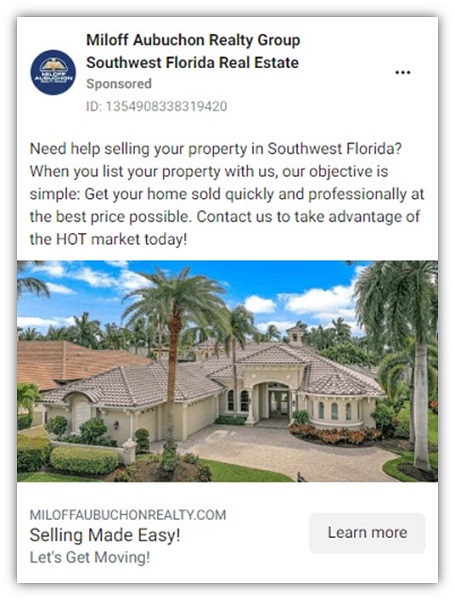 What does this ad do well? It:
immediately grabs attention with an attractive image.
starts by reminding the audience of a pressing need they have.
covers the main goals of the realty group's target clients—selling quickly at the best price and enjoying a professional experience.
speak directly to viewers instead of speaking about them, using impersonal phrasing like, "We help homeowners sell their Southwest Florida properties."
uses marketing trigger words such as "need," "simple," "quickly," "best," and "advantages."
Metro Garage Door Co.
This simple but effective Facebook ad from Metro Garage Door Co works for several reasons.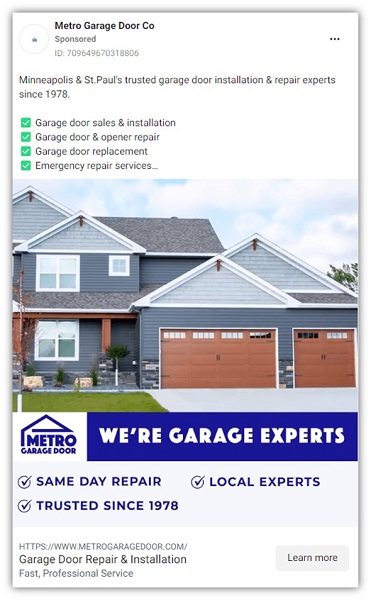 It:
stands out visually both thanks to the video and the eye-catching color of the emojis.
is clear about what's offered and what areas the company serves.
subtly builds credibility by mentioning that the company has been in business since 1978.
Carillon Senior Living
Next up is a well-done ad from Carillon Senior Living, a LifeCare program serving West Texas and the South Plains.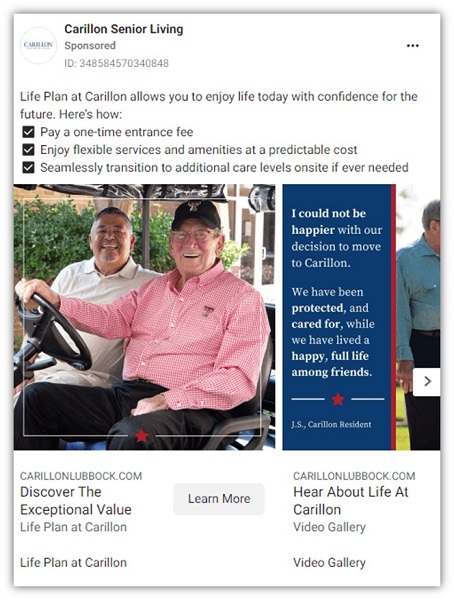 This ad is effective because it:
starts with the main goal someone interested in its program would care about—still being able to enjoy the present while not worrying about the future.
reiterates more than once how its program meets the needs and wants of seniors.
makes the copy easy to read at a glance via the list format.
uses positive imagery and a resident testimonial to create a positive perception of the ad.
Spindel Eye Associates
Spindel Eye Associates—another local business we assisted—has also had success with Facebook advertising. Consider a few things one of its ads does right.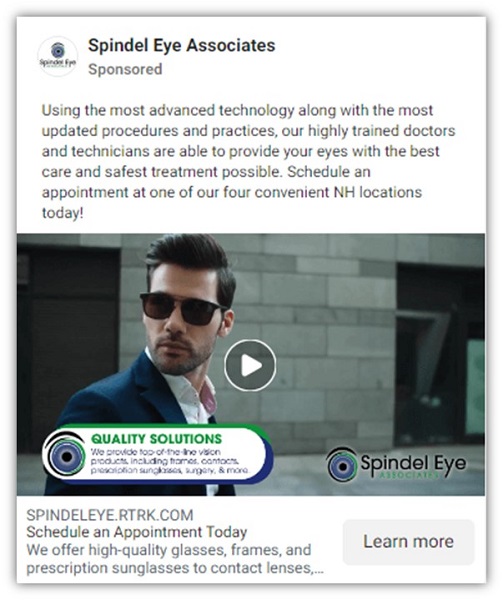 This ad:
uses video to catch attention and provide additional information not mentioned in the copy, such as the addresses of the locations and phone number.
reassures potential patients to ease common concerns about quality of care and such.
mentions the locale the business serves so that New Hampshire residents know Spindel is an option for them.
directly invites the audience to schedule an appointment rather than hoping they'll take that action on their own.
Spavia Day Spa
Last up is a Facebook ad from Spavia Day Spa. What techniques used here are worth learning from and customizing for your ads?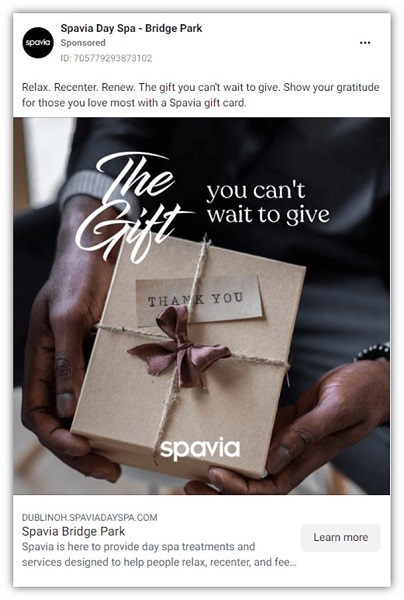 This example does a good job of:
using descriptive words and even alliteration to emphasize the main points and create a pleasant rhythm for readers.
using emotional triggers such as individuals' desire to show gratitude to loved ones.
keeping visual branding and brand voice consistent across all of its ads, which make it instantly recognizable as potential spa-goers scroll through their feeds.
How to use these Facebook ad examples as inspiration for your own campaigns
No two businesses will have the same exact Facebook ads, nor should they. Each of these Facebook ad examples have unique components that help achieve different goals. Basically, there's no right or wrong answer when it comes to creating the best Facebook ads for your business. However, you can take lessons from what other successful small businesses are doing to inspire your own. Use these Facebook Ad examples when you need to brainstorm ad ideas on the fly.