Steps to run Facebook ads
You're probably familiar with Facebook ads from a consumer side. When you browse areas of the platform like your News Feed or Stories, you'll see relevant ads alongside content from your friends, family, and pages of interest.
If you're wondering how your business can join in on the fun, we've got you covered, as we'll walk through how to run Facebook ads step-by-step.
These quick and easy steps answer everything you need to know about how to run Facebook ads for your business successfully.
Step 1: Create a Facebook ads manager account
First things first, take some time to get familiar with Facebook's ad creation and ad management tools. You can find what's basically the lite version of ads manager in your menu.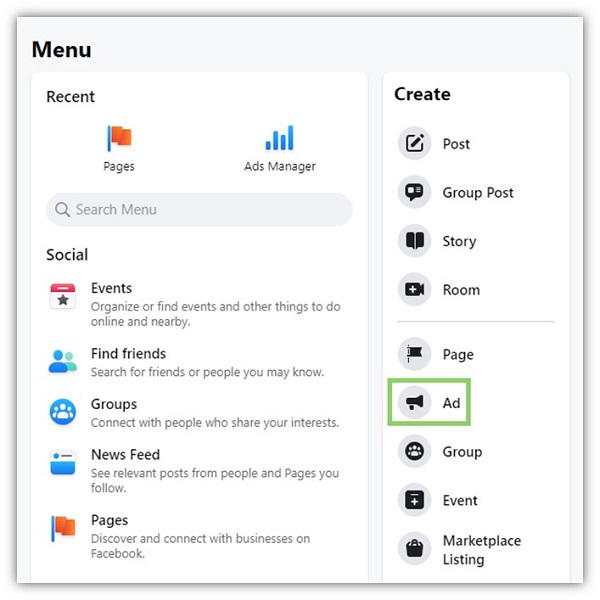 Once there, you'll have the option to: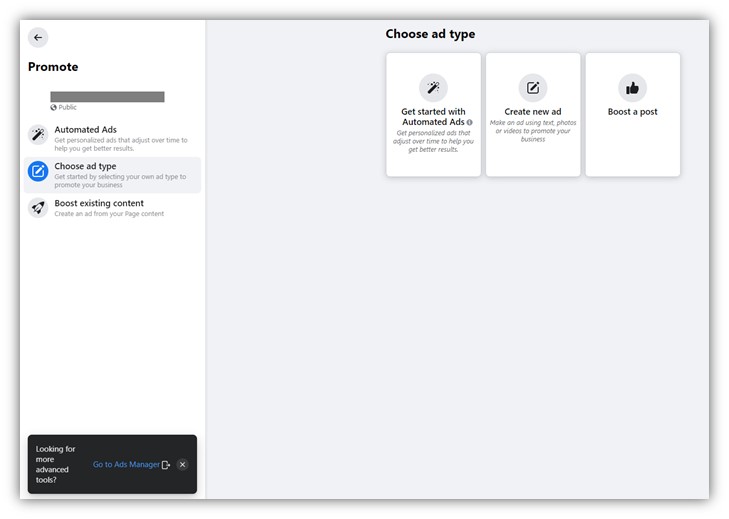 You may also see a prompt to explore more advanced tools. Following that prompt will take you to ads manager.

While it's more complex than the basic "Create an Ad" options, exploring ads manager will give you an idea of all the considerations that go into running a successful campaign.
Plus, seeing the flexibility and capabilities of ads manager can help you come up with a custom Facebook ad strategy that gets results. So, we recommend creating a practice ad in ads manager to familiarize yourself with the tool and prepare you for the next steps.
Step 2: Determine your campaign objective 
The first real step in the process is choosing a single campaign objective. Are you looking to drive traffic to your website? Step up your lead generation game or get more app installs? Alternatively, would you want to use Facebook lead ads to generate new customers or drive other conversions?
Even beyond running Facebook ads, you should always know which one of those your business needs most right then. But looking at the campaign objectives in Ads Manager can help you narrow it down to one goal if you're having trouble.
A word of caution here, though. Yes, conversions and sales are probably the most exciting objectives and, ultimately, what you want to promote. But think about your target market and typical customer behavior as it relates to businesses like yours.
Some businesses have a shorter sales cycle. For example, a person might immediately visit a local restaurant after seeing an ad hyping up a limited-time offer. But, in contrast, a person may need more time, information, and exposure to a healthcare company offering a new experimental treatment.
It's unlikely that they'll sign up immediately upon seeing a video ad from the company for the first time. In fact, over weeks or even months, they may:
Watch the video, check out the company's page to see likes and reviews, and not take any other action at the time
Be retargeted by another ad and visit the company website to learn more
Sign up for an email list to receive more information so that they can evaluate if the treatment is right for them
Receive several emails before feeling comfortable enough to signup for a consultation
Attend the consult and finally decide to try the treatment
So what would happen if the first ad for this healthcare company was targeted at people unfamiliar with the company but very conversion-focused? It probably wouldn't convert well since that audience wouldn't be anywhere near ready to accept the treatment being offered.
In contrast, what would happen if that same conversion-focused Facebook ad was targeted at people who'd already reached step four and whose next step would be to schedule a consultation? It'd likely have a higher conversion rate because the objective matches the audience.
This principle applies no matter what your business does or who you'll be advertising to. But thinking about your target market's path to conversion or purchase—and where they currently are in the process—aren't the only important considerations.
Step 3: Narrow down your audience 
Facebook's incredible targeting capabilities are one of its biggest advantages of the advertising platform. But for them to help you get a good return on investment, you must define your audience accurately. And your targeting has to be specific enough that your ad is shown only to the people most likely to be interested in it. Location is, of course, a big one for local businesses.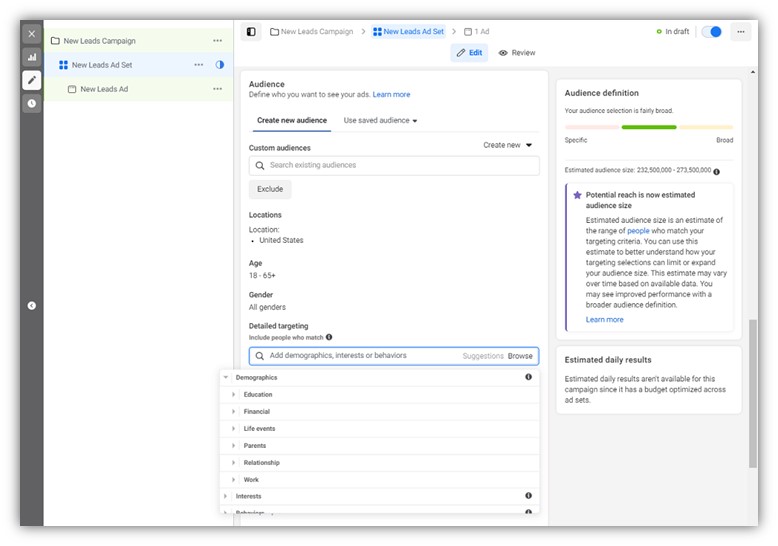 But there are a lot of categories besides the basics of location, age, gender, and language. Just to name a few in each category:
Demographic targeting includes finance, life events, relationships, work, and more
Interest targeting includes business, entertainment, technology, and more
Behavior targeting includes mobile device usage, digital activities, purchase behavior, travel, and more
And most of these have several subcategories. So try these ideas to find the detailed information you need on your audience to target the right people:
Have conversations with prospects and customers and reflect on past sales calls and interactions.
Look through your customer relationship management system and spot similarities between leads, prospects, and customers.
Conduct surveys of current users and customers and identify patterns to define what people are most likely to become customers in the future.
Instead of targeting by certain customer traits, like demographics or interests, you could create a lookalike audience. Lookalike audiences are groups of people with similar characteristics to an existing audience that's valuable to your business, such as past customers.
Lookalike audiences can be beneficial when you're first learning how to run Facebook ads since they are quick and easy to set up while helping you to avoid any targeting errors.
To create a lookalike audience, select "Create New" and choose "Lookalike Audience." You'll be asked to select a source.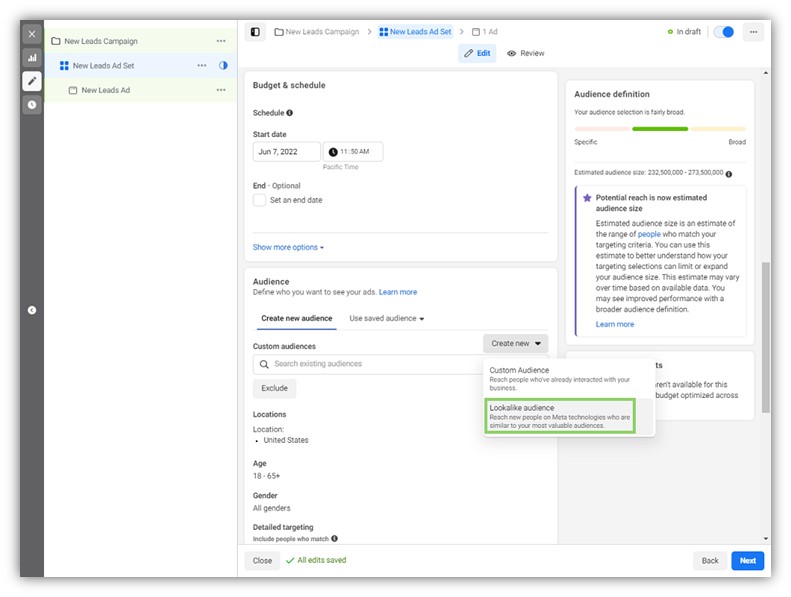 If you want to upload a list of existing prospects or customers, choose "Custom Audience."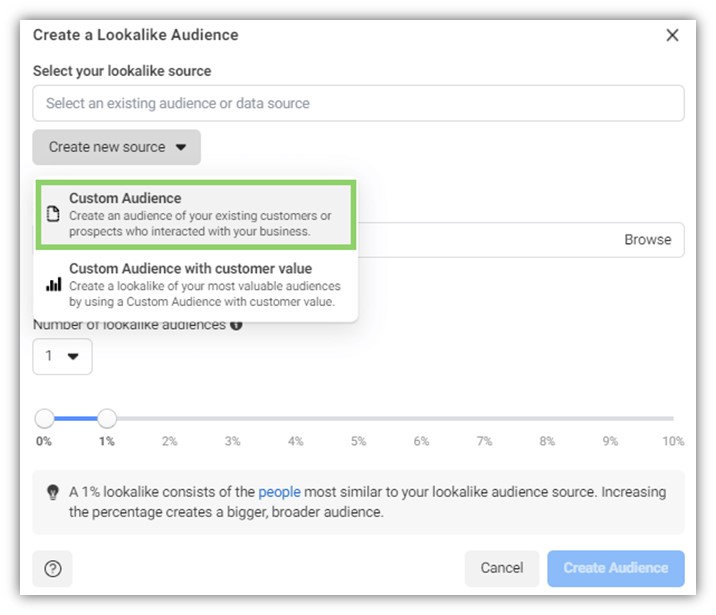 You'll then be able to choose from various types of your own sources, such as your website, or Meta's sources, such as your Facebook page. Select the source you want and click "Next."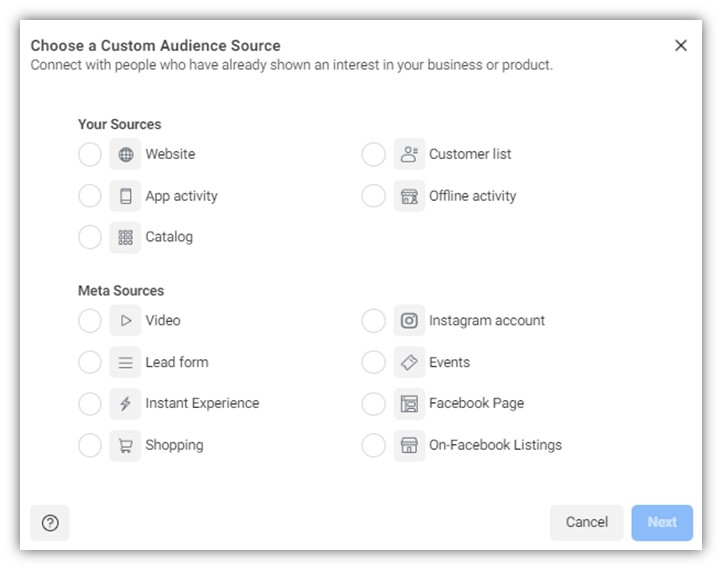 Follow the prompt to connect that source and refine your targeting. For example, if you select your Facebook page as your source, the next steps would be to:
Define whether individuals need to meet all or any of the criteria you set to show your ads.
Make sure you have the right page selected if you're the admin for more than one.
Choose the event that would include a person within your audience (e.g. visiting, liking or following your page, engaging with a post or ad, clicking a call-to-action button, etc.).
Set the retention time frame, which is the number of days a person will stay in your audience after the event you choose.
Include more people based on audience data you have or exclude people for more specific targeting.
Give your audience a name and an optional description.
On the next screen, click "Create a lookalike audience," select the source audience you just created, adjust the other settings if needed, and click "Create audience."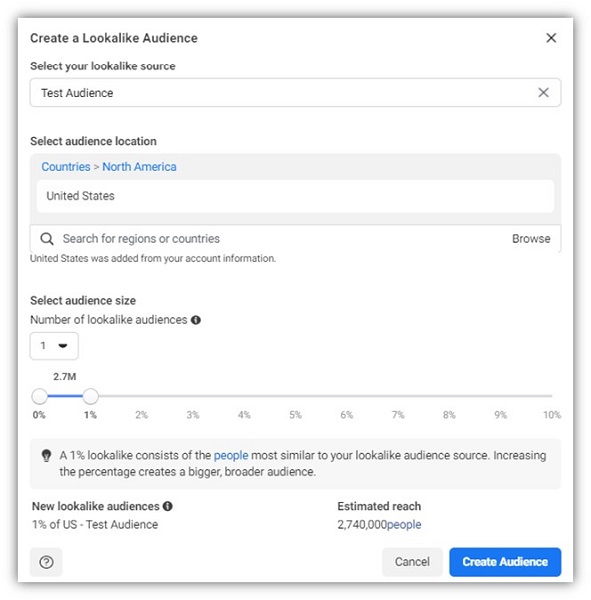 Your lookalike audience will be set. And you can make sure all the other details for the ad set, such as ad placements, are taken care of.
Step 4: Research and brainstorm for ad inspiration
At this point, you'll have an ad set draft with an objective and audience defined. Soon, it'll be time to create your first ad for this ad set. But, before you do, some brainstorming is in order.
All your efforts to target a very specific audience will be useless if the contents of your ad aren't fit for them. So revisit any recent audience research you've done and do additional research if necessary to understand how you should approach copy and creative.
For instance, notice what kind of language your target audience uses to describe the problems your business solves or the benefits of what you offer. Then, use that language in your ad so that it's more likely to resonate with them.
You'll also need to adjust the copy and creative based on the gender and age range you're targeting, the primary locations of your audience, what they're interested in, and so on. So confirm these details through research and brainstorm ways to tailor your advertisement based on that information. To help, try checking out some Facebook ad examples from other businesses to source inspiration for your brainstorm.
Step 5: Determine your budget
…And when we say budget, we're not just talking about the cost per click or cost per action budget! If you'll be hiring an expert ad copywriter or a professional photographer or videographer, get quotes for their services and make sure you can afford them.
As for the ad budget, start small until you're more comfortable managing your ad campaigns and can evaluate their performance, which we'll explain how to do later on. Here's how to set that starting number (and calculate your marketing budget in general).
Set a revenue goal and determine how many conversions you'd need to reach it. Example: "This month, our revenue goal for Facebook ads is $500. The product we'll be advertising is $75 so we'll need at least seven sales."
Estimate the number of actions or leads needed to reach the conversion goal. Example: "The main product page has a 3% conversion rate, meaning three out of 10 people buy. We'd need 250 visitors or more to get at least seven sales."
Calculate the budget in one of two ways:

If you know your or your industry's average cost per landing page view, multiply it by the number of landing page views you're aiming for. (Or multiply the number of leads you need by the cost per lead.) Then set that as your Cost Per Result Goal. Example: "Each landing page view costs me $0.75, so the total per 250 views would be $187.5."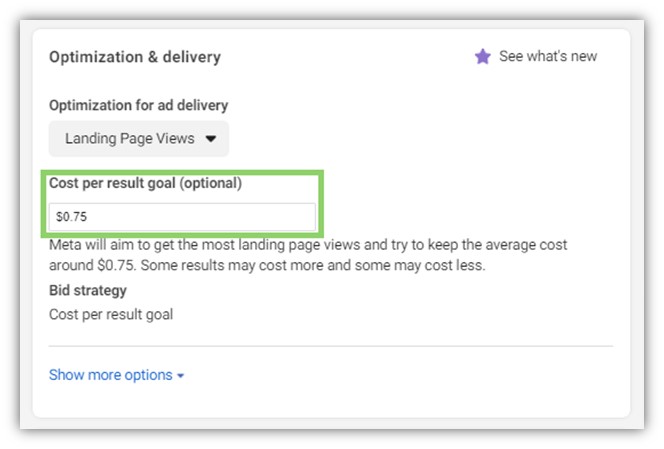 4. Let Facebook estimate your results. For example, look at the image below.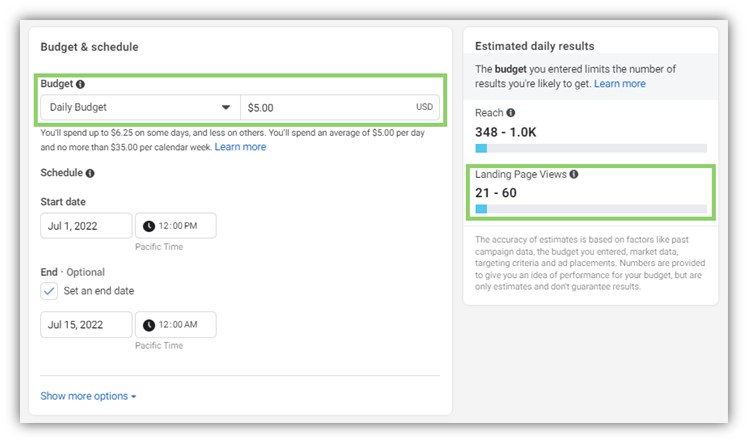 If you had the minimum of 21 landing page views per day with a daily budget of $5, you'd reach 294 views within a two-week timeframe. You'd:
Exceed your goal of 250 landing page views (and, hopefully, your sales goal too, for a cost of about $70)
Have enough time and data to understand if your ad and landing page are effective
Have two more weeks in the month to continue running your ad as-is if it worked or make tweaks to reach your goal
Now, you may have noticed the difference between the estimated Facebook ad cost of these methods. The examples we gave aren't to say that the cost per result method is always more expensive. As Meta itself mentions in the image above, while it tries to keep in the realm of the cost per result you set, some results may cost more or less.
However, either method will get you a number to start with. As you gather data on the cost per result and start seeing an ROI from your Facebook ads, you can tweak your ad spend accordingly.
Step 6: Create a landing page
Next, create a dedicated landing page for interested people to click through to. Of course, not every campaign will require one (e.g. page like ads). But a dedicated landing page is recommended if:
Your goal is to drive sales or other conversions
You're targeting only a portion of your entire audience
There are a couple of reasons for this.
In most cases, landing pages designed to drive conversions–such as sales–don't have the usual site navigation and internal links to other pages. (This is because they can distract from the main action you want people to take, such as buying a product.)
So, unlike dedicated landing pages that are solely focused on the topic or offer discussed in your ad, linking to your website homepage or another page on your site can hurt your conversion rate.
Your website is most likely designed with copy written in a way that's broad enough to appeal to your entire audience. But if your ad only targets one persona or type of person who makes up that audience, the page you direct them to also needs to be tailored just for them.
Because what happens if it's too broad, focusing on pain points, features, benefits, and info that aren't the most relevant for them? Again, your conversion rate will suffer.
So, yes, creating a social media landing page is an extra step, and it would be easier to link to your existing website. However, it's a smart move if you want a respectable ROI. And, as you'll see below, it's also helpful in the next stage of the process.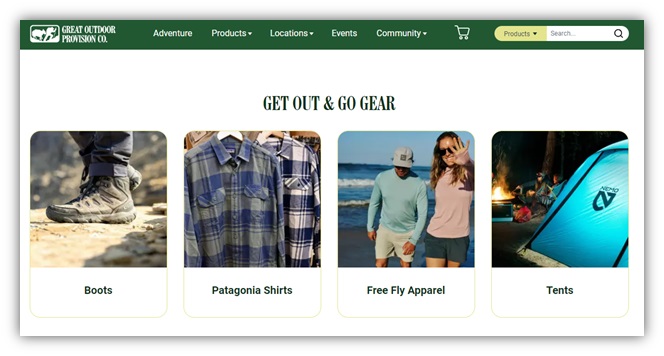 An example of a landing page optimized for sales. 
Step 7: Finalize ad copy and creative
You can write your ad copy from scratch if you want. But if you have social media landing page copy you're confident in or that's been professionally written, here's a pro tip: borrow the best bits of copy from your landing page.
Riff off of the unique value proposition used in the headline. Summarize the top benefits outlined there. Use the reviews and social proof in your ad copy.
After all, a good landing page is based on in-depth research and is designed to convince people to take action. So, if you want a persuasive Facebook ad for your small business, that copy can be a powerful source of inspiration. Not to mention that you can get the ad copy completed quicker.
And what about the creative—the videos or images that will be featured in your ad? For starters, remember these Facebook ad best practices:
Your visuals (and any audio) should relate to the topic and match the vibe of your ad
Custom images are typically more eye-catching and compelling than overused, generic stock photos
The more consistent your visual branding is—color palette, fonts, logos, photographic style, etc.—the better
Even if they're not professionally done, your ad creative should look professional (i.e. not fuzzy, properly composed, clear audio)
Lastly, you'll want to keep in mind your Facebook ad sizes for any creative.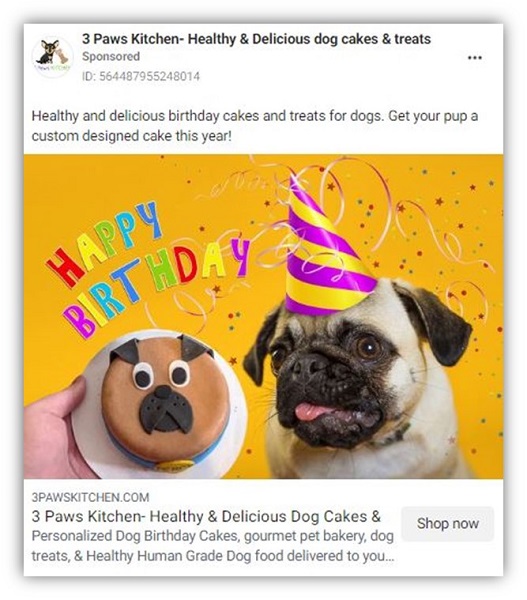 Learn how to run Facebook ads for social media marketing success
As you can see, there's a lot that goes into preparing to run Facebook ads for your local business. And, more importantly, there's a lot that goes into setting yourself up to make exponentially more than you spend.
With time, patience, and practice, you can master each stage of this process and get a great return on ad spend (ROAS) from your ads.